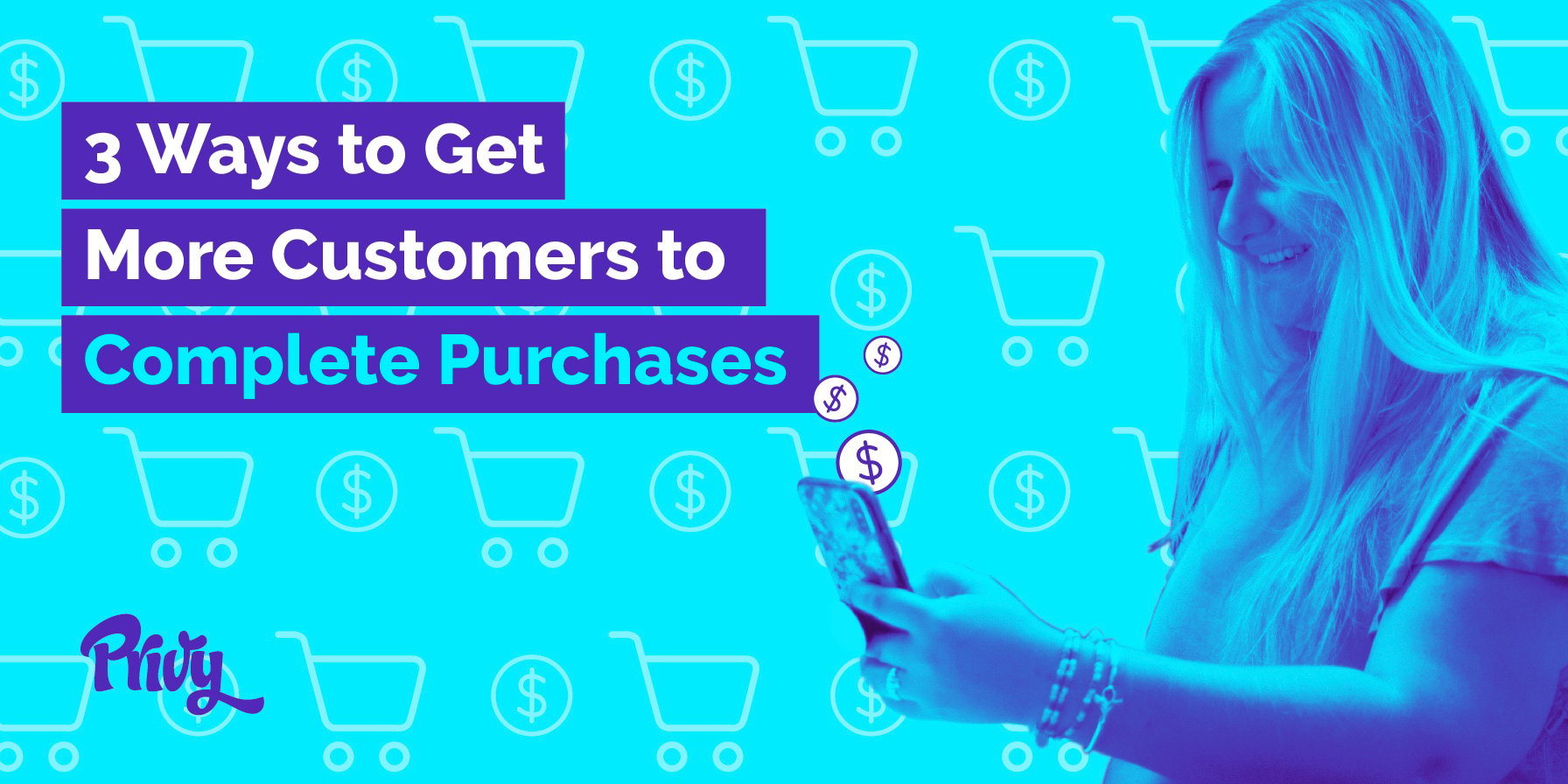 The average person sees over 5,000 ads a day.
But how many do you actually pay attention to?
Probably very few, if any. Which means getting your ideal customers' attention is hard.
But getting them to actually make a purchase is even harder.
So when you finally get them to visit your site, it's no surprise that 99% don't finish their order.
Because here's the truth...
Customers don't buy the first time they hear about you.
They buy from brands they know and trust.
So, if you're expecting a blow-out holiday sales season, you need to get customers familiar with your brand today.
Get our best content on ecommerce marketing in your inbox 2 times a week
Why Customers Aren't Finishing Their Orders
When's the last time you bought a product the first time you saw it?
I'm not talking about the pack of gum at 7/11.
When's the last time you:
1. Scrolled Instagram
2. Saw an ad
3. Clicked it
4. Added it to your cart
5. Entered in your credit card information
6. Clicked confirm purchase
All in one sitting.
It's rare. In fact, it almost never happens.
Here's an example of how it actually works:
1. Customer sees your ad on Instagram
2. Ignores it
3. Sees another ad on Facebook
4. Clicks it
5. Gives you their email address but doesn't buy
6. Receives your email
7. Deletes it
8. Received another email
9. Clicks it and adds a product to their cart
10. Forgets about it
11. Receives your abandoned cart email
12. Clicks it and finishes their order
The average customer needs to have 7 interactions with your brand before buying.
That's why the most successful brands are beginning their marketing for Black Friday/Cyber Monday today.
Because if you wait for the holidays to begin promoting your products, you are going to be running campaigns to customers who have never heard of you before. And that will cost you sales.
So, here are 3 affordable tips you can use today that will help you build trust and sell more this holiday season.
Tip #1: Build an email list (and use it)
Nothing is more important than having an audience for your business.
And when it comes to owning an audience, email is king.
There are millions of tips out there on how to build an email list, including setting up a few Privy Convert campaigns, but what's more important is how you use the list.
Here are 3 email ideas that you can do between now and the holidays that will help customers be more familiar with your brand.
Use a holiday to drive demand
In the next few weeks you can run specials around Veterans Day, Halloween or even World Teachers Day!
One customer, Fayettechill, does this in a special way by promoting Plastic Free July. This helps customers learn about the Fayettechill brand and their eco-conscious practices.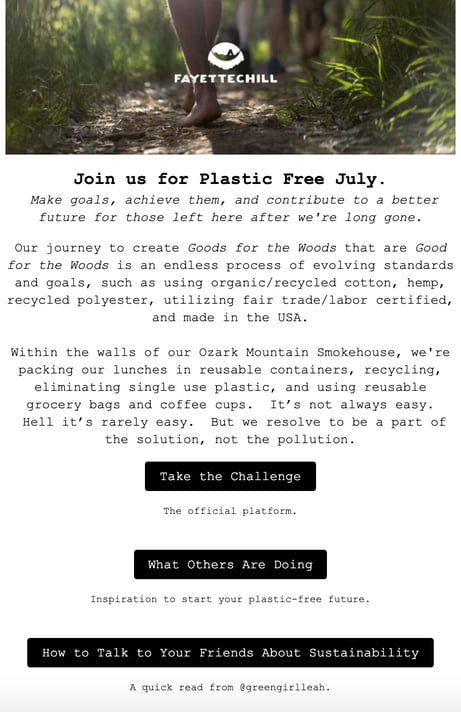 Send monthly email promotions
Krafty Touch runs monthly promotions to help move inventory and drive impulse buys.
If you are running a big promotion on Black Friday/Cyber Monday, start by offering smaller promotions in the months leading up to the sale.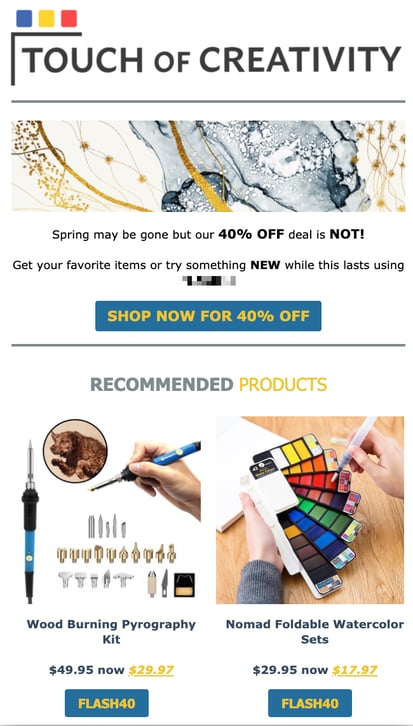 Share your new arrivals
The Copper Closet is constantly releasing new and fresh clothing styles.
Using newsletters to engage with customers helps create brand familiarity and show customers your entire product catalog (not all in one email, of course!).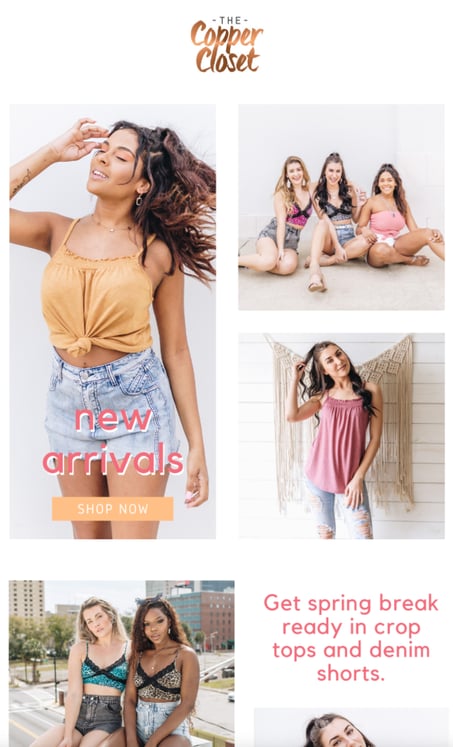 Tip #2: Focus on more than one channel
Last Black Friday, 116.5 million emails were sent. Another 106 million sent on Cyber Monday.
Unsurprisingly, those were the 2 highest email-send days of the year.
If you want to cut through the noise in your customers' inbox, you might want to try text.
Text message marketing has a 98% open rate, and more sellers are beginning to use text to reach out to their customers.
Building a brand begins with building trust, and having visitors give you their phone number can establish that trust.
Here are 3 campaigns that Privy customers have set up that are building trust by asking for phone numbers:
Enso Rings
Enso does a great job at capturing customers' email and phone numbers.
Having both allows them to send abandoned cart text messages and monthly newsletters. And it creates a stronger connection between customers and the brand.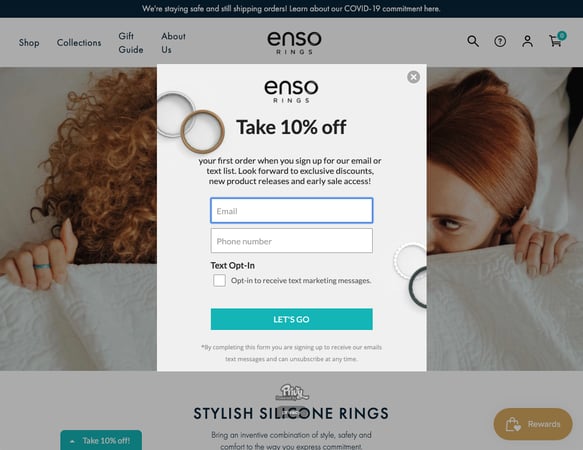 Pippa And Julie
Pippa and Julie run a similar campaign but they make the phone number optional.
Our team has found that with every extra form field you require, you'll see a 5% decrease in conversion.
So making the 2nd field optional is a great way to capture more information and keep conversion rates high.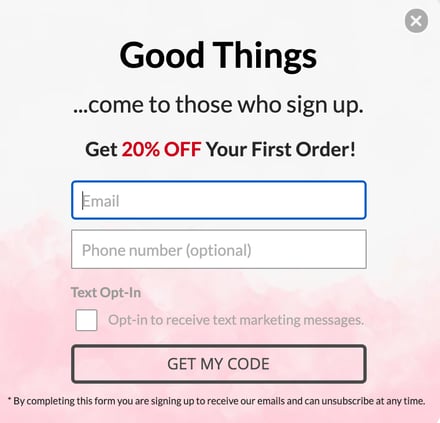 Gen Stone
And finally, Gen Stone asks only for the phone number first and includes a coupon to sweeten the offer.
This is a mobile optimized flyout, so it will only show when a customer is viewing their site from their phone.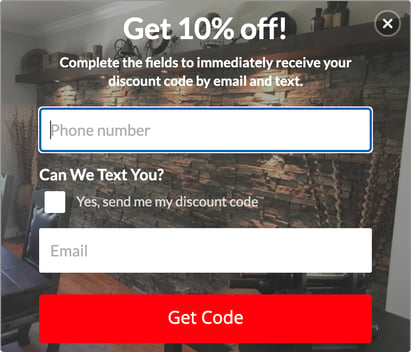 Tip #3: Use retargeting pixels
Lastly, market your products where your customers are. On social media.
Retargeting pixels are code you add to your Shopify store that let you run ads based on who has been on your store recently.
They are easy to set up and help you run affordable and super effective ads to capture customers' attention outside of their inbox and messenger apps.
Here's how they work.
You create a Facebook pixel. This pixel works for both Instagram and Facebook.
Then you add it into your Shopify account here:

Once you turn that on, then you can build an audience in your Facebook Ads manager for people who have that retargeting pixel.
We recommend excluding customers who have also bought from you. Here's a video to help you get set up.
Getting Started
Whether you're sending emails, writing texts, or setting up your retargeting campaigns, the important thing is that you start now so you're ready to take on the holiday season.
If you want to get started with Privy Text or Privy Email, head on over here to get started for as little as $10/month.
Subscribe for Updates
Get our best content on ecommerce marketing in your inbox 2 times a week.
Subscribe for Updates
Get our best content on ecommerce marketing in your inbox 2 times a week.