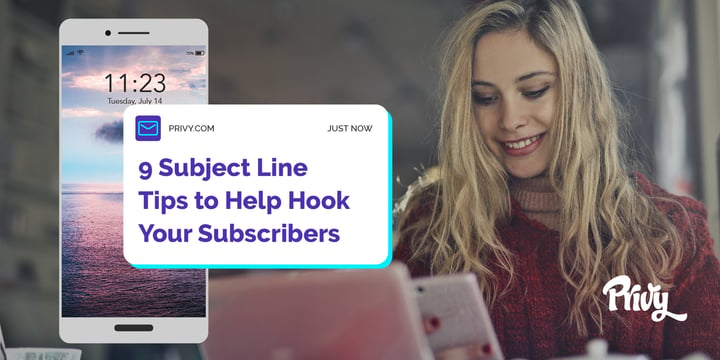 I'd venture to guess you receive at least a dozen marketing emails a day. Many of them are probably from ecommerce sites, just like yours. From deals, to newsletters, to welcomes, and policy updates, there's a lot to sift through.
Think through your own email habits. Are most of those marketing messages getting opened? Read? Probably not. So when you do take the time to open a marketing email, what's the differentiating factor that sets it apart from the rest? Chances are, it's the subject line that draws you in.
The cliche is true: you only get one chance to make a first impression. Your subscribers will judge your email based on a fleeting glance at your subject line in their inbox. You already poured your time and effort into crafting a brilliant email marketing campaign; you don't want it to be ignored (or worse, deleted 😱).
Get our best content on ecommerce marketing in your inbox 2 times a week
Even the greatest marketers sometimes get tripped up while writing subject lines, so don't sweat if you fall into that category. Fortunately, there are a few proven formulas you can follow to craft subject lines that catch your subscribers' attention. Let's dive right in.
1. Include preview text
First of all, a great subject line is composed of two parts: the subject line itself, and the preview text that follows. Preview text is the little snippet of copy at the beginning of your email that appears next to the subject line or under the sender in the recipient's inbox.
When crafting a subject line using the following tips, also be sure to keep in mind engaging preview text. Together, these two create the pretty packaging that your email is wrapped in.

2.

Be concise

A frequently asked question is, "how long should my subject line be?" And while there's no cut and dry answer, studies have found that subject lines in the range of ~65 characters (or 5-9 words) tend to be most effective.

Our Customer Success team actually loves the formula "3 Seconds. 3 Words." when it comes to writing great subject lines. Your email is (hopefully) hitting lots of eyes, so try to use simple language that can be easily understood by the largest possible audience. Now's not the time to bust out your SAT words.

Remember, you only have your readers' attention for a few seconds (if that), and sometimes less is more.

Examples:

| | | |
| --- | --- | --- |
| Brand | Subject Line | Preview Text |
| Faceittea | Get 30% off Everything | Hey Beauties 💗 Take advantage before it runs out |
| Coconut Lane | You've won 💖30% OFF 💖 💖 | none |
| Inside Weather | Down to save 20%? | none |
| Inked Gaming | We think you should buy from us. | Here's why... |
3.
Get to the "what's in it for me" ASAP
Your subscribers will be reading your emails on multiple different devices, including mobile, which shows fewer characters of your subject line. Make sure the most important information is visible, no matter the device, by putting it first.

One of my go-to practices for any email I write, whether it's marketing-related or not, is getting to the "what's in it for me" for my audience. Show your recipients immediately what's in it for them if they open your email. Perhaps it's a great deal, a solution to make their lives easier, or new products they'll love. If they don't see the value in it for themselves, they'll probably delete. Call me a cynic, but it's true.
Examples:
| | | |
| --- | --- | --- |
| Brand | Subject Line | Preview Text |
| | Our Gift to You - Free Square Prints | We don't want you to miss out on the joy of seeing your photos... |
| | Just Adopted A Dog? Now What... | none |
| | Packing tips from the pros 👩‍🏫 | Bring everything you need without checking a bag. |
| | Rompers = summer's one- piece wonder | There! We said it! They're the best! |
| | summer fashion 101 | gals at Chubbies Important legal mumbo jumbo |
| | New Breezers, Exclusively For You | Snap them up before they're gone. |
| | You're gonna love this one... | Check out this week's #TravelCrushTuesday |
| | ☁️Your Dream Come True ☁️ | New Tees 50% OFF! |
| | Let's make your life easier | Choices...choices. Sometimes they really get in the way. |
| | re: how good you're going to look | (because the best looks great on you) |
4. Ask a question
Human psychology dictates, when you ask a question, someone will try to fill in the blanks with an answer. Asking a question of your readers will buy you a couple of seconds of their attention as they consider what their response is. It can be a completely hypothetical question, inspired by what you're selling. Just make sure it actually relates to the content of the email.

Similarly, you can set your subject line up as a teaser, like having it be the first part of a trivia question, fun fact, or riddle, so your readers need to open the email in order to see the rest.

Examples:
| | | |
| --- | --- | --- |
| Brand | Subject Line | Preview Text |
| | What's your Pool Persona? | Complete your pool look. |
| | Looking to save 18% on every bottle of Fire Cider? | none |
| | Have you seen our Instagram? | Become a member of the Baby Cubby family and stay in the loop. |
| | Have you had this problem with your luggage? | none |
| | What Makes Our Shoes So Comfy? | The secret that explains why it feels like walking on a cloud. |
| | Ready to make your morning better? 🥣 | Meet the breakfast of your dreams |
| (sent from Claudio from O-Live) | The bad news: 70% of US bought olive oil is fake... | The good news inside this email... |
| | Know someone who deserves a vacation? | Nominate them to win! |
| | Looking for the perfect birthday gift? | Here's a gift that keeps giving. |
| | Love our choco milk? Review us for a discount! | none |
5. Create urgency
Everyone is susceptible to the fear of missing out, or FOMO. Use this fear of regret to drive urgency for your readers to open your emails, click, and hopefully buy. Whether you're alluding to product scarcity or a limited-time offer, giving your audience a deadline or a sense of belonging if they engage is a surefire way to grab their attention and seal the deal quickly.
Examples:
| | | |
| --- | --- | --- |
| Brand | Subject Line | Preview Text |
| | Tick, tock! 25% off is ending! | Don't miss your chance. |
| | 🙊39% off for 39 MINS - GO GO GO Gals! 🙌 | none |
| | 72 HOUR SALE!!! | WE APPRECIATE YOU! HERE IS A GIFT :) |
| | RUNNNNNN🏃‍$99 Sets Are Back! | See for yourself what being good is all about. |
| | Last call 🍫🥛 buy 3, get 1 free! | none |
| | You don't want to miss this 🍳🔪 | Use code SAVE15 and take 15% off your next order of $100+. |
| | Last chance to shop The Summer Sale! | Save up to $125 through 11:59pm EST. |
| | Get it before it's gone! | Today is the last day to use your code for instant savings. |
| | "⭐⭐⭐⭐⭐" - Over 10k Parade Customers | Imagine wearing your favorite underwear every day. |
| | Good news and bad news - plus Beyoncé loves us. | none |
6. Use command words
Another quick psychology lesson for you: people respond positively to clear, direct instructions. Using command words in your subject line straightforwardly points people to the action you want them to take. Words like "get," "buy," "look," and "shop" are short, yet effective.
Examples:
| | | |
| --- | --- | --- |
| Brand | Subject Line | Preview Text |
| | Look what's on SALE... | Well, this is exciting. |
| | Wear these. Look awesome. | Take 15% OFF Your Next Order. |
| | Wear your Pride 🌈 | Pick your flag & wear your Pride. |
| | Read All About It! 🗞 See What Everyone's Talking About | none |
| | 💤 Get your best rest now, pay over time | none |
| | 🦈 Come to the SHARK side 🦈 | Daddy Shark, Mommy Shark, and Baby Shark Approved |
7. Use numbers (and emojis)
Give your readers a good idea of what's included in your email by being as specific as possible, including any relevant sales or discounts in your subject line. This serves the dual purpose of immediately informing customers about the reason for your email, and enticing them to open it to get that sweet deal.

Numbers and emojis also serve the purpose of breaking up text, making it even more digestible for a quick scan. Plus, emojis are a fantastic opportunity to exercise your brand voice, and make your emails feel a bit more personal.

Examples:
| | | |
| --- | --- | --- |
| Brand | Subject Line | Preview Text |
| | $10 OFF $50 or More ONLINE ONLY! | Save when you shop NOW- Sunday! |
| | 1 Day Flash Sale: 15% off Bulk Fire Cider 💥 | Today only, save 15% off any flavor gallon, half gallon, or growler. |
| | Hey There - We Have $75 Off Just For You | none |
| | 40% 👏 off 👏 all 👏 shorts | An extra 40% off clearance, too. |
8. Personalize (and have personality)
Gone are the days of overly formal email jargon. Talk to your recipients like they're old friends (especially since they're probably more likely to open an email if it's from a friend). In fact, it's estimated that personalized subject lines improve click-through rates by an average of 14%.
You can include your subscriber's name in the subject line, or take it a step further by using list segmentation. This allows you to personalize emails based on customers' data you've collected through previous transactions and onsite popup forms.You may choose to send particular messaging to new customers, existing and loyal customers, serial browsers, customers interested in a particular type of product, or customers within a particular geographic area.
It also might help to personalize yourself; for instance, I receive emails from Elisa at The Baconer, rather than just The Baconer – and now I feel like I know Elisa. I'm a vegetarian, but I always open her emails.
Whatever you do, stay away from generic subject lines, like July Newsletter. Would you be tempted to open that email? No? Didn't think so.

Examples:
Brand

Subject Line

Preview Text

(Elina from Munio)

We picked this for you.

none

We heard you needed these.

Shop PETITE Scrub Styles.

(Joel at Whisky Loot)

We've got you sorted, friend.

The whisky revolution is here.

Like my last relationship

We like to keep our shorts CASUAL

What day is it, Rachel?
(personalized with recipient's name)

There's something in here for you.

We've cooked something up just for Daisy

(Ollie is a pet food brand. Subject line is personalized with recipient's dog's name)

For a limited time, get 60% OFF your first box of Ollie
9. A/B test
Not sure if these ideas will work for your brand? A/B test them, by splitting your email list into two halves and sending each an identical email, with one key difference in the subject line. Observe the statistical performance of each and use this data to improve.
Takeaway: Subject lines are important, but don't have to be scary.
Your subject line is just as important as the content of your email itself. It acts as the sparkly object that draws your readers in.
You can steal the examples we showed you and make them your own. But the ultimate way to get subject line inspiration is by paying attention to those of the emails that catch your eye in your own inbox!
You want your readers to open your email, engage with your brand, and hopefully make a purchase, and the subject line is the first step.