Pop quiz. What's wrong with this order confirmation email?

Answer: It's a huge missed opportunity.
Unbeknownst to Apple, order confirmation emails like the one above can be a super scalable way to build trust with new customers, get referrals, and drive more sales for online stores.
You just have to know what levers to pull.
Let's look at 9 ways you can use order confirmation emails to build trust and turn one-time purchasers into repeat customers. We've also included sample order confirmation email templates you can copy to jump start your own automated order follow-up emails.
Here's what we'll be covering. Feel free to skip down below to learn everything you need to know:
What is an order confirmation email?
An order confirmation email is sent to the customer after payment is made for a product. These emails usually include the order details: the product, the amount spent, as well as delivery date and address.
What Makes Order Confirmation Emails Such A Missed Opportunity?
Three reasons.
1. The Recency Factor
Your customer's purchase is still fresh in their mind and it's likely they're still online (maybe even on your website).
2. The Expectation
People want to know their order went through. They're actively waiting to hear from you. In fact, the click through rate for transactional emails is three times higher than promotional emails.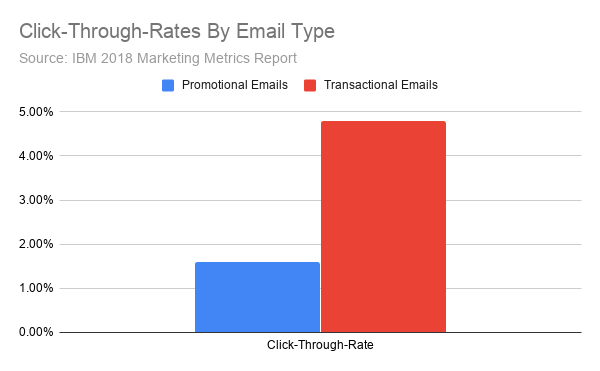 3. The ROI
Repeat customers are easier to sell to and spend roughly 500% more than first-time buyers.
All of which makes order confirmation emails a pretty powerful way to get in front of the right people at the right time to help drive more sales.
9 Strategies To Level Up Your Order Confirmation Emails
Post-purchase emails are first and foremost useful — that's why people engage with them at such high rates. You can't skimp on utility here.
At minimum, order confirmation emails should contain:
Product information (name of product, quantity purchased, photo)
Order number or tracking number
Buyer's payment info
Shipping information (address, method, estimated arrival date)
Customer support contact info (phone number, email)
[Do this with Privy: You can use Privy Email to add order summaries in Order Follow Up Emails. Try it in-app here.]
These types of emails can take on several formats. Here are nine of the best use cases we've seen.
1. Upsell with recommendations
Have you ever escaped McDonalds without hearing, "Do you want fries with that?"
Probably not. That's because they know the best time to get a customer to buy is right after they order.
The same applies to an online sales upsell. By recommending relevant products or services in your order follow up email, you make it easy for customers to spend more.
Especially if the recommendations are personal.
Recent Accenture research found that 75% of consumers are more likely to buy if a retailer knows their name, purchase history, and recommends purchases based on that history.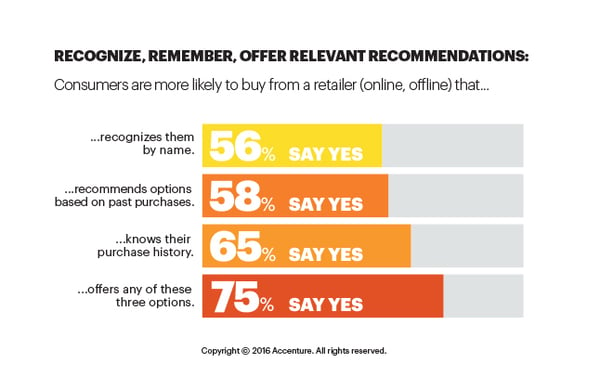 Here's how Airbnb does it.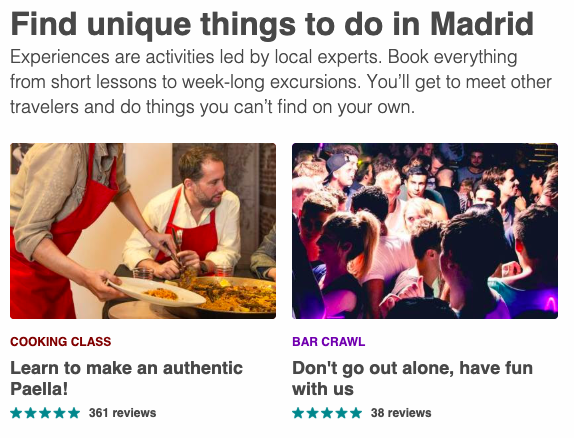 What's smart about this email marketing tactic is that Airbnb is recommending excursions located in the same area as the stay I just booked. It's definitely relevant to my trip, and adds value by suggesting things to do that I might not have known about.
---
2. Show How You Did Them A Favor
If someone does you a favor, you're probably going to feel a bit indebted to them.
This psychological desire to even the scales is known as the reciprocity effect, and it can have a profound impact on customer loyalty, advocacy, and retention.
For example, highlighting things like free shipping or applied discounts in the order summary is an easy way for ecommerce businesses to demonstrate how they helped their customer save money. Here's how DSW does it: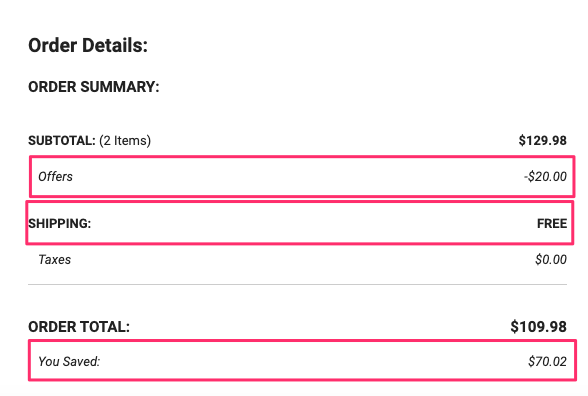 DSW is one of many online shoe retailers.
But they're the only one that just saved me $70.
By subtly showing how they gave me multiple discounts, they've made it much more likely I give them my future business.
---
3. Say 'Thank You' To Keep Buyer's Remorse At Bay
Clicking a "buy" button can be both exciting and nerve-racking.
Did you make the right choice? Should you have waited for a sale?
Immediately after making a purchase, our brains kick into what is known as "post-purchase rationalization" mode. People want reassurance that they made the right decision and look for reasons to feel good about what they just did.
Adding a thank you note to order confirmation emails can help shore up positive feelings and ensure buyer's remorse doesn't set in.
Here's a look at how we incorporated this principle into one of the confirmation email templates available in Privy.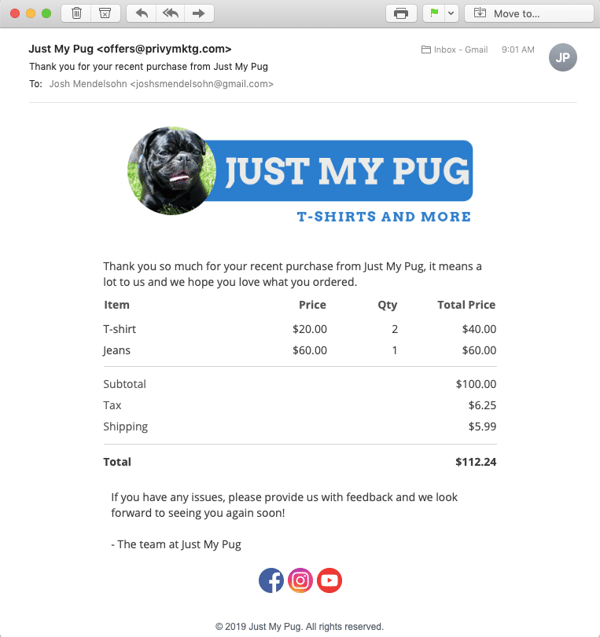 Think of it as an opportunity to delight your customers so they're even more attracted to your brand.
Maybe even throw in a sheep pun or two like Allbirds:

---
4. Ask For A Referral
Remember when we were talking about reciprocity a little bit ago? The same concept will make or break your referral request.
If you ask for a favor without giving anything in return, you rub people the wrong way.
The key is to make your post-purchase offer so good your customer will want to recommend, share, refer, etc. because it makes them look good.
Wine subscription service Winc nails this idea in their transactional emails.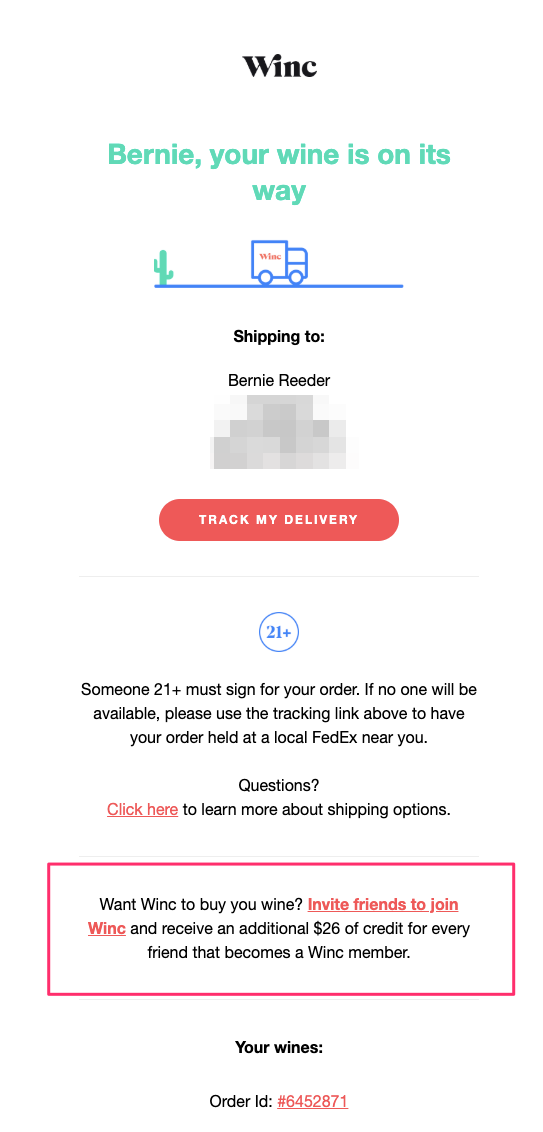 Tip: Make sharing as easy as possible, so you're not asking new customers to do heavy lifting.
After clicking on the CTA in Winc's email, I landed on a page that looked like this: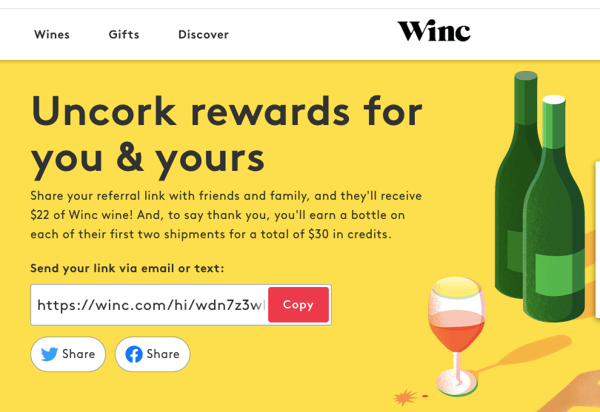 The referral link was ready and waiting to be copied, with pre-written Facebook and Twitter posts ready to go.
Smooth.
---
5. Showcase Your Loyalty Program
Referencing your loyalty program in order confirmations can help retain customers by showing how their purchase contributes to future rewards.
Uber calls attention to its rewards program multiple times in the example email below. It shows exactly how many points a customer has earned during their ride, as well as the price protection benefits that come with spending more money on their services.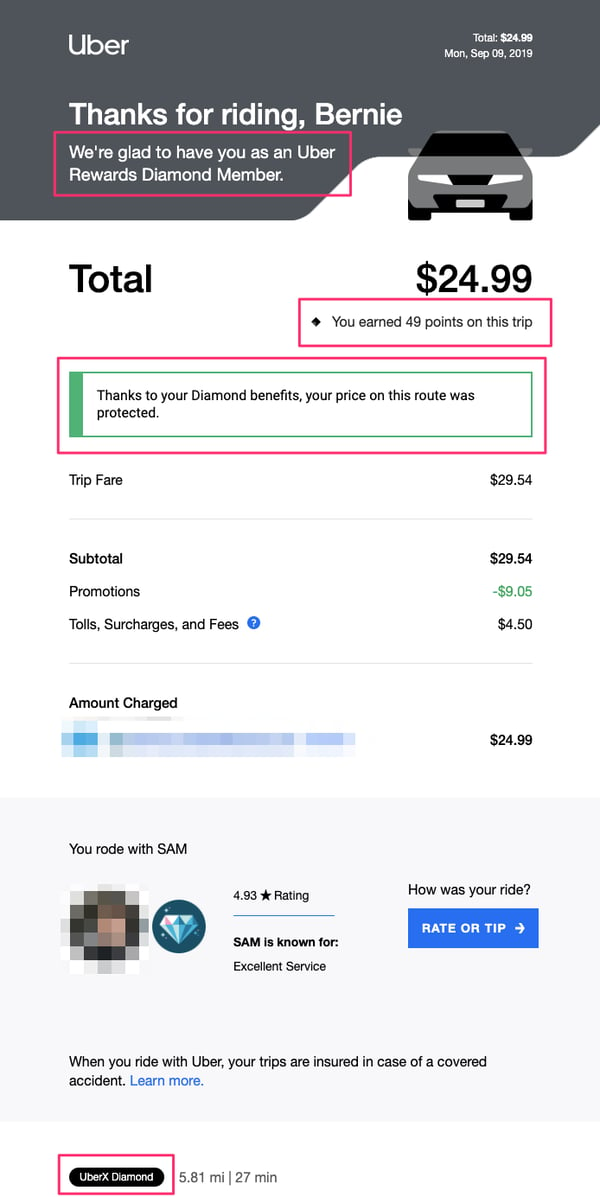 ---
6. Promote and Cross-Sell Related Products
Know an online store that sells to customers like your own?
If they're not a competitor, try reaching out to see if they're interested in partnering up on a post-conversion campaign.
How it works:
You insert a discount code or coupon for your partner's product at the end of your order follow up emails.

They do the same for you.
Voilà - everyone's products get promoted to brand new audiences
Take a look at the order confirmation email from Drizly below. The alcohol delivery service partnered with Home Chef to offer customers $35 off their first order.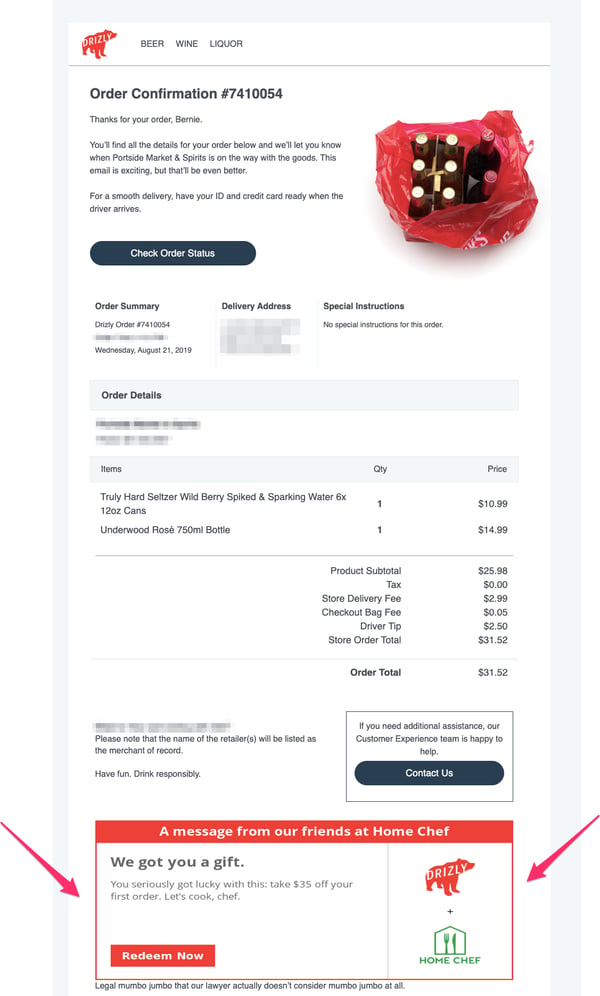 Odds are Home Chef is running a similar promotion on Drizly's behalf to their customer base.
It makes sense -- food and booze are pretty perfect complements. Better yet, each brand is able to advertise their product in front of new potential subscribers without spending a big budget.
---
7. Get To The 'Aha!' Moment Faster
There's a pivotal conversion point known as the "aha moment."
It's the moment when new users first realize the value of a product. They get it. And it can be powerful enough to leave a lasting impression that keeps customers coming back for more.
Similarly, to turn one-time customers into repeat purchasers, they need to experience that aha moment as soon as possible.
What are some ways you can use purchase confirmation emails help get customers up and running with their new order as fast as possible?
For Starry, the answer is to direct people to download their mobile app immediately after they sign up for internet service. Check out the call to action in the email below.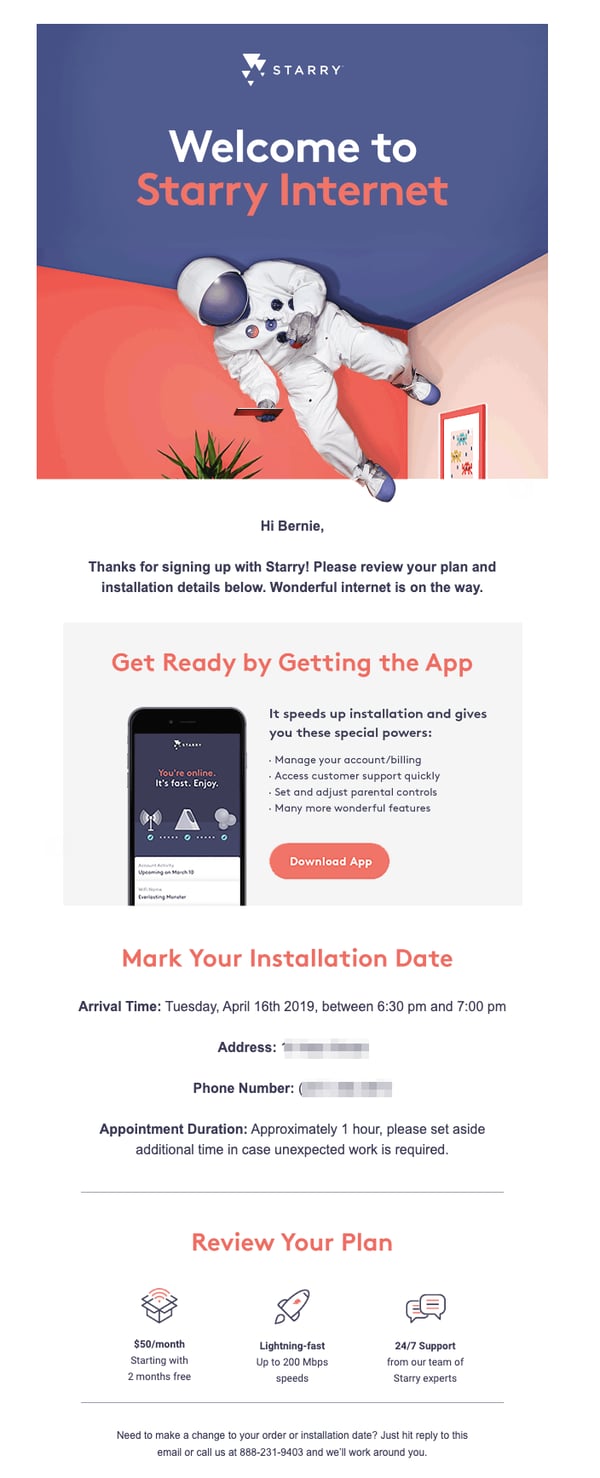 Not suggesting this ahead of time could potentially slow down the installation process and create a bad first impression.
And with 33% of Americans saying they'll consider switching companies after just a single instance of poor service, it could have been a costly omission too.
---
8. Use Coupons To Welcome New Customers
Time for some quick back of the napkin math.
If I send 100 new customers an order follow up email, about 45 people would open it according to recent research out of IBM on transactional email open rates. With a reported CTR of 5%, that means I'll have 2 people back on my online shop.
Compared to most email campaigns -- that isn't half bad.
But imagine how much better it could be if I actually gave them a good reason to shop again. 🤔
Adding coupon codes to an order confirmation email is another way to build good will with new buyers and incentivize them to come back and make another purchase.
[Do this with Privy: To drive urgency, you could choose to use a unique coupon that expires within a few days.]
Here's an example from the team at Williams Sonoma that puts this idea into practice.

---
9. Set Expectations With Detailed Next Steps
Make customers feel confident in their purchase by giving specific details about what happens next.
Building trust through order confirmations is especially relevant for convenience-based subscriptions like Amazon's subscribe and save, or food delivery services.
People rely on these subscriptions to simplify everyday life. To remain loyal customers, they need to trust that merchants will auto-ship the right items, at the right time, to the right location.
Farmer's Dog gets this. They do a great job keeping dog owners up to date on exactly when, where, and how their pups' recurring food delivery will arrive.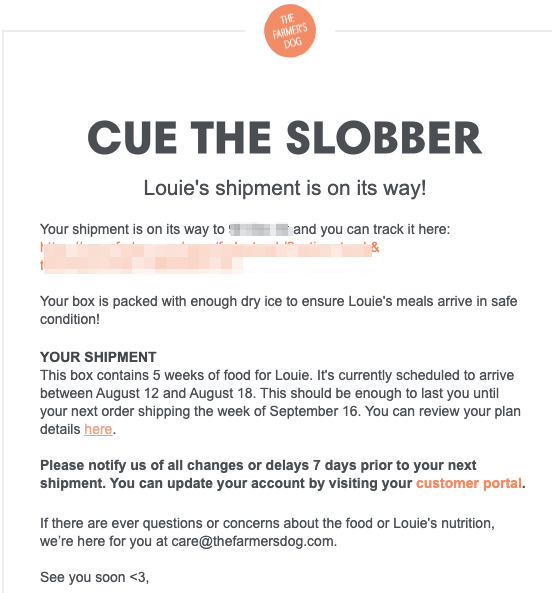 How to Optimize Your Order Confirmation Email Subject Line
While it's true that transactional emails have some of the highest open rates, you still don't want to run the risk of having a subject line that falls flat and gets lost in a crowded inbox.
Tip #1: Try to stay under 7 words or 41 characters
According to data from Marketo, this is the sweet spot for email engagement.

Here's a few examples of what that might look like:
Your order is on the way!
[Brand] order confirmation [#1234]. Details inside
Your [Brand] order receipt
Tip #2: Make it personal
Personalized subject lines are 26% more likely to be opened. A couple of ways you could apply this to your post-order emails:
Thanks for your order, [Name]
Your box ships on [Date]
Tip #3: Stand out with emojis
If it fits your brand, consider the fact that adding emojis to subject lines can lead to higher response rates. For example:
Your booking confirmation ✈️
Your [Brand] order is on the way 📦
✅ We received your order!
Order Confirmation Email FAQ
Is the order confirmation a receipt?
Yes, an order confirmation email is a transactional email that functions as documentation of a confirmed purchase. It is typically used for online purchases and includes all order details.
How do I send an order confirmation email?
It depends on what email marketing tool you are using to manage communications with your customers. If you are a Shopify user, Privy Email is an affordable and easy-to-use solution to build and send order confirmations with.