How to Write Order Confirmation Emails (+7 Brand Examples)
Published on May 12, 2022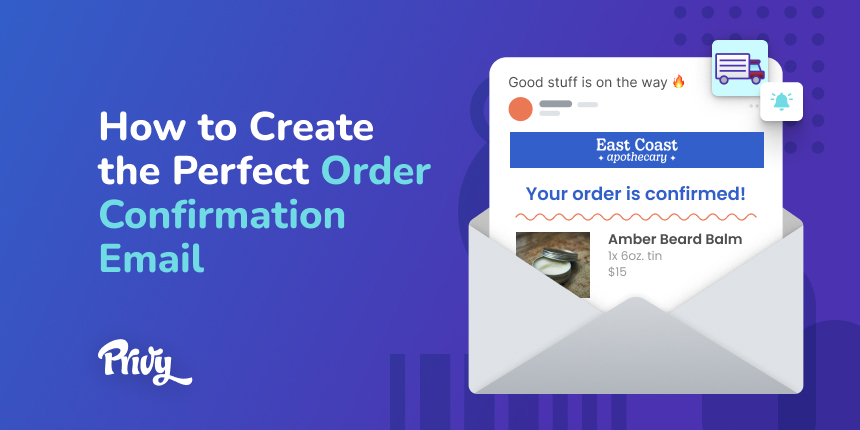 Offering your customers peace of mind after they buy from your online store is one of the most important things you can do as an ecommerce business. What better way to instill trust immediately after a sale than through your order confirmation emails?
Yes, setting up your cart recovery emails and win-back emails are important, but don't overlook the value of order confirmations. Miss the mark on these emails, and you may find less and less first-time customers come back to give you repeat business.
In this article, we'll break down the anatomy of a great order confirmation email, discuss everything that should be included your emails, along with real brand examples for your inspiration. At the end of the article, you'll know exactly how to write, structure, and trigger your order confirmation emails to send at the perfect time. Let's get started.
Table of contents:
Get our best content on ecommerce marketing in your inbox 2 times a week
What is an order confirmation email?
An order confirmation email is a transactional email that automatically sends to a customer after they've completed their purchase. These emails often include order numbers, itemized receipts, contact information, shipping information, and sometimes 'related item' cross-sells near the bottom of the email.
Why are order confirmation emails so valuable?
Think about how confused you'd be if you placed an order and never received any communication to confirm it. Not to mention the fact that order confirmation emails are an amazing place to plug your other products, and hopefully, bring in another sale. Don't sleep on order confirmation emails.
Your customers expect them
How does someone actually know their order went through without receiving a confirmation email? Automating these emails to send as soon as a purchase is placed is a simple and effective way to establish trust with new customers. Failing to send order confirmation emails may lead to frustrated customers contacting your support team for this information.
Easy access to your support team
Your customers should never feel in the dark or wondering where to reach your business. Including this information up front in your order confirmation email serves as a point of reference for contacting your support team and removes friction for buyers so if they have any questions about their order, they know exactly where to go.
Creates opportunities for item add-ons
Order confirmation emails can also be used to cross-sell or upsell additional items based on someone's cart. Considering these emails have a 60% open rate (amongst the highest for marketing emails), you know customers will see your offers.
5 things you need to include in your order confirmation email
The best order confirmation emails share these 5 things in common, starting with the most important part, reiterating what the customer just bought.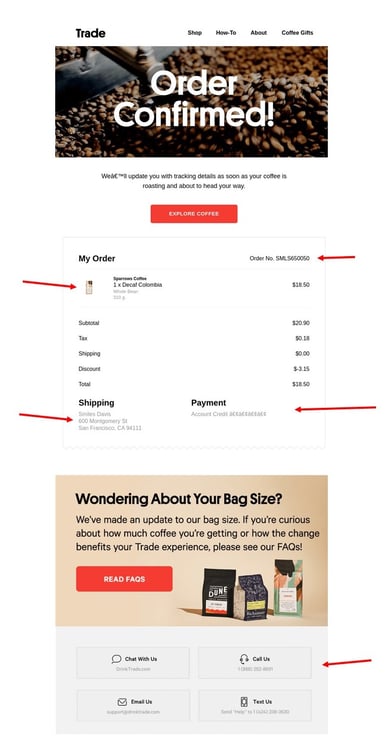 Product information
List product details like size, color, quantity, and so on. Trade Coffee added a picture of the product – an excellent way to make sure it's what the buyer wanted. Plus, it keeps them excited about what's on the way.

Among these product details, make sure you've included a cost breakdown. Show the per-item price, tax, delivery fees, and discounts.
Order number
An order number is a unique identifier that you generate for each purchase. It's a sort of shorthand customers use to reference their transactions when speaking with your customer service team.

Since it's often the first piece of information requested when customers call or write in, the order number should be easy to spot. Place it at the top of the email, with larger font, and surrounded by whitespace, so it stands out.
Payment information
Depending on your product type, customers might be using different credit cards. If you're selling stationary, it might be a business card. If it's a food or beverage order, then they'll likely be using a personal credit card. Make sure to include which payment method they used so it's easy for them to quickly reference.
Shipping information
Confirm shipping method, shipping address, and phone number, and provide an estimated shipping date. Remember: you'll still need to send a shipping confirmation to your customers when an order is officially in transit, but the more information you can give up front, the better.
Customer support information
The most important point of a confirmation email is to verify that everything is as the customer expects. If it's not, there should be easy ways for the shopper to contact someone and get it fixed.

Notice how Trade Coffee added clearly marked buttons for each communication method. If they're in need of support, customers can choose to contact reps through chat, email, phone, or text.
Order confirmation email best practices
Order confirmation emails don't need to be overthought. But these best practices will help you nail communication with customers from the second they place their order.
Send the order confirmation email within 30 minutes
Uncertainty fuels anxiety, and there's plenty of uncertainty after a shopper clicks the "buy now" button. Did they get my order? Will it ship on time? A speedy confirmation email answers these questions and eases post-purchase tension.

Ideally, a confirmation of your customer's order should be in their inbox no more than 30 minutes after they make a purchase. That's an easy goal to achieve with email automation.
Write a clear order confirmation email subject line
A particular strength of order confirmation emails is that they tend to get opened more than other types of marketing messages. But if the subject line is ambiguous, your customers will scroll right by it. Here are a few subject line rules to consider:
Keep it under seven words or 41 characters, or it'll get cut off
Make it personal by adding the order number or product name
Make it crystal clear that it's an order confirmation email
For a simple plug-and-play example, try: "Your [brand/store] order confirmation for [order #]"
Keep the branding consistent
Customers don't just buy your products. They buy your brand. If the very first communication they get post-purchase has a completely different tone than other interactions, it'll feel like a bait and switch.

Are your ads hilarious? Is your website all about sustainability? Carry those brand identifiers to your confirmation emails. Your customers will be reassured that they bought from the right place.
How to take your order confirmation emails to the next level (with real brand examples)
Once you have the basics down, you can start to think about what you want to add to take your order confirmation emails a step further. Here are examples from real brands to inspire you.
Tell your customers what to expect
Ipsy delivers personalized beauty packs to its customers. In its order confirmation emails, Ipsy tells shoppers exactly what to expect from their new purchase. This is a great way to prep someone when their order arrives and to build excitement around a purchase.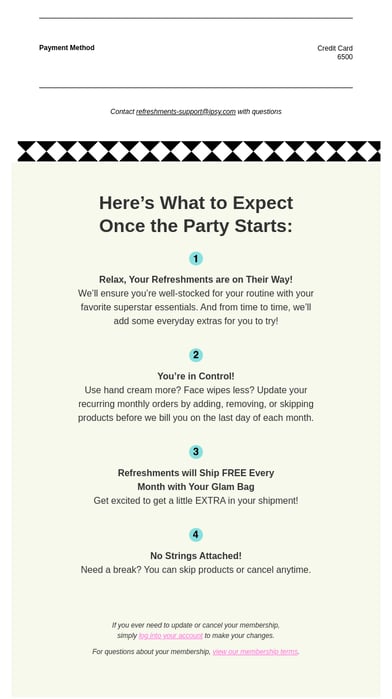 There are several ways to accomplish the same transparency in your emails. Add the list of steps – like order placed, product packed, product shipped – to a progress bar, so customers can see where their purchase is in the process.
Build anticipation before arrival
There's a lull in the excitement of buying new things that hits just after placing the order and lasts until the product arrives. Athletic-wear brand, Ten Thousand, bridges the gap with some social proof and images in its confirmation email.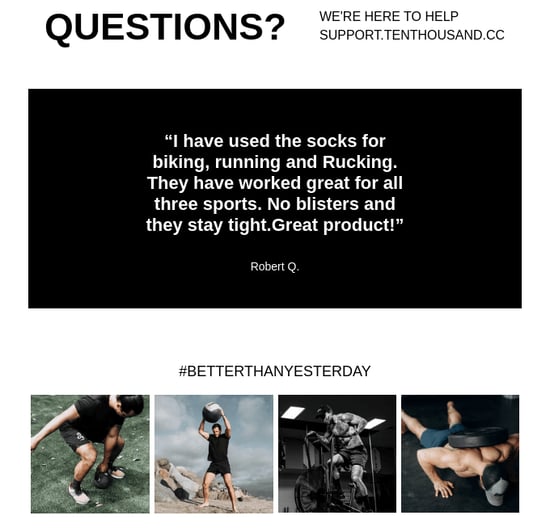 You can combine both social proof and engaging imagery by including user-generated content. If your product is less visual, add a brief description of how to use it, like a recipe if you sell cooking oils.
Give product usage tips ahead of time
Imagine what the world will be like when you finally get the product you've ordered. That's what Classic Specs does for its customers by showing how to properly try on a pair of new eyeglass frames.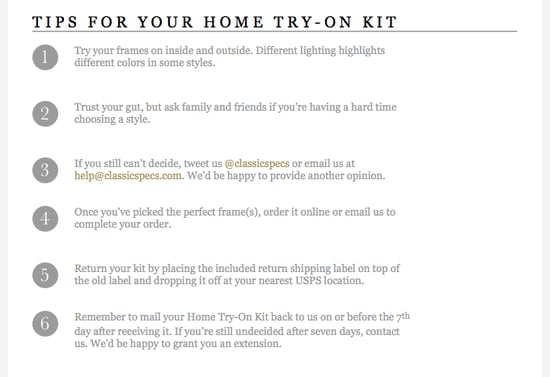 Your customer has likely already pictured how they'll use your product. But you'll expand their imagination and foster even more excitement by giving them more ideas. Consider talking about different use cases and even instructions on caring for their new possession.
Look ahead to the next sale
The people you send order confirmation emails to are a warm audience, meaning they're more receptive to your message than people who have never heard of you. TheHeartDepartmentCo takes advantage of this budding relationship by offering its new customers a valuable incentive to place a second order.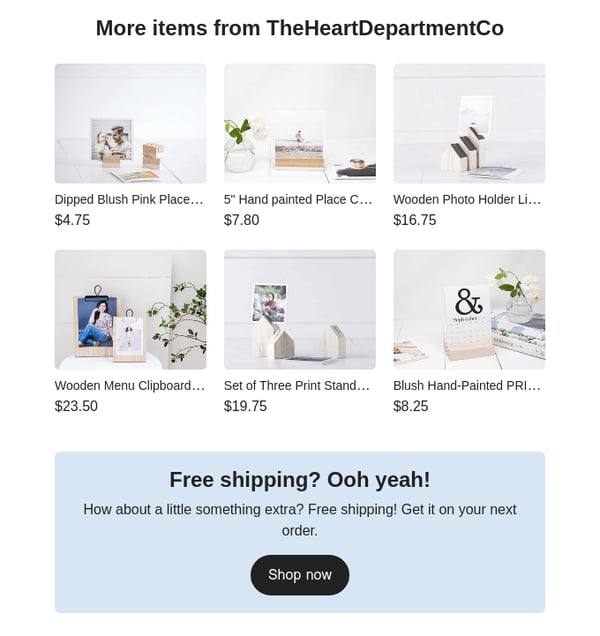 Whether it's a discount, a gift-with-purchase, or some other incentive, keep the good vibes rolling with product recommendations and a deal only recent buyers get. You can even use this like an abandoned cart email, offering carrots for the shopper to buy items they left behind at checkout.
Show your values and brand personality
We've talked about showing off your brand values and personality in order confirmation emails. Here's how Allbirds did it in theirs.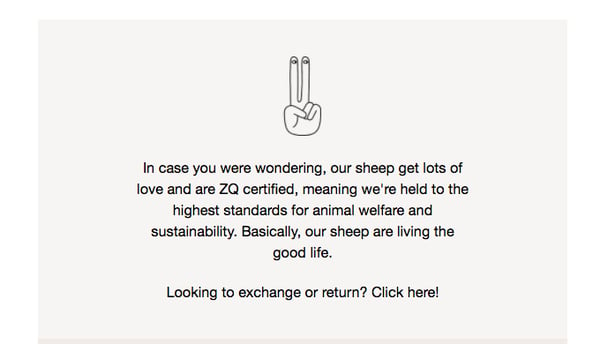 For your online store, this message might be about sustainability or offer transparency into the design or manufacturing process that sets your product apart. If comedy is what sets your brand apart, adding a meme or humorous quips to your order confirmation email will enhance the experience for the customer.
Ask for referrals
Turning happy customers into de facto salespeople for your brand is the ultimate marketing flex. Casper does it by incentivizing new buyers with cold hard cash to join its referral program.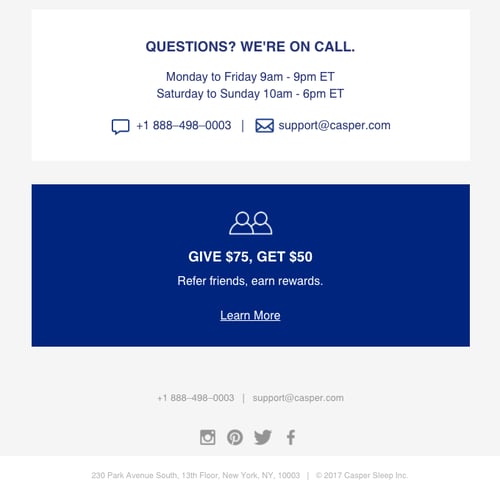 A variation on this theme is to ask customers to review your products online or to use a hashtag and share their experience on their social media feeds.
Remind loyal customers about their points
Rewards programs are intended to increase customer loyalty and repeat purchases. True Classic sends out a personalized message like this one as part of its order confirmation email cadence.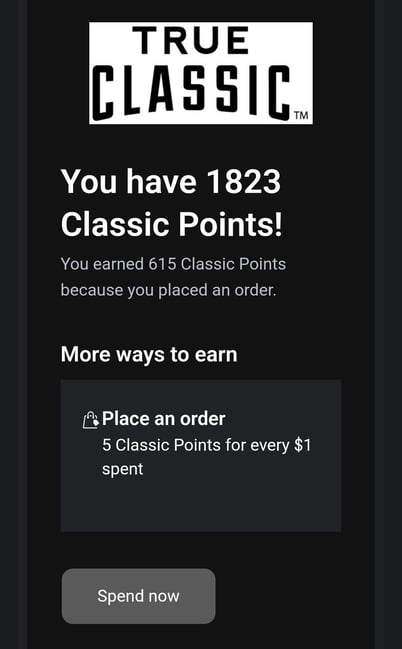 Shoppers get to see the immediate impact their purchase had on their rewards points. And the CTA button is an express ticket to trading points for new gear.

You can also use your confirmation emails as a way to get new rewards member signups. To supercharge the message, let new customers know how many more points they need to get their first reward.
And don't forget about SMS order confirmations
Order tracking and confirmation texts are useful to shoppers and shop owners for the same reasons as their email counterparts. Maybe even more so, since texts are more immediate.

In fact, SMS can be a valuable channel for every stage of your marketing and customer funnel. Read this guide to learn how to get customers to buy from text messages.
Order confirmation email FAQs
Is an order confirmation email also a receipt?
An order confirmation can also be a receipt! However, if you're looking to improve your marketing, order confirmation emails should be more than just a receipt. You can include everything from a discount code for a 2nd order to your catalog of other products they could purchase.
When should I send an order confirmation email?
An order confirmation email should be sent immediately after a customer places their order. This leads to higher open rates and gives customers peace of mind that their order went through.
Do I need to send an order confirmation email with every purchase?
We recommend you send an order confirmation email with every purchase. This is because customers often view these emails as a guarantee that their order went through. This also gives customers a way to contact you if they ever have any questions. So make sure if a customer replies to that email, they're going to be able to get in touch with a real person.
Should I personalize my order confirmation emails?
Absolutely! We recommend using an email editor tool that lets you automatically send these emails and include "dynamic content." Dynamic content lets you include photos of the product customers purchased as well as things like order confirmation numbers and receipts.
Subscribe for Updates
Get our best content on ecommerce marketing in your inbox 2 times a week.
Subscribe for Updates
Get our best content on ecommerce marketing in your inbox 2 times a week.