3 Abandoned Cart Recovery Strategies Every Online Store Can Use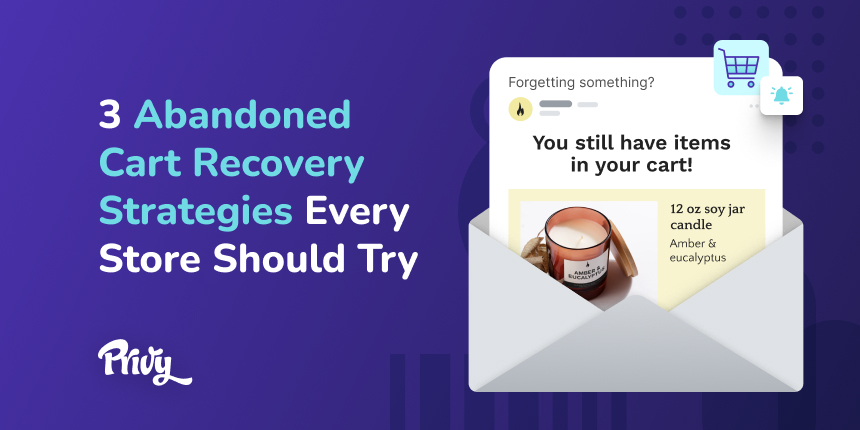 Can you imagine if more of your store visitors finished their purchases instead of second-guessing and leaving your website?
While cart abandonment isn't something you can totally eliminate, increasing how many abandoned carts you're able to recover by 5-10% can have an enormous impact on your ecommerce business. Doing this is possible, so long as you have a solid abandoned cart recovery strategy in place. That's where we come in.
In this guide, we'll show you step-by-step how to create an abandoned cart recovery strategy using popups, email marketing, and SMS marketing.
Table of Contents:
Get our best content on ecommerce marketing in your inbox 2 times a week
Why it's important to have a cart abandonment recovery strategy
The latest research tells us that about 69% of online shoppers will abandon their carts, and there is a laundry list of reasons why most shoppers don't finish their orders. Some of the most common include:
They were just browsing
They were comparing you to another site
The final price after taxes and fees was too high
They weren't offered free shipping
They weren't offered a discount
It can be frustrating when visitors abandon their carts, regardless of why they did it. However, each of the strategies listed below will help you recover more carts and increase your online sales in no time.
Strategy 1: Create a cart saver popup
A great way to recover more carts is with a cart saver popup. You can choose from dozens of pre-made popup templates in Privy or design your own from scratch. Either way, keep this popup simple, to the point, and be sure your offer is worth signing up for.
This may be your last chance to convince someone to finish their purchase, so you'll want to get straight to the offer. Below is a good example of a basic cart saver popup: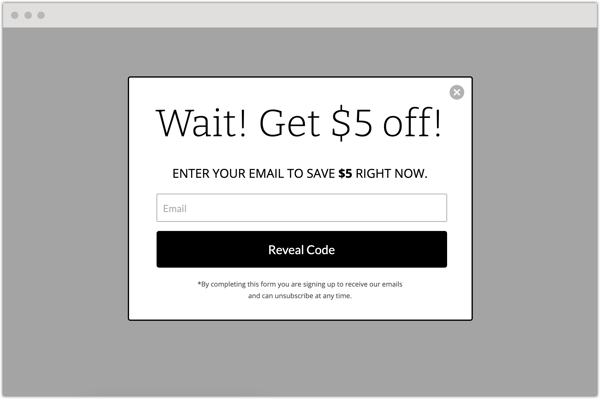 After designing your popup, now comes the most important part – showing it to the right audience at the right moment.
You'll want to show your cart saver popup on exit intent, or when someone is about to leave your website with items still in their carts. The advantage of showing your popup on exit intent is that a shopper sees it when they're still in 'buying mode', giving you the best chance to convert them into a customer.
The default trigger settings for cart saver popups in Privy will appear to visitors who have:
Met your selected trigger criteria (e.g., An exit attempt).
Have products valued at more than $0 in their cart.
Have not already signed up through another popup campaign.
There are more than enough ways to display your cart saver popups. You may only want to show them on specific pages or when specific products have been added to a cart. You can also run multiple variations of the same cart saver popup based on the value of someone's cart. For example:
$5 off with a cart value less than or equal to $50.
$10 off with a cart value less than or equal to $100.
$15 off with a cart value less than or equal to $150.
Play around with triggering and targeting options to see what works best for your store and what your visitors are engaging with the most.
Before launching your cart saver popup, decide whether you'll be capturing someone's email address, phone number, or both in order to reveal a discount code.
Using a cart saver popup as an email list growth strategy can be beneficial to your store in the long run, since the average amount of sales Privy customers get from each email address captured is $33. You'll be able to send these contacts your product newsletter, win-back emails, abandoned cart emails, and more.
The advantage of capturing phone numbers is being able to send marketing text messages to your customers. We know that more than 80% of consumers said they opted-in to at least one brand's text marketing program, a 26% increase from last year. With text messaging rising as a popular sales channel, it's not a bad idea to start growing your SMS list.
When your design is finalized, your offers are in place, and your targeting is set, it's time to launch your cart saver popup and recover more sales.

Strategy 2: Create an abandoned cart email series
If you're looking to engage with contacts already in your email list, you should consider creating a series of abandoned cart emails.
The goal here is the same as the previous strategy – to recover more carts by leading with an offer. What's different is that this strategy reaches your shoppers through email and at several touch-points.
To design your abandoned cart emails, choose from a variety of Privy templates and add your own spin to it using the drag and drop editor. These can be made to match the exact look and feel of your brand (seen in the examples below) while still keeping them simple and focused on the offer.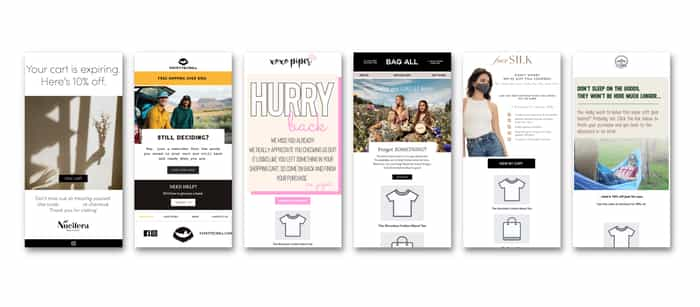 After design comes the email subject line and preview text. The goal here is to entice someone to open the email to see their offer. A low email open rate will affect the performance of your cart saver campaign.
Now onto the nitty gritty details of your emails. You'll need to:
Set the minimum value a shopper needs to have in their carts before receiving this email.
Segment by product. For example, if you have a Shopify or Shopify Plus store and use Privy, your emails can be configured so that it only sends if the customer's cart contains specific items.
Set the timing. We recommend a 3-part cart abandonment email series, but we'll get more into that in the next section.
After finishing these 3 steps, your cart abandonment emails can save a shopper's cart and send automatically based on your settings. It's that simple.
If you're a visual learner, check out this 6 minute step-by-step tutorial on how to design, target, and send cart abandonment emails in Privy below:
How many cart abandonment emails should you send?
To get the most out of your cart abandonment emails, we recommend setting up a 3-part series of emails that automatically send over the course of a few days.
1. The reminder email: This sends as soon as 1 hour after someone abandons their cart. It's a small nudge for someone to complete their purchase.
2. The expiring incentive: This sends 24 hours after the first email. You can include a discount code here to incentivize the shopper.
3. The last chance email: This sends 48 hours after the first email. This is the final effort to get someone to complete their purchase. Adding a limited-time discount offer in this email may help.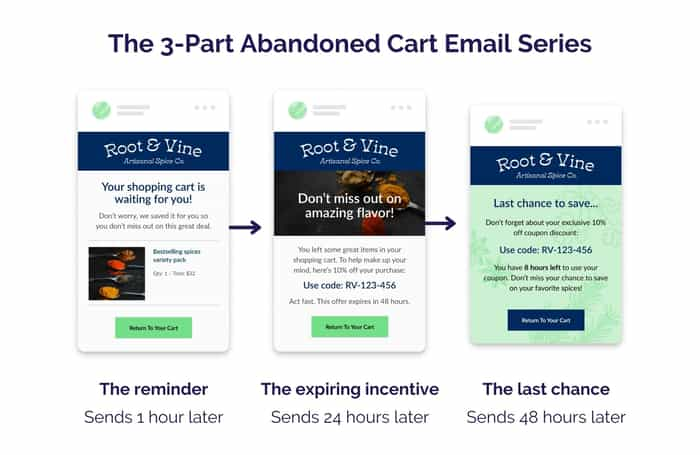 Sending abandoned cart emails is a tried-and-true way to recover more carts. Nearly 50% of all cart abandonment emails are opened, and over 30% of those have clicks. It's no surprise that these are some of the most engaging and successful marketing emails your brand can send.
Strategy 3: Send abandoned cart text messages
For this final strategy, instead of reaching shoppers by email, you're going to send them text messages with a link to their saved cart. This is one aspect of SMS marketing, and we know from earlier that more consumers are open to texting with brands they enjoy shopping with.
To start, you'll need an SMS marketing service integrated with your online store, like Privy Text. For someone to be eligible for SMS marketing, they'll need to enter their phone number through one of your campaigns (like the cart saver popup from earlier) and opt-in to receive texts from your brand.
Heads up: There are a handful of SMS marketing laws you'll need to know before sending your texts. So be sure to follow them clearly and stay compliant! And choose a platform that does all the rule following for you.
Once you start building an SMS list, it's time to create and send your cart abandonment texts. Unlike popups and email marketing, your SMS campaign won't have much design. It'll be a text message with a link to someone's saved cart, like the image below: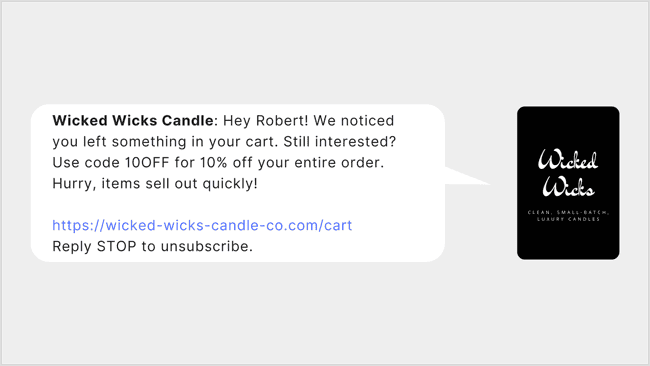 Because of a lack of design, it's important your texts have catchy copywriting, contain an offer worth considering, and are timed well. You should experiment with different copywriting to see which text messages work best for your store.
Consumers are on their smartphones now more than ever, which has led to the rise of SMS as a sales channel for ecommerce businesses. This means you can expect your open rates on text to far exceed your open rates on email, giving you a good chance at recovering more carts.
Wrapping up
Whether you're running a popup campaign, email marketing series, or sending automated text messages, taking action against cart abandonment using any of the 3 strategies in this article will help you recover more sales.
Remember to test and tweak your design, copy, and targeting along the way. Doing this will help you chip away at your cart abandonment rate little by little. Before you know it, stressing over cart abandonment will be a thing of the past.
Subscribe for Updates
Get our best content on ecommerce marketing in your inbox 2 times a week.
Subscribe for Updates
Get our best content on ecommerce marketing in your inbox 2 times a week.