What Is SMS Marketing? Get Customers to Buy from Their Phones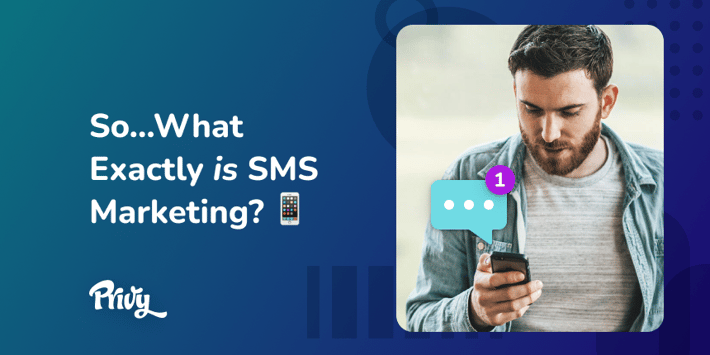 There's plenty of buzz around SMS (or text messaging) being the future of marketing – especially for ecommerce brands.
But the reality is SMS marketing is already here. And there's a ton of potential for brands to turn it into a revenue generating machine.
Not too long ago, texting was simply something you did to chat with friends; now it's a lucrative sales channel for online sellers who want a more efficient and effective way to communicate with their audience.

If you're a newcomer to SMS marketing, you probably have questions (or doubts) about it:

Do my customers really want to get text messages from me?

Will SMS marketing actually generate money?

How can I balance SMS with email marketing and other sales channels?

This guide answers all of those questions and more, so you can start texting customers with confidence.
Get our best content on ecommerce marketing in your inbox 2 times a week
What is SMS marketing?
Short message service (SMS) marketing refers to promotional or transactional messages sent directly to subscribers' mobile phones via text message. SMS marketing messages are just like texts you'd get from a friend, except they come from a brand.

You can use SMS marketing to welcome new customers, announce product launches, promote sales, recover abandoned carts, send shipping updates, and more. If your message is 160 characters or less, you can send it via text.

SMS marketing is one of the fastest-growing sales channels, with global mobile business messaging traffic reaching 2.5 trillion in 2020, according to Juniper Research.
Why is SMS important for ecommerce brands?
As the world of ecommerce gets more crowded and competitive every day, it's important to own your sales channels – not rent them. Your SMS marketing is an asset you have complete control over. It's a direct line of communication to your audience that you own forever.

Contrast SMS with social media: whether you're sharing organic content or buying ads, these platforms have the power to reward or diminish your hard work just by tweaking their algorithms.
That doesn't mean you should ignore social media, it just means you need to diversify your marketing channels with owned assets like email and SMS lists.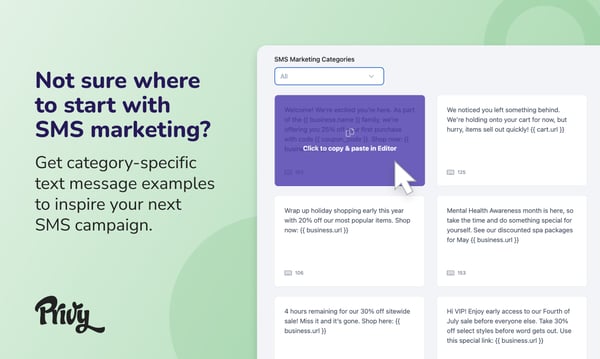 Aside from owning your audience, it's important to meet customers where they are. And it's almost certain your customers are on their smartphones. Texting is the most common form of communication for Americans younger than 50, so earning permission to text your audience is a big advantage.

We've spoken to a lot of ecommerce merchants who worry that texting their customers will seem annoying or intrusive, but the data suggests otherwise. Nearly 40% of consumers would like to receive texts 2-3 times a week from brands they signed up to hear from, according to Attentive's 2021 SMS Marketing Consumer Trends Report.
How does SMS marketing software work?
In order to text your audience, you need two things: their explicit opt-in to receive messages and SMS marketing software. This software is your one-stop-shop for all SMS marketing initiatives, like managing your contacts, setting up campaigns, and tracking performance.

It's important to choose SMS marketing software that integrates directly with your online store, so you can create the most personalized experience for your audience. Privy Text, part of the Privy Growth Plan, integrates with any Shopify store so you can create coupons, add SMS signup forms to your popups, and even remind customers to complete purchases.

The cost of most SMS marketing platforms depends on how many textable contacts you have. For example, the Privy Growth Plan starts at $45 per month, including 500 contacts and our email and conversion products.
Rules and regulations for SMS marketing
As eager as you might be to get started, you can't start blasting out text messages to any and everyone. You need to have express permission.

For starters, you should never buy SMS marketing lists (yes, there are still people out there who try this), and you should always use a reputable SMS marketing software to collect contacts.

The basic rules for when and how to use SMS marketing are very similar to email:
You must have the express (written) permission of the recipient – this can be as simple as checking an "I agree" box.
People on your SMS list must be able to easily opt out (just like email).
Those are the rules in a nutshell, but if you want a deeper dive into the rules and regulations of SMS marketing, check out our complete guide here.

The take-home message about setting up SMS marketing is it's really not difficult, despite what you may have heard. If you do email marketing, then you're already somewhat familiar with key requirements. And with the right platform, these rules and regulations will be built in, making it even easier.
How effective is SMS marketing
Let's look at 3 key metrics to illustrate the effectiveness of SMS marketing.
SMS marketing open rates
SMS open rates can be as high as 98%, compared to 20% for email, according to Gartner. That can likely be attributed to the sheer volume of emails people receive. The more cluttered their inbox is, the less likely your message will be opened
SMS marketing response rates
People tend to respond faster to texts than to emails. That's reflected in Gartner's research, which found that SMS response rates can soar as high as 45%, compared to just 6% for email. This is crucial if you run a flash sale that only lasts a few hours (or less) or have any other timely announcements to share.
Revenue from SMS marketing
According to Attentive's 2021 SMS Marketing Benchmarks Report, nearly 96% of marketers who use SMS say it helps them make more money, and 57.7% said it "significantly or overwhelmingly" boosted revenue.

Attentive also found that ecommerce brands generated $71 for every dollar spent on SMS marketing. Now that's a return on investment!
SMS vs. email marketing
SMS and email complement each other. You don't have to choose between them, but there are instances where SMS works better than email and vice versa.

The instantaneous nature of text messages, along with their 160-character limit, makes them ideal for quick, time-sensitive communications. For example, Kōv Essentials used SMS to give subscribers limited-time access to a new collection of hair clips. That single text generated $1,000 within an hour.

On the other hand, newsletters, blog recaps, company announcements, or promotions that include multiple products are best suited for email. You have more space to work with, plus you have more design flexibility.

In short, if you want someone to act immediately, send a text; if the message can wait and you want to craft something more thoughtful, email is the better option.
How do you add contacts to your SMS list?
To get started with SMS marketing, you need to give your audience ways to join your text list. Keep in mind your contacts have to give explicit opt-in permission before you can text them –you can't simply import a list of phone numbers into your SMS marketing platform.

Don't get discouraged, though. Every brand, no matter how big, has to start its SMS list from zero. Here are a few ways your ecommerce brand can quickly build a list of textable contacts:
Add an SMS field to your email popups and offer an incentive. For example: "Sign up for text alerts and get 10% off your next order!"
Invite your current email subscribers and social media followers to join your SMS list, again using an incentive. Even if you only convert a handful of people, you still have a valuable opportunity to capitalize on their loyalty.
Add an optional SMS opt-in form on your checkout page. This is where most first-time buyers enter their email address, and giving them the option to enter their phone number too is an easy way to grow your list.
SMS marketing best practices
Let's look at a few things you can do to make the most of your SMS marketing efforts. Need some real-life inspiration? Check out these 3 brands that have mastered text message marketing.
Make your messages relevant
Just like your email marketing strategy, you can't just send out text messages for the sake of it. The most effective campaigns are targeted and relevant to the people receiving them.

For example, you might:
Add an informational link to transactional SMS messages. So, if a customer made a purchase and you're sending a shipping notification via SMS, include a link so they can "click here to find out how to care for your new [product]."
Send messages based on selected preferences or customer behavior. For example, if you're having a sale on women's socks, it makes more sense to send a message about it out to people who have bought women's socks before (or who likely wear them!).
Send messages that are timely. Think about holidays or special events as a way to drive urgency around an offer: "Mother's Day is next week, use code: MOM20 to save 20% on a gift for mom."
Keep it conversational
Not every text you send has to mention your product or lead to a purchase. Educational or entertaining content is enough to build trust and engagement with your brand. Take the cookware company Equal Parts, for example.

They have a free text-a-chef service, where culinary experts offer tips, share recipes, and answer questions via text. Anybody can sign up, whether they're an Equal Parts customer or not.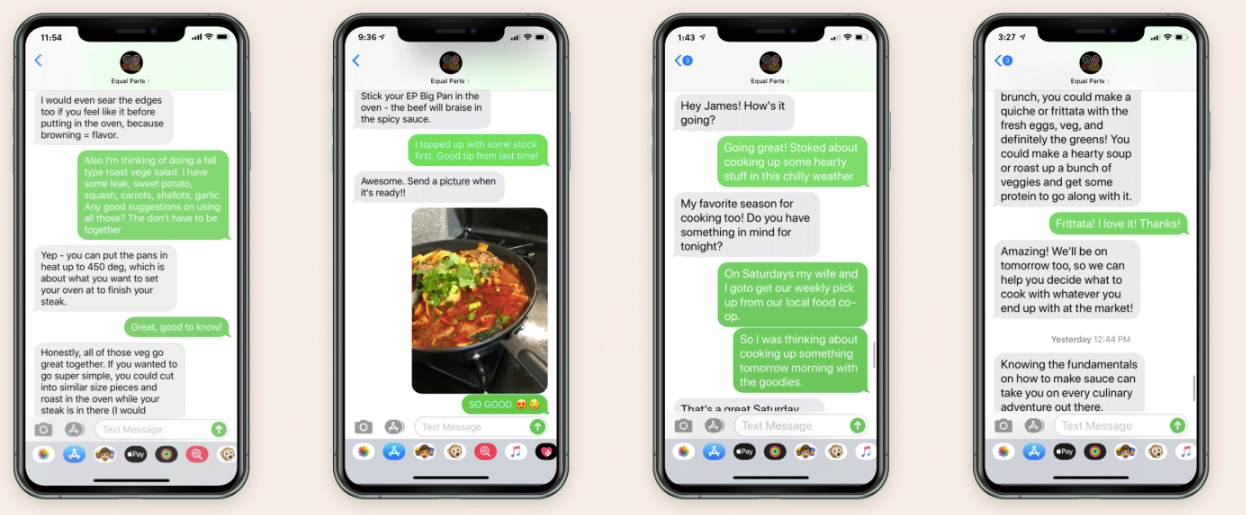 Small and growing ecommerce brands have a real advantage when it comes to SMS because people love to hear from the person behind the business. Use that to your advantage when sending texts to customers.
Make signing up worthwhile
Before sending a text, ask yourself: what's in it for the recipient? This could be access to exclusive products, discounts, or content other shoppers can't get.

For some customers, the convenience of texting over email is enough of an incentive to sign up, but others may need a nudge.

Don't forget – you can test different offers and messaging through a popup on your website to see what ignites the most interest. That could be free shipping, exclusive products, or something else.
Think about timing
Text messages tend to be seen and opened soon after being sent, but you've still got to be intentional when you send them.

For example, some countries restrict the days and hours for which it's acceptable to send SMS marketing messages. That's why Privy Text (part of the Privy Growth Plan) has "quiet hours" between 8 p.m. and 9 a.m. in recipients' time zones when messages can't be sent.

Another thing to consider is how often you send text messages. As a rule of thumb, don't send more than one message in a day (unless those are transactional messages, rather than marketing messages). If you send messages too often, they lose their effect, and people might opt out.
Keep it concise
The best SMS marketing messages are short and sweet. They don't require the recipient to read a wall of text or to spend a whole lot of time deciphering what the message means.

A clear call to action is also important. Why are you sending the message, and what does the recipient need to do? Make sure you haven't left any room for confusion.

To add to this, an SMS message should have one clear purpose and call to action. If you try to accomplish too many things with it, you risk confusing your recipients.
Send triggered messages
SMS marketing software lets you automate SMS messages based on a customer's actions. The best example of this is setting up a cart abandonment text customers receive when they leave your site with something still in their shopping cart.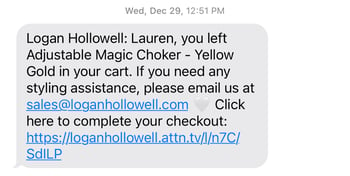 Another example is a thank you or welcome text customers receive after making their first purchase. You can include a coupon in the message to drive a repeat purchase right in the moment.
Send your first text in 5 minutes flat
Running an ecommerce brand is a lot of work, so you might be skeptical about adding a new channel like SMS to your marketing mix.
But Privy Text, part of the Privy Growth Plan, only takes about 5 minutes to set up. Plus, you can automate your messages, so you spend less time texting and more time growing your business.
Subscribe for Updates
Get our best content on ecommerce marketing in your inbox 2 times a week.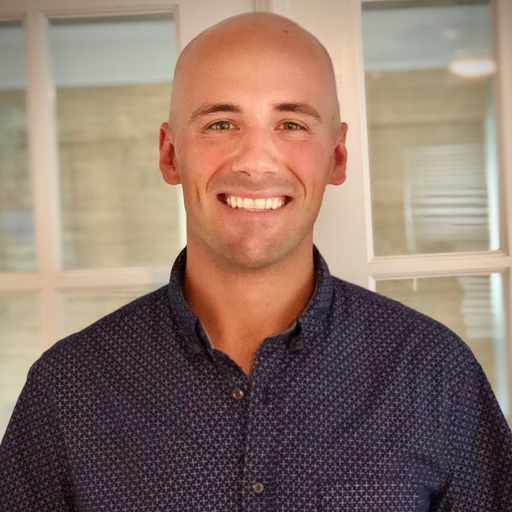 Written by Ryan Pinkham
As CEO, Ryan is leading the exciting next chapter for Privy. Everything he does revolves around helping independent businesses unlock more growth.
Subscribe for Updates
Get our best content on ecommerce marketing in your inbox 2 times a week.