Getting Started with SMS Marketing: A Guide for Ecommerce Store Owners
Published on Sep 17, 2021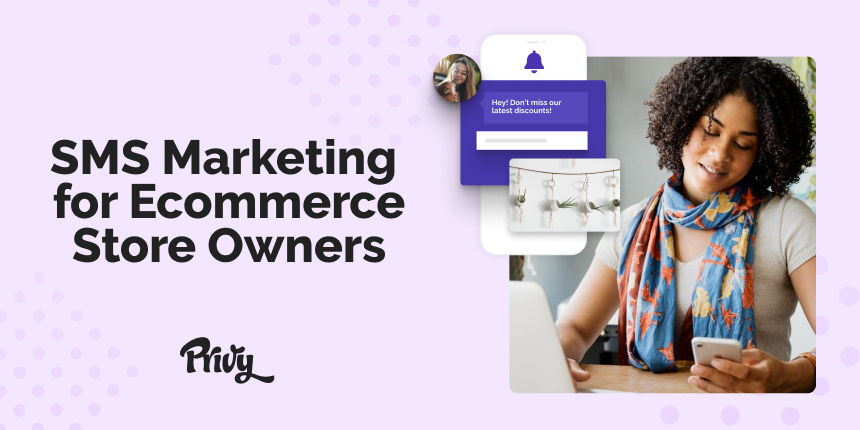 When it comes to driving ecommerce sales, many brands are laser-focused on social media and email marketing. But brands often overlook customers' favorite form of communication: text messaging.

Text marketing, or SMS marketing, is a fast-growing channel with the potential to turn passive audiences into repeat customers. Wondering how to add texting into your marketing mix? You're in the right place.

This article covers five phases to make SMS marketing a successful sales channel for your ecommerce business – from building your contact list to automating messages.

Let's start with the basics.
Get our best content on ecommerce marketing in your inbox 2 times a week
What is SMS marketing?
SMS (short message service) marketing is the process of connecting and engaging with your audience via text messages on their mobile phones. Brands use SMS marketing to share discounts, promote products, collect feedback, recover abandoned carts, and more.

Although it's easy and effective, SMS remains one of the most under-utilized marketing methods. More than 90% of people are open to receiving texts from businesses or already receive them, according to Attentive. However, only 44% of marketers use SMS marketing software, according to G2.

But the brands that do text their customers tend to see impressive results. One study found that SMS open rates could be as high as 82%, compared to 20.4% for email.

Now that you're up to speed on SMS marketing, here's how to get started.
Phase 1: Get familiar with the rules and regulations for SMS marketing
Before you fire off any text messages, make sure you follow these two important guidelines:
You must get permission from recipients before communicating with them via SMS. This is called an "opt-in." An example of an opt-in message looks something like this: "By entering your phone number, you agree to receive occasional messages from [Brand Name]."
Recipients must be able to easily opt-out of SMS marketing messages (just like they can with email). That language looks something like this: "Reply STOP to opt-out of SMS messages from [Brand Name]."
For a deeper dive into wireless communication rules and regulations, check out our complete guide to SMS marketing laws.
Phase 2: Build your SMS subscriber list
Let's look at a few tactics to build your SMS contact list from scratch:
Add a popup to your website (with an incentive)
Popups are the easiest way to turn website traffic into text subscribers. Privy lets you choose from dozens of tested templates that you can customize to match your brand's vibe.

For example, if you sell custom dog accessories, your popup might say something like: "Sign up for text alerts and get 10% off your next order, plus free engraving on your next collar!"
Invite email subscribers and social media followers to your SMS list
Whether you have an audience of 10 or 10,000, getting them to opt in to SMS marketing gives you more opportunities to maximize their loyalty.

In your next email newsletter or social media post, encourage people to subscribe to SMS marketing with an incentive, just like you would with a popup. For example, your call-to-action might look something like this: "Text 'Bark' to 123-456 to get free shipping forever!"
Add an SMS signup option to your checkout page
Customers will likely enter their email address when they buy something from your online store. Adding an optional SMS opt-in form is an easy way to capture phone numbers to grow your list.

Again, remember to include an incentive as well as a disclaimer. For example: "Sign up for text updates to get exclusive deals. By sharing your phone number, you agree to receive occasional messages from [Brand Name]."

So, you've built up a solid SMS subscriber list. Now what?
Phase 3: Build trust and drive sales with SMS marketing messages
Text messages are a huge opportunity to maximize the value of your customers – but it's important not to abuse the privilege.

42% of consumers say they'd like to receive marketing text messages 4-6 times per month, while 39.2% would prefer 2-3 messages per week, according to Attentive. That's not a lot of interactions, so here are five ways to make the most of SMS communication.
Make the first message memorable
Include media such as GIFs, images, and videos to grab your recipient's attention and establish your brand's tone and style.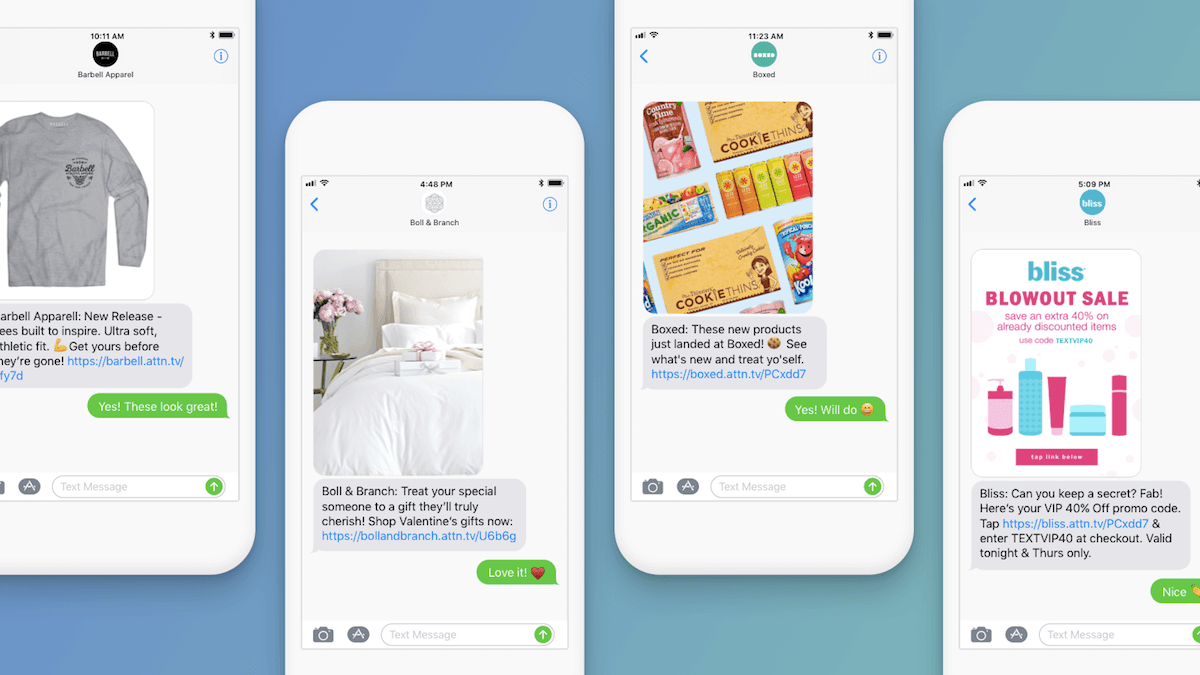 Image credit: MarTech
Send discount codes to drive sales
There's no need to make small talk over text. Consumers are most interested in receiving marketing messages that offer coupons after opting into texts, according to Attentive.

Coupon redemption rates are staggeringly high compared to other communication channels. In fact, the average coupon redemption rate is between 30-50% for SMS – four times higher than the next most-redeemed alternative.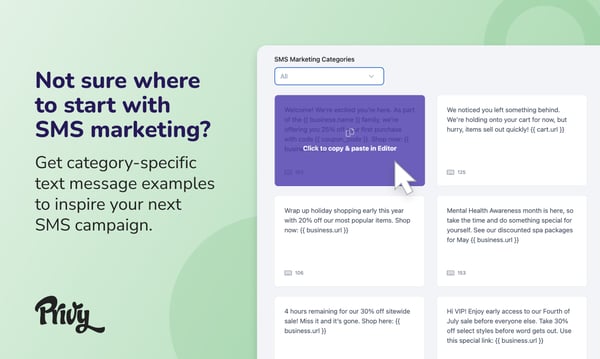 Offer support after customers make purchases
SMS messages aren't exclusively for boosting sales – brands use them to offer support as well.

Instead of upselling right off the bat, follow up with first-time buyers to see if they're enjoying your product or if they need help. Making customer experiences easy is the biggest factor for customer loyalty, and texting is an effective way to give your audience the assistance they need.
Give SMS subscribers early or exclusive access to products and sales
When you ask customers for their phone number, their first question is likely: What's in it for me?

One of the most enticing SMS opt-in incentives is exclusivity – whether that's in the form of deals or items that the general public can't access.

"If you give your SMS list early access to product alerts or sales before anyone else, it drives list engagement and makes those customers feel special, which often motivates them to buy more," says Sammy Tran, Co-Head of Lifecycle Marketing at MuteSix.
Remind customers to complete their purchases
Did you know that cart abandonment costs ecommerce businesses $18 billion in revenue every year?

With SMS messages, you can remind shoppers that they have items in their shopping cart and encourage them to complete their purchase. Research from Message Media shows that text messages can recover 41% of abandoned carts.

Don't leave that money on the table!
Phase 4: Segment your SMS list to reach the right people at the right time
Personalization is the key to leveling up your SMS marketing strategy. Grouping your subscribers into distinct segments ensures your messages are as relevant as possible—this is called "segmentation."

Here are four common SMS audience segmentation strategies:
Determine engaged/unengaged subscribers: This is usually determined by data like open rate and click-through rate.
Determine past buyers/non-buyers: People who haven't made a purchase need different communication than people who are already familiar with your products.
Segment based on location: If you're doing a pop-up sale in a specific city, message customers who live in the surrounding area.
Identify VIP customers: Retain your biggest spenders with rewards, referral bonuses, or a simple "thank you" text.
Phase 5: Automate your SMS marketing with Privy
As you've seen, SMS marketing is an effective way to keep your customers engaged. But you don't want to spend all day texting – you've got a lot to do.

Luckily, you can put SMS marketing on autopilot with Privy: the #1 rated sales app in the Shopify App Store. Privy Text has all the tools you need to turn texting into a profitable sales channel. After a five-minute setup, you can automatically:
Send welcome discounts to new customers
Send custom coupons that sync with your Shopify store
Remind shoppers about abandoned carts
Track open rates, click-through rates, and more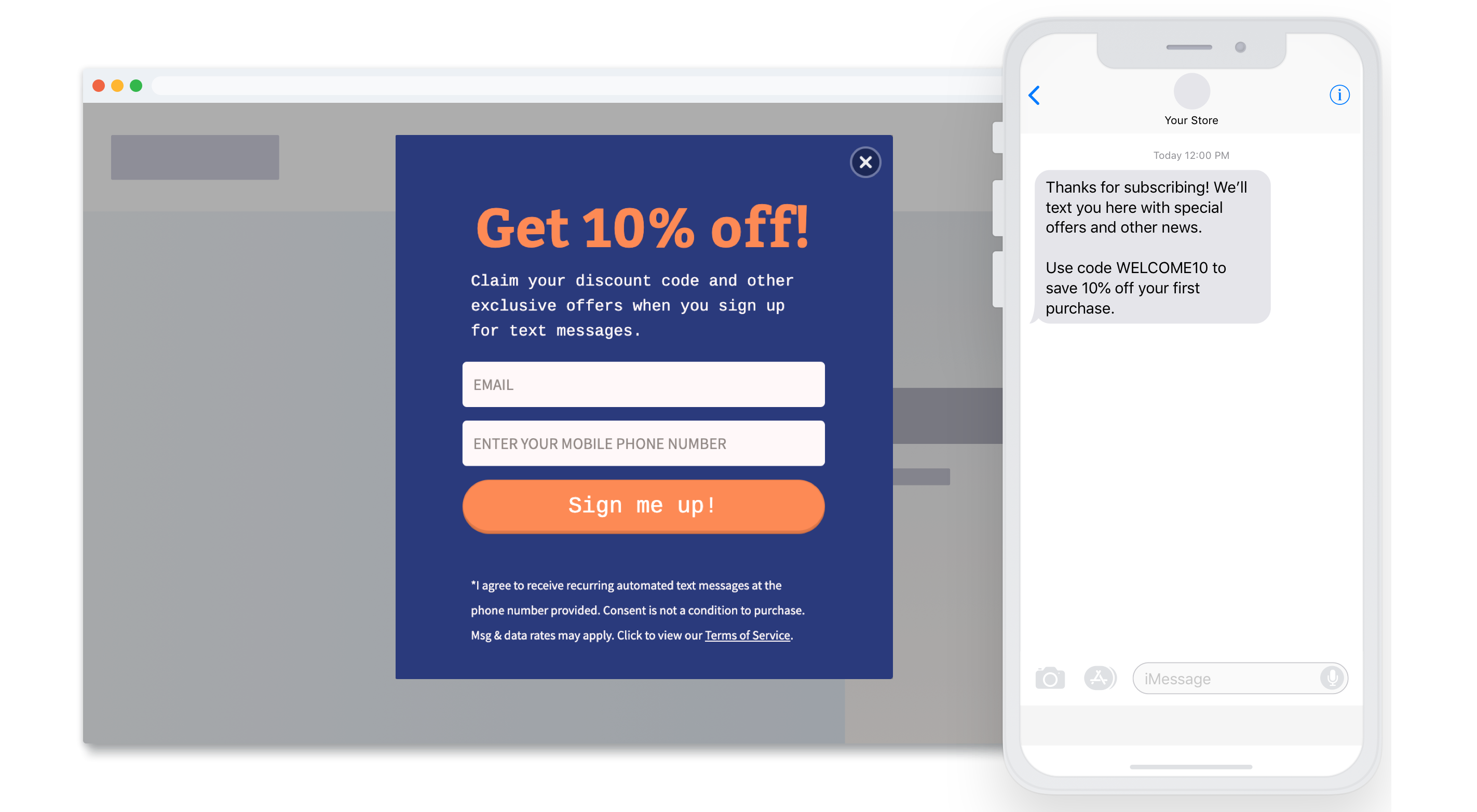 Privy Text starts at just $10 per month with no annual contracts.
Turn texting into your #1 sales channel
Sometimes, ecommerce store owners are hesitant to ask for customers' phone numbers. But as you've seen, customers want to text with brands they love – and those texts have the potential to generate more revenue than your other marketing channels.

How you speak to customers certainly matters—but where you speak to them is equally important. For many of them, that's a text thread instead of an inbox or social feed.

Ready to get started with SMS marketing? Take Privy Text for a spin.
Subscribe for Updates
Get our best content on ecommerce marketing in your inbox 2 times a week.
Written by Lauren Hall
Lauren is a Brand Marketing Associate at Privy. She's the brains behind all things content. When she's offline, she's obsessing over her Bernedoodle pup, Monster, and plotting ways to being a full-time Vermonter ASAP.
Subscribe for Updates
Get our best content on ecommerce marketing in your inbox 2 times a week.