The 10 Best Times To Send Your SMS Marketing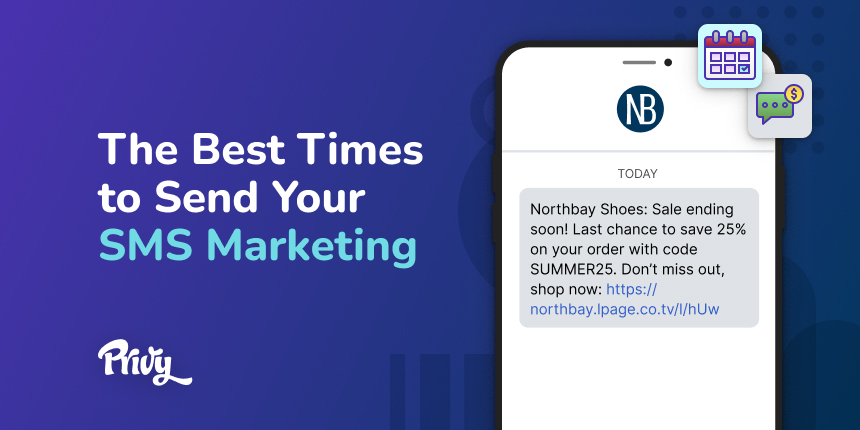 Imagine going back to the 1960s and shaking hands with the Mad Men-style executives at Ogilvy & Mather. Picture their reactions as you tell them that one day, they will send messages on a tiny device their audiences carry everywhere, look at dozens of times every day, and use to buy everything from fast cars to cat food.

That's the reality for ecommerce shops that use SMS marketing. With the average American glancing at their cell phones 344 times a day – and nearly three-quarters of all online purchases flowing through mobile devices – text messaging has become an important sales tool for online shops.

You just can't just send an endless stream of marketing texts, though. Consumers say too many messages from brands is a big turn-off.

To balance the benefits of SMS marketing without hurting your relationship with your best customers, you have to be choosy about when you send texts.

How do you pick the best times to send SMS marketing? By considering:
The type of message
Your customers' schedules
Your customers' online habits
Personal privacy laws
It can seem a bit complicated at first. But once you know when your customers are in the right frame of mind, you'll have a better idea of when to engage them with texts. Time it right, and you'll delight shoppers while converting more leads into sales – and impress the heck out of that 1960s marketer.
Get our best content on ecommerce marketing in your inbox 2 times a week
1. After customers give permission
Getting permission before sending SMS marketing messages isn't just a good idea; it's the law.

The Telephone Consumer Protection Act (TCPA) lays out specific codes of conduct for organizations that want to reach their audience via phone, and those rules extend to texts. In general, you need to:
Obtain consent before sending SMS messages.
Disclose the full scope of what you plan to send via text (i.e., promotional messages, shipping confirmations).
Provide a way to opt out of SMS messages.
To get consent from consumers, simply add an opt-in message to other interactions, like purchase confirmation emails or registration website pages. You can create a simple opt-in campaign through Privy in a few seconds or send a newsletter to your most loyal customers giving them the option to join your SMS list.
2. When people are shopping
It makes sense to connect with people when they're in the mood to buy. But ecommerce shopping patterns aren't the same as in-person. While physical stores are bustling on the weekend, people don't wait until Saturday to shop online.

So when do people browse and buy from ecommerce stores?

According to SaleCycle's analysis of over 8 million customer journeys, Monday is the busiest ecommerce day of the week. The slowest is Saturday, which checks out. That's when people are out doing things in person.

As a double-check of that data, Whitebox also found that Mondays and Sundays are the peak of weekly digital purchasing.
Just keep in mind that SMS Compliance Laws enforce quiet hours between 9pm and 8am. Many SMS marketing providers, like Privy, have compliance rules like this automatically built in so you don't have to worry about accidentally sending a text during quiet hours.
3. When people get paid
SaleCycle's review of shopping patterns unearthed another interesting trend: online sales volume is relatively flat throughout the month but then spikes on the 26th.

A reasonable explanation is that many common payroll periods include an end-of-month payment.

Since people are flush with cash, or will soon be, the last week of the month is a great time to hook them with an attractive promotional offer via text.
4. When shoppers need you most
Overall shopping habits are useful indicators of the best time to send SMS marketing. But every ecommerce business will have its own micro trends to consider. If you can anticipate when your customers need a solution, your texts will be perfectly timed to provide it.

Let's say you sell a line of jewelry that's ideal for moms. You can deliver products within 3 days of the order placement, so you send a "last day to buy" text 4 days before Mother's Day. You'll generate FOMO (fear of missing out) and help your customers get the perfect gift for mom in time.

Use the same strategy for consumable products. When a customer buys hand lotion that lasts a month, send a text 25 days after their purchase, so they don't run out. Not only will you get additional sales, but you'll also provide an indispensable service to customers who never want to have dry skin.
5. ASAP for transactional texts
Transactional texts contain information about a purchase: order and payment confirmation, subscription confirmation, and shipping updates are all examples.

This type of text doesn't follow the same time-frame rules as promotional messages. You're not trying to guess when a customer might be in a shopping mood. Instead, these texts are triggered by a customer's action and should be sent immediately.

For example, once a customer hits the buy button, they'll start wondering when their new item will ship. Text them tracking or confirmation details, and you'll alleviate their uncertainty. There's no need to wait to send that text.

And since transactional texts follow an action your customer just took, you don't have to worry about the time of day. It's safe to assume you're not waking them up or interrupting their dinner.
6. Within 24 hours of cart abandonment
Cart abandonment is when a customer leaves unpurchased items behind in their shopping cart. It's a costly problem for ecommerce shops in the form of missed sales opportunities. A well-timed text can help recover some of that lost revenue.

The Baymard Institute gathered statistics from 46 different cart abandonment data sets stretching back several years and found that nearly 70% of items a shopper places in their cart are never bought. Now consider that global retail ecommerce sales topped $4.9 trillion in 2021, and it's easy to see how much revenue is left behind by high cart abandonment rates.

To capture more of those potential sales, send customers a text with a discount, free shipping, or gift with purchase as an incentive to complete their purchase. And do it soon after they leave your website – ideally within 24 hours – so the excitement of buying your product is still fresh.
7. When people visit your website
What better time to give someone a buying nudge via text than when they're strolling the digital aisles of your online store?

Now, you can't know exactly when shopper X is on your website – thankfully, because that would be creepy. But you can play the odds and time your SMS marketing for when your shop is the busiest.

To do it, find the peak days and hours for your online shop in Google Analytics. Then set promotional messages – like an extra discount – to send during those hours. If you have more details on when different customer segments visit your store, use it to further tune your text timing.
8. Before anyone else gets the deal
Your SMS marketing audience has given you something valuable, and they expect value in return. Remind them why it pays to connect with your brand via text by providing exclusive deals and details no one else can access.

Here are a few SMS exclusive ideas:
Give access to limited edition products.
Offer extra entries to contests and giveaways.
Share helpful usage tips for subscribers only.
Give exclusive discounts or early access to sales.
Each time you text one of these offers, make it clear that the receiver is getting something other shoppers aren't. That'll keep them from hitting the "opt-out" button.
9. Off the hour
It feels awkward to send or schedule texts at odd times, like 7:43 pm, but that's exactly why you should do it.

A key to successful marketing is that it stands out from every other advertisement your customer sees. That's hard to do if every company texting your target does so at the same time. Choose a "weird" minute to connect, and you're more likely to be the lone message on their phone screen.
10. In the morning (but not too early)
If your SMS marketing can catch someone while they're open to new ideas and looking at their phone, there's a better chance they'll see and respond to your message. It turns out morning fits the bill for both conditions.

Most Americans (71%, according to this survey) say they look at their phones within 10 minutes of waking up. Catch them then and your text won't be buried under a dozen other notifications before they see it. Just keep in mind that your texts can only be sent between 8 am and 9 pm.
Depending on the age group you target, you may want to tailor your message timing to their habits. For example, on average, boomers wake up an hour earlier than younger generations.

Also, several studies show that people are at their cognitive best selves – more open to new ideas and better at completing tasks – in the morning. If you want your customers to do something, you couldn't pick a better time of day.
Bonus: When not to send your SMS marketing
There are 2 times when your SMS marketing will, at best, be wasted and, at worst, be a nuisance: holidays and Saturdays.

In-person shopping peaks on Saturdays because that's when people are out doing things. For that same reason, Saturdays are the low point for ecommerce stores. Sending texts while people are least likely to take action will just clutter up their notifications. The only caveats are transactional texts or if you're running a Sunday-only sale and need to promote it ahead of time. Otherwise, focus on other days of the week.

Likewise, stay away from holiday texts. On those days, people are spending time with their families, opening gifts, or preparing meals. Your text is a distraction.

Now that you have an idea of when to send SMS marketing, it's a breeze to learn how with Privy. In just a few minutes, you'll have tools like popups, banners, and bars growing your SMS list. And you'll have a schedule of marketing texts like cart abandonment and post-signup messages converting sales and creating a deeper connection with your customers.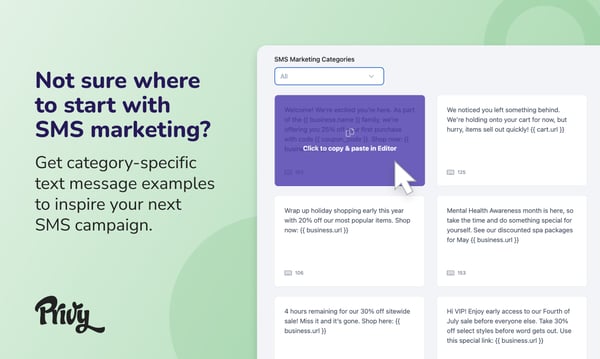 Subscribe for Updates
Get our best content on ecommerce marketing in your inbox 2 times a week.
Written by Lauren Hall
Lauren is a Brand Marketing Associate at Privy. She's the brains behind all things content. When she's offline, she's obsessing over her Bernedoodle pup, Monster, and plotting ways to being a full-time Vermonter ASAP.
Subscribe for Updates
Get our best content on ecommerce marketing in your inbox 2 times a week.