Text Campaigns: Benefits & 9 Tips To Improve Your SMS Marketing Strategy
Published on Jun 11, 2020
Written by Rachel Waldmann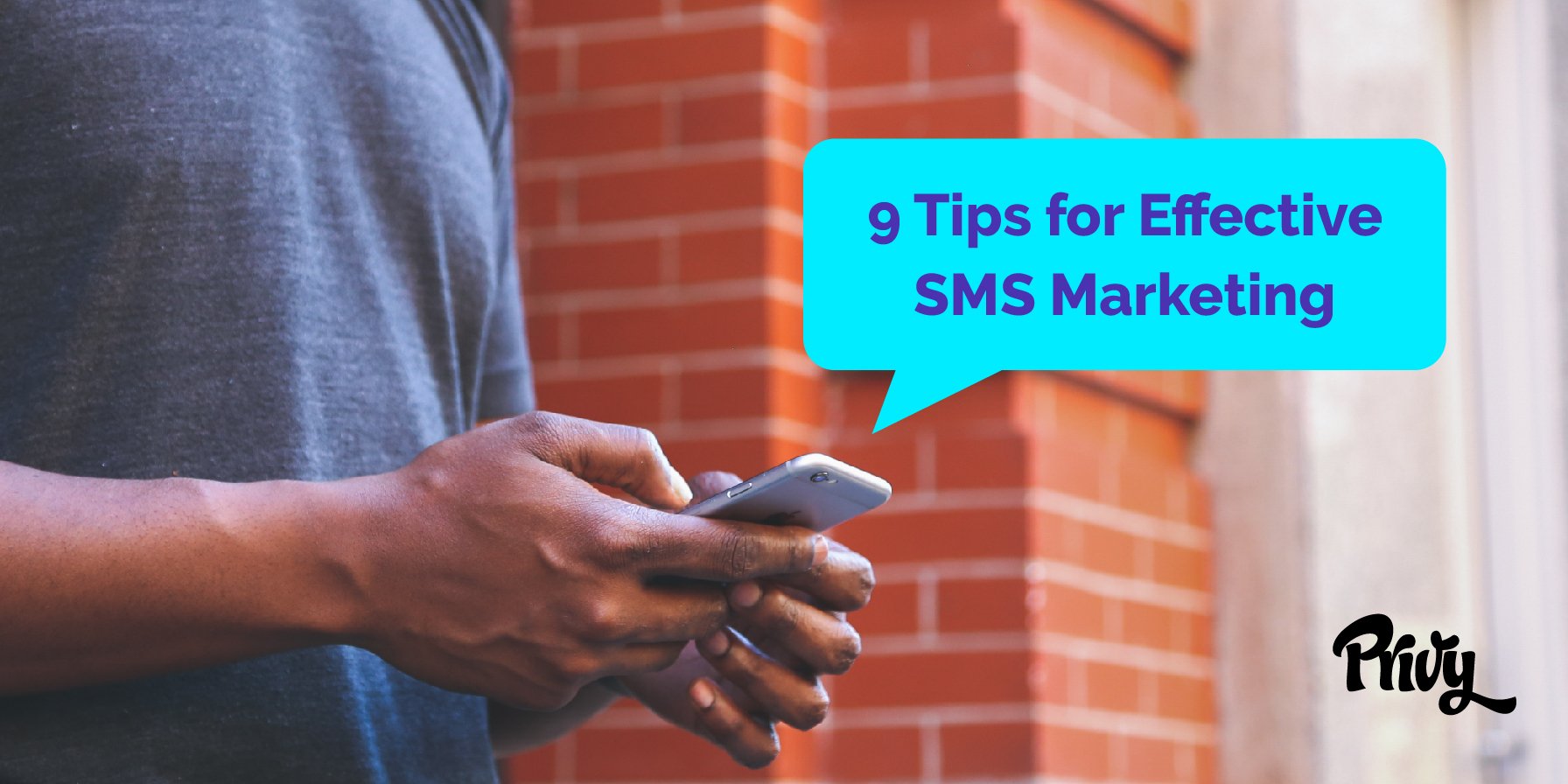 If you're reading this, chances are you know at least a little bit about e-commerce marketing. You might be familiar with some basic email, social media, or onsite marketing strategies. But if you're not incorporating text campaigns into your strategy just yet, it's time to start.
What are text campaigns?
Text campaigns are marketing campaigns sent via text message or short message service (SMS). Text campaigns rely on SMS messages to send information about discounts, promotions, new products, and more directly to their customers' mobile devices. As such, text campaigns enhance communication between businesses and their target customers.
Why do smart businesses use SMS marketing campaigns?
The stats don't lie. SMS messaging is shown to have by far the highest engagement rate of any marketing channel. While it's true that not everyone has a smartphone with Internet access, more than 5 billion people worldwide can receive SMS texts. And 90% of texts are opened within 3 minutes of receipt, with a 98% open rate overall. That's a near guarantee that your message will actually reach your customer.
A recent survey found that more than half of consumers prefer to receive updates from brands via text. So, small business owners and big corporations alike have started using text marketing campaigns in an effort to boost customer satisfaction and engagement.
9 tips for a successful text marketing campaign
SMS, or mobile marketing, is still a relatively new channel, so we understand if you're not sure how to get started. Here are 9 tips to jumpstart your text marketing strategy.
Get our best content on ecommerce marketing in your inbox 2 times a week
1. Play by the rules
The first rule of any marketing campaign seems like a given, but we still can't stress it enough: follow the law and protect your reputation. It's important to familiarize yourself with the current guidelines in place, and always, always get permission to text your customers (and make it easy for them to opt out). We know you don't have time to be a kickass entrepreneur and a policy expert, so Privy Text has baked in compliance measures, which means you don't need to worry about getting scary fines or penalties as a result of your text campaign.
So how do you encourage your customers to opt in to receive your texts? One great option is to have them fill out a pop-up form on your website with a checkbox to give permission to receive texts, like this example from Jax & Bones, which wins with their cute doggo, streamlined form, and clear offer:
You want to build trust early by letting your customers know what types of messages to expect from your brand and how frequently they will receive them. Always give your customers an easy out if they no longer want to receive messages.
Here's a great example of a message I received from Bed Bath & Beyond. This message works because it sets expectations for when I will receive my first offer and how frequently Bed Bath & Beyond will text me. They also make it easy for me to stop messages or get help if I decide that I'm no longer interested (however, I will always be interested because I would live at Bed Bath & Beyond if they'd let me).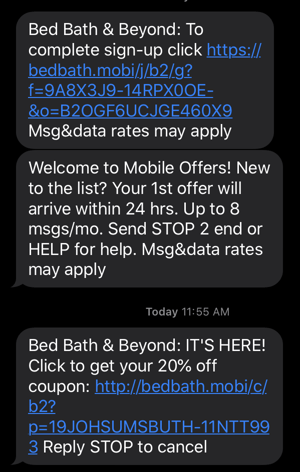 2. Less is more
When sending marketing text messages, you typically have 160 characters to work with, so make them count. Make your copy easy to read so the recipient understands exactly what they need to do with a clear call-to-action. Often, text marketing campaigns are used as a launchpad and link to a website or landing page with more information. You can get your contacts to a page with more information by deploying an engaging CTA, such as:
"Get X% off!"
"Check out now" (for an abandoned cart series)
"Shop now"
"Get free shipping"
"Share with your friends" (for a referral discount)
This example below from one of Kylie Cosmetics hits the nail on the head for a few reasons:
They leverage multiple channels by having customers opt-in to text messaging from a pop up on the website homepage.
Their offers and CTAs are clear. For the first promotion, they sent a code for $10 off. For the second, a discounted price of $20 for Kylie's sunscreen. Click the links to get it. Bam.
The link brings the customer to a landing page with the details, so they can start shopping.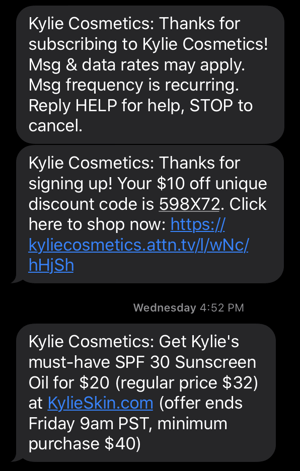 Above all, make sure each text you send adds value, and don't suffocate your customers by texting them too frequently. Start with 4-5 SMS texts consistently each month and slowly increase to about 10, closely monitoring your unsubscribe stats so you know if your text campaigns have gone too far.
3. Timing is everything
Actually think about when your audience is most likely to be on their cell phones. What are their shopping habits? When are they most likely to be thinking about the types of products you offer? Do they need a reminder that they left something in their shopping cart?
Studies show that marketing texts sent on Mondays see the lowest response rates, and texts sent between 10am-8pm are most effective, but also keep in mind what makes sense for your audience and your brand.
For example, it's logical to send a welcome message immediately after someone signs up to receive texts, since you're already on their mind. It makes sense for a coffee brand to send texts in the morning when someone may be having their morning coffee. And it's wise to shoot your customer a reminder 24 hours after they've left something in their shopping cart. However, it never makes sense to send a marketing text at 4 am, so consider your customer's time zone. No one wants to shop at a store that disrupts their beauty sleep.
4. Have fun with your text campaigns!
Text is an informal medium, and just because you're not including any visuals in the text message itself doesn't mean it has to be all business and no pleasure. This is a medium most people use to communicate with those who are closest to them, so try to match that tone with playful copy, emojis, and even gifs (like the examples below from BabyFeet's abandoned cart series).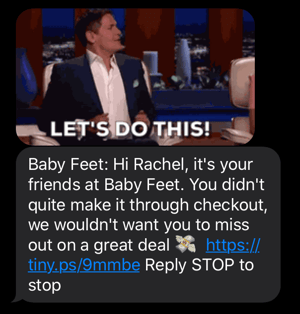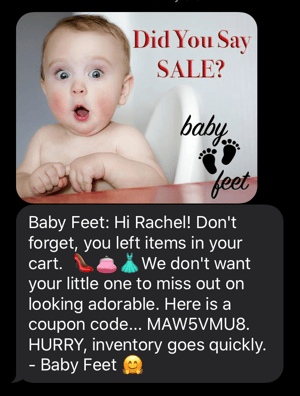 Whatever you do though, make sure your text campaigns are always compliant with the law and that you're respecting your customers by giving them an easy way to stop receiving text messages. The text campaign below from Aerie does a great job of prioritizing their opt-out message even though their "Get it, girl!" opener is fun and approachable. This message has a clear CTA for their 15% discount offer, which then links to a branded landing page with more information.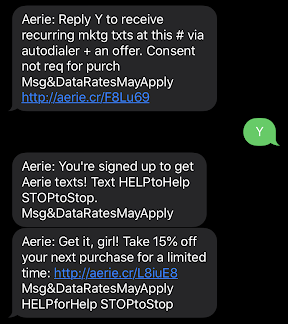 5. Leverage incentives
We mentioned earlier that it's important for all text campaigns you send to add value to the recipient. These customers went out of their way to subscribe to your texts – make sure they don't regret it, by offering them something they want!
SMS can serve as a tool to relay offers for discounts, free shipping, upsells like BOGOs, or other promotions that are appropriate for your business. Sometimes it helps to frame it as a VIP offer, exclusive to those who signed up to join your text inner circle. But if a monetary incentive isn't in the cards for your business, fret not! You can still use SMS as an opportunity to ask for feedback or send a short survey. This offer I received from Earth Bands is going to get me to revisit my purchase:
6. Customize your messaging by segment
People like to feel special, so treat them that way by segmenting your contact list! You don't want to talk to your brand loyalists the same way you'd talk to a brand new contact. Tailor your messaging (and your offer) to the audience. For instance, new customers may be offered free shipping on their first order, while your existing fan club may receive an upsell campaign or recommended products based on their previous purchases. Here's another screenshot from my BFFs at Bed Bath & Beyond, who segmented their text messages so that I would receive updates about stores in Massachusetts during the COVID-19 pandemic:
7. Create time-sensitive offers
One of the greatest benefits of text message marketing is its immediacy from the time the message gets sent to a couple of minutes later when most recipients open it. Take advantage of this real-time communication by sending limited-time offers, using phrases like "today only," or "expires soon," to get the ball rolling on their purchase. With text especially, you're at the mercy of people's (often short) attention spans, so you have a very short window when you're interrupting whatever's going on in their day for them to focus solely on your brand. That's why a high-value offer that appeals in the moment is a solid bet.
8. Monitor customer engagement
As you should with all your marketing efforts, keep tabs on performance so you know what's working and what could be improved. Regularly check your open, click, redemption, subscribe, and unsubscribe rates for your text campaigns, so you know how they're performing.
Experiment with A/B tests by trying out two very similar text campaigns, with one key difference, like a different tagline or offer, and monitor the results to see what works best for your business.
9. Integrate text campaigns with your other marketing efforts
Your text message strategy shouldn't exist in a marketing vacuum. Allow it to play off your other channels, like email and social media, so they all complement and enhance one another.
One way to do this is to extend different offers on every channel so your customers remain incentivized to subscribe to multiple.
You'll want to review your business and marketing goals comprehensively, so you can figure out how text campaigns fit into your overall strategy. You might choose to send a text as a follow-up to a vital email campaign, start an abandoned cart series, or offer exclusive first looks at sales or new products for your VIP text subscribers.
Whatever you decide to do, be sure to promote your text marketing efforts by featuring the opt-in prominently on your website or in your email newsletters. While sourcing examples for this post, I read about so many brands with great text marketing, but I couldn't find any easy way to subscribe to them myself. User experience is just as important as your message, so think through it as if you were a customer who's never been to your site.
Subscribe for Updates
Get our best content on ecommerce marketing in your inbox 2 times a week.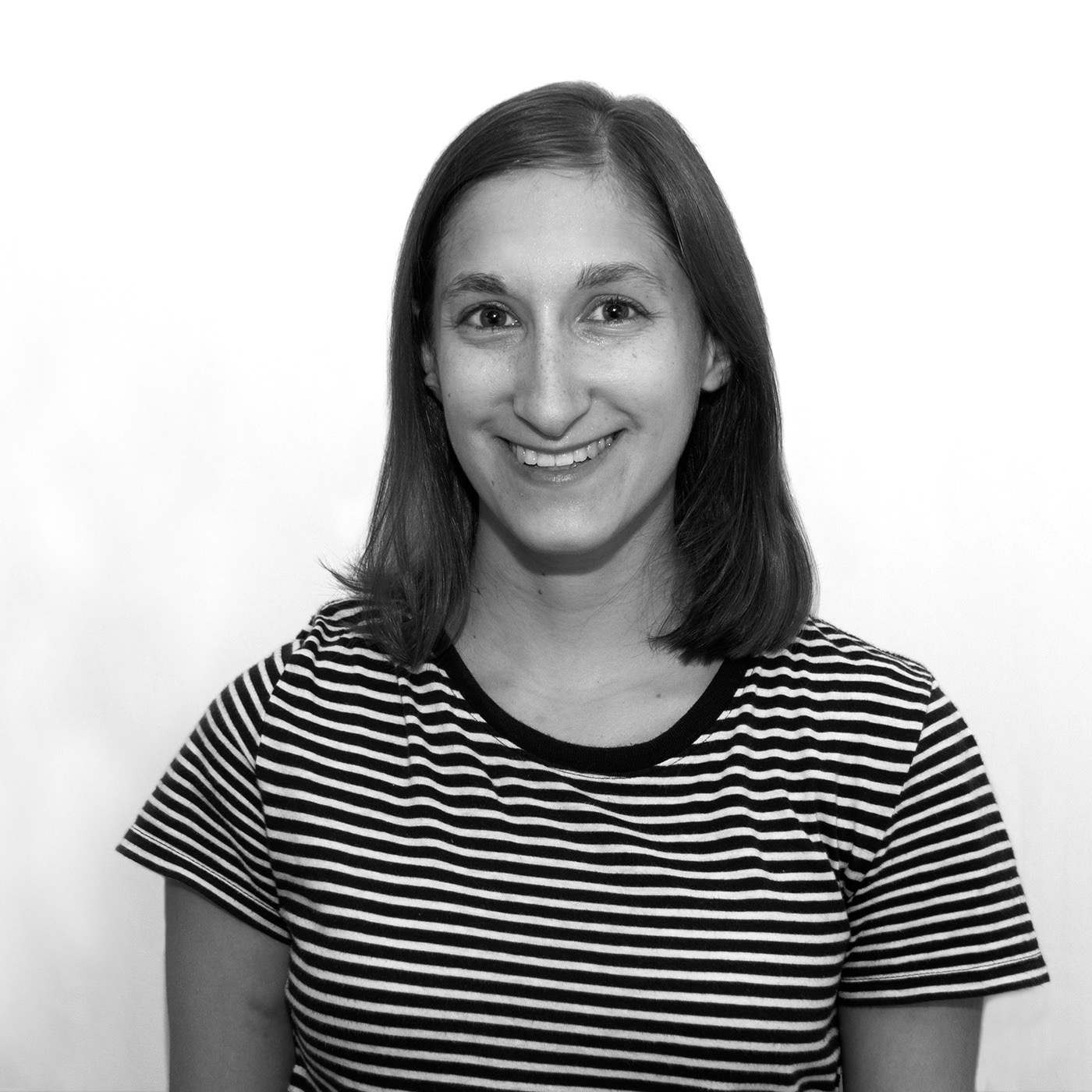 Written by Rachel Waldmann
Subscribe for Updates
Get our best content on ecommerce marketing in your inbox 2 times a week.