The 8 Types Of Emails Every Ecommerce Business Should Send
Published on May 25, 2020
Written by Rachel Waldmann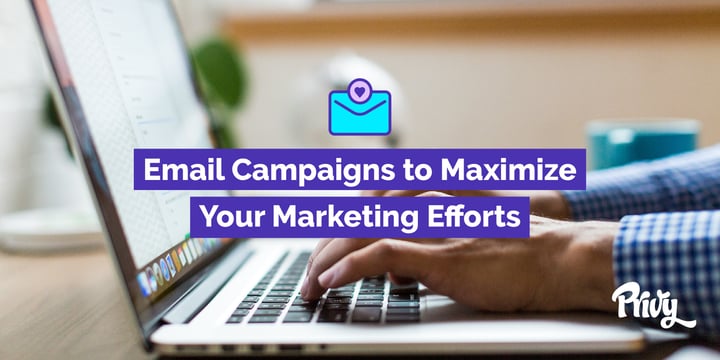 Between checking your Instagram ten times a day, and your Twitter...well...another ten times a day, it can be tempting to focus the bulk of your marketing efforts on social media. But that would be a missed opportunity.
While there are now more ways than ever to communicate with customers, email still reigns supreme, by far. In fact, Ezra Firestone, CEO of Smart Marketer, estimates that 30-40% of your generated revenue should still come from email.
Email allows businesses to send longer, more targeted messages to customers in order to maintain a relationship, build their brand, and generate revenue.
You control your list growth, and it's entirely yours – no social media algorithms, no pay-to-play. Email is a channel that you own to communicate with your subscribers as you please. But it has to be done right in order to keep your customers away from that dreaded unsubscribe button. Here are the email campaigns that you should be sending to maximize your email marketing efforts.
Here are the types of emails we're going to walk through:
1. Welcome Series
2. Abandoned Cart
3. Confirmation
4. Referral
5. Re-engagement
6. Upsell & Cross-sell
7. Newsletter
8. Survey
Get our best content on ecommerce marketing in your inbox 2 times a week
1. Welcome Series
At this point, customers have come to expect a welcome email when they subscribe to your email list or make a first purchase. And this is your chance to really stand out from the crowd. So many brands are sending unremarkable first emails that are training readers to send their emails straight to the trash.
Your welcome series should set the tone for the kind of messages the recipient should expect to see from you in the future. Their interest is already piqued, so don't sell them too hard. There will be time for that later, especially if you build this out into a welcome series. For example, your first email in the series should thank the recipient for subscribing; your second email is a chance to get creative and reel them in with another thank you and a juicy offer. Each email in the series is leading them down the sales funnel, to eventually (🤞) make a purchase.
Here are some tips for a strong welcome series:
The series should be automatically triggered immediately after a customer subscribes, so they receive it while you're still top of mind.
Use this as an opportunity to remind the reader who you are and why they should buy. The below example from Equal Parts works especially well, since one wouldn't necessarily know from their name that they sell cookware (in all honesty, I had forgotten); so it helps that it's right there at the top of the email. And they continue by listing the key ways their product is better than other brands.
If you can, offer a discount. This could be a percentage off, free shipping, or an added free sample. Entice your customer.
Include a call-to-action, or CTA. This is a big one. In every marketing communication, it should be crystal clear to your customer what you want them to do, and you should make it as easy as possible for them to do it. A CTA is often a button or hyperlink in your email that stands out and reads as an action. In the below example from Fire Cider, there are a few different CTAs the reader can choose from to continue to engage with the brand (just make sure there aren't too many!).
Avoid spam trigger words in order to stay out of spam filters. Overly sales-y words and phrases are a surefire way to lose subscribers. If it sounds like something you'd hear in a used car commercial, don't use it.
Keep it original and simple. Sound human. In both the Fire Cider example, as well as the one from Slate Milk, a personal story is included. For Fire Cider, this comes as their origin story, welcoming you to their family. For Slate, it's served in the form of an email that feels like it's written by a friend.
Equal Parts Example: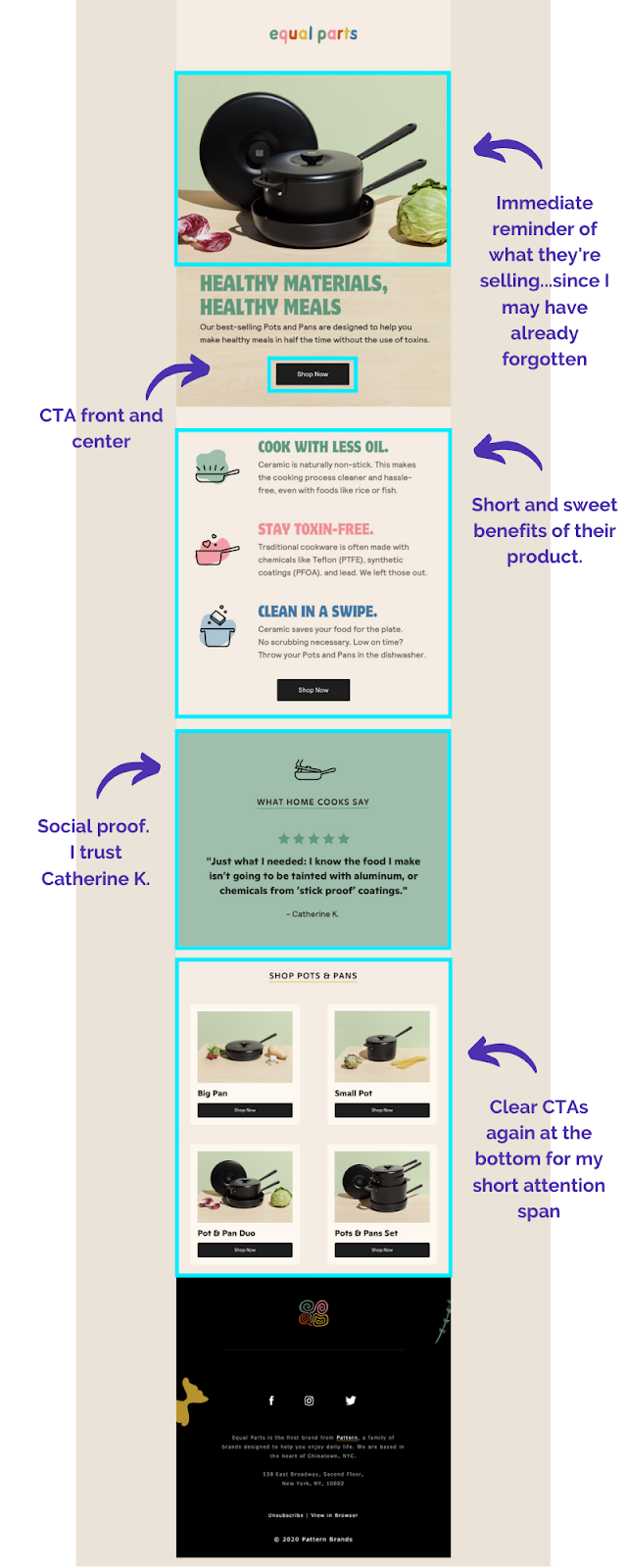 Fire Cider Example: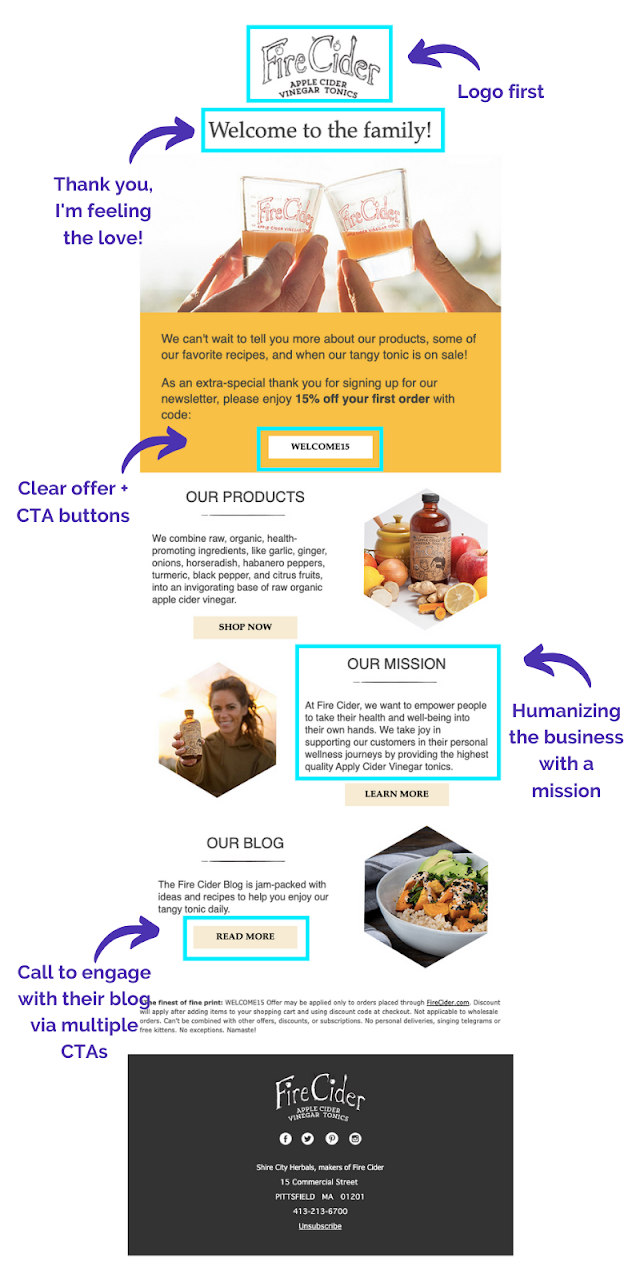 Slate Milk Example: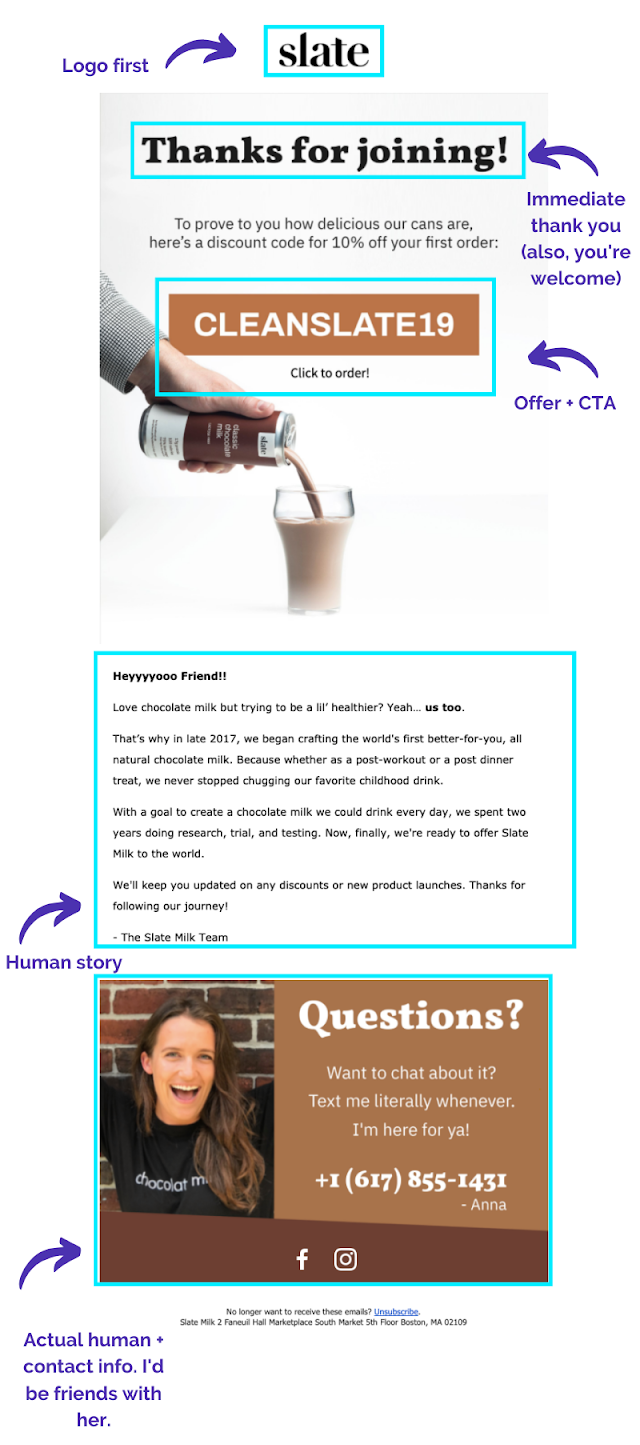 By the way, Val Geisler hosted a Masterclass dedicated to writing incredible welcome emails that's definitely worth a watch if examples are helpful. She shared a ton of actionable advice, but one that really stood out was that it *usually* doesn't make sense to include social links in your emails.
2. Abandoned Cart Reminders
Want to hear something wild? Nearly 70% of online shopping carts are abandoned (I'm guilty. I know you are too). We get distracted, ask ourselves if we really need four more candles (we do), and absolutely refuse to pay $3.99 in shipping for our $167 order.
As a merchant, this leaves a huge opportunity to recover as much as 50% of potentially lost revenue through abandoned cart reminders, in hopes that your customers will come back and complete their purchase. Ezra Firestone recommends sending two email communications within 24 hours of someone abandoning their cart:
1. A gentle reminder 4 hours after the cart is abandoned.
2. A sense of urgency (and a discount if you can offer it) 24 hours after the cart is abandoned. (ex: "We saved your cart, but it's selling out fast!" or "Here's 15% off, but it expires in 24 hours.")
You can watch Ezra's entire Introduction to Email Marketing for Small Ecommerce Brands course, too.
Get your customers to come back with these tips for a cart abandonment series:
Keep their purchase – and your brand – top of mind by including your logo in the header.
Use clean layouts and messaging, so focus stays on the call-to-action: completing the purchase.
Include a discount offer or free shipping. The email from BoldBody Apparel below does a great job at this; in fact, the offer is right there in their tongue-and-cheek subject line. If you can't afford to offer a discount, you can use this email as an opportunity to ask for feedback and learn what kept them from buying and how you can improve for next time.
Hint at urgency, like the example below from Outdoor Voices: "Here today, in someone else's cart tomorrow..." and "Get 20% off before what you wanted sells out."
Include images of the products they left in their cart, like the Outdoor Voices example. The visual will remind them they want it.
Keep it short so all the critical information fits above the fold on mobile. If they have to scroll for it, it's too long.
Outdoor Voices Example: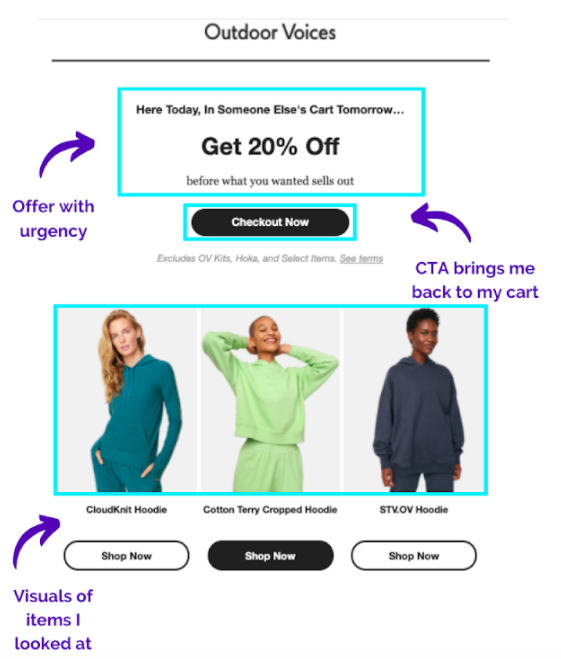 BoldBody Apparel Example: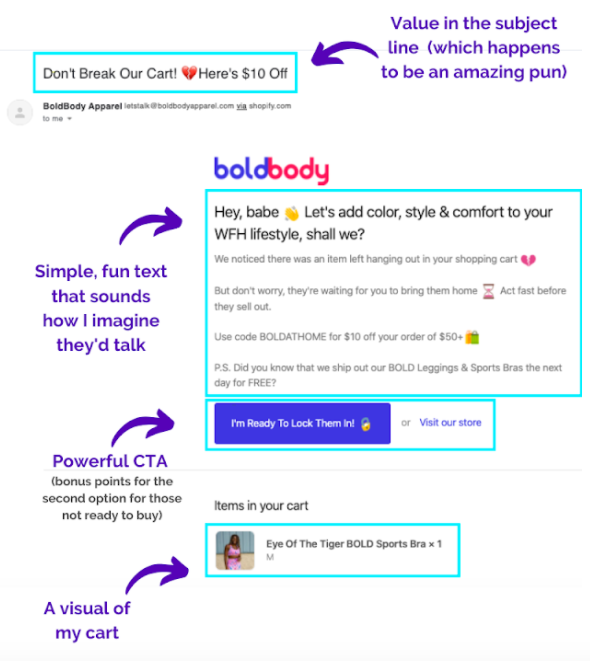 3. Confirmation Email
As far as customers are concerned, if they don't receive a confirmation email, their purchase didn't happen. Confirmation emails are critical, but they don't have to just be a formality. Use yours as an opportunity to cross-sell or upsell, or simply keep customers engaged so they're on alert next time you reach out with an offer. Kettle & Fire does an incredible job with this. Wilson Hung shared their secrets on this episode of The Ecommerce Marketing Show.
Here are some quick tips for a post-purchase follow-up sequence:
Trigger the confirmation email to send immediately, thanking the customer for their purchase and outlining next steps. An estimated timeline for when their order will ship goes a long way for impatient shoppers who are excited about their purchase! The example below from Boden is great because it tells me to look out for a shipping confirmation, includes relevant return information, and their whimsical British branding oozes out of every crevice of this email.
Remind your customer of your brand's story or mission. It's why they bought in the first place!
A few days after the order is placed, build excitement for the order's impending delivery. If customers are stoked about their purchase, they'll be less likely to return it, and more likely to leave a review.
Keep them on the hook by showing social proof, offering another limited-time discount, or links to other products they might like. You got their attention once; why not try for another order? The confirmation email below from Society6 does a nice job of using this email as a springboard for future sales.
Boden Example: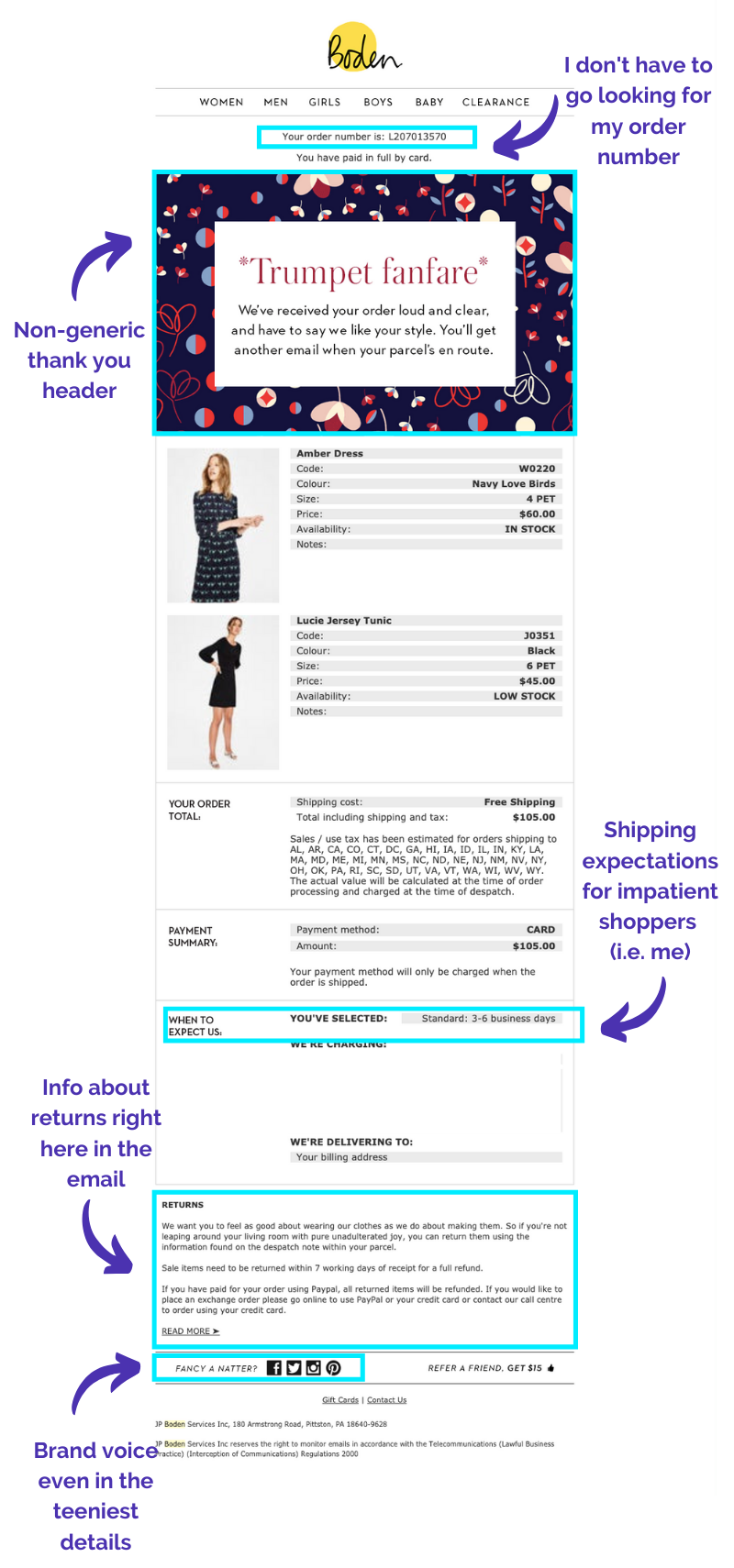 Society6 Example: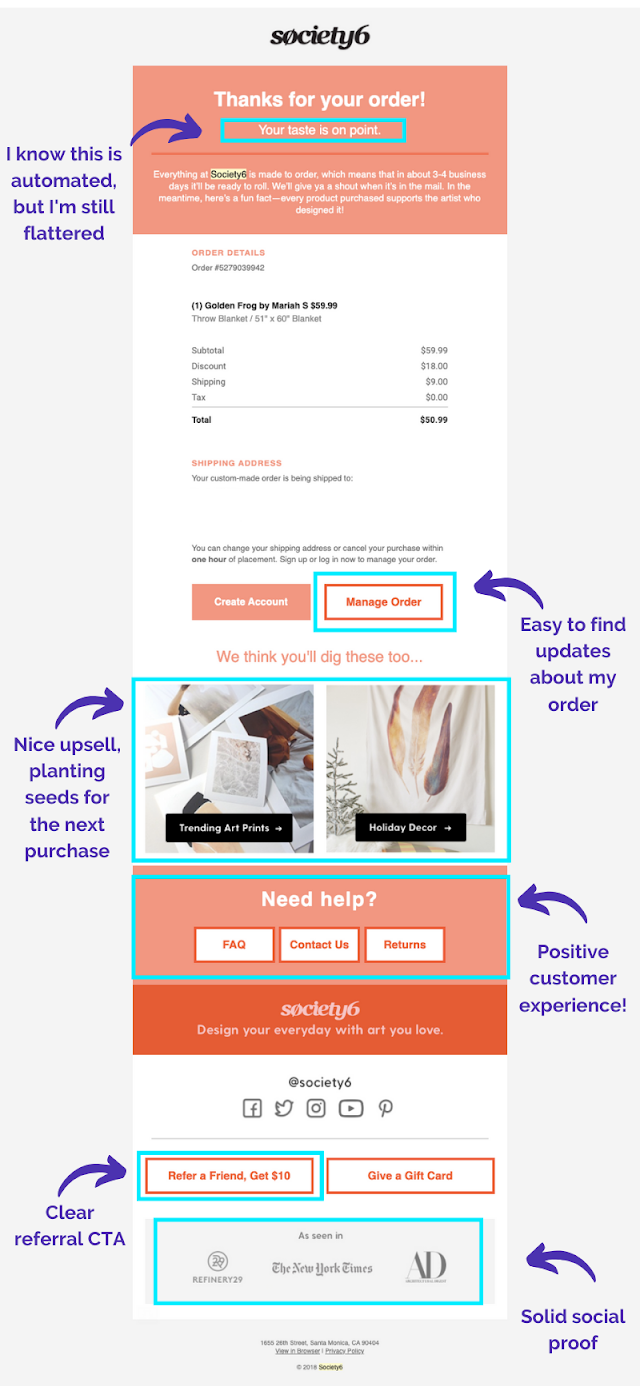 4. Referral Email
Anyone else get a natural high when your friends love something you recommended to them? No...just me? Cool. You best believe, if I love a product or service, I'm going to tell my friends about it – especially if it gets me a discount. Inviting your customers to refer their friends is a great source of high-quality leads, since word-of-mouth is such a powerful influence on shopping habits.
Now raise the stakes by offering a discount in exchange for referrals. People want to know what's in it for them, and if $10 off their next purchase is on the table, they'll make the effort. The example below from healthy meal kit service Hungryroot is simple; their logo up top, a clear visual, an offer, and a bright red CTA button. I'm in. Shameless plug: use my referral code and get us both $15 off. See? It works!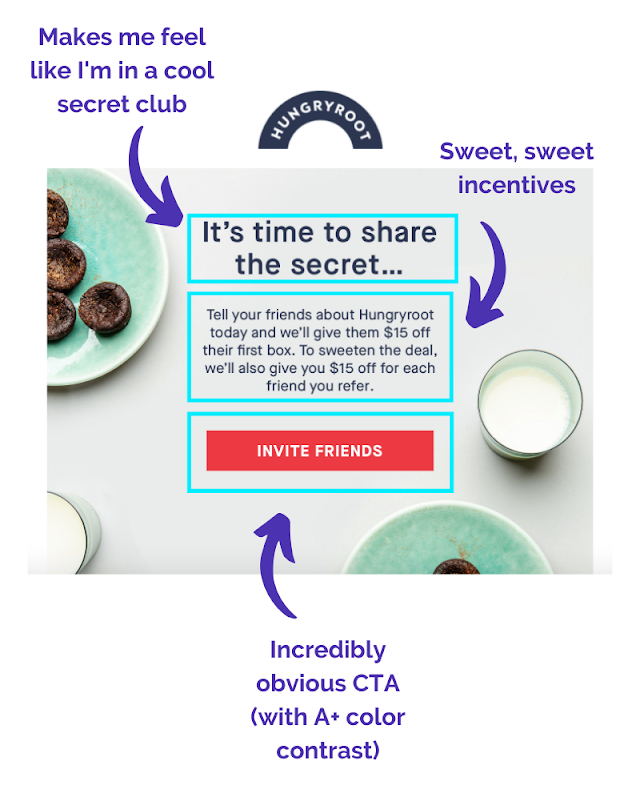 5. Re-engagement Prompts
Researching for this article has reminded me just how many emails I ignore from brands that email me every day...or more. PSA: your subscribers ignoring your emails is not a sign that you should send more emails. It's an indicator that you need to bring your A-game. Trust me, if yesterday you emailed to remind me you exist, a similar email today isn't going to suddenly get me to buy.
For your subscribers who are familiar with your brand, but haven't made a purchase lately (or at all), there are options available to get them back. Offer them a discount too good to pass up and make your offer prominent by putting it in the subject line. I'm a sucker for a good discount, so even the most persistent brands can re-pique my interest that way. Nordstrom's Trunk Club hits the nail on the head with this one, offering $50 off if I come back and order another trunk: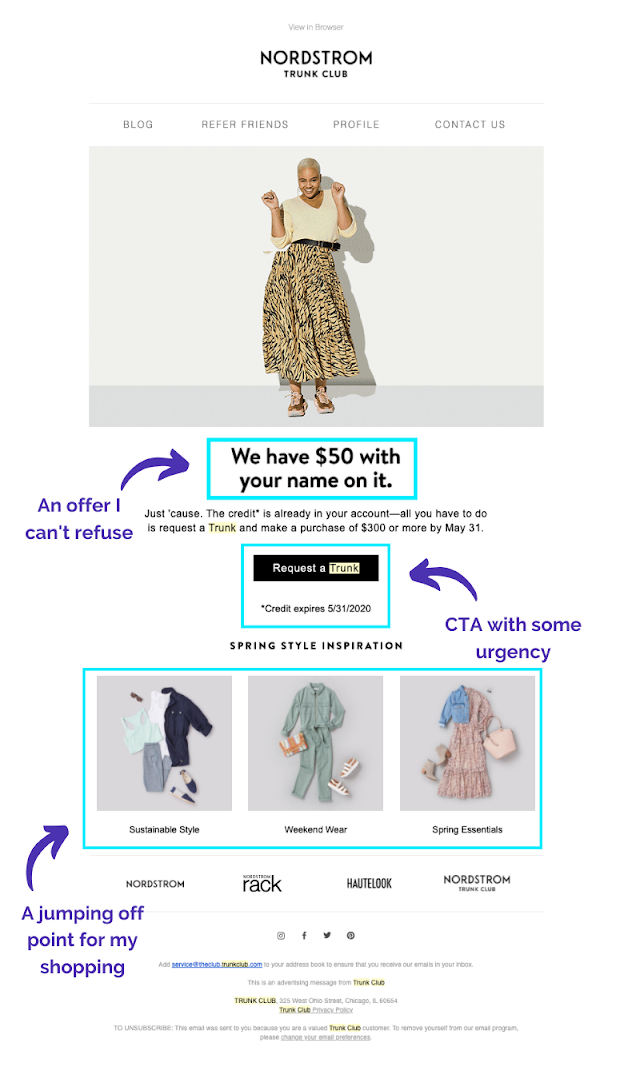 6. Upsell & Cross-sell
Ever wonder why the phrase, "would you like fries with that?" has become a pillar of the fast food industry? Because it works. Upselling and cross-selling are great ways to increase revenue and lock in repeat customers. Remember, acquiring customers is more expensive than keeping them, so do your best to nurture the ones you have! Here, you have a couple of options:
1. Cross-selling = recommendations for a related or complementary product.
2. Upselling = recommendations for more expensive items, upgrades, or add-ons.
To sweeten the pot, try offering a discount or free product to customers who hit a certain purchase threshold, like $10 off a purchase of $100, free shipping on orders over $49, or buy three and get one free. Here are a few tips for effective upselling and cross-selling:
Tailor item recommendations to the customer's shopping or browsing history.
Give them a few options to increase your chances of showing them something they'll want.
Consider their spending history by showing them items in a similar price range.
This example from Teva arrived in my inbox a few days after I made my first purchase. It may have been slightly more effective if I hadn't just purchased two pairs of their sandals, or if I had already received my order and had time to enjoy them. But it's still a good offer, especially for families outfitting their family for the summer: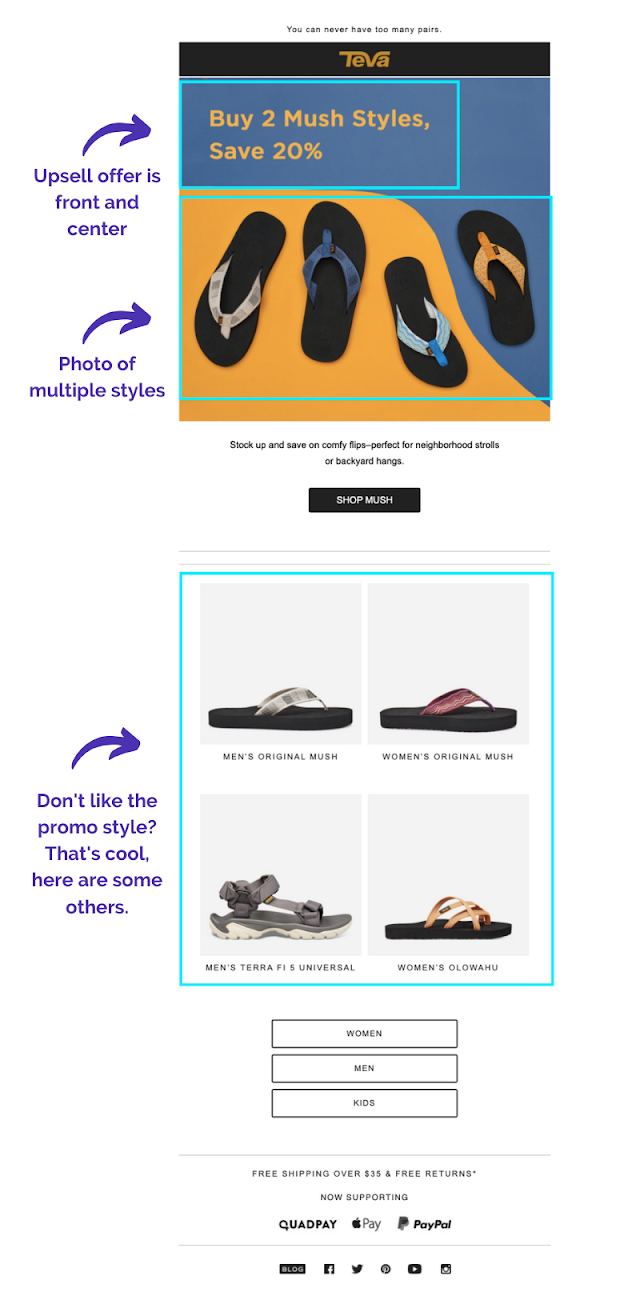 7. Relevant Updates (Newsletters)
Perhaps one of the most common types of emails you see in your inbox, newsletters, can make or break your email marketing efforts. Everyone and their mother is sending a generic marketing newsletter, so it's important to make yours stand out in a crowded inbox by including relevant updates – the operative word being "relevant." Send them too often, your customers may wander to that unsubscribe button, and then you're toast.
Ezra's sweet spot for newsletter frequency is every 4-6 weeks. Your newsletter should build a sense of loyalty to your brand and maintain your place in your customers' consciousness. And you should make sure you have something relevant to say, like announcing a new product launch, current promotions, trending products, or a new blog post.
You can take this a step further by segmenting your email list and making sure you're hitting the right customers with the most relevant emails. For instance, if you know a customer has only purchased men's clothing, you probably wouldn't want to send them an email about a big sale on spring dresses. You can segment your list by gender, location, interests, or any other relevant data you've collected. The email below from LOFT is a perfect example; at a mere 5'1", I live and die by their petite pants, so it makes sense that they would send me this petite-specific promotion. I would be shocked if they sent the same email to my more vertically blessed friends.
Here's how to make your newsletter take center stage in your customers' inbox:
Create distinct sections with a combination of text and visuals. Make it ridiculously easy for someone to skim your email and get all the important information. Because, be honest; have you ever taken the time to read a marketing newsletter header to footer?
Position the most important content at the top of the email. Again – scrolling is your enemy here. The example below from Piccolina is great because, although it's a long email, the most critical information is at the top.
Add social proof, including product reviews, testimonials, or influencer endorsements.
Have a clear CTA, like "Shop Now," or "Get 20% Off."
Loft Example:
Piccolina Example: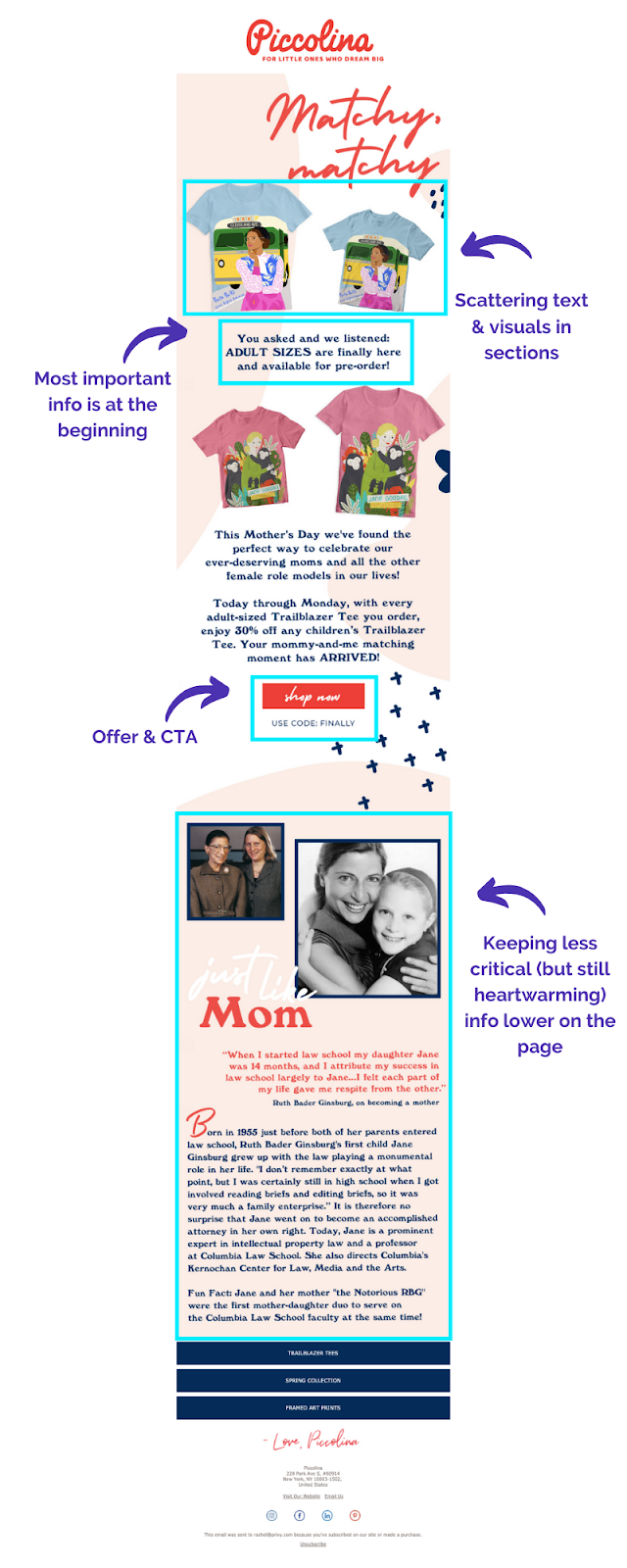 8. Survey
With all this talk of promotions and catchy phrases, it's easy to forget a critical element of your marketing strategy: your customer experience. In order to continue making improvements to your site, product offerings, and marketing efforts, you'll need to actually ask subscribers what they want. For a survey email that reels in results, try the following:
Automate the process. Send an email asking for a product review after your customer has had a few days to enjoy their purchase.
Personalize your email with personalization tokens. Keeping the interaction authentic and human will make your customer feel like their opinions are valued, and make them more likely to participate.
Offer an incentive for those who participate, like a discount code or the chance to win something. Let your subscribers know why taking the survey will be beneficial to them.
I like this example from Modcloth because it's no-frills; it gets straight to the point and with the added benefit of email templates, this type of email can be assembled pretty quickly.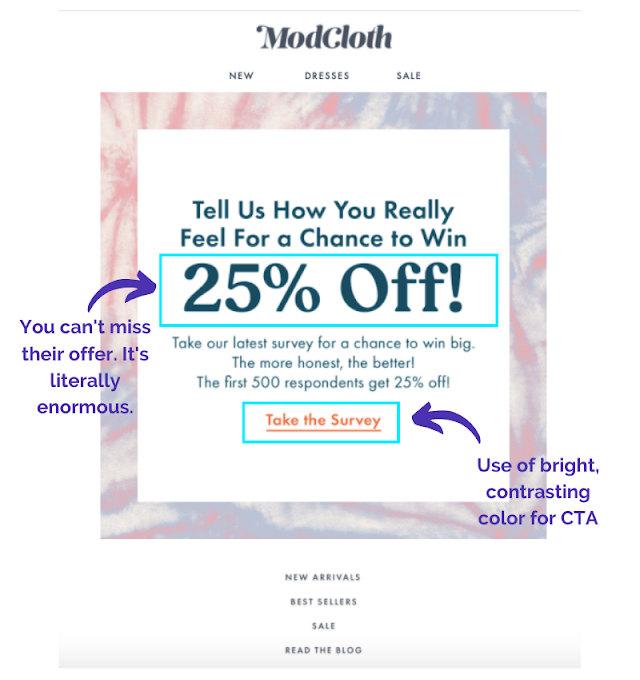 If you'd rather add this to your post-purchase checkout flow rather than sending a dedicated email, that's also an option.
Supply's Patrick Coddou recommends Enquire for that. Just check out this Twitter thread for some inspiration there.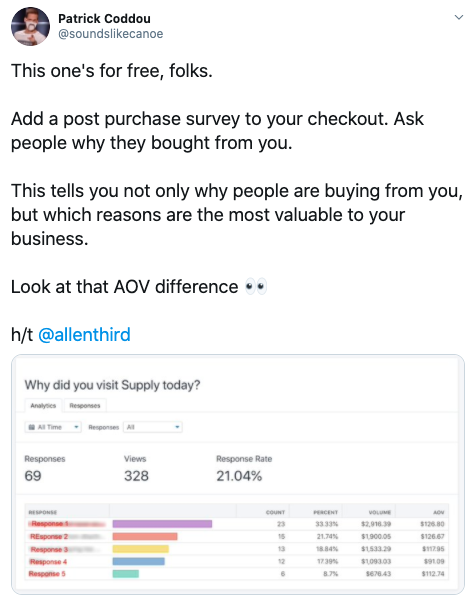 [Source]
Takeaways
When it comes to email marketing for your ecommerce business, it can be hard to know where to start. But because it's a channel you own completely, it's worth the effort to figure it out. If you get it right, it should account for anywhere from 30-40% of your revenue. What else can have that huge an impact?
Subscribe for Updates
Get our best content on ecommerce marketing in your inbox 2 times a week.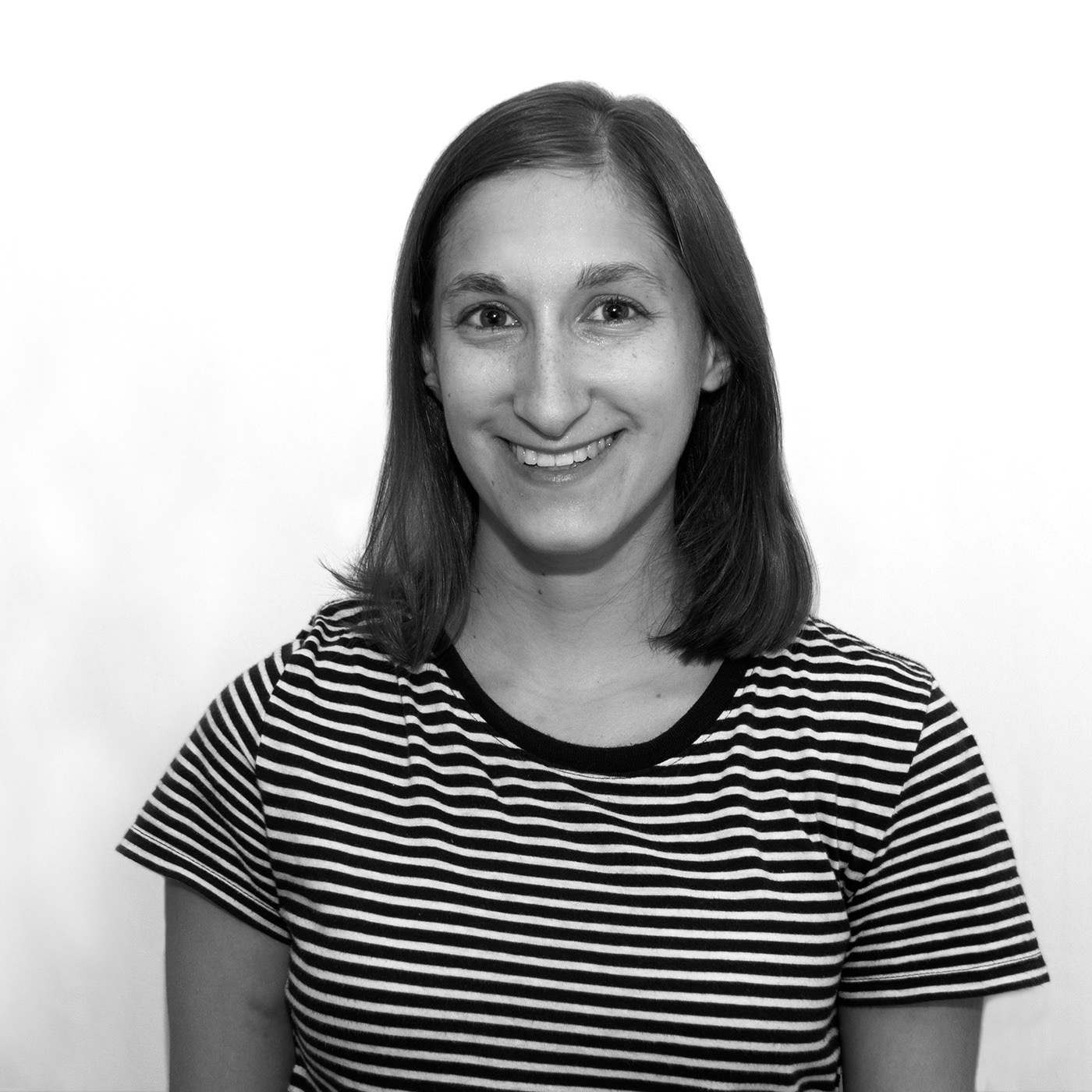 Written by Rachel Waldmann
Subscribe for Updates
Get our best content on ecommerce marketing in your inbox 2 times a week.