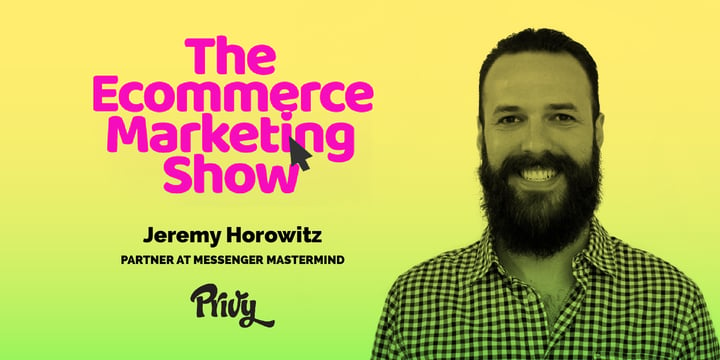 It's never been more important to have channels you own completely, like your email and text lists.
You get to say whatever you want, whenever you want, however you want, and most importantly, it doesn't cost you more or less on any given day to share that message.
And if you really do it right, you'll be able to project how much revenue you'll bring in with every message you send.
That's what Jeremy Horowitz can do.
And he has a ton of tips for using the channels you own to build hype way before you launch your next product.
So he shared a bunch of them on The Ecommerce Marketing Show this week.
You can tune in above👆 on Apple Podcasts, Spotify, Stitcher, or anywhere you get your podcasts.
Get our best content on ecommerce marketing in your inbox 2 times a week
On this episode, you'll learn:
Why owned channels are so important right now.

How to build hype ahead of a product launch.

How to use lead magnets right now if people aren't buying.

Jeremy's playbook for text message marketing.
What to listen for:
[3:01] What are the owned channels ecommerce brands should be leveraging?
[8:59] What happens when Kim Kardashian shares your products on Snapchat?
[12:05] A playbook for product launches.
[18:02] A great example of how ClassPass has pivoted right now.
[23:46] His SMS playbook including building your list and the right way to do SMS.
[25:41] 98% of texts are read in the first 3 minutes of being received.
[30:24] Why the most effective way to build your list is not a discount.
[33:13] How to use a launch as an opportunity to build your SMS list.
Links to love👇👇