Does Your Back-in-Stock Email Have These 5 Essential Elements?
Published on Apr 19, 2022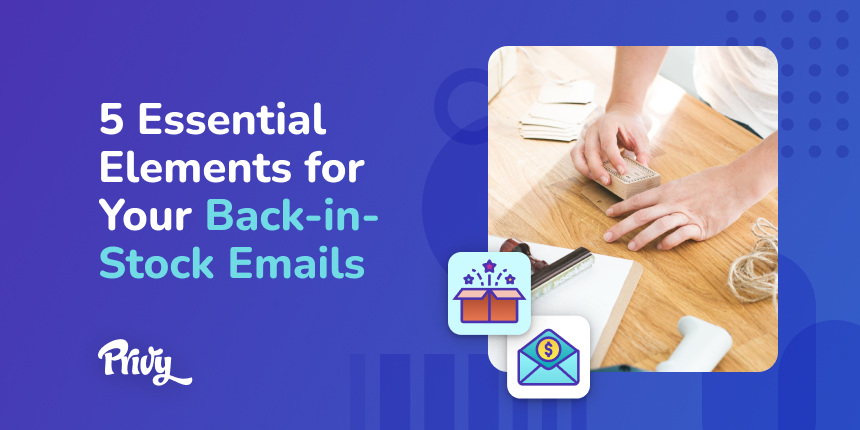 Selling out of products is a good problem to have in the world of ecommerce. It's a sign people love your products, but it also means you're leaving money on the table.

Rather than hoping those eager customers find their way back to your site once you replenish your supply, you can easily and effectively notify them with a back-in-stock email.

As the name implies, a back-in-stock email is a message you send after restocking an item to ignite interest and drive sales. You can send back-in-stock emails to your entire audience or to a segment of people who opted in to get notified when a specific product becomes available. Regardless, these little reminders have a huge impact on your brand.

Back-in-stock emails have a whopping 65.32% open rate. That's the highest of any campaign type (the average email open rate is 20.4%, for context). Conversion rates for back-in-stock emails are impressive, too, clocking in at nearly 15%.

To help you maximize your ROI, we outlined 5 elements every back-in-stock email should have (along with real-life examples).
Get our best content on ecommerce marketing in your inbox 2 times a week
1. A click-worthy subject line
As with any campaign, back-in-stock emails need a subject line that grabs recipients' attention. Your goal is to get them excited about your restock, but you only have a few seconds to earn that click.

When it comes to copywriting, clear is better than clever. The people receiving this email are familiar with your brand, and they may have even signed up to get notified about this specific product. So you don't have to over-sell or over-explain yourself. All it takes is a few words to drum up excitement about the restock.

Here are a few standout subject lines you can try:
[Product] is back...for now
It's back! Grab [product] before it's gone
Restock alert 🚨 the [product] is back
OMG! It's back in stock: the [product]
Look who's FINALLY 🔙
Notice how all of these subject lines communicate the same simple idea (the product is back in stock) but reinforce it with a sense of urgency or scarcity.

When in doubt, think to yourself: Would I open this email?
2. Compelling visuals
Good wordplay is crucial for back-in-stock emails, but it's not enough. You also need high-quality product photos to create appeal and remind your audience what the product is without having to click through to your store.

Eberjey nailed their product photos after re-introducing their Nordic Stripes collection. Notice how they featured a close-up photo to showcase the details, then added two smaller photos of the entire product below.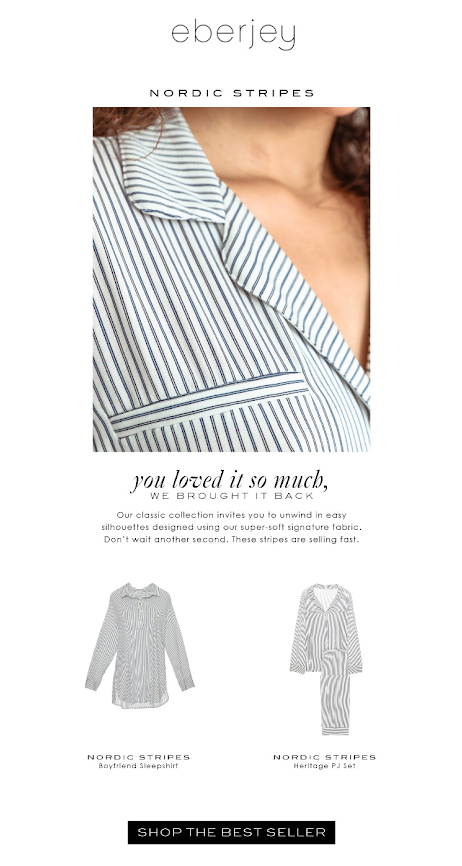 Don't be fearful of using multiple images in your back-in-stock emails, especially if you want to show your product from different angles. You don't have to stop at static images, either. Consider adding a GIF or even a video if you want to showcase your product in action.
3. A sense of urgency
Many of the most effective back-in-stock emails tap into the scarcity effect, which is when people place a higher value on something that's rare or difficult to get ahold of.

Instead of simply telling your customers that your product is back in stock, go for a humble brag and remind them your product sells out quickly. This way, your customers might be more likely to follow through with a quick buy rather than bookmarking it for later.

The apparel brand AYR has mastered the art of creating a sense of urgency with their back-in-stock emails. But not because they're pushy. It's because they tell their audience why they sell out so fast.

AYR manufactures their products in small batches, so when they do a drop, it sells out within days. They also cap off their body copy with a blunt statement to make people feel that FOMO: "Waiting sucks."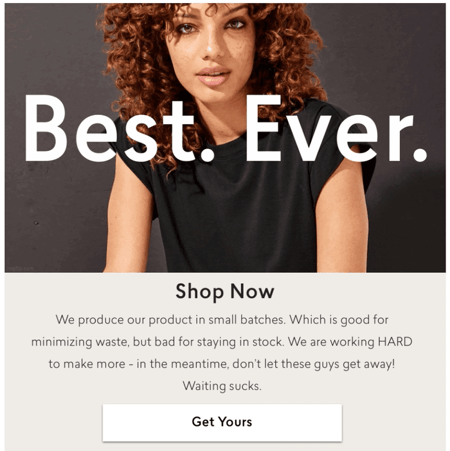 Another way to add a sense of urgency to your back-in-stock emails is to include an "order by" date. When Magic Spoon restocked their gingerbread cereal for the holidays, they reminded shoppers to place their order by December 13 to get it before Christmas.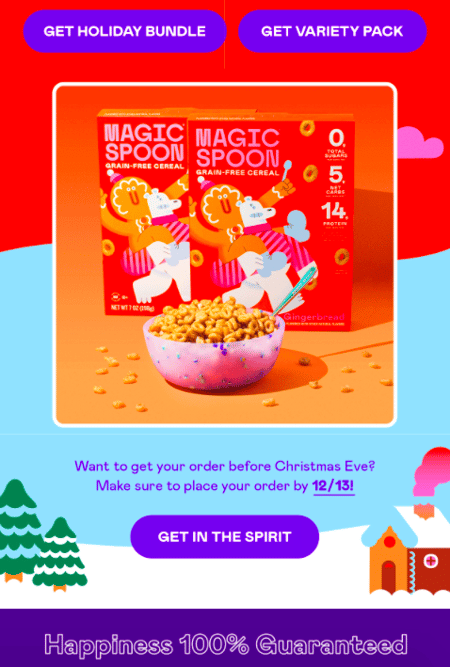 Your goal here is to replicate the feeling of going to a store for a special product and seeing there's only one left in stock.
4. Social proof
Of course, you want your shoppers to get excited when an item is back in stock, but it's important to make them feel confident about your product too. That's where social proof from satisfied customers comes in.

One of the best ways to generate social proof in your emails is by showcasing your best product reviews. This user-generated content takes the pressure off you to promote yourself, plus it reminds shoppers why your product sold out in the first place.

Here's another example from Magic Spoon, which added three raving reviews at the bottom of their email when they restocked their blueberry flavor:
Tarte cosmetics took this a step further. At the bottom of their Shape Tape restock alert, they added a blurb from a clinical study, noting that 100% of people showed significant improvement.

The takeaway here is to add something that's unique to your brand, whether that's a case study, an interesting statistic, or a review that stands out amongst the others.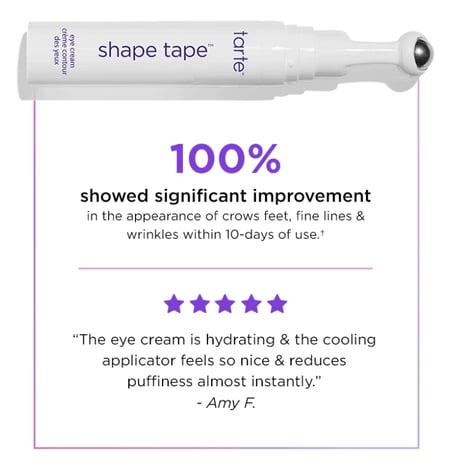 Sometimes your customers are your best wordsmiths. Don't let those reviews go to waste!
5. Eye-catching CTA button
Your subject line, images, and body copy all lead up to a small but mighty component of your back-in-stock email: your call to action (CTA). It's easy to rush through this part of your campaign, but perfecting it can give someone the nudge they need to act quickly.

A lot of brands use the standard "buy now" or "shop now" copy for their CTA buttons, so this is an opportunity for you to stand out. One way to do that is by using language that aligns with your brand's personality. You want your audience to feel like they're getting a message from a friend, not a sales pitch.

Here's a fun one from Bark Box: "Spoil My Dog"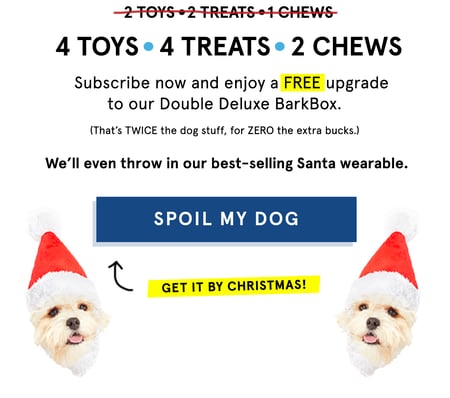 Pro tip: Put your CTA "above the fold," meaning near the top of the email, so people don't miss it. Then put another one toward the bottom. This optimizes your email for clicks, even for recipients who skim the content.
Turn out of stock into sales
In a perfect world, you'd never have to worry about running out of your top-selling products and potentially leaving money on the table. But it happens.

Luckily, back-in-stock emails can recoup some of those would-be sales and even make your brand more desirable in the long run because of the scarcity effect.

Not an email expert? Don't sweat it. Privy has all the tools and resources you need to send professional emails. Plus, it integrates with Shopify & Wix. Try it free for 15 days and join 600,000+ ecommerce brands.
Subscribe for Updates
Get our best content on ecommerce marketing in your inbox 2 times a week.
Written by Lauren Hall
Lauren is a Brand Marketing Associate at Privy. She's the brains behind all things content. When she's offline, she's obsessing over her Bernedoodle pup, Monster, and plotting ways to being a full-time Vermonter ASAP.
Subscribe for Updates
Get our best content on ecommerce marketing in your inbox 2 times a week.