Ecommerce Blogging: How to Publish Your First 100 Articles
Published on Mar 24, 2022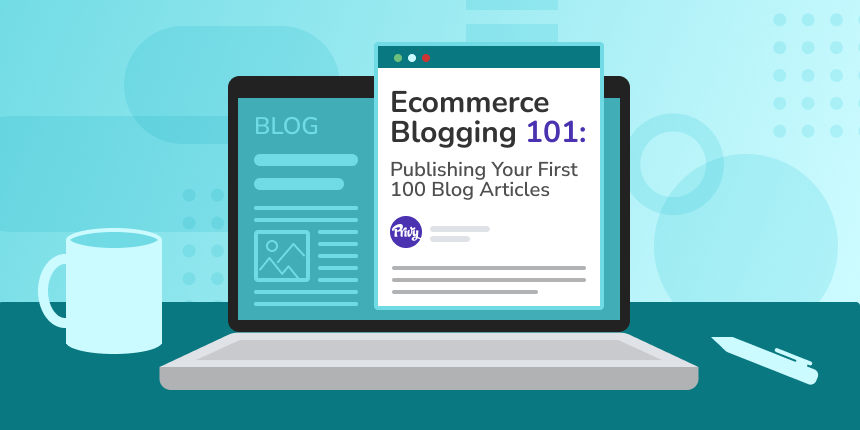 Blogging is a tried and tested process that can bring in tons of traffic to your online store. More traffic can lead to a more informed audience, better brand recognition, and better chances at getting more sign-ups and sales.
But starting a blog can be a tall task if you don't know where to start. It's a bit more complex than writing and publishing a few articles. The bar for brand blogs is higher these days. So, if you're committed to getting those first 100 articles published and getting your online brand name out there, keep on reading!
Get our best content on ecommerce marketing in your inbox 2 times a week
How to start your ecommerce blog
Starting your ecommerce blog is a step-by-step process, which includes:
First up, we need to switch the notion of "writing a blog" to content marketing. Lots of people and businesses write blogs, but they don't get traction until they develop a content marketing strategy. Tony explains content marketing in greater depth in the 5 minute video below:
You're going to write blogs that your audience wants to read, and you'll want to start writing straight away. But hold on a second. Learning the very basics of content marketing is crucial for writing blogs that'll perform well and will speak to your audience.
1. Learn your blog platform
Are you using WordPress, Drupal, Shopify's blogging platform, or have you added a blogging app from the Shopify App Store?
With so many options to get started with, it can be a bit overwhelming. But whichever blog platform you choose, make sure you play around in it, read documentation, and learn some tips and tricks for using it. Each platform has its own quirks, so before even publishing any content, you'll want to get acclimated.
After getting comfortable with your blog, it's time to add some themes, fonts, and styles.
2. Customize themes, fonts, and styles
Every blog platform worth using has its own custom themes, fonts, and styles for matching the look and feel of your ecommerce brand.
Make sure you style your blog the way you want and in a way that makes reading worthwhile. Other tips include:
Use a font that is easy to read.
Pick a theme that matches your style and tone.
Add your brand colors wherever necessary.
Make sure everything looks and feels good on mobile.
Make sure your navigation is easy to use.
Add topic categories to make all your blogs easily discoverable.
Source: All sorts of themes for your Shopify store, Tutsplus
This part of the process can always be adjusted at a later time, but make sure you get the basics down so your blogs are readable the moment you publish them.
3. Prepare a blog layout and start writing
Blogging isn't quite as simple as getting the words down and hitting go. There are some technical elements to consider when formatting your blog posts. Let's start with using header tags.
When writing your blog post, you'll need to distinguish what's a header, what's a subheader, and what's your body content. It's not as easy to explain, so below is an image that visualizes how you should layout your blog.
Source: How to write header tags, Buddy Gardner Advertising
The example above is about gardening, but it can be applied to any and all industries. For example, if you sell sneakers, it may look like:
H1:

How to clean your sneakers

H2:

Use a cleaning spray

H3:

Cleaning Spray 1

H3:

Cleaning Spray 2

H3:

Cleaning Spray 3

H2:

Do it by hand

H3:

Remove your laces

H3:

Scrub with a toothbrush

H3:

Dry with a towel
You get the gist.
You'll also want to include some visuals, whether it be images or videos.
Images break up walls of text and make your content easier to digest. Videos keep readers engaged and on your blog for longer.
Using sneaker brands as an example again, you'll want to include product images so readers can actually see what you're talking about.
Bulleted and numbered lists as well as tables are great for blog formatting.
1. They make for easier reading.
2. They call out important parts of lists.
3. Google may list them on their search results.
One more crucial thing to remember when assembling your post is white space. Notice the short paragraphs, lists, and spacing on this very article you're reading. White space is a basic design principle that keeps readers scrolling and scrolling instead of boring them with endless text.
Now you know how your blog platform works, how to design it, and how to format it.
So, what are you going to write about?
How to find topic inspiration
What will be your first blog and how do you follow it up? This section will cover the basics of finding topic inspiration for your ecommerce blog and ways to keep the ideas flowing.
First, the topics you're coming up with will likely fall into one of three categories: Discovery, Intent, or Expertise.
Discovery: What people are searching on Google or social media. This is the initial curiosity phase and this content should be educational.
Intent: Someone who may be ready to buy but is searching for their answer. This is more product-focused content, so don't be afraid to promote your items!
Expertise: Your angle from your industry expertise. Great content for social sharing, brand recognition, and maybe even a news feature.
Let's use the wellness industry as an example. Say you sell supplements or vitamins online, here's what each of these topics may look like:
Discovery
How do vitamins work?
Are vitamins safe to take everyday?
Do vitamins give you energy?
Intent
Best supplements for men
Vitamins that promote hair growth
Vitamin subscription box
Expertise
Trending supplements in the next 5 years
How the supply chain is affecting vitamin shipments
Technologies shaping the future of vitamin production
The more you think about how your ecommerce blog topics fit into one of these three categories, the easier it should be to come up with article ideas.
You can always take topic research a step further by talking with your customers, sitting in on customer calls, reading product reviews, or monitoring questions that come in through your live chat queue.
The basics of keyword research
We can't discuss topic inspiration without bringing up keyword research. While it's easy to go down the rabbit hole of this topic, we'll keep it simple.
Keyword research will act as yet another method for finding topics to write about, but it'll really fuel your Discovery content that will help bring in traffic to your ecommerce store. You can start by doing a simple Google search. Let's use our wellness example again for showing keyword research.
Right away we can see all sorts of Discovery content your ecommerce brand can write about. Once you tap a Google Search, you can scroll down to the People Also Ask section to get more in-depth blog topics.
And scrolling to the bottom of these search results show even more topics.
These three sections are hints Google is giving you about what people are most commonly searching for in your industry. Start adding these to a document or spreadsheet and plan out how you'd like to write them.
Just be sure you're writing with the right search intent, which is a simple way of saying "answer what people are searching for." Blogs that are too promotional or clickbait-y could come off as serving the wrong search intent.
The basics of Search Engine Optimization (SEO)
Before you publish, we need to go over some SEO basics to give your blogs a better chance at ranking well in Google Search Results.
Some ecommerce SEO tips you should follow include:
Writing headlines with your keywords in them
Writing headlines with catchy hooks that brings readers in
Linking to your product or category pages in your blogs
Use images, video, and/or audio
Make sure your blogs look good on mobile
Make sure your website is loading quickly
Categorizing your blogs. Ex: A sneaker brand blog may categorize like:

How-to
Shoe care
Men's shoes
Women's shoes
New releases
News & events
How to distribute your content
There's a saying in the content marketing community that "20% of content marketing is writing, 80% is distributing." You could write the most in-depth article on eyeliner application techniques, but if you're not distributing the article, you're limiting who will discover it and read it.
Once you've grown your email list, you can begin distributing blogs in your newsletter emails. A savvy marketer will even give people the option to subscribe to specific email lists so they can receive personalized content. Newsletters are a great way to reach people already in your community.
Another obvious distribution channel is social media, but simply posting your article and logging off won't cut it. You should take a page out of Printful's playbook on how they promoted their blog on boosting social media presence. Instead of posting just the article, they broke each section into individual Tweets. This shows your readers what they can expect before clicking and makes your article more shareable.
If Twitter's not your cup of tea, don't worry, there are tons of other ways to distribute your blogs, including:
Repurposing it on Pinterest
Turning it into video content for YouTube
Turning it into podcast content
Instagram stories and posts
Promoting it on your website via pop ups, bars, and banners
Facebook community groups
Reddit and Quora forums
Guest writing on another brand's website
After you've done your rounds of distribution, it's time to hit the drawing board for your next article idea. One article down, 99 more to go!
How to publish content frequently
One thing to keep in mind when it comes to ecommerce blogging is that consistency is key. Publishing one or two articles every few months won't yield the results you're looking for. Consider how frequently you plan on publishing blogs and start building out your path toward 100 articles.
A common option ecommerce owners go with is hiring a freelance writer. If you have the budget, having at least one or two articles a week can help immensely. Some ecommerce brands may even have a fleet of freelance writers to bring their publishing frequency up.
If you don't have a budget for freelancers or writing help in-house, developing a writing routine is the best way to publish frequently. Even if you're publishing once or twice a month, doing so consistently keeps a steady flow of content for your audience.
Try setting aside a Friday afternoon or Tuesday evening as writing time. Leave your content to breathe overnight and check it again the next morning for edits.
Finally, if you have old content lying around, be sure to refresh or repurpose it to give it a well-needed boost. Add new content, new stats and research, find unique ways to promote your product, and press publish. Consider this another blog under your belt!
Wrapping up
Yes, blogging for your ecommerce store can earn you more traffic and eyes on your website, but it's an excellent way to educate your audience, keep them informed, and set the foundation for brand building.
Blogging opens the door to a newsletter audience, community marketing, or maybe even a podcast (if that's your next great challenge).
You now have the methods for learning your blog platform, finding topics to write about, optimizing your blogs for search engines, and promoting them. Time to grab your laptop and get started!
Subscribe for Updates
Get our best content on ecommerce marketing in your inbox 2 times a week.
Subscribe for Updates
Get our best content on ecommerce marketing in your inbox 2 times a week.