Privy Welcome Emails: Tell your brand story and turn curiosity into customers.
First impressions are everything.
But as a small ecommerce business, there are tons of things to focus on at any given time.
You need to build personal relationships with your email subscribers, without sacrificing time. And you need to build those relationships starting on day one.
That's where welcome emails come in. Because they create connections with subscribers and nurture the curiosity that nudged your subscribers to sign up in the first place.
Send your new subscribers authentic messages that tell your story and plant the seeds for future purchases with Privy Welcome Emails.
Welcome Emails: The Email You Can't Afford to Skip
74% of people
expect them
They have a
91% open rate
They can generate
3X more revenue
How Do Welcome Emails Work?
Welcome emails do so much more than thanking subscribers for signing up, it's a chance to bring them into your world and turn them into engaged customers. When subscribers sign up for your list, they're giving you explicit permission to connect with them. Email is the easiest way to build those relationships, and your brand with it. An amazing welcome email sets the tone for your subscribers' relationship with your brand and, ultimately, inspires them to make a purchase.
The best part—once published, your welcome emails will automatically send each time a new subscriber signs up. You don't need to hit send, you don't even have to be awake—it just works.
So, what does this mean for your store?
We've helped 10,000+ small ecommerce brands generate over $470 million in revenue with Privy Email. And we've learned that Privy customers generate an average revenue of $33 per email captured.
Welcome emails help turn your interested subscribers into high-intent customers.
Engagement is the ultimate retention strategy. Make a strong first impression through your welcome email and retain an engaged customer base that buys more often and spends more each time.
5 Reasons to Start Sending Privy Welcome Emails for Your Shopify Store Today
1. Welcome Emails Can Generate 3x More Revenue
While welcome emails tell your story and build trust with your subscribers, they also allow subscribers who are ready to buy from you ASAP to do so easily. It's the best of both worlds.
2. You Only Get One Chance to Make a First Impression
74% of email subscribers expect a welcome email. Don't simply deliver on that expectation—go above and beyond with a welcome email that really stands out. On average, welcome emails have an open rate of 91%. Use your welcome email as your time to shine.
3. Click-Through-Rates for Welcome Emails are 5x Higher
That means 5x the number of people are following the specific call-to-actions in welcome emails. That's the beauty of email—by giving you their email address, subscribers expect to hear from you. Sending a welcome email is another way to profitably convert subscribers to customers in a way that subscribers want to be engaged.
4. Send On-Brand Emails Within Minutes
You've been sending emails your entire life. So you're probably pretty good at it by this point. With our drag and drop email editor, we make customizing your welcome email even easier by matching your brand's style down to the fonts and colors.
5. Build Brand Loyalty, Not Just One-Time Purchases
Inviting subscribers into your brand community is incredibly simple with welcome emails. Beyond developing a sense of community, welcome emails can provide readers with multiple opportunities to interact with your brand. Share blogs, best-sellers, how-tos—content that engages your subscribers and brings them back to your site.
Customize welcome emails for the ultimate sign up experience
There might be multiple ways subscribers can join your list. That's smart marketing. Maybe they sign-up through a pop up on your homepage. Or maybe you grab their email on a specific product page. With Privy, you can create a welcome email that's relevant to the experience your subscriber had on your site. Share the same welcome email with all your onsite sign-ups. Or tailor welcome emails to specific onsite campaigns. It's totally up to you what experience you want your subscribers to have. We just make it easy to deliver that experience.
Welcome new subscribers, even if they make a purchase right away
Sometimes subscribers join your list and make a purchase all within their first visit to your site. Awesome, right? It's subscribers like those that you especially want to thank for signing up. But some email autoresponders will un-enroll subscribers from your welcome email once they buy from your store. With Privy Email, your welcome email automatically delivers to the subscribers you want to welcome to your brand, regardless of whether or not they've made a purchase.
Easy Drag and Drop Email Editor
Creating well edited welcome emails that match your brand has never been easier. With Privy's drag and drop editor, you can publish your first welcome email within minutes. Customize your welcome email to match your brand, link to your social media accounts, and even pull in products directly from your Shopify catalog with the click of a button.
Privy Newsletters Help New Brands Grow Their Stores Fast
"Privy is great, I have been searching for the perfect platform to use for my email marketing and privy is just that. The templates are amazing and the fact that it is linked with my Shopify makes it even better!"
"So awesome! They make popups and newsletter emails so easy! We are launching soon and everything has gone so smoothly. So glad I chose to use them!"

"This app is amazing! We've been using it for about a year and are really happy with the sign ups, email functionality and marketing tools. It has more than paid for itself with sales and new conversions. The support is terrific. Highly recommend!"

Welcome Emails Are Just The Start
Welcome Emails are just one of many email types you can send with Privy. Ecommerce brands using Privy Email have made millions in revenue sending newsletters, cart abandonment, customer winback, and purchase follow up emails.
Send professional-looking newsletters, promos, and updates to stay in front of customers
Communication is key if you want to retain customers. Privy's drag-and-drop editor makes it easy to send on-brand emails that bring them back again and again.
Turn one-time buyers into repeat shoppers with customer winback emails
Repeat customers drive 80% of ecommerce stores profits. Automatically email customers weeks after their last purchase reminding them to order again, or cross-sell other products in your catalog.
Save 10-20% of abandoned carts with automated emails
The average cart recovery rate is 7%. For Privy customers, the average is 16%. That's because Privy email lets you send a series of cart abandonment emails. And once you set them up, you'll automatically begin recovering revenue.
Continue selling after customers checkout with purchase follow up emails
Don't stop selling once the purchase is made. Purchase Follow Up Emails are a great way to cross-sell an accessory, pass along a discount they can send to a friend, or ask for a product review.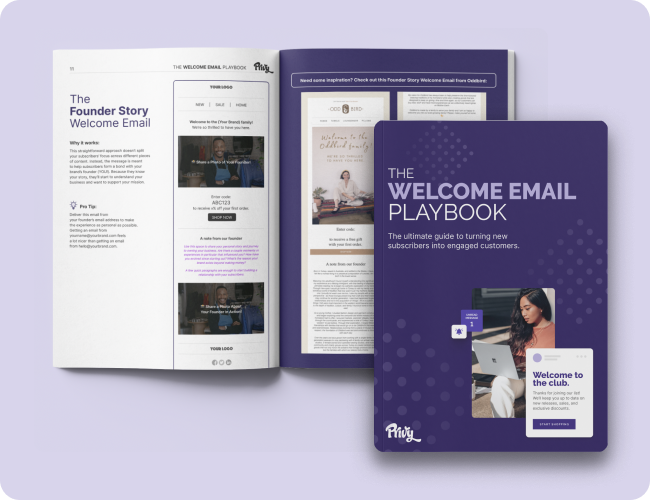 Need ideas on how to get started? We can help.
We know a little inspiration goes a long way. That's why we spent time digging through our favorite welcome emails to find best practices you can't afford to skip. Our Welcome Email Playbook also includes five common and highly effective welcome email templates you can copy today. Download our Welcome Email Playbook for FREE.