How To Drive Repeat Sales With Email – And 4 Purchase Follow Up Emails You Can Steal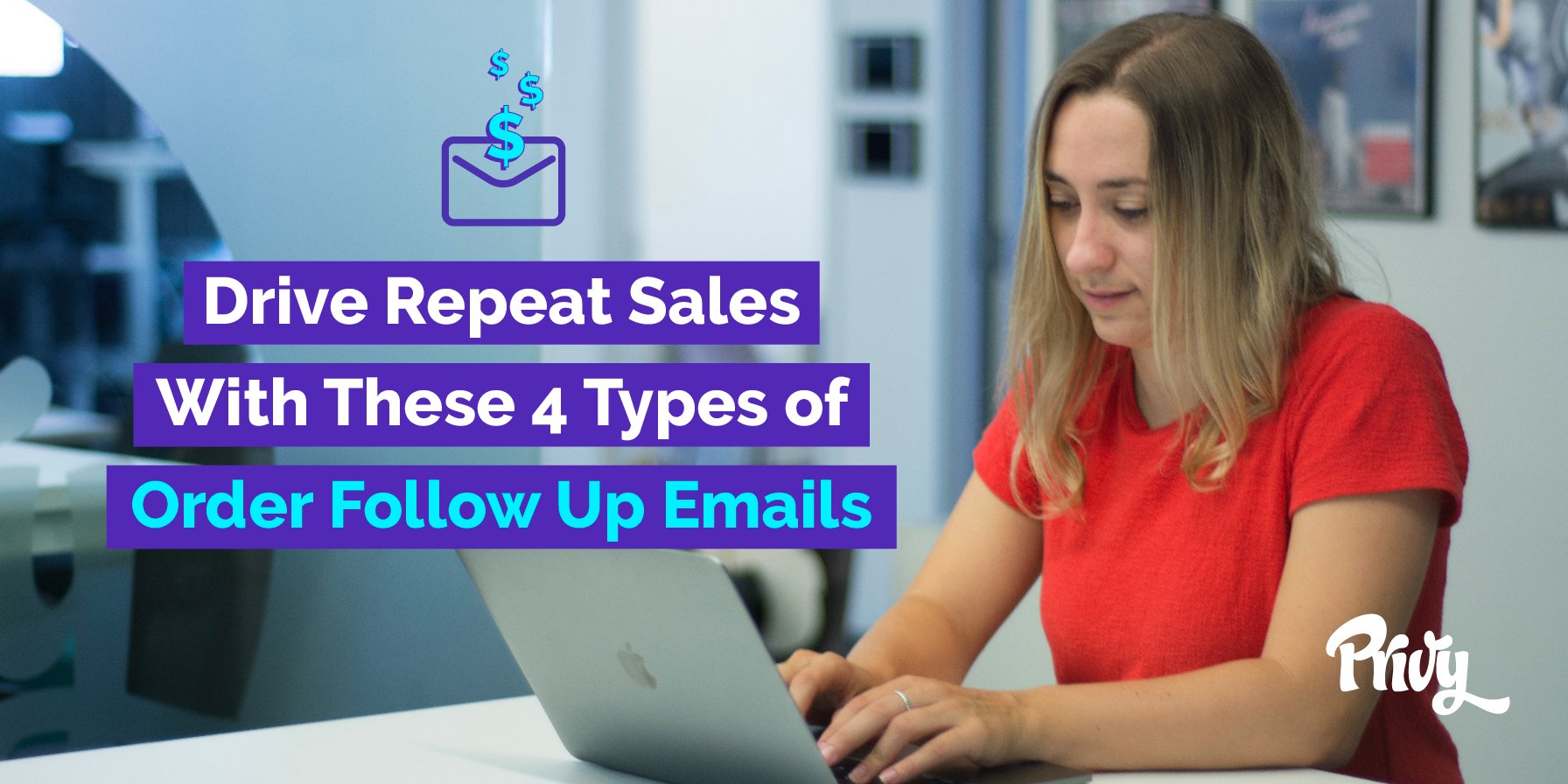 I want to talk about your customers.
No, not the people that you're advertising to on Facebook.
I'm talking about the people who have already given you their hard-earned money in exchange for your product.
Those customers.
Most store owners think that the only way to grow their business is to get more customers.
But actually, according to Adobe Digital Index, you're better off selling to people who have already made a purchase. That's because repeat customers are 9 times more likely to convert than a first-time shopper.
So if you're looking for a quick boost in sales, start off by selling to the people you've already sold to.
Get our best content on ecommerce marketing in your inbox 2 times a week
Here are the 4 types of purchase follow-up emails that help you sell more
1. The Reorder Email
Does your product have a short life cycle?
Think of product categories like food, shampoo, supplements, or even succulents (ok, maybe I just don't water mine enough...).
If you're in one of these spaces, you can tap into your existing customer base for reorders.
And getting that first reorder is so important.
That's because a repeat customer has a 60% to 70% chance of converting.
And developing customer loyalty early on helps your bottom line.
A recent study from BigCommerce found that your top 10% of customers spend 3 times more per order than the lower 90% of your customers.
How to set up The Reorder Play in Privy
First, create an Purchase follow-up email.
Set up this email to go out 3 weeks after the order was placed. This will give the customer enough time to receive the product and actually use it.
This first email is just a check in and gentle reminder.
The two things to include in this email are:
1. Feedback: ask them how they like the product
2. Reorder: ask them if they happen to be running low and need more
Here's an example I love: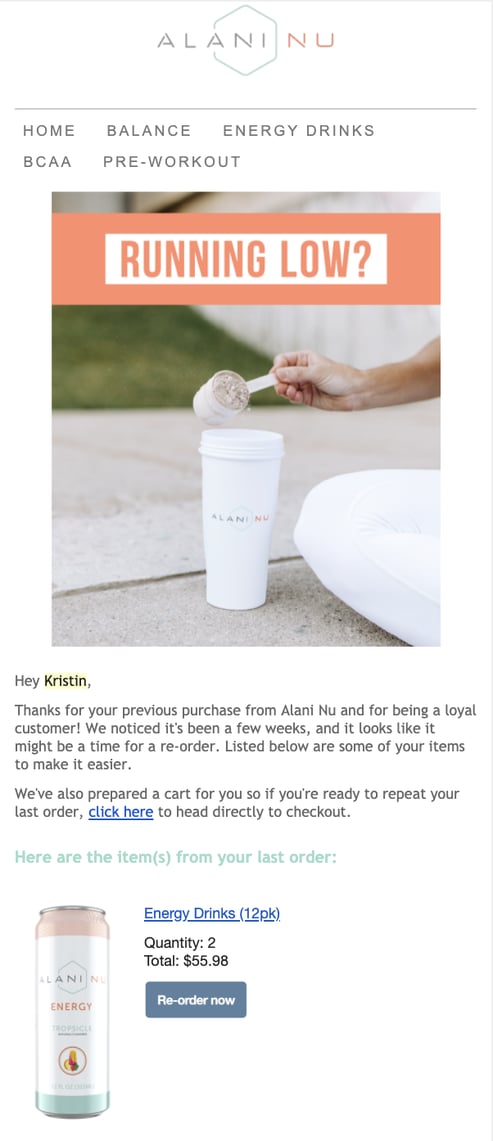 They get right to the point – are you running low?
They even remind the customer what they ordered in the first place, and make it incredibly easy to reorder with a button.
Once this email is created, I'd suggest creating email #2.
This email is sent 6 weeks after the initial purchase. The message is simple – offer a coupon for their next order.
This little step can help customers begin to build a habit of reordering automatically, that way you can really begin to scale your brand.
2. The Cross-Sell Email
Alright, give yourself a pat on the back.
Because here's the thing, you've already done the hardest thing in ecommerce: identifying your target customer.
Half the battle in marketing is selling to the right customer. And every time you make a sale, you grow your list of people who like your product and are willing to pay you for it.
If you've reached this point, the Cross-Sell email is perfectly designed for you. We recommend this email for brands that have a product catalog with multiple variations of a product (ie. flavor, scents, materials).
Here's an example from Hardcore Carnivore, who offers different flavors of seasonings:
Having this email can help cross-sell your product catalog and build customer loyalty.
3. The Social Shopper Email
Do you have a lifestyle brand? The kind that people would tag on social and show off to their followers? Think of clothing, makeup, and even food and beverage brands.
Then the social shopper email is perfect for you.
The concept is simple. It's only 1 email where you ask your customers to post a photo or video and tag you.
This can help in two ways.
1. Now customers are buying your product and promoting them for you.
2. Now you have free user generated content to use in your marketing! We have seen brands use their customer content for their ads and have found it to work incredibly well.
Here's an a simple example from DiamondXpres: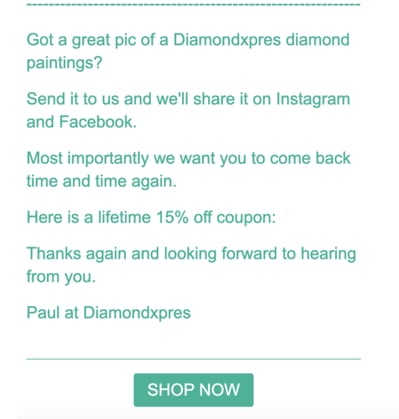 4. The Buyer's Remorse Email
These days, everyone expects 2-day shipping, but not every business can offer it.
And while customers are waiting for their order to ship, they might be getting a case of buyer's remorse.
So we put together a play to keep cancelation rates low and customers engaged with their purchase before they get it.
Here's how it works:
Send an email 2 days after the customer has placed their order with information getting them excited about their purchase.
This can be a blog post, video, or even examples of how your customers are using your product today.
Here's how Jax & Bones shares information about cleaning masks before they even arrive: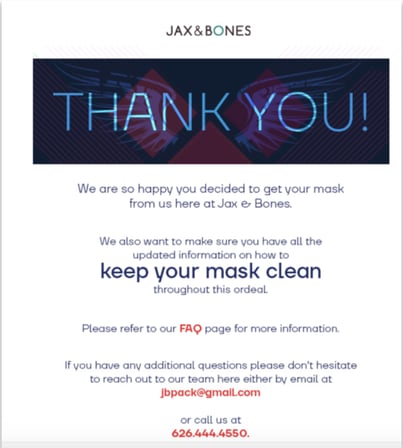 Here's a preview of a tutorial that's embedded in the email.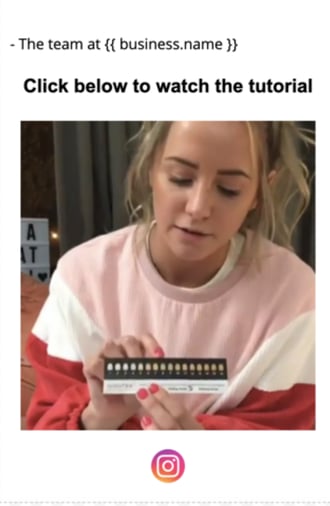 Create content that will keep your customers engaged during the entire buying experience.
Setting Up Purchase Follow Up Emails
If you're eager to test these emails on your own store, check out Privy Email.
It's the fastest way to set up email automation on your Shopify store, and starts for as little as $13/month.
Subscribe for Updates
Get our best content on ecommerce marketing in your inbox 2 times a week.
Subscribe for Updates
Get our best content on ecommerce marketing in your inbox 2 times a week.