How Glossier Built a $1.2B Brand Off The Back of Content
Published on Feb 11, 2020
Written by Daniel J. Murphy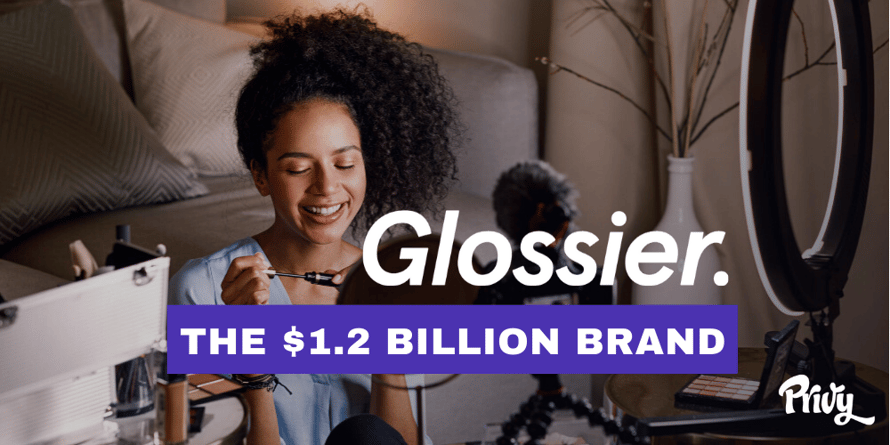 Most bloggers don't expect their site to turn into a $1.2 billion business. But that's exactly how Emily Weiss created the beauty brand Glossier.

Weiss' secret? She values shoppers' opinions above all else.
"Your opinion as a woman in beauty has never been more valuable." -Emily Weiss

As a 26-year old Teen Vogue assistant, Weiss launched her blog Into The Gloss in 2010. The project was something she did just for fun. She loved asking friends about the beauty products they used, so she created a blog to profile fashionistas and their beauty regimes. Within months, millions of people were flocking to the site to get makeup and skincare recommendations.

Her genuine interest in the everyday beauty consumer serves Glossier today. The brand regularly asks shoppers about their beauty routines on the company's blog (the same one Weiss started, Into The Gloss) and on Instagram. Using that feedback, Glossier develops beauty products that shoppers praise all over Instagram.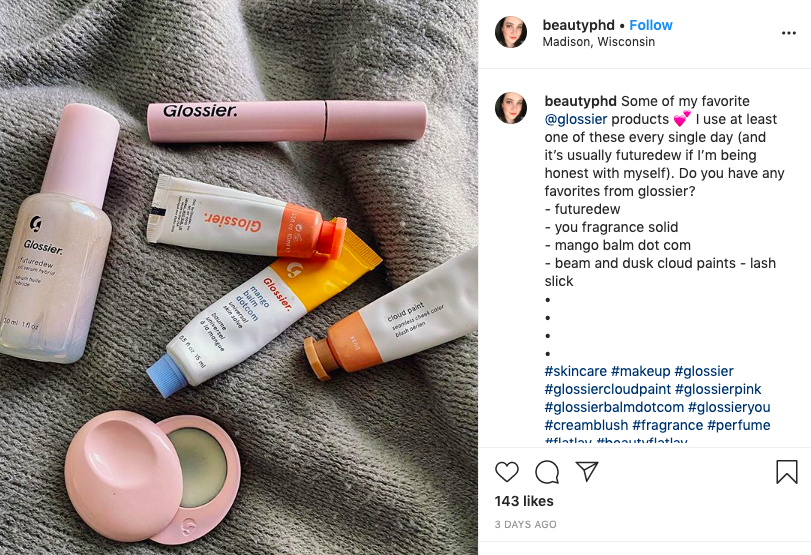 [Source]

A simple philosophy drives Glossier's success: give customers a voice through content. Weiss' focus on the consumer allowed her to build a viral blog, best-selling products, and a community that loves spreading the word about Glossier.
Get our best content on ecommerce marketing in your inbox 2 times a week
Tell your customers' stories, not your brand's
Glossier wasn't built from scratch. Weiss had 186,000 followers from Into The Gloss' Instagram to take along for the ride.

Women were eager to follow Glossier because they loved Into the Gloss. It gave them a space to share their opinions about beauty products and hear from other shoppers about their favorite brands.

The most popular section of the blog was—and still is today—The Top Shelf. It features interviews with fashionistas, including a breakdown of all of the products they use and photos of their full-to-the brim medicine cabinets.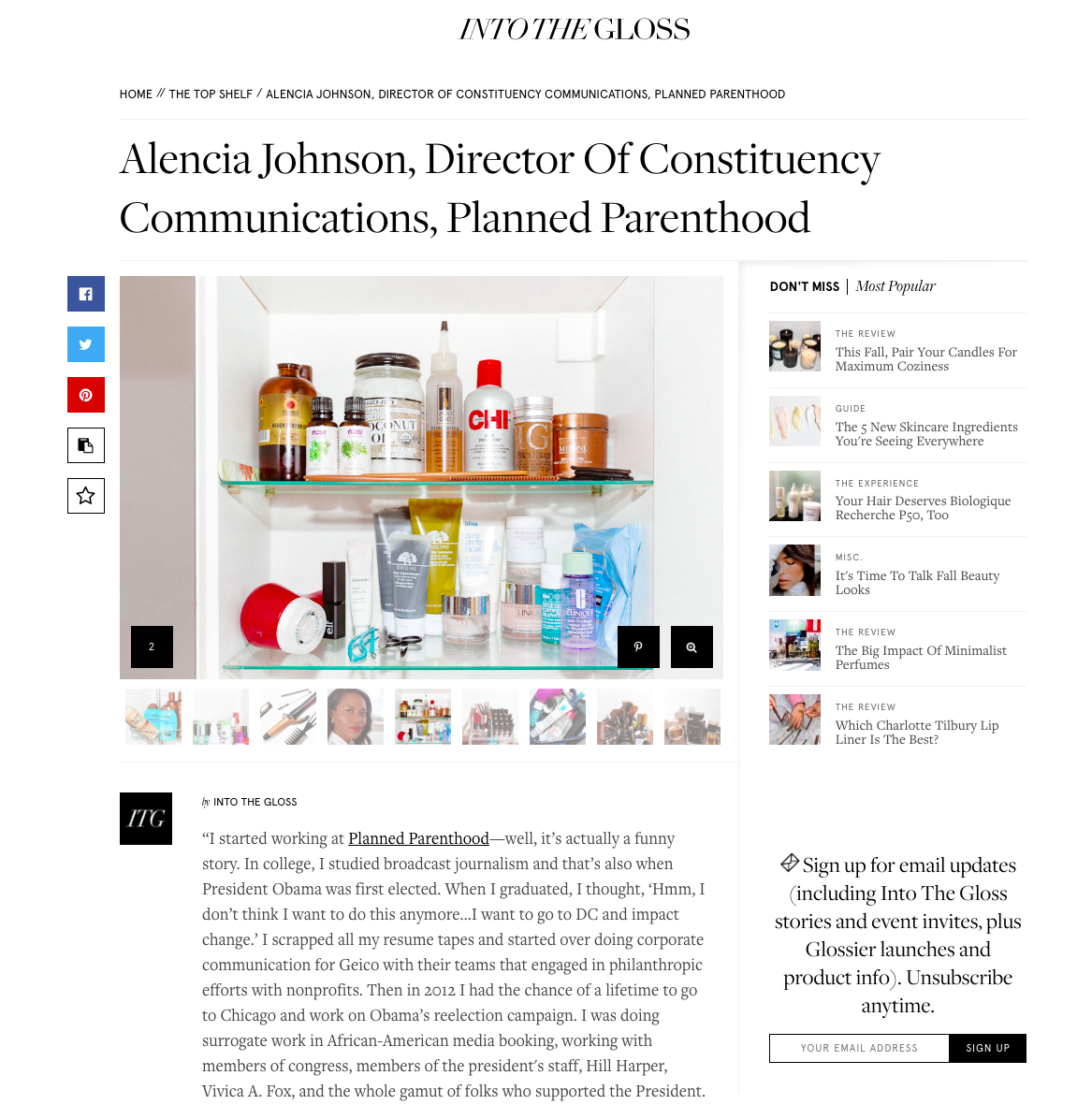 [Source]

The women Glossier's blog features are unabashedly cool and stylish, yet still accessible to the average reader. Sure, some product recommendations are wildly expensive—but many can be found at a drugstore or Sephora. The interviews also reveal personal details, not just product recommendations, so the featured women feel relatable to readers.

"With just a few questions, Weiss has the uncanny ability to strip away the surface and uncover what daily beauty rituals and priorities reveal about an individual," said writer Imran Amed, reporting on Weiss when she was just running Into The Gloss in 2012.

From the beginning, people ate up the blog's content. After a year, the site was getting 10 million views per month.

Weiss knew she had tapped into something big. She realized women were coming to her blog because they wanted to receive beauty advice from other women, not from brands.
Takeaway: profile your shoppers on content platforms
Tap into the power of social proof, like Weiss did, by sharing interviews on your company's blog and social accounts. Ask your customers, or people who match your target customer profile, about their lifestyle and how they use your industry's products.

To make the interview especially click-worthy, profile someone your customers would admire. They don't need to be famous, but they should have a job or credentials that make their insights especially valuable. If you're a cookware company, talk with a chef about her favorite equipment. If you sell gourmet coffee, talk to a Bluestone Lane barista.

In these interviews, don't focus on your products exclusively. The interview will feel natural and authentic if you let the person talk about all of the brands they use, not just yours.
Find your next product idea in shopper conversations
Weiss was able to start Glossier because of the conversations she had with beauty consumers on Into The Gloss. And for that matter, Glossier is the mega-success that it is today because the brand continues to talk with shoppers.

Interacting with women on the blog showed Weiss that the beauty industry was far from perfect. In The Top Shelf interviews, she saw household-name products barely used and stowed away in zip-lock bags. In comment threads, she saw readers break down why well-known brands weren't all that effective. Women had a lot to say about their makeup and skincare products, but companies weren't listening.

"I saw the need for a beauty brand that speaks to its consumers directly, offering them a chance to engage beyond the traditional touch points of purchase, use and mass marketing," said Weiss in her press release announcement of Glossier.

In 2013, Weiss went to venture capitalists with a vague business plan. She had a strong instinct that women needed a new beauty brand, but she wasn't quite sure what its products would look like. She saw 10 rejections before she finally got a "yes" from Kirsten Green of Forerunner.

"She was really thinking differently," Green said to The Cut. "I thought, I need to work with this woman. I don't know what we're going to build, but it's going to be different and interesting."

With $2 million to launch Glossier, Weiss stayed true to her vision and brainstormed products by talking to customers.

In January 2015, for example, she published a blog post on Into The Gloss asking readers what their dream face wash would be like. The blog post got 380 comments, which Glossier used to develop the Milk Jelly Cleanser—one of their best-selling products today.

Today, Glossier continues to gather feedback with open-ended questions on Into The Gloss' Instagram account.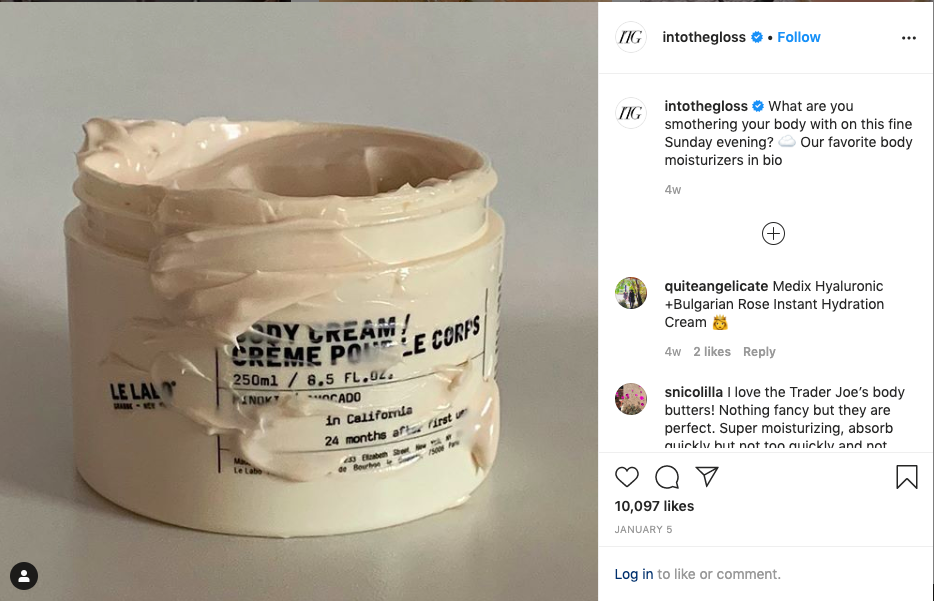 [Source]

Importantly, Glossier wants shoppers to chime in about all of the products they use, not just their brand. This move builds trust in shoppers, especially young ones. It makes Glossier feel like an impartial friend, not a company trying to sell products. From Glossier's perspective, these conversations are a way to learn about competitors and how they could improve their own products.
Takeaway: Ask shoppers about their favorite products
Just like Weiss, ask shoppers about their dream version of a product used in your industry. Post this question on your blog, like Weiss did, if you're hoping for detailed responses. If you care more about getting a lot of answers, post the question on social channels. The answers you get will be short, but you're more likely to get responses since so many people use social.

Check the number of likes on each comment to see which answers resonated the most. Not everyone wants to leave a comment, but many people will upvote since it only takes a click.
Let your community market your product
Into The Gloss went viral because it recognized shoppers' opinions. Glossier's products regularly sell out because they're built around input from beauty consumers. So it only makes sense that Weiss had to figure out how to market Glossier, she looked to shoppers.

"We believe in the power of the individual," said Weiss. "If you have many [individuals] who are electing your brand, who are excited about it and talking about it, then that is the equivalent of 10 Kardashians."

True to this philosophy, Glossier doesn't rely on traditional paid advertising. About 80% of Glossier's growth and sales come from word-of-mouth marketing. How does Glossier get a shopper to spread the word about the brand?

"Involve her," said Weiss. "Don't just make her feel involved. Reward her if she's involved."

Just like Weiss describes, Glossier incentivizes shoppers to spread the word:
Glossier regularly regrams user-generated content, so people know they could be seen by the brand's 2.6 million followers if they tag the company or use their hashtags.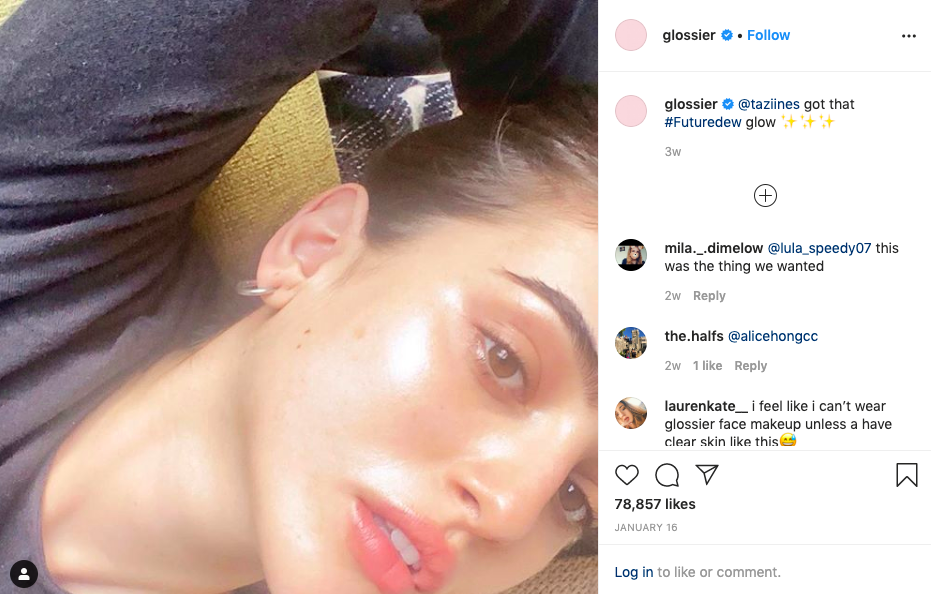 Glossier regrammed Instagram user @taziines' pic of her wearing the brand's Future Dew product. [Source]
The brand's millennial pink packaging is known to drive likes and comments. Same for the brand's stores and pop-ups, which are filled with bright, colorful selfie walls.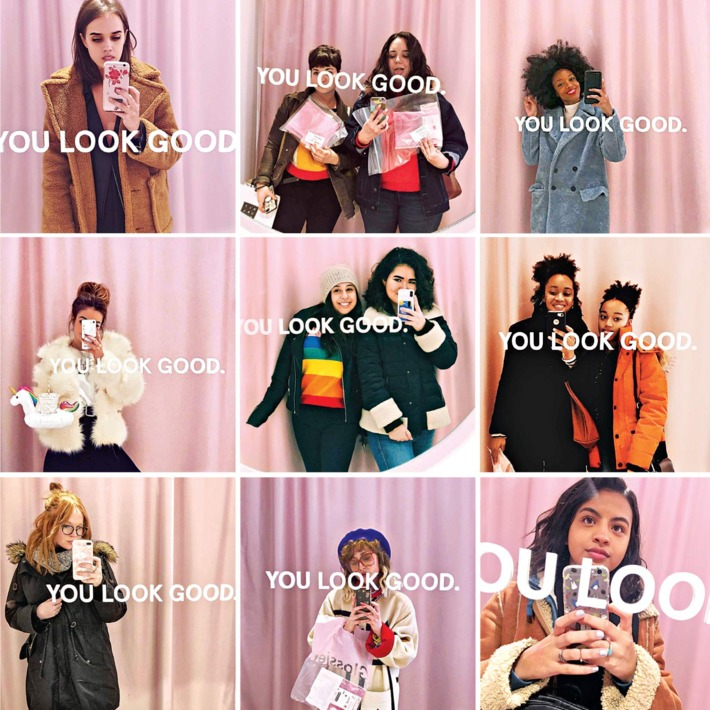 Shoppers take pink-filled selfies in the Glossier showroom. [Source]
Glossier points out all of the "cool girls" using their products. Beyonce, Michelle Obama, Saorise Ronan—all of these celebrities use Glossier. And when they do, the brand lets all of their followers know. If these powerful women use Glossier, their shoppers think, I want to let everyone know I'm using it too.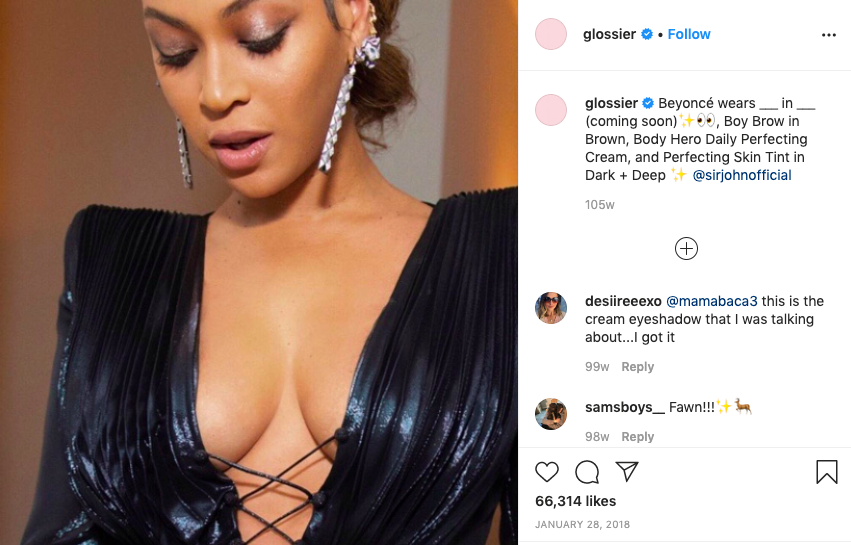 Glossier posted a photo of Beyonce wearing their eyeshadow at the 2018 Grammys. [Source]

Why does this user-driven marketing work for Glossier? Because shoppers trust other shoppers' opinions. A friend posts about how Glossier's cleanser cleared up their acne, and you find yourself buying a bottle a few minutes later. Dove tells you their body wash will make your skin beautiful, and you roll your eyes.

"That's not how people are shopping anymore," said Weiss. "Women are discovering beauty products through their friends, full stop."
Takeaway: Embrace user-generated content
If you want people to spread the word about your brand online, you have to reward them. Posting content about your brand should benefit customers' Instagram accounts, not just yours.

Start by thinking about what product design will drive likes from your shoppers. A clean, minimalist design—like the Le Labo creme in the above image—is versatile and slick. If your brand's image is youthful and energetic, add bold colors to your packaging that will stand out on people's feeds.

Be sure to regularly share user-generated content on your brand's account, too. If your company has a lot of followers, shoppers know that a regram could lead to more followers for their own account.
Use content platforms to get customers involved and invested in your brand
Weiss' journey is inspiring, to say the least. But don't be mistaken—following Glossier's content strategy from the last decade won't bring you a unicorn company. The brand's tactics are a good starting point, but they're becoming less powerful as more and more brands copy their content moves.

How do you find innovative ways to connect with customers? Pay attention to how people are using content platforms—not just your target buyer, but everyone around you. And just like Weiss, value the customer's opinion above all else. If you do, you'll be on the lookout for the next big way to connect with shoppers and get them involved in your brand.
Subscribe for Updates
Get our best content on ecommerce marketing in your inbox 2 times a week.
Written by Daniel J. Murphy
Dan is a B2B marketing leader with over 7 years of experience helping SaaS startups grow. Before joining Privy, Dan was the Director of Product Marketing at Drift. He's also worked in demand generation, brand marketing and marketing ops. Dan loves to geek out over marketing strategies and technology. He co-authored "This Won't Scale" with Privy's CMO, Dave Gerhardt at their previous company.
Subscribe for Updates
Get our best content on ecommerce marketing in your inbox 2 times a week.