10 Things To Consider When Evaluating Shopify Apps For Your Shopify Store
Published on Mar 25, 2022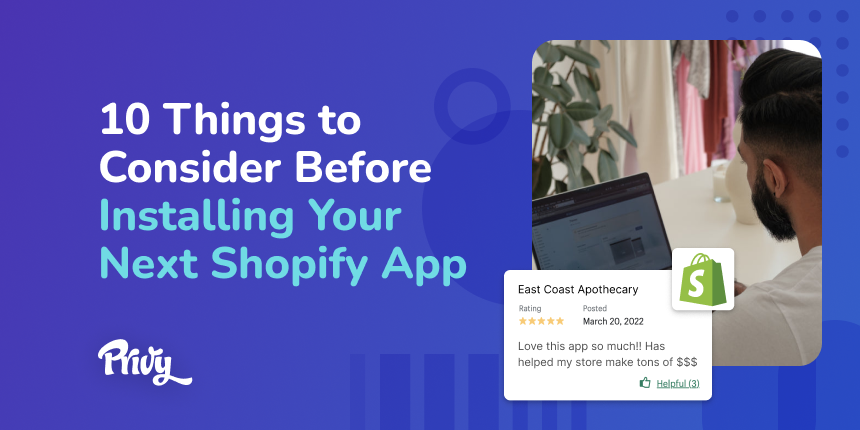 Whether you just launched on Shopify, or run an existing business looking to grow your sales – you've probably already checked out apps in the Shopify App Store.
With 6,000+ apps covering a wide range of business needs, including marketing, conversion, shipping & fulfillment, customer service, and more, the Shopify App Store is an incredible resource for discovering new tools to run and grow your business.
But with new apps being launched everyday, it's not always easy to sort through the noise and know which apps are worth your investment.
That's why it's helpful to have a guide for evaluating which apps are right for you.
Here are 10 things you should consider before installing your next Shopify App.
Get our best content on ecommerce marketing in your inbox 2 times a week
1. Ratings and reviews
Shopify does a great job ensuring reviews in the App Store are useful and trustworthy by:
1. Requiring that you're signed into a Shopify account to post a review and
2. Discouraging any app provider from offering incentives or filling their listing with fake reviews.
Reviews can tell you a lot about the functionality of a product, but even more important, they tell you about the experience users had interacting with the people behind the app. Here at Privy, we're proud of our 4.6 star average and 18k 5-star reviews. And we especially love reviews like these that call our teammates out by name for the incredible service they provide.
Having a lower rating shouldn't automatically disqualify you from considering an app for your store, but if you see a low score, be sure to spend some time digging into the reviews to assess the issues that others may have faced and whether or not they've been resolved.
2. Level of support
When you're installing an app to help run or grow your business, you should make sure that the team behind the app is as committed to your success as you are.
Important things to keep an eye on:
How quickly can you expect a response when you have a problem?
Does the app have a help section or anywhere else on their website where you can find answers to your questions?
Does the app offer any coaching before you pay for their services?
Are there any reviews on the app that highlight positive or negative support experiences?
At Privy, we provide the tools, support, and coaching you need to grow sales on Shopify. In addition to a stellar support team that's dedicated to answering your questions, we also offer more personalized support offerings. We offer a launch call with a member of our onboarding team and also have dedicated customer success managers for customers on longer-term contracts. If you're switching from another email marketing platform, we also provide a dedicated migration call to reduce the time and effort of migrating to Privy.
3. Pricing and packaging
When comparing prices for Shopify apps, make sure you're paying close attention to the total cost of using the app – not just the base price listed on the app's page. Also be mindful of how price scales and what you'll be paying as your usage increases.
For example, at Privy, our pricing is based on mailable contacts in your account. We don't charge for any contacts that aren't mailable and we don't add any extra fees for things like send limits. We do our best to align our pricing based on our customers' success, so that the cost of using our tool only increases when customers are actually seeing real results.
Take the time to understand the full cost of ownership when installing an app, not just the baseline price.
4. Free plan and the trial experience
The Shopify App Store makes it easy to see if apps offer free plans or a free trial experience. The free experience is important when evaluating new apps, and gives you the chance to see some results before making a purchase decision.
Another important part of the free experience is whether or not the app offers any kind of coaching or support before upgrading to a paid plan. For example, at Privy we offer a free coaching call for any new user installing our app. Our coaches work with you to understand what you're looking to accomplish with Privy, and help you choose the right campaigns to improve your conversion rates and drive sales with email and SMS.
5. Integration with Shopify
Shopify does a great job vetting the quality of apps on their platform, so rest assured all apps offer some level of integration with Shopify.
But how deeply apps integrate can vary, and so it's really important to understand your use cases and evaluate the functionality of the Shopify integration. A good integration should save you time by allowing you to easily access and use the work you've already done to set up your store in Shopify within the app. You also want to make sure the data and reporting within the app reflects what you see in your Shopify account – especially if you're using the app to track order and customer information
Here's some of the functionality we offer with the Privy x Shopify integration:
Reuse work you've already done in Shopify to quickly promote products in your emails
Track sales from your marketing emails and popups in Shopify
Easily sync customer data from Shopify
Create coupons to run offers and promotions and track redemptions
So before you make a decision on an app, make sure you're confident you're not going to be creating more work for yourself in the long run.
6. Trusted by industry experts
Do the people who know Shopify and have a deep understanding of the services you are installing the app to do, recommend it to their audience? This is a simple question that you should ask whenever you're evaluating a new app for your store. This is most important if the app has been around for a few years and has a sizeable user base.
An easy way to find this out is to go outside the app store and search for: "Best Shopify Apps for [Blank]." You'll find a ton of articles and videos with app recommendations. You can also check on an app's website to see if they have any kind of partner or affiliate program. If an expert is willing to partner with the app, that is always a good sign.
We're proud to work with some of the best marketing agencies across the Shopify ecosystem, and are grateful that they trust Privy as an app they recommend to their clients.
7. Results for businesses like yours
At the end of the day, you are installing an app on your store to get a job done. And while positive feedback and validation from experts is helpful, the most important validation you should look for is: has this app delivered results for businesses like mine?
Typically that will require going out of the App Store to visit the company website behind the app. If you don't see stats, quotes, or examples from other businesses like yours on their site, that's likely a red flag. If you have the opportunity to speak to someone from the team behind the app before purchasing, be sure to ask for examples for how they've helped businesses like yours.
We love hearing success stories from our Shopify customers. Here are some of our favorites.
8. Community
One of the best parts about building a business on Shopify is the community that surrounds it. Some of the best apps have also built their own community of users, experts, and partners that come together to share ideas and help solve problems.
A strong community can be a valuable resource when seeking help with a product, or learning new ways to grow your business.
One of the best examples of the community we've built at Privy is our daily podcast, Ecommerce Marketing School. The show brings together a wide range of voices from across the world of ecommerce to share advice and talk about what it takes to grow an ecommerce business.
9. Value vs. other apps
As much as you'll enjoy discovering new apps to help run your business, it's easy for the number of apps you're using to add up. Using 10 different apps to do similar jobs for your business can be expensive and add unnecessary complexity.
When you're evaluating new apps, make sure you have a good understanding of what the app can (and cannot) do for your business. For example, at Privy we used to be best known for our email list growth popups. But today, our customers can use us for email list growth and a full range of other conversion use cases (free shipping bars, countdown timers, cart savers, etc), as well as a complete solution for email marketing and SMS.
10. Focus on ecommerce
With the explosive growth of ecommerce in recent years, it's no surprise that companies have flocked to Shopify to build integrations and offer services to the Shopify user base.
As a company that's been serving the Shopify for 5+ years, we love seeing this. But we also know that companies with bigger investments in industries outside of ecommerce will take some time to understand the unique needs of ecommerce businesses. With a flourishing ecosystem of app providers, you should always be able to find an app that's built by a company with a long track record of success with other Shopify brands.
Grow your business with confidence
The next time you're looking for an app to help you solve a problem, you'll know exactly what to look for.
So you don't waste precious time and resources on a solution that's not a fit for your business. And you can focus on what really matters: growing your business.
Subscribe for Updates
Get our best content on ecommerce marketing in your inbox 2 times a week.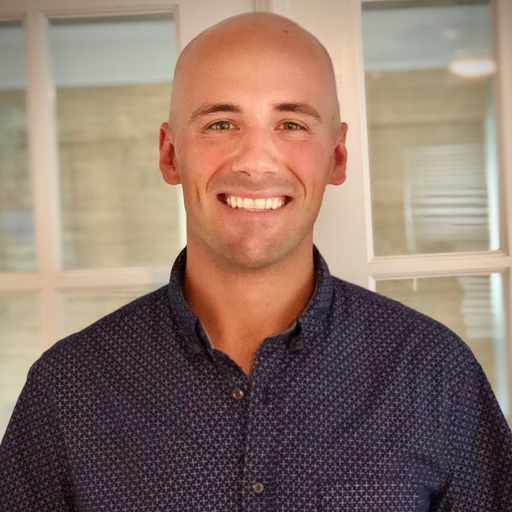 Written by Ryan Pinkham
As CEO, Ryan is leading the exciting next chapter for Privy. Everything he does revolves around helping independent businesses unlock more growth.
Subscribe for Updates
Get our best content on ecommerce marketing in your inbox 2 times a week.