presented by
&
Ecommerce Marketing School With Val Geisler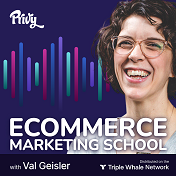 Summer School is in session:
Listen to episode 1 with Val and the Privy and Triple Whale teams
What listeners have to say…
Don't just take our word for it. Other ecommerce founders just like you have been getting tons of value from Ecommerce Marketing School. Here are a few reasons they can't get enough.
Your daily ecommerce marketing podcast
2 times a week, we share tips to help you grow your ecommerce business.

Whether you're just getting started or you've been selling online for years, Ecommerce Marketing School will help you get more sales in just 15 minutes every episode (shhh but some episodes might be a little longer…).

So before you're done with your morning coffee, you've learned at least one thing you can test to help you grow your store.

And with 500+ episodes, this show is packed with gold.

Find out how one founder turned $560 into a 7-figure brand.

The exact playbook you should be using to save abandoned carts while you sleep (spoiler alert: one brand saved more than $100k with 3 simple emails).

How you can improve your conversion rate and AOV in 5 minutes or less.

And that's just the beginning.
Listen to get...
Tips from other ecommerce founders just like you.
Marketing ideas you can steal for your business.
Secrets for turning your email list into sales.
Get our best ecommerce marketing content in your inbox 2 times a week.
Featured Guests:

Harley Finkelstein
President, Shopify

Yelitsa Jean-Charles
Founder & CEO, Healthy Roots Dolls

Jason Wong
Founder, Doe Lashes

Danielle Kar
Founder + CEO, Osquo