Ecommerce Brands Website Conversion
Should You Offer Free Shipping? Here's Why Ecommerce Merchants Are Using A Free Shipping Bar To Sell More and Increase Store Conversion
Published on Aug 27, 2020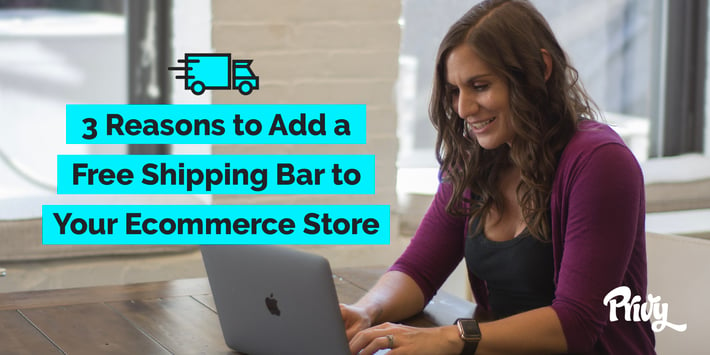 Let's face it.
If you're buying from an online store, you don't want to pay for shipping.
And as a shopper, you understand that.
But as a store owner, offering free shipping is difficult.
Covering that expense can hurt your margins and eat into your profit.
But what if you could use free shipping to your advantage?
The best store owners are using free shipping to delight customers and actually sell more.
Here's how.
Get our best content on ecommerce marketing in your inbox 2 times a week
Store Conversion: Free Shipping Reduces Cart Abandonment
Here's the reality.
If 100 people come to your store, only 1, maybe 2 will actually buy something.
And even if a customer adds a product to their cart on your site, on average 70% are abandoned.
The #1 reason for abandoned carts is surprise shipping costs.
87% of shoppers in the past year report abandoning a cart due to surprise shipping costs.
So instead of charging for shipping, how can you encourage your customers to buy more to cover the cost of shipping?
Here's how Green Toys does it.
The Free Shipping Bar at the top lets customers know that if they spend $49.99, they get free shipping.
This does two things.
First, it sets customers' expectations.
Now they won't be surprised when they reach checkout and find a $7.99 shipping charge if they don't meet that $49.99 threshold to qualify for free shipping.
Having this bar reduces cart abandonment late in the shopping process.
Secondly, it creates an incentive.
Customers that don't qualify for free shipping are now more likely to add other items to their cart when the message in the banner changes. In the image below, it shows I'm only $25.00 away from free shipping now.
Once they pass that threshold, they now have a better reason to complete their order, because they'll see this message:
The top banner prompts the customer to 'Checkout Now' to complete their order.
What should your free shipping threshold be?
We recommend starting with a threshold that is 15% higher than your average order value. So if your average order value is $35.00, you'd set your free shipping threshold at $40.00 (don't use $40.25) to encourage shoppers to add to their cart to qualify for free shipping.
Customer Satisfaction: Becoming more competitive one customer at a time
Free shipping can be a huge competitive advantage.
Let's look at the numbers.
81% of shoppers do research before buying a product.
So if you're not offering free shipping and a competitor is, you might be missing out.
If you look up products that are similar to yours, chances are at least some of your competitors are already offering it.
And it turns out 96 percent of online consumers said they are more likely to shop if a site offers free shipping.
It's important to have a great product and strong marketing. But if you need that something extra to stand out, free shipping can be the way to do that.
Higher Average Order Value: The Main Reason You Can Afford Free Shipping.
Alright let's talk about the elephant in the room.
You're selling more, your customers are happier, but can your profit margins afford free shipping?
The answer is yes.
That's because free shipping can actually increase your average order value.
So the money you lose by paying for shipping is replaced with higher sales.
And using a tool like Privy's Free Shipping Bar incentivizes customers to add more products to their cart.
Here's how one of our customers, InnBeauty, is using free shipping to up their order value
First, they make it clear that the threshold for free shipping is $30 at the top of their site.
Once I added the $22 daily cleanser to the cart, they let me know I was only $8 away from free shipping.
Normally, they charge $3.99 for shipping.
But instead, I decided to add another item to my cart to qualify for free shipping.
Now, my order is $44 instead of $22. I'm happier as a customer because I'm getting free shipping and the store owner is happier because they are selling more products. It's a win win.
I sell internationally. Can I afford free shipping?
The beauty of an online store is you don't have to settle for any one location.
So if you're worried about offering free shipping to Canadian or European customers, we hear you.
That's why you can use Privy's Free Shipping Bar to target customers only in your country. So only customers who visit from your country will be able to take advantage of the offer.
If you are looking for an easy win to increase sales and customer satisfaction, Privy's Free Shipping bar is available for free in any Privy Convert plan today.
Subscribe for Updates
Get our best content on ecommerce marketing in your inbox 2 times a week.
Subscribe for Updates
Get our best content on ecommerce marketing in your inbox 2 times a week.