You've Got Their Email, Now What? Best Practices For Converting Browsers Into Buyers
Published on Mar 15, 2019
You're already doing the most important thing right, getting customer emails.
That means you've taken the first crucial step of committing to prospecting.
But once you've got their email address, then what?
Glad you asked. For the last decade, email has been my life. Not only as an in house email specialist at brands like Etsy, Makerbot and Cheetahmail, and not only as the VP of Email at Metric Digital, but also as a consumer. When hundreds of emails are delivered to my inbox each day, I pay attention. And the patterns have taught me a lot.
In this article I'm going to share several action items to help your company capitalize on the critical asset you've already earned. We'll talk about crafting an email welcome series, nurturing tactics, and how to balance automated versus campaign emails, plus visual examples of brands doing it right.
Also note, these best practices are platform and vendor agnostic. Whichever tech solutions you're implementing for your email marketing, these strategies will help you educate customers, win back lost buyers and grow sales.
Welcome to the jungle, we've got fun and games
When our agency builds out email programs for ecommerce clients, it all starts with the welcome program. Our primary kickoff question is this:
What are the four or five things people need to know to buy your product?
Your list of answers will become the foundation upon which all future email marketing is based. This will be helpful in implicitly reminding the customer what's in it for them when they sign up. After all, a successful welcome series contains differentiation. Every brand has competitors, and it's critical to talk about what sets yours apart.
Take a commodity product like socks. Tons of companies sell them, and the product itself will probably be strikingly similar. So what's so great about yours?
Maybe you have an exceptional warranty, offer superior customer service, sell a wide range of colors, or donate a percentage of your profits to a charitable organization. Awesome. Identify the value proposition that's going to make a compelling case for why people should buy from you versus the other brands. Assure that narrative threads through every piece of your welcome series and beyond.
Our performance marketing agency, Metric Digital, works primarily in the direct to consumer market, from small disruptive startups to Fortune 500 corporations. One aspect of our client base is that the brands are often selling a single product or several products in same vertical. Similarly to the socks example, we challenge clients to answer another question:
Why is buying directly from your company better, easier or faster than purchasing from a big box retailer, department store or Amazon?
Similar to our clients, every one of your emails going forward should answer that question as well. To see these principles in action, here are several examples of successful welcome emails.
Nurturing your email subscribers
Once the welcome series is over, don't abandon your customers completely. If you have already sent five emails in ten days, once that series terminates, you can still pick those people up at a later point where you think you can provide value. Let's talk about how to nurture those people.
You might try sending one additional email thirty days later with a better incentive. Or, if you want to be more interactive, ask email subscribers a simple survey question, i.e., "Did you buy socks elsewhere?" This tactic can help you learn if you need to rest that subscriber for a while if they bought the product elsewhere, which avoids saturating them with messages. Or, if a customer simply forgot about your product, your follow up email will be the nudge they needed.
When it comes to the nurturing side email marketing, what you do is less important in how you do it. And how you do it needs to be consistent. The welcoming series (and nurturing process thereafter) will involve more work than you might think, but then again, most companies are not going to take the time to do it. This is your opportunity to pull ahead of the competition by being thoughtful and consistent. By doing something when most companies do nothing.
But what if you are weary of bothering customers and don't want to bombard them? Think of this way. Assume that whatever you sell, your customers are probably getting twenty other emails for products just like it. They're not sitting at home, waiting for your email, so it's perfectly acceptable to take advantage of this marketing technology. The real tragedy would be getting their emails and then doing nothing.
These nurturing examples are simple, short and straightforward: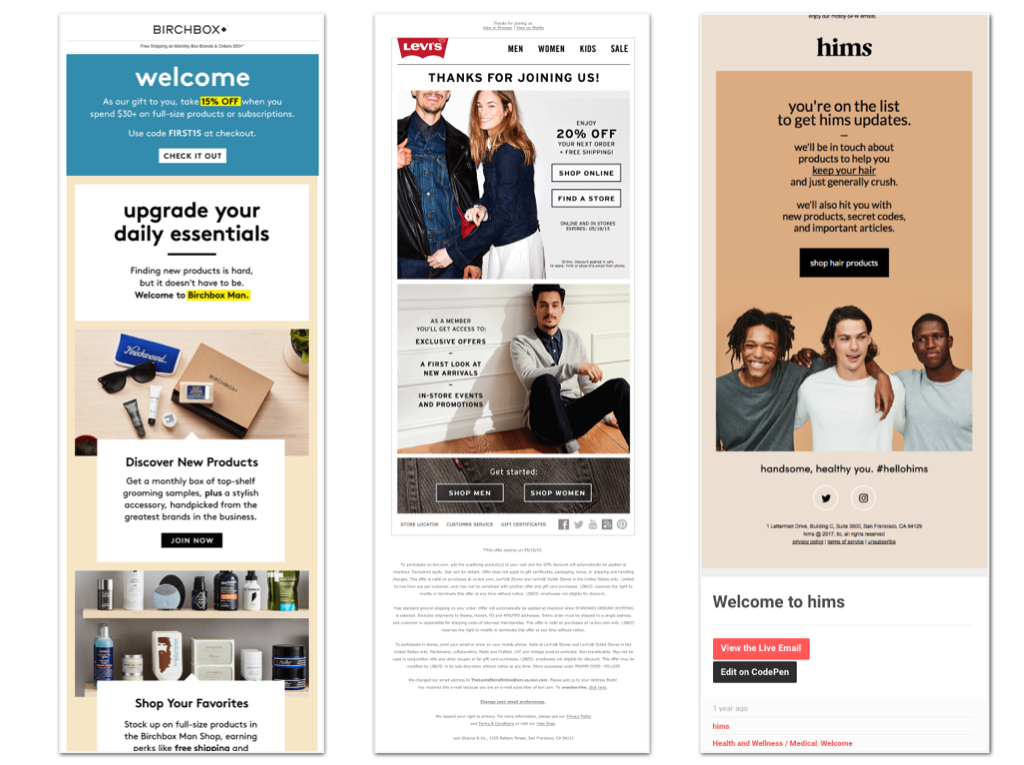 Balancing automation and campaign emails
Now that we've covered welcoming and nurturing, let's wrap up with balancing between automated and campaign specific emails. It depends on your company priorities. If you're planning on doing product releases during the year, campaigns will take precedent, since you're giving out information that customers aren't going to receive any other way. However, if you're sending more evergreen emails a couple times a week, then it's worthwhile to take the time to make meaningful automated messages.
Because of your company's unique balance between automation and campaigns, segmentation is going to be essential. You'll need to:
Figure out which users you're going to hold out from each respective category

Put a frequency cap on the amount of emails somebody can receive

Make sure people aren't crossing over and receiving both automated and campaign emails at the same time

If you're apprehensive about the amount of email that you're sending, here's some peace of mind for you. Let's say your emails get a 25% open rate of all the people you send them to. That means there is a one in four chance that people aren't even going to kind of see that message in the first place. So don't sweat it. Let the numbers put it in perspective. For merchants who are highly concerned about over saturing customers, you can always a/b test it. Let one segment one get every single email, let another segment hold some users out, see what happens, and adjust accordingly.
Ultimately, whether you're welcoming, nurturing, automated or campaigning, one insight about email marketing will remain the same.
There is no more competitive place than people's inboxes.
If you don't send any email, you're not even competing. You're not even showing up for the race. Now that you have people's email addresses, use these best practices to capitalize on it.
And soon your browsers will turn into buyers.
This post was written by Cory Smith, VP of Email, at Metric Digital.
Subscribe for Updates
Get our best content on ecommerce marketing in your inbox 2 times a week.
Subscribe for Updates
Get our best content on ecommerce marketing in your inbox 2 times a week.