Email Segmentation: A Beginner's Guide for Ecommerce Brands
Published on Jan 20, 2022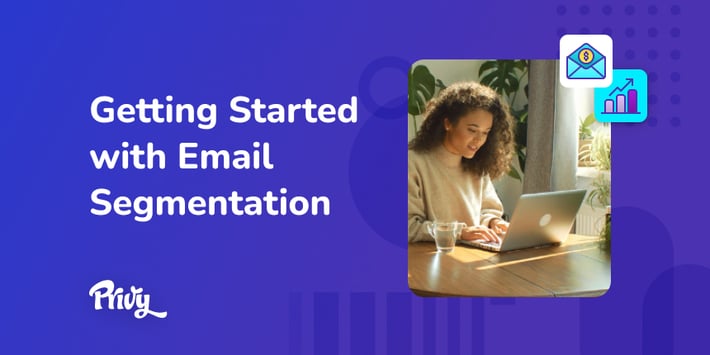 When you run an ecommerce store, building an email list is one of the most important and powerful ways to drive revenue. It gives you a direct line of communication with people who are interested in your brand.

But there's more to email marketing than accumulating subscribers – you need to make sure those subscribers receive messages that are aligned with their needs and purchase habits.

That starts with email segmentation, which means dividing your email list into smaller groups based on certain similarities.
If segmentation is new to you, it's normal to have a lot of questions, like, "What are the benefits?" or "What kind of segments should you create?"

We'll answer those questions and more in this post, but let's start with the basics.
Get our best content on ecommerce marketing in your inbox 2 times a week
What is email segmentation?
Email segmentation is the process of filtering subscribers into smaller groups (called segments) that share common characteristics. This tactic makes it easier to send personalized messages to your contacts based on preset criteria rather than sending cookie-cutter messages to your entire list.

Just like you'd converse differently among your best friends than you would at a dinner party with strangers, email segmentation lets you tailor your communication to different groups within your subscriber base.

There are several ways to segment your customers and prospects, such as:

Subscribers who haven't made a purchase
Customers who bought a specific item
VIP customers who are in your top 5% of spenders
All of these groups share common features or characteristics. They become "segments" of your overall contact list.
Why should you segment your email list?
Now that you have an understanding of what segmentation is, the next question becomes: "Why do it?"
Let's unpack two key reasons why segmented campaigns give you an advantage over one-size-fits-all campaigns.
1. Shoppers expect personalized experiences
With all the data and tools available these days, it's easier than ever to send mass email campaigns – but consumers don't want cookie-cutter shopping experiences.

Depending on which phase of the customer lifecycle they're in, people want (and deserve) messaging that aligns with their unique needs – and there's data to back that.
Research from Epsilon found that 90% of consumers find personalization appealing, and 80% indicate they're more likely to do business with brands that offer personalized shopping experiences.

Personalizing your emails puts you in a better position to engage with your contacts in a meaningful way. For example, an email about your brand's backstory isn't relevant to a customer who has known about you for months. Likewise, a strong push to buy your products might feel off-putting to someone who joined your list this week.
2. Segmented campaigns outperform mass messages
It's tempting to go down the rabbit hole of tips and hacks to boost your conversion rates – but segmentation remains one of the most impactful tactics to increase your open rate and drive sales.

According to research from Campaign Monitor, segmented email campaigns drive 760% more revenue than mass emails. This is an extension of the previous point: the more relevant a message is, the more likely it is to entice a purchase.

Building your list is the toughest part of email marketing, so don't negate all of your hard work by sending the same messages to all of your subscribers.

There are tons of ways to make the segmented approach work for your business, but where do you start?
Getting started with email segmentation
Before you jump in, take a step back and answer these two questions to make the most of email segmentation for your business.
What does your data tell you?
Instead of leaving your email segmentation strategy to guesswork, dig into your audience data to identify opportunities and areas for improvement.

For example, you might discover that you have a high percentage of one-time buyers or that subscribers in a certain city (or country) are your biggest fans. These insights will guide which subsets of people to focus on.

If your email marketing software has an easily searchable dashboard, this shouldn't take too much time.
What are your goals?
Obviously, "generate more sales" is a goal every ecommerce founder has. But try to get as specific as possible here.
Maybe you want to focus on turning one-time buyers into repeat customers or re-engaging inactive subscribers. Defining specific goals will inform which audience segments you should to create.

Once you've gathered data and defined a couple of goals, you're ready to implement your email segmentation strategy.
4 ways to segment your email list
Below, we break down four main approaches to email segmentation and include some real-life applications to spark your imagination.
1. Website behavior
These conditions are based on how people interact with your site:

Using cookies, platforms like Privy can tell exactly which page(s) your shoppers visited while browsing your site.

Segmenting your contacts based on product page views allows you to become a virtual sales representative who can approach the customer and answer questions or suggest related products.
2. Customer attributes
This refers to demographic information about your subscribers:

Location based on the contact's IP address
Mobile vs. desktop users
Any custom tags that you apply to your contacts, such as their company name
Let's say you want to run a special friends and family promotion...
Whether you've already applied "friends and family" tags to some subscribers or do so retroactively, you can create a newsletter segment for that group and send a more personal, heartfelt message than you might send to your general audience.
3. Email engagement
Group contacts based on their level of engagement with your campaigns:

People who opened, clicked, or ignored a specific email
People who were not sent a specific email
You may notice that you have several subscribers who open the majority of your emails but haven't bought anything yet.
In that case, you could create a segment for those subscribers and send an email with a discount code or free shipping to seal the deal.
4. Shopping activity
These conditions refer to your contacts' shopping habits:

Current value of their shopping cart
When they last purchased something from your store
Total lifetime spend
Total number of orders
Specific products they purchased or have not yet purchased
Many ecommerce brands create segments for their high-value or "VIP" customers. These are your most loyal fans, so every once in a while, let them know how much you appreciate them.
Harry's has a great email for its VIP segment. The email basically says: "For being a loyal customer, you'll get a surprise Harry's product worth at least $5 – maybe even one we don't sell to the public."

It's a great way for the brand to engage with high-value customers and make them feel appreciated.
Get personal, or get deleted
The more contacts you capture, the more opportunities you have to bring in sales. That said, don't expect generic broadcast emails to convert your subscribers into paying customers. In fact, it might cause them to leave your list for good.

GoDaddy reviewed four separate studies on unsubscribe rates and found that irrelevant emails are the second-most common reason people drop off email lists (the top reason is too many emails).

In a time when online marketing can feel impersonal, thoughtfully crafted messages tailored to your audience's unique needs are sure to stand out in their inboxes.

Ready to level up your email marketing strategy? Try Privy free for 15 days and see how brands have earned more than $600 million with the platform.
Subscribe for Updates
Get our best content on ecommerce marketing in your inbox 2 times a week.
Written by Lauren Hall
Lauren is a Brand Marketing Associate at Privy. She's the brains behind all things content. When she's offline, she's obsessing over her Bernedoodle pup, Monster, and plotting ways to being a full-time Vermonter ASAP.
Subscribe for Updates
Get our best content on ecommerce marketing in your inbox 2 times a week.