How to Write Cross-Sell Emails That Sell More Add-On Items
Published on Mar 28, 2022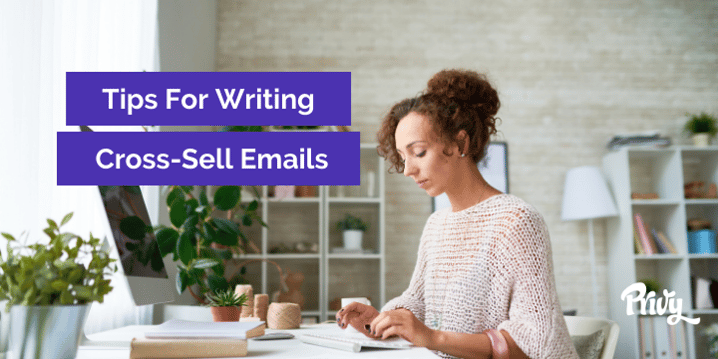 If you've ever gone to a fast-food place and heard, "would you like fries with that?" or visited a retail store where the employee offers you items related to what you're buying, then you've experienced a cross-sell.
When it comes to ecommece, cross selling is when you suggest add-ons based on what's already in a visitor's shopping cart. But ecommerce store owners have an advantage over in-store shopping. Your cross-sell popups and emails can reach larger audiences, be strategically placed on your pages, and visitors can see them even after leaving your website.
While cross-sell emails may be short and sweet, there are must-have components of them if you want to have the most success selling add-on items. This article covers all the basics of writing, timing, targeting, and testing your cross-sell emails.
Get our best content on ecommerce marketing in your inbox 2 times a week
What is a cross-sell email?
A cross-sell email lets you suggest other items in your product catalog based on what a visitor is currently browsing, currently has in their carts, or has already purchased. These emails are one of the best ways to turn first-time buyers into repeat customers and increase your average order value.
Before getting into the finer details of cross-sell emails, it's important to understand how they differ from cross-sell popups. While the two serve the same purpose, they are displayed differently. Below is an example of how a cross-sell popup looks like when shopping online – you've probably seen this a handful of times.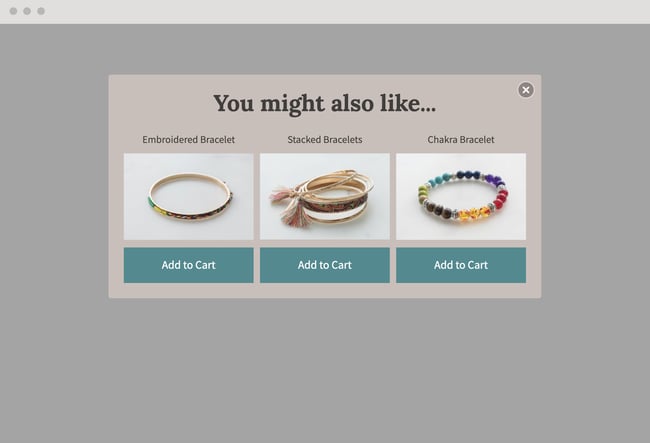 Try this Privy cross-sell popup template for free →
A cross-sell popup can be used to tack on additional items based on what's in someone's shopping cart. These items are typically personalized to a visitor. For example, adding on makeup brushes if someone has blush and foundation already in their carts. Cross-sell popups work well because they trigger when a visitor is currently in 'buying mode' on your site.
A cross-sell email can be sent automatically to your mailable contacts without having to display them on your website or checkout stage. Below is an example from Uniqlo cross-selling related items to what they know this person is interested in based on previous purchase or browses.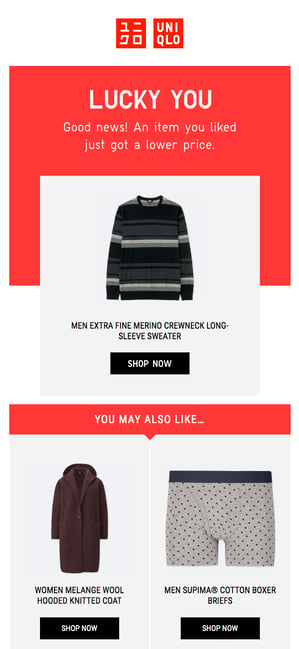 Now that you know the difference between cross-sell popups and cross-sell emails, it's time to construct your email step-by-step. Here is everything it should include.
What should every cross-sell email include?
The best cross-sell emails contain three things:
They highlight the main product someone is looking to buy.
They offer two or more add-on items.
They are part of a series of cross-sell emails, not just one.
The first third of your cross-sell email should remind the visitor what they were originally looking at, especially if they abandoned their cart. Have a 'shop now' CTA that links to their product and guides them to complete a purchase.
The second third of your cross-sell email is the most important, the actual cross-sell. Suggest items that are complementary to the original item someone was looking at. The best cross-sell emails offer two or more add-on items. For example:
Main sell

Cross-sells

Sneakers
Shoe cleaner
Scuff mark removal
Pair of socks
Winter coat
Winter hat
Winter gloves
Flannel shirt
Beard wash
Beard oil
Beard softener
Beard comb
Yoga mat
Yoga leggings
Foam roller
Water bottle
You get the theme here. Personalizing your cross-sells give you the best chance at getting customers to increase their order value.
In your cross-sell emails, you should present your add-ons using the following language:
"Complete the look"
"People also bought"
"You may also like"
"Protect your purchase"
This is where solid copywriting chops come in handy.
The final third of your cross-sell email is the email series. One email is hardly enough to maximize the amount of cross-sell conversions. Using Privy, you can create a series of purchase follow-up emails that send to customers who only bought single items.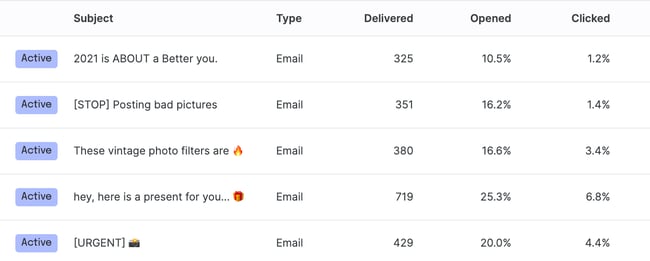 Why are cross-sell emails so valuable?
Cross-sell emails make discovering new products easier. The best part is that these new products are presented to shoppers in a non-invasive manner. You're not hard-selling people on items they couldn't care less about. These are products that are personalized to someone's cart and could actually enhance their order.
Sure, cross-selling lets you highlight more items in your inventory, but do customers actually bite? Are people buying the items they're suggested? Data from McKinsey supports the effectiveness of cross-selling. In fact, online stores have been able to increase sales by up to 20% from running cross-sell promotions on their sites and cross-sell emails.
Finally, there's the added element of personalization in cross-selling that could set the foundation for loyal customers. Let's take our sneaker example from the table earlier. By cross-selling items like shoe cleaner, socks, and scuff removal, your customer is able to 'protect' their main purchase. This customer will also be able to use their cross-sold items on other sneakers, thus, extending the value of their purchase. It's a win-win for them and a positive reflection on your brand.
When should you send a cross-sell email?
There are three key email opportunities to include your cross-sells.
In your product newsletters
People sign-up for newsletters to receive updates on new product releases based on their interests. This makes newsletters a natural first option to include your cross-sells.
For instance, Paige Collective's newsletter includes a gallery of products they know their subscribers would be interested in based on previous purchases or visits.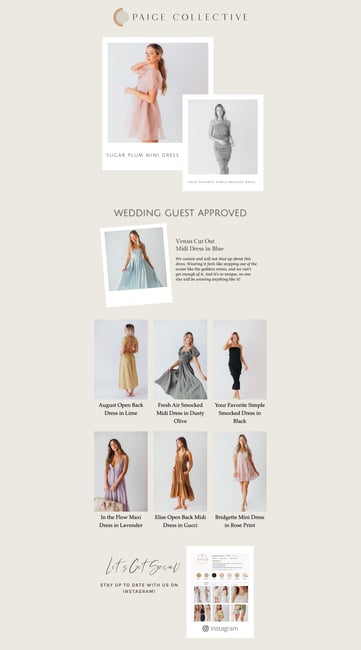 If you want to get even savvier with your newsletter cross-sells, include social media images from real customers. This is also called UGC, or user-generated content, which gives your brand more of an authentic feel.
In your post-purchase emails
This is where you're able to suggest any products that are similar to the sale you've recently made.
Whenever someone purchases a custom car portrait on Respoke Collection, they send a post-purchase email highlighting their stock artwork and offering a discount code for a second order.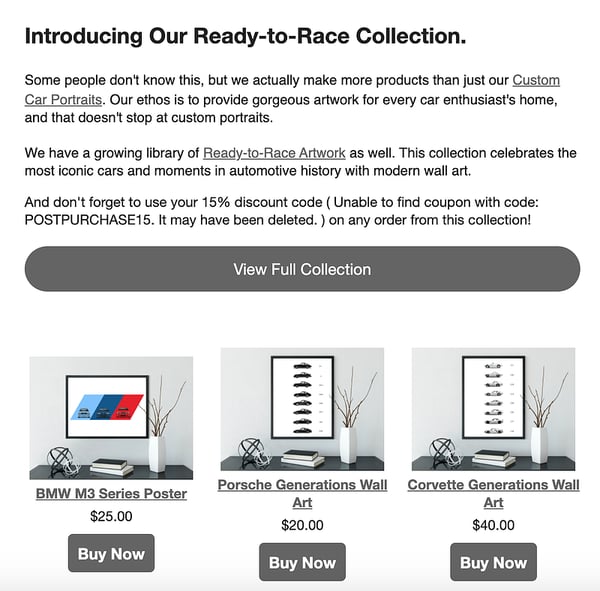 You can also do this in order confirmation emails. That's an email you're already going to send, no matter what. Use the opportunity to cross-sell with add-ons that complement their purchase.
In your abandoned cart emails
Finally, you can include cross-sells in your abandoned cart emails. When someone leaves your site without purchasing items left in their cart, you'll schedule an abandoned cart email to send.

Use this opportunity to cross-sell them on items that go along with what they left in their cart. For example, if they left cat food in their cart, offer cat toys or kitty litter bags. You can even include a discount code to entice a larger purchase.

Choose products that also match that customer's persona. If your customer has purchased cat-related products before, offering them product recommendations for dogs likely wouldn't be as successful.
Combine cross-selling and upselling
Cross-selling is different from upselling, which is trying to get the customer to buy something that's a more expensive or upgraded version.

For example, an upsell email might ask a customer to move up to a more expensive monthly subscription.

When your goal is to sell additional products, cross-selling is a great strategy. Upselling, on the other hand, might help increase average order value.

Often, they work hand-in-hand. Use cross-selling to highlight a subscription upsell — for example, if you have an item a customer might be interested in, but that item is included in a subscription box, show that in your email.
Test your emails and subject lines
Once you craft your emails, your job isn't done.

It's also important to monitor the email's metrics, like its open rate, to see how it's doing and if it's reaching people. If it isn't, adjust your subject line or change the time of day it's sent.

If the email is opened but not generating sales with a low conversion rate, then tweak the offered product/service. Maybe it didn't quite fit with the customer's purchase history. Or maybe you need to offer a small discount on cross-sold items.

Use an app (like Privy) to see which emails are performing best, so you know which types of emails to keep in your email marketing strategy and which ones to remove.
Cross-selling: One of the fastest ways to increase average order value!
Cross-sell emails are an easy way to grow your online stores sales by getting more exposure to your product catalog and increasing your repeat customer rate.
If you want to set up cross-sell campaigns for yourself, sign up for Privy Email today.
Subscribe for Updates
Get our best content on ecommerce marketing in your inbox 2 times a week.
Subscribe for Updates
Get our best content on ecommerce marketing in your inbox 2 times a week.