If you're ready to explore the benefits of Instagram ads and see how they can contribute to your overall marketing strategy, here are nine things to consider to help you make the most of your marketing dollars.
1. Keep Your Images Clean
If you've ever advertised on Facebook, then you know the 20% text rule. It basically means that they will reject your ad or significantly reduce the reach if you have text on more than 20% of your image. For Instagram posts, this is even more of a no-no.
People love Instagram precisely because it is a visual social platform. Essentially, you should create ads that don't look like ads. Instagram advertising is about featuring your products in a compelling way—that means not covered with text. A single image on Instagram should also be 1080 x 1080 so it fills the space accordingly.
2. Use Your Most Beautiful Images (and Lots of Them)
You've probably invested money in taking product images for your store. You can (and absolutely should) re-purpose those on your Instagram account. Make sure they are truly beautiful and eye-catching. And if they aren't, find a free editing tool to touch them up.
This is a great opportunity to show your products in a bunch of different ways by using carousel ads that feature multiple images of your products in the real world. Forget the shots of your products with a white background—that's for a catalog, not for an Instagram ad.
3. Ditch the Branding on Your Images
To continue on this theme, don't throw your branding on top of your product image. Your image ad will be seen next to your Instagram icon and handle, which is enough to raise brand awareness.
4. Choose the Text for Your Instagram Ads Wisely
You only get 300 characters for your Instagram ad caption, so make the most of it. Tell people what's awesome about your products. Include any special offers. Make sure to have a clear CTA. And if you're funny, Instagram is a great place to get your brand's humor across.
Just don't try too hard or do something that feels off-brand compared to the rest of your online presence.
5. Don't Use Hashtags for Instagram Ads
While hashtags can improve your reach with organic posts, Instagram ads won't show up in hashtag search results. If you have extra space in your text, you could use them to point people to other related products and posts, but we'd recommend skipping it.
6. Don't Forget Video
Instagram is an awesome place to post short video ads that show off your products, offer some how-to tips, or showcase related entertaining clips.
The quality doesn't need to be perfect, but make sure video ad formats are correct with no black space on either side. The resolution should be at least 72px minimum resolution, and videos are best to be between 3 and 30 seconds long.
7. Turn Off the Sound
Don't forget that Instagram and social media marketing, in general, revolves around making a stellar mobile experience for consumers. While Instagram users love videos, they often have the sound off on their mobile devices to avoid bothering their neighbors (or tip-off that they are watching videos and scrolling their Instagram feed instead of doing something else).
Instead, add closed captions to your video or text breaks so your target audience can get your message without needing to turn on the sound.
8. Ease Instagram Ads Into Your Budget
When you're just getting started with Instagram marketing, you'll want to get a feel for what people respond to and what they don't. Start with a small daily budget and spend no more than a few dollars a day to learn which ad types perform best on this social media platform. While Instagram ads costs might not seem that high, be careful not to spend your entire budget on the first few Instagram ad campaigns.
9. Support Photo Ads With Other Posts
While it's easy to run ads on Instagram and pay to get in front of people, marketers know that the best Instagram accounts are the ones that don't forget to post on your own content as well. The more you post, the more you will be seen as a real "social" brand that people want to connect with. Want more? We wrote 10 Instagram Ad Tips for eCommerce.
And you have a lot more flexibility in what you can post. Try "behind the scenes" images that feature your employees or quotes by people you admire. (And use those hashtags here to expand your reach.)
Bonus tip: Match Your Instagram Ads To Onsite Experience
If you're spending money to drive traffic to your website or online store with Instagram ads, there is a good chance you have a very targeted message. To get the best return on your ad spend, consider matching your advertising message to the message a visitor sees when they land on your website.
One way to do this is via onsite popups that are triggered to appear according to unique UTM tags placed on your social ad links.
In the example below, The Bruce Lee Store store uses an onsite popup to acknowledge that their visitors are coming from Instagram by using the social platform's colors and branding. They are also greeted with the same messaging and offer that was promised in the initial ad, giving the shopper a positive and cohesive experience.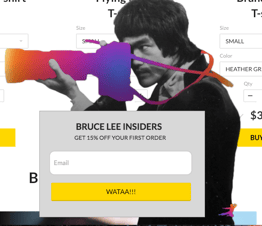 There are so many social channels out there that you can use to test different ads to see which ones best appeal to your target audience. Next up, we'll discuss connecting your YouTube presence to your on-site campaigns.
Instagram Ads FAQs
How much do Instagram ads cost?
The average CPC for an Instagram ad is between $0.5 and $1.0, however, the price of a single ad can go higher than that in more competitive industries.
Are Instagram ads worth it?
Yes, investing in Instagram ads is worth it. Proper ad placement can result in high click-through rates, help get your brand message across, raise awareness, and reach greater audiences.
How do I create an ad on Instagram?
To create an ad on Instagram, take the following steps:
Go to Ads Manager and select Create
Choose Instagram Ad objectives and click on Continue
Fill in the ad sets details
Choose between Manual Placements (have the ad run on Instagram only) and Automatic placements (run the ad across various Facebook Placements)
Preview the ad and submit it for review.
What is the difference between Instagram ads and posts?
Although Instagram posts can also help promote your business, Instagram ads come with more targeting options. As such, Instagram ads are the best way to target specific users' feeds and in that way make sure that your business appears in front of the right audience.