test blog tag 6 Last-Minute Black Friday Cyber Monday Marketing Ideas To Boost Sales For Your Shopify Store (Clone)
Some brands have the luxury of planning their Black Friday Cyber Monday marketing campaigns as early as July...
But that's not always possible when you own a small ecommerce store and get bogged down with day-to-day operations. Don't panic, though – it's not too late to prep your online store for the BFCM season.

Ecommerce marketing platforms like Privy have plenty of tools that are easy to activate and effective at driving sales.

In this article, we'll cover 6 BFCM marketing tips you can implement in a matter of hours – not days – so you can win big (even if you waited till the last minute).
Get our best content on ecommerce marketing in your inbox 2 times a week
1. Create a coupon for your online store (10 minutes)
Let's face it: Black Friday Cyber Monday is about scoring deals. If you have time for only one tactic this BFCM season, offer your audience a compelling discount.
A survey of 5,000+ online shoppers found that 29% of people will purchase an item if it's heavily discounted, even if they didn't originally intend to buy it. And more than a third of people will take their business elsewhere if they don't have a coupon code to use.

Manually creating coupons can be a hassle, but Privy's coupon feature lets you create them in just a few clicks. Plus, they sync directly with your ecommerce store, so you can track their performance in real time.

Once your coupon is live, share it with your social media followers and email subscribers. Pro tip: give shoppers a sense of urgency by putting an expiration date and time on your deal. For example, "Buy Today and Save 20% But Don't Wait – This Offer Ends at Midnight!"
2. Add a popup to your site (10 minutes)
Popups are a simple, quick way to convert your website traffic into subscribers. Then, you can focus on converting them into customers. They're effective any time of year, but they're extra helpful on during BFCM when customers are primed to open their wallets.

When someone lands on your site, offer them an exclusive BFCM deal – such as a discount or a free gift with purchase – in exchange for their email address. You can even gamify the experience with a "spin to win" popup that includes multiple deals.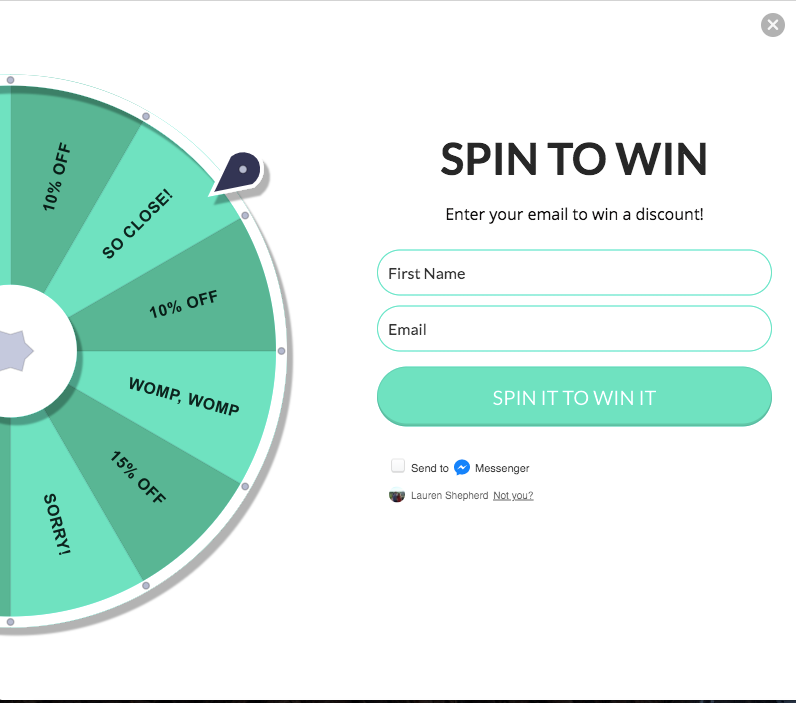 You don't need to know anything about coding or graphic design to make a high-performing popup in a hurry. Privy's popup generator features an intuitive drag-and-drop editor to help you create popups that match your brand's vibe – all in a matter of minutes.

Privy popups also come with advanced targeting to make sure you're showing the right message to the right audience. For example, you can customize what your popup says based on which page a user views, where they're located, or what time of day they're visiting your site.

The best part about popups is that their value extends far beyond Cyber Weekend. Once a customer opts into your email list, you have permission to engage them with deals and product releases any time in the future, not just for one day.
Collecting emails during BFCM often falls off the priority list. But it's one of the most important things you can be doing to set yourself up for future success. If there's one thing you don't forget to do this BFCM, make sure you don't forget this. You'll likely be getting more traffic than normal, so it's the perfect time to be collecting emails and growing your list.
3. Add a Free Shipping Bar to your site (5 minutes)
More than one out of every three online shoppers expect brands to offer free shipping for their online orders, according to Blippr. Chances are, that number is even higher during Black Friday and Cyber Monday.

If you choose to offer free shipping this holiday season, you need an attention-grabbing way to let people know about it. Don't make visitors search to find out if their order qualifies for free shipping. That's where a free shipping bar comes in. It's a bar that sits at the top of visitors' screens, encouraging them to spend more in exchange for free shipping.

Not all free shipping bars are the same, though – Privy's dynamic free shipping bar reminds shoppers exactly how close they are to earning free shipping at checkout. Best of all, you can drag and drop pre-built templates into your online store so you can stay on brand (and still launch it on time).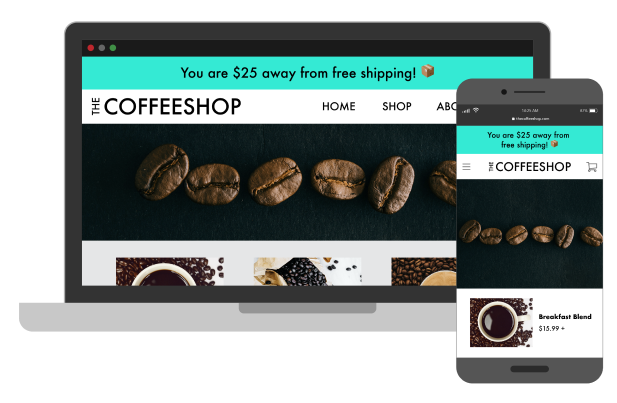 Let's say you offer free shipping on orders $25 or more, and the customer adds an item to their cart that costs $10. Your free shipping bar automatically changes its message to: "You're Only $15 Away From Free Shipping!"

Alternatively, you could offer free shipping site-wide and use your free shipping bar to showcase the deal to visitors. Regardless, free shipping bars are a quick and easy way to boost sales and increase your average order value (AOV).
Get our best content on ecommerce marketing in your inbox 2 times a week
4. Send a broadcast text to your audience (10 minutes)
Everyone's email inboxes will be flooded with offers from brands during BFCM. This creates a huge opportunity to engage your audience via a different channel: text messaging.

If your customers are subscribed to text messages from your brand, BFCM is a prime time to send out broadcast text messages. Last year, SMS marketing messages saw a 9.35% click-through rate during Cyber Week, according to Omnisend. On top of that, conversion rates from SMS messages increased 136% from the previous year.
And with the Privy Growth Plan, you can go live with your first campaign in just five minutes. You can even schedule campaigns ahead of time so all you have to do is set it and forget it.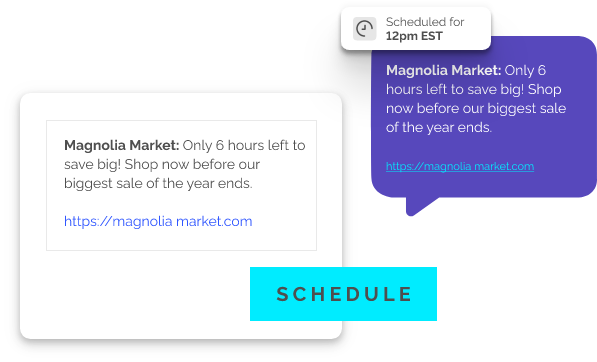 5. Set up abandoned cart emails (30 minutes)
Cart abandonment is one of the biggest threats to ecommerce brands during the BFCM season. Last year, the global abandoned cart rates on Black Friday and Cyber Monday were 77.79% and 80.69%, respectively, according to Barilliance.

Fortunately, there's a quick and effective way to close the deal with customers: abandoned cart emails. Privy helps Shopify merchants recover 10–20% of their abandoned carts. Here's how it works:
Customize your email using Privy's drag-and-drop editor.
Configure your settings such as timing, frequency, and minimum cart value to trigger a cart recovery email.
Activate your email series and start recovering revenue!
If you're skeptical about the ROI, Omnisend found that automated cart abandonment emails had a conversion rate of 47.22% during Cyber Week last year. A little nudge can make a big difference for your bottom line when it matters most.
One more tip! Remember to lean into urgency with your abandoned cart email (or series) for BFCM. Your offers only last for a limited time, so use that to your advantage.
6. Use a countdown timer to drive urgency (10 minutes)
Just in time for BFCM weekend, Privy launched 2 brand new plays to help you drive urgency and bring in sales this holiday season.
A countdown timer to help build your list ahead of the big weekend so you can share your offer with even more subscribers:
And a countdown timer during the holiday weekend that highlights when your BFCM offer ends.
The best part? You can set them up in minutes to help grow your list leading up to BFCM and drive conversions during BFCM.
Don't wait until next year to capitalize on BFCM
Last year, BFCM sales topped $5 billion globally, according to data from Shopify, and there's no indication that number will dip in 2021. You might be worried that it's too late to tap into the momentum, but just a few quick tweaks to your online store can make this your most profitable week of the year.

Remember, BFCM isn't just important for big-box retailers. It's an opportunity for small and growing ecommerce brands to make a splash. In fact, 44 million people bought from independent and direct-to-consumer brands powered by Shopify during BFCM 2020. That's a 50% increase from 2019.

Looking for more last-minute Black Friday and Cyber Monday marketing ideas? Check out our BFCM Email Marketing Masterclass with our founder, Ben Jabbawy. This one-hour session is packed with tips for making compelling offers, copywriting, and customer support.
And check out the Privy Growth Plan. It has everything you need to have your best BFCM ever.
Subscribe for Updates
Get our best content on ecommerce marketing in your inbox 2 times a week.
Written by Lauren Hall
Lauren is a Brand Marketing Associate at Privy. She's the brains behind all things content. When she's offline, she's obsessing over her Bernedoodle pup, Monster, and plotting ways to being a full-time Vermonter ASAP.
Subscribe for Updates
Get our best content on ecommerce marketing in your inbox 2 times a week.