How To Increase Average Order Value (7 Hacks For Shopify)
Published on Sep 24, 2020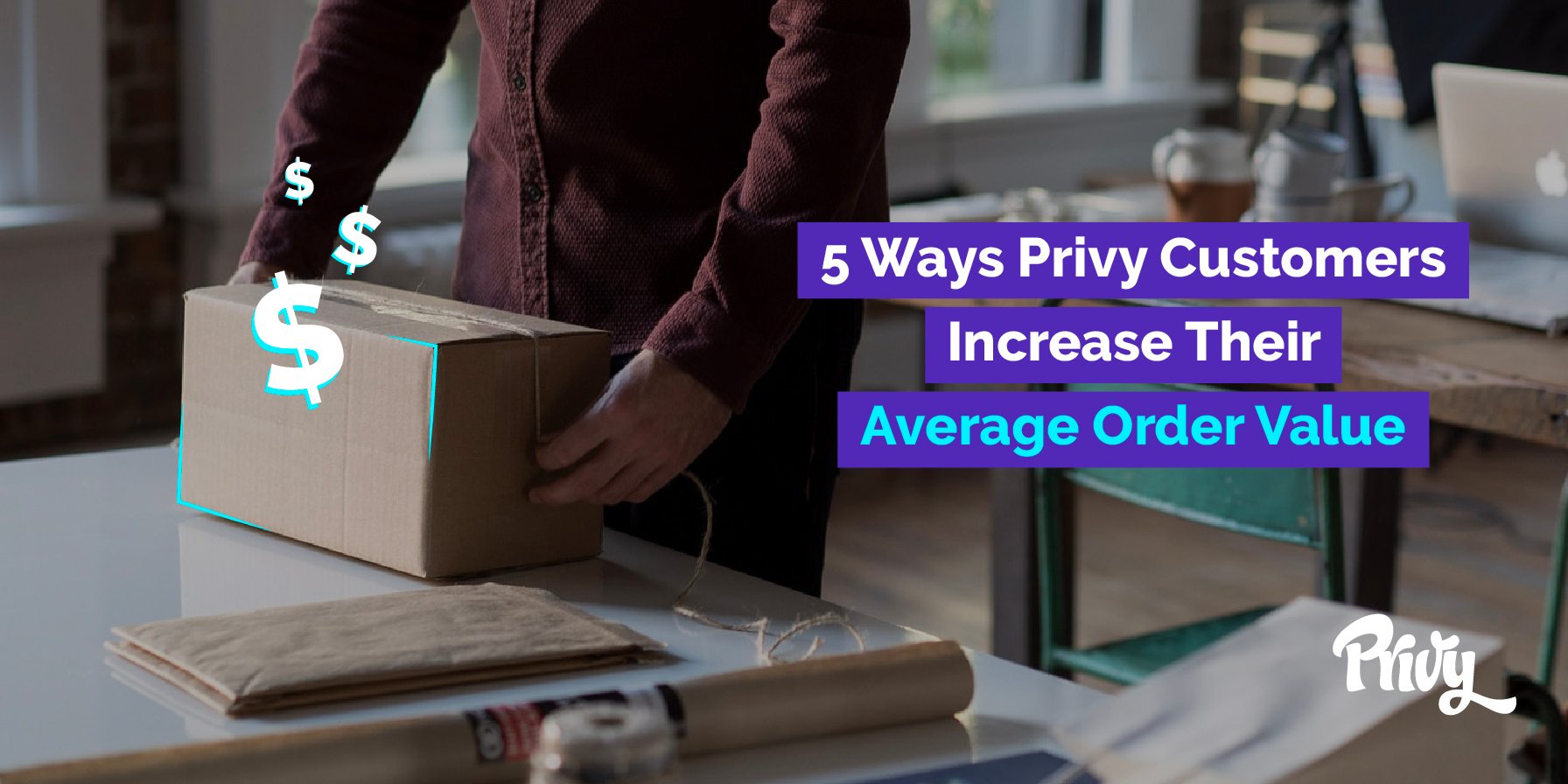 The holiday season kick-off is right around the corner.
And experts are predicting a record-setting BFCM this year.
And while that means more sales for ecommerce stores like yours, it also means more competition across your channels.
Get our best content on ecommerce marketing in your inbox 2 times a week
Now you are competing with more social ads, more emails, and even text messages.
That's why today we are talking about one of the easiest and often overlooked opportunities in ecommerce marketing.
Increasing your average order value (AOV).
What Is Average Order Value (AOV)?
First, let's talk about what average order value (AOV) really means.

Average order value (AOV) is the average amount of money spent on each order placed on an ecommerce store. In order to calculate average order value, businesses divide total revenue by the total number of orders over a given period of time.
The higher the average order value, the more profitable the business.
Merchants are using Privy to increase their AOV and sell more to their shoppers every day.
Table of contents:
1. Free Shipping Bar
2. Cross-Sell
3. BOGO Announcements
4. Bundle Alerts
5. Threshold Discounts
6. Welcome Popup
7. Almost There Popup
7 Hacks To Increase Average Order Value (AOV)
We know that the best advice comes from people who have been there and done it. So, we turned to our customers and found 7 examples you can use to increase your average order value today.
1. Free Shipping Bar
We all love free shipping.
And these days, customers expect it (thanks, Amazon).
That's why Privy merchants are using free shipping to increase the average order value on their stores.
Using Privy's Free Shipping Bar, shoppers see an announcement bar that lets them know how much they need to spend to qualify for free shipping.
As they shop, the bar dynamically changes as shoppers add items to their cart.
Below you can see it in action with this example from Step One Foods:

The bar at the top of the site lets the site visitor know that orders over $75 qualify for free shipping.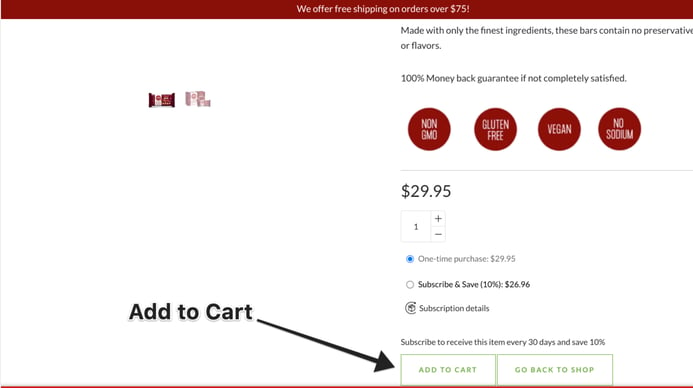 Once the customer adds a product to their cart...
The bar will dynamically update, letting the customer know how much more they need to add to their cart to get free shipping (in this case, it's $45.05).

Finally, once the customer passes the threshold, the Free Shipping Bar will automatically prompt the customer to check out and complete their order.
In a world where customers love free shipping, this small tool is an easy way to motivate buyers to add more products to their carts.
Just think about all the times you've added more to your cart just to get free shipping. I don't know about you, but I've done that more times than I can count. Free shipping offers work. If you haven't already tested this, it's time to try.
And if you're still not convinced, check out this episode of Ecommerce Marketing School to listen to 4 experts weigh in on the power of free shipping bars.
2. Cross-Sell
With summer ending and the fall season beginning this week, I had to share an example from our customer, Clyde Candles.
Clyde Candles has two main product lines.
Candles and Reed Diffusers.
So to sell more of each, they designed a cross-sell campaign.
Now when setting up their cross-sell campaign, they set it up to fire whenever someone has a cart value of over $30 and does not have a reed diffuser in their cart.
This is how it looks on the backend.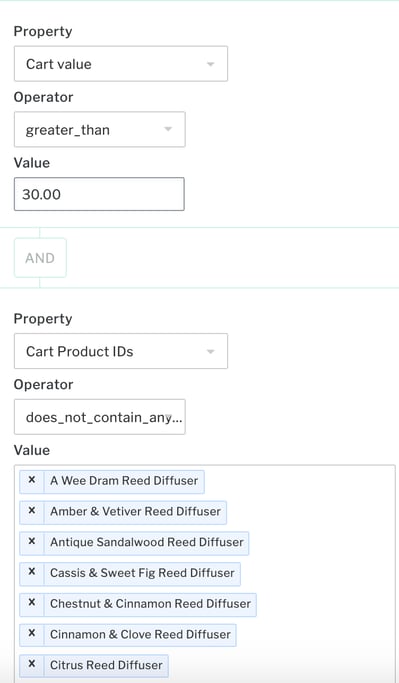 Once this criteria is met, this campaign will appear.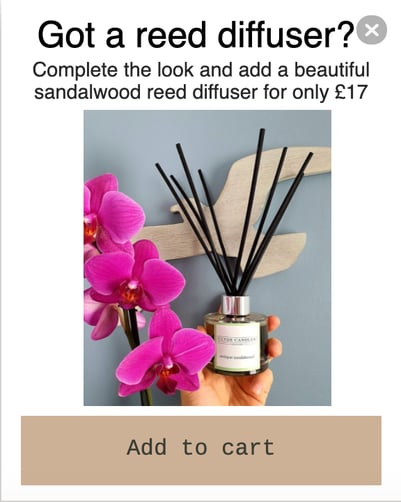 Cross-sells are simple to set up but powerful targeted messages that help customers shop and buy more of your product catalog.
If you have products that are frequently purchased together, a cross-sell campaign is a great way to increase your AOV by targeting customers who haven't added specific items to their cart yet.
That's exactly what Clyde Candles does with this campaign and it's definitely worth testing out if you can think of a similar scenario for your products.
3. BOGO Announcements
BOGO stands for Buy One Get One, and is a common practice in retail to help move more products.
We have seen customers creating similar campaigns on their own sites to incentivize online shoppers to buy more from their product catalog.
Here's an example from SAFETOUCH: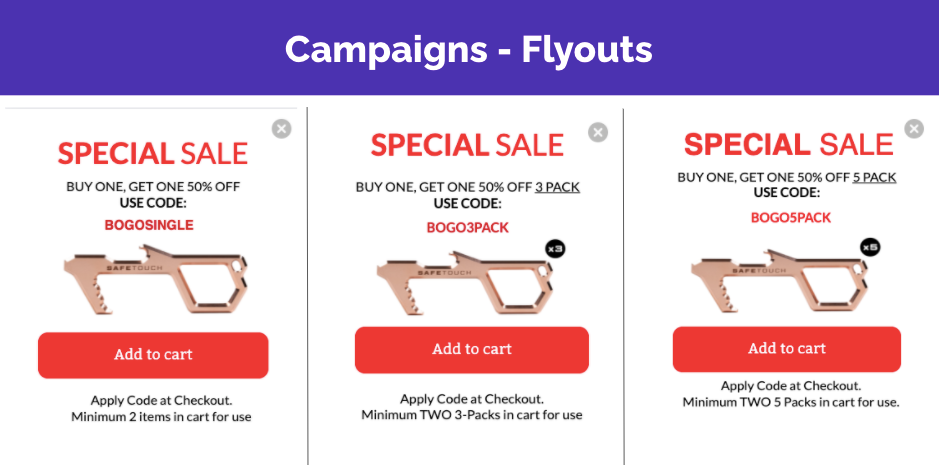 These flyout campaigns help SAFETOUCH push additional bundle packs of their products.
So as customers add a set to their cart, they are prompted to get the next set at 50% off.
Hair Queens also does a great job by using a pop-up to sell more lace glue.
Now whenever you buy lace glue ($40 value), you receive a free glue remover ($12 value) along with your purchase.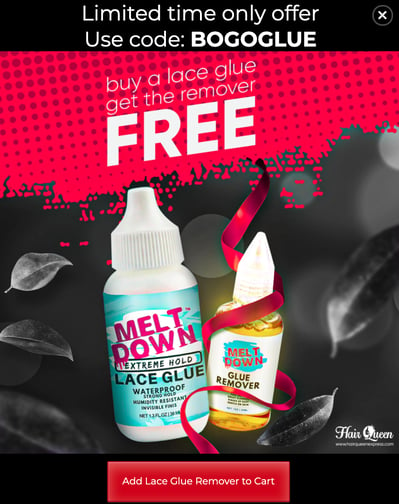 These small incentives go a long way when it comes to increasing your average order value.
4. Bundle Alerts
Similar to BOGOs, you can introduce bundles of your products.
These are easy ways to sell more of what your customer is already buying.
Here's a great example from Boom by Cindy Joseph.
When a customer goes to check out with a Boomstick...
They receive this popup to upgrade their cart.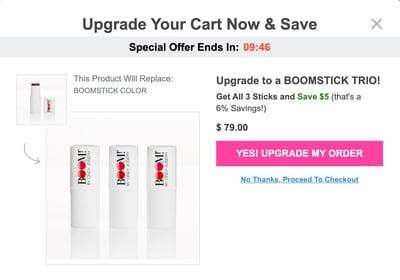 Bundle upsells are effective because you can introduce a small volume discount of 5-10% for a product you know your customers already love.
5. Threshold Discounts
Next, we'll explore threshold discounts.
Now we get that not everyone wants to discount their products.
But, did you know that you can actually use discounts to increase your average order value? (I know, seems counter intuitive).
Here's how it would work.
You create a coupon in Privy that can only be applied to a minimum purchase amount.

Then, you create a popup to let customers know about that threshold. There are two ways to do it:
6. Welcome Popup
Display this message as soon as a customer hits the site with a welcome popup.
Let shoppers know how much they need to spend to save on their order.
Your example can look something like this: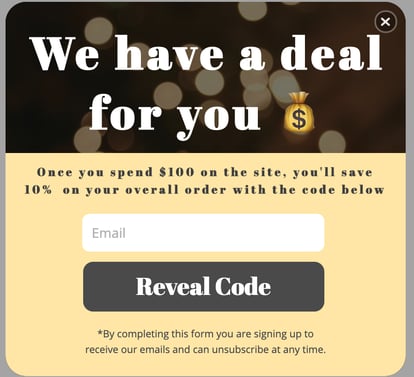 7. Almost There Popup
Or if you want to use that campaign to push the shopper to the finish line, you can prompt it to only display when the cart value is greater than $50.
So now the campaign would look something like this:

That way, customers can use the code to increase their average order value and buy a few more products to get them there.
It's a win-win.
Final Thoughts
This holiday season is going to be crazy.
And while we recommend doing everything you can to drive more customers to your store, make sure you have the right campaigns in place to sell more once they are there.
You can set up all the campaigns you see above using Privy Convert today.
Average Order Value FAQ
Does my business need to track average order value (AOV)?
In short, yes. Average order value is a really valuable ecommerce metric to indicate business health. By tracking this metric, you will have a better understanding of customer purchase behavior and be able to measure the effectiveness of your promotional campaigns.
How do you increase average order value?
To increase average order value, you will need to convince customers to purchase more items per order. Common tactics to do this are setting a free shipping bar, bundling related products, cross-selling, running promotional deals, and special offer campaigns.
Why is average order value important?
Average order value helps businesses understand the effectiveness of marketing efforts and estimate their customers' lifetime value. The higher the average order value, the more profitable a business is in the long run.
What is average order size?
Average order size is the average number of line items purchased per order relative to your SKU make up. This metric is not an indicator of sales and marketing performance. Instead, it relates to your merchandising flow and response rates.
Subscribe for Updates
Get our best content on ecommerce marketing in your inbox 2 times a week.
Subscribe for Updates
Get our best content on ecommerce marketing in your inbox 2 times a week.