Introducing Cross Selling in Privy – The Fastest (And Easiest) Way To Increase Your Average Order Size With Privy
Published on Apr 23, 2020
Written by Daniel J. Murphy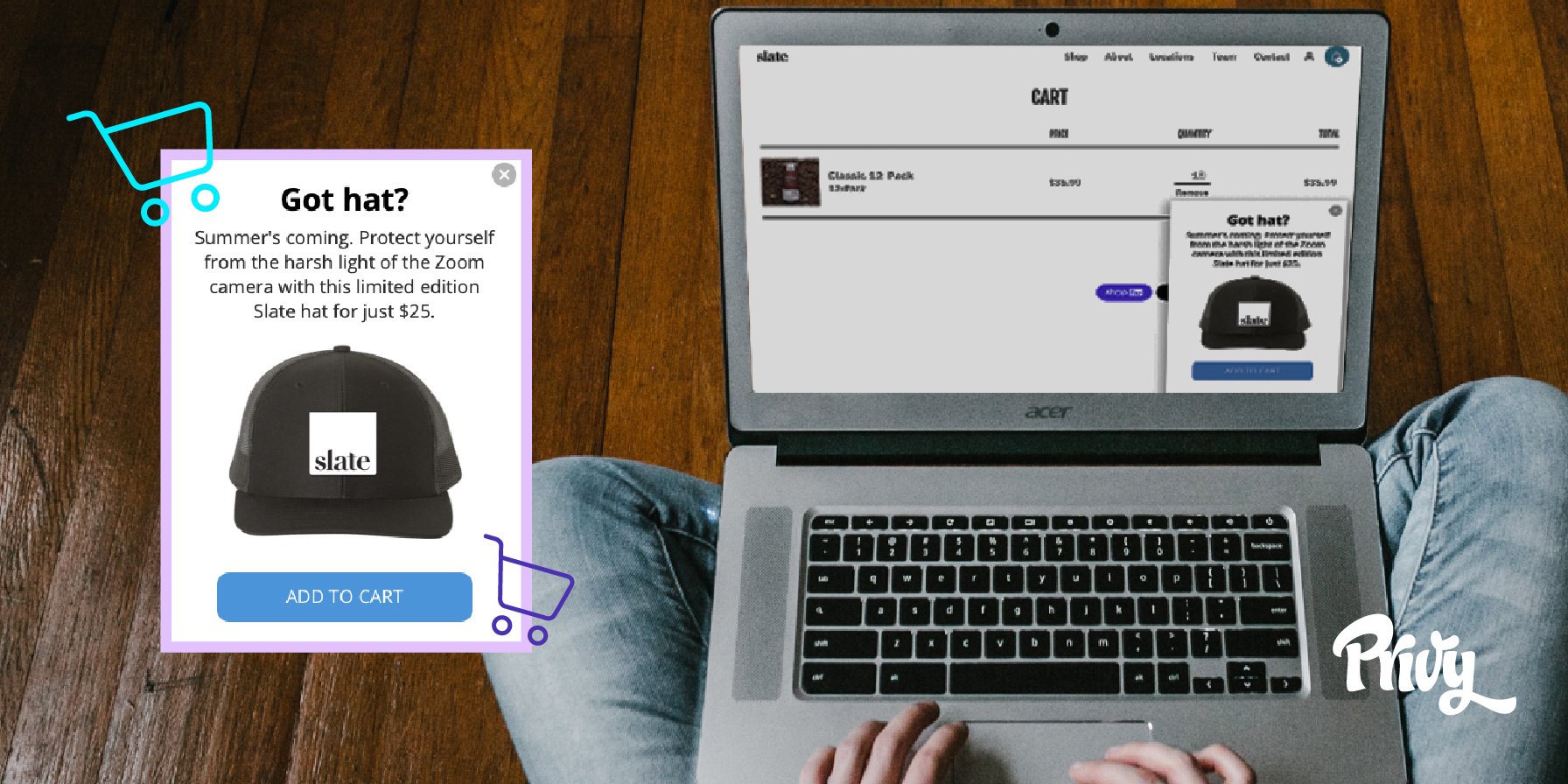 One of the fastest ways you can increase your revenue for your online store is to sell additional products to your existing buyers.
And just to be clear, I'm talking about a way to make more money WITHOUT...
spending more money on advertising
sending more emails
creating more content
discounting (yes WITHOUT offering a discount)
I'm talking about cross selling your buyers. Doing this will increase your AOV (average order value).
Cross-selling is also one of the easiest marketing plays to set up. And it's now built into Privy (so you really don't have an excuse for not making more money this month 😊).
Oh, and it's FREE for all Privy Customers.
So what is cross selling?
Cross selling is when you recommend additional products to purchase to your buyers during their checkout process.
Here's how ecommerce businesses use cross-selling in their stores
Okay, if you've read anything I've written recently, you know I have a friend who runs a chocolate milk company called Slate Milk and I always use them as an example.
Today's no exception.
Because I was actually talking to their team the other day about selling apparel on their website.
What they really care about is selling their cans of chocolate milk. But hey, they are building a brand and have some pretty cool apparel like this hat: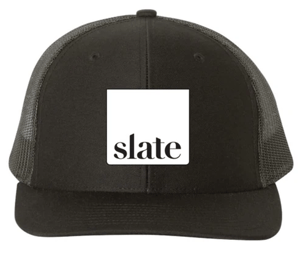 Now that Slate Milk has been around for a year, and have sold a lot of their chocolate milk they are ready to crank up the dial on brand awareness. So I suggested they start selling apparel to their chocolate milk customers.
Turns out they already were selling it. I had no idea they even made apparel. That's because it's buried on their website.
And that's on purpose. They don't want it to be front and center. They are a chocolate milk company, not an apparel brand after all.
BUT… they do want to start selling some apparel. And they know exactly who they want to buy it: repeat customers.
Enter Privy's new cross sell feature.
Now the Slate team can build a campaign in Privy Convert that 1) targets repeat customers and 2) offers them (in one-click) the chance to add this hat to their cart while they are buying more cans of chocolate milk.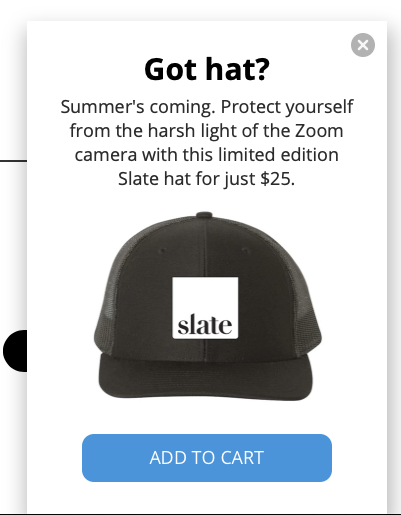 This is the perfect remedy. And it's a win-win: Slate Milk can expand their brand awareness with apparel AND increase their AOV.
How To Build A Cross Sell Campaign In Privy
Okay, if you want to build a campaign like this in your Privy account, here's how you do it.
In your campaign builder, create a new campaign from scratch.
Then you'll want to "Add a display"

Choose "Flyout (Mobile Optimized)" in the left sidebar.
And this is the template you want to build your upsell campaign with: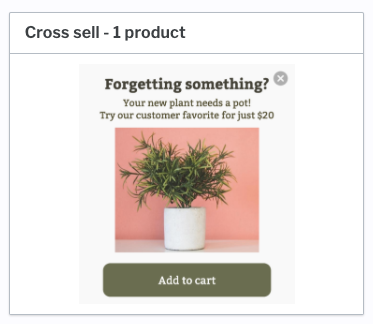 Go ahead and design your flyout.
You don't want this flyout to have too much copy. So focus on making your copy a very clear value proposition. In less than a sentence, why would someone add this product to their cart to pair with the item they are already buying?
After you have the copy and image in your flyout, you just need to select which product you want added to their cart.
In the flyout design, edit the button and you'll be able to select the product: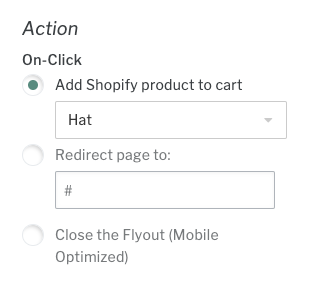 The beauty of this play is that in just one click your buyer can add this suggested product to their cart.
And you make more money.
Watch how I just converted this chocolate milk buyer from a $36 purchase to a $60 with one-click.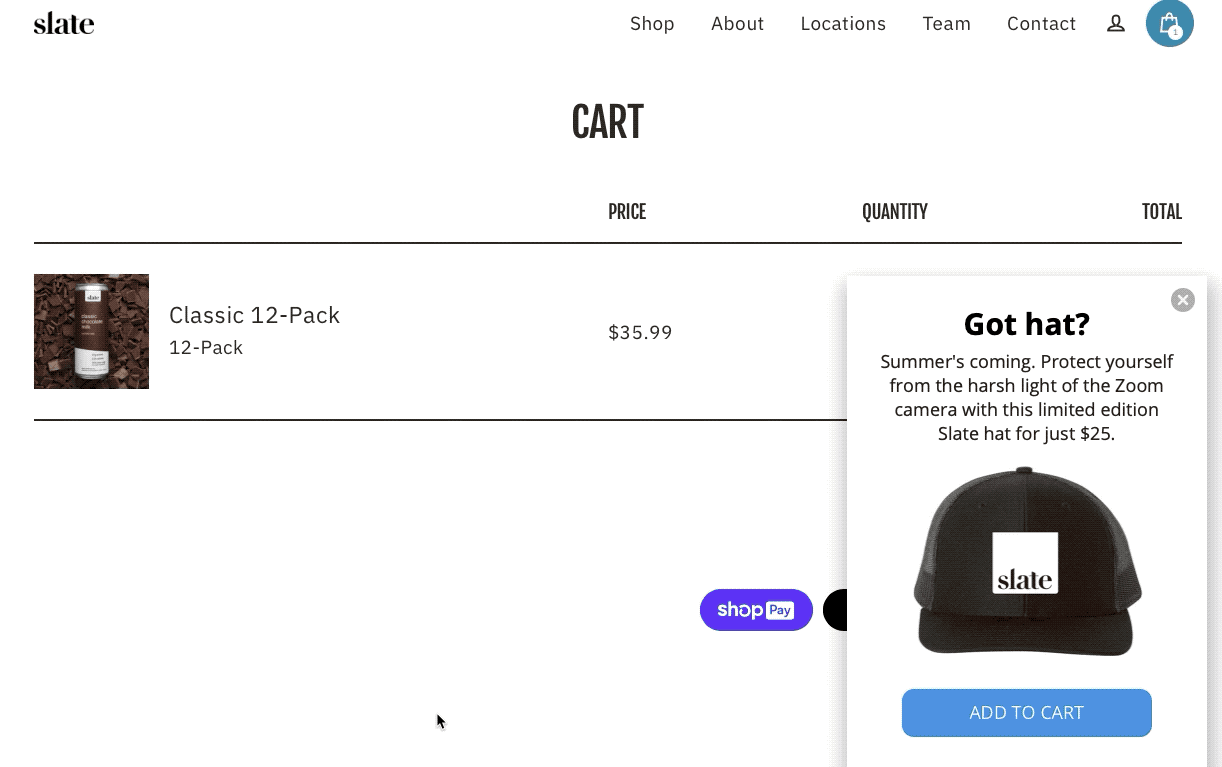 That's why this is the fastest way to increase your average order value. it takes minutes to set up and runs 24/7 making you more money.
If you're already a Privy customer, just login and you can build this campaign today. Note, this currently only works for Shopify & BigCommerce customers.
If you have any questions, just drop us a line on chat.
Subscribe for Updates
Get our best content on ecommerce marketing in your inbox 2 times a week.
Written by Daniel J. Murphy
Dan is a B2B marketing leader with over 7 years of experience helping SaaS startups grow. Before joining Privy, Dan was the Director of Product Marketing at Drift. He's also worked in demand generation, brand marketing and marketing ops. Dan loves to geek out over marketing strategies and technology. He co-authored "This Won't Scale" with Privy's CMO, Dave Gerhardt at their previous company.
Subscribe for Updates
Get our best content on ecommerce marketing in your inbox 2 times a week.