Introducing Countdown Timers: 2 Secret Weapons For Driving Urgency And Landing Sales This Black Friday
Published on Nov 17, 2021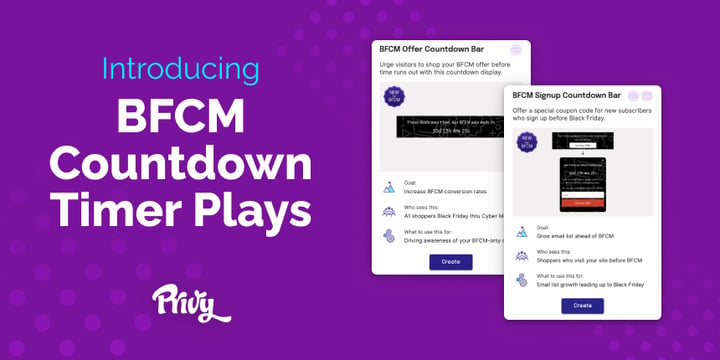 How many times have you received an email or seen an Instagram post from one of your favorite brands reminding you that a special offer is ending?
Subject lines like "It's almost over!" and "This won't last" are part of the playbook.
You've probably even gone on to make a purchase once or twice...
Because guess what: urgency works.
And now, you can use that same sense of urgency to boost sales and improve conversion this Black Friday Cyber Monday with 2 brand new Privy countdown plays.
These countdown timers are temporary plays designed to help with two major pieces of any successful BFCM strategy: list growth and increasing conversions.
The best part? You can get both set up in minutes. So you can focus on nailing the rest of your Black Friday checklist.
(By the way, if you're looking for a holiday roadmap to help prioritize all your to-dos, check out our 2021 holiday calendar.)
Get our best content on ecommerce marketing in your inbox 2 times a week
Boost your list growth leading up to Black Friday
The BFCM Signup Countdown Bar is a countdown timer display bar that's all about growing your list before your BFCM offer goes live.
Leading up to BFCM, use this countdown timer to offer new site visitors a special coupon code to join your list before Black Friday.
You can even adjust the expiration of this coupon code to encourage these new subscribers to make their first purchase before the holiday shopping weekend.
And when your BFCM offer officially begins, invite these subscribers back to your store by sending an email or text, depending on which you're asking for at signup.
Create a sense of urgency around your offer
Think about what Starbucks has been able to do with their seasonal Pumpkin Spice Latte.
Year after year, people are hyped for fall because this flavor is only available for a limited time. I mean, there's even a term for this time of year – "PSL season."
The urgency tactic works so well that sales of pumpkin-flavored drinks at Starbucks reached an all time high in 2020, according to CEO Kevin Johnson.
But you don't need to be a multinational chain to use urgency to bring in business.
You already know that a robust list is critical to BFCM success. And thanks to Privy's BFCM Signup Countdown Bar, you'll have an even bigger list to share your offers with.
You also know that you need to use channels like email and SMS to bring these subscribers back to your store to make a purchase...
But what happens once they're on your site during the holiday weekend?
That's where the second new play comes in.
The BFCM Offer Countdown Bar is built to bring awareness to your BFCM-only offer and get your visitors to convert.
Shoppers who land on your site between Black Friday and Cyber Monday will see a display bar that tells them exactly how much time they have left to shop your offer.
Here's how it works:
Think of it kind of like a shot clock. Your BFCM offer is only valid for a certain period of time, right?
Just like you want your favorite team to score before the shot clock runs out, you want shoppers to make a purchase before your offer ends.
And that sense of urgency you feel when you watch the shot clock run down during a game?
Shoppers will have a similar feeling when they visit your site and see a limited amount of time left to shop your deals and promotions.
So you can capitalize on that urgency and boost conversions during BFCM.
The countdown begins today
Black Friday is right around the corner. So now's the perfect time to incorporate these countdown timers into your BFCM playbook.
Both of these brand new plays are available in the Privy platform today.
You can start boosting your signups with just a few simple clicks.
And next week when Black Friday hits, flip on the switch for your offer countdown and watch visitors turn into buyers.
But you have to act fast because these countdown timer displays are only available for BFCM. To make the most of your holiday season and beyond, get Privy's Growth Plan. It has all the tools you need for your most successful BFCM yet.
Subscribe for Updates
Get our best content on ecommerce marketing in your inbox 2 times a week.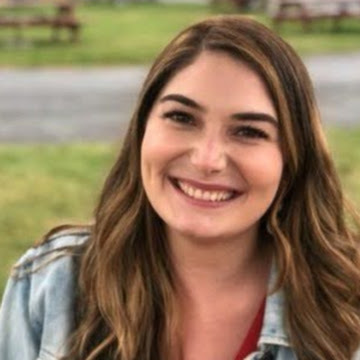 Written by Jess Iocca
Jess joins Privy after completing her MBA at Boston University, where she specialized in marketing and social impact. She loves introducing her family and friends to small businesses and emerging brands, and is thrilled to put that passion to work at Privy. Outside of work, you can find Jess organizing her virtual book club and exploring new restaurants. Jess lives in Boston with her husband and their cat, Phoebe.
Subscribe for Updates
Get our best content on ecommerce marketing in your inbox 2 times a week.