6 Takeaways from Black Friday Cyber Monday 2019
Written by Lauren Shepherd
There was so much build up to Black Friday and Cyber Monday, but now it's come and gone (yay, you did it!)
It was no surprise that this BFCM was another record setting year for merchants across the globe. So how did everyone do?
We broke it down by the numbers for the ecommerce landscape as a whole, across the Shopify ecosystem, as well as Privy merchants in this recap of Black Friday/Cyber Monday 2019.
More people than ever are shopping online for the holidays


The number of shoppers deciding to skip the crowds of people on Black Friday for the comfort of shopping in their own homes has skyrocketed this year. Online shopping on Black Friday hit a record of $5.4 billion, up 22.3% from last year, while Cyber Monday shoppers spent a record $9.4 billion online, up 19.7% from last year (Adobe).

Across the Shopify network, Black Friday and Cyber Monday, merchants sold $2.9+ billion, up from last year's $1.8+ billion (Shopify).
Mobile is king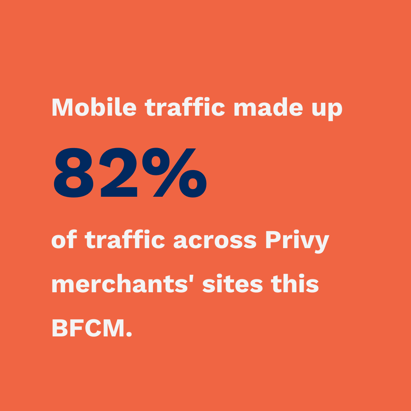 More and more customers are using their mobile devices to shop. This year, around 82% of traffic to Privy merchants' sites came from mobile, while only 18% came from on desktop.
This is why we recommend running campaigns that are specifically optimized for mobile to provide a better experience for your shoppers.
How do you do that? Take a look at this example below from Peejamas. They use a flyout for mobile visitors instead of a pop up and it converts more than 37% or shoppers.
Email continues to be a critical marketing channel for merchants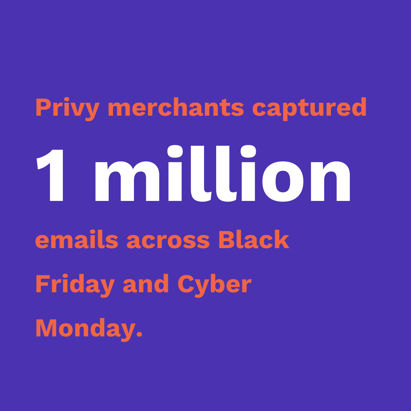 Email marketing is not dead. Far from it. Our merchants took advantage of all that extra traffic that BFCM brings and captured 1 million emails.
To top if off, merchants also sent around 8 million emails through Privy.
At peak traffic time, Privy merchants captured 645 emails per minute.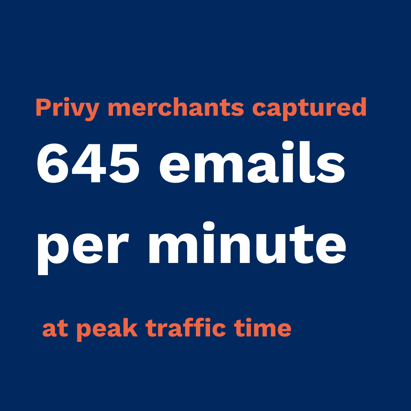 Average order value is increasing
Average order value — at $168 — was up nearly 6% year over year and also set a new Black Friday record (Adobe).
That means that people are buying more items from the same store. It's all about convenience in 2019.
Increase your store's average order value using inspiration from these 6 upsell campaigns.
People are buying apparel and accessories more than any other product category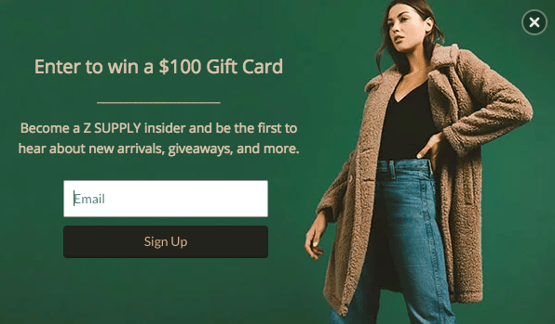 Apparel and accessories saw the most orders during the weekend, with consumers purchasing Makeup, Mobile Phone Accessories and Coats & Jackets the most ( Shopify).

More merchants than ever are using Privy to grow their ecommerce businesses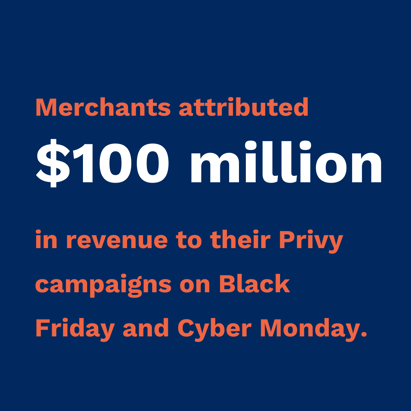 This year Privy merchants attributed $100 MILLION in revenue to their Privy campaigns. Proud is an understatement. Way to go, everyone!
Also, the Privy customer team processed and closed 5,599 conversations with merchants (3,285 more than last year) in the month of November. We've always got your back.
And last but not least, over 250 million people saw a Privy campaign this BFCM.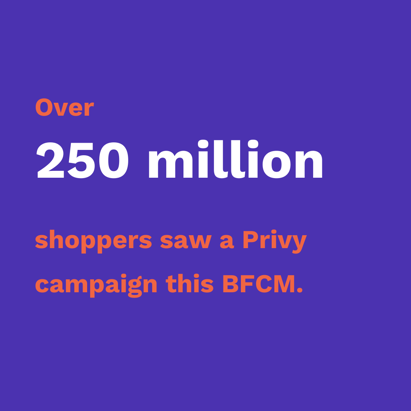 Congratulations on another stellar BFCM and best of luck in the rest of the holiday season and beyond.
Want to see what all the hype about Privy is? Sign up for free today!
Subscribe for Updates
Get our best content on ecommerce marketing in your inbox 2 times a week.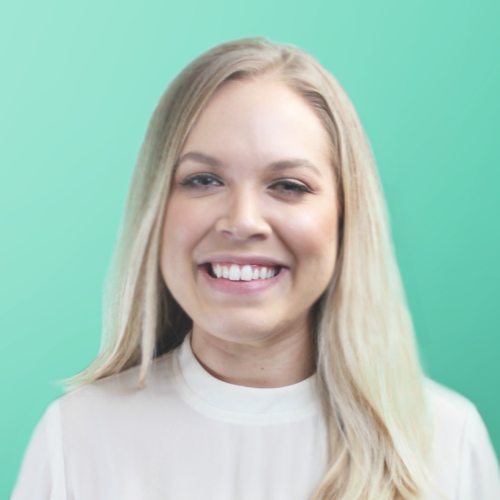 Written by Lauren Shepherd
Lauren is our Senior Marketing Manager. Coming all the way from Minnesota, she's earned her spot on the east coast by working for companies like Brainshark and Teikametrics to create content and lead generation strategies that increase website traffic and build brand awareness. Lauren's passion for small businesses and content creation is what brought her to Privy, but her enthusiasm and love of good beer and all things Justin Timberlake are what make her the perfect fit for our team.
Subscribe for Updates
Get our best content on ecommerce marketing in your inbox 2 times a week.