How To Turn New Subscribers Into Paying Customers With Val Geisler's Dinner Party Strategy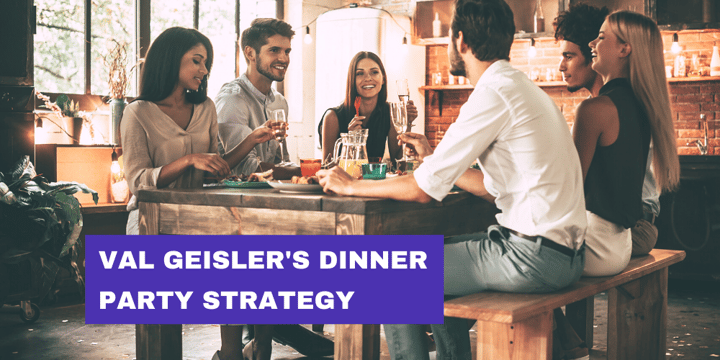 When someone comes to your house for a dinner party, do you open the door with a full plate of food?

No! You take your guests' coats, show them around, get them a drink, chat with them for a little bit, and maybe an hour later, you sit down to enjoy a meal together.

According to Val Geisler, CEO of Fix My Churn and a self-described email nerd, you should be thinking about welcoming your new subscribers in exactly the same way.

Val joined a recent episode of The Ecommerce Marketing Show to share what she teaches her clients about setting up their welcome email series for new subscribers (who haven't made a purchase).
Get our best content on ecommerce marketing in your inbox 2 times a week
And her Dinner Party Strategy makes a ton of sense. You should welcome them to your community. Teach them about your brand. You have to make sure you're telling a cohesive story. The same way you would if you were hosting people in your home.
So how do you actually do this with your emails? Don't worry, Val explained that too. Here's a 5-email series that will work for your ecommerce business no matter what you sell.
*Before you get started, make sure the people receiving these emails aren't getting any others from you. And remember to space these emails out by 2-4 days each.
Email 1: Welcome (AKA Come On In!) 👋

Your guest has just arrived. This is your chance to welcome them to your little corner of the internet. So it's just an email that says 'Hey - thanks for stopping by' and it goes out right when you get their email.

Almost every brand will use a subject line that includes 'Welcome to x.' And it gets really old after a while. We're so used to seeing it that we don't actually feel welcome at all. Here are a few examples from my personal inbox👇


It's like those acquaintances you run into on the street that say, "We should definitely get drinks sometime!" You both know it's never going to happen. It's not genuine and people can feel that.

Whatever you do, just make sure you deliver on the promise that got them to subscribe in the first place. For most brands, it's a coupon code for the first purchase. So make sure it's in there somewhere.

And remember you're not selling anything at this point. Don't talk about your products, don't talk about the features. They just arrived. They don't care...yet.
Email 2: The Appetizer 🧀
Next, give them a little more information. This is the appetizer.

Appetizers add value and tease the main meal. So what valuable information can you add at this point as people are starting to get settled?

Use the time to tell them a little bit about your brand, your mission, your team. Who is going to answer their support tickets when they write in? If you have a give back program, who's benefiting from that?

If you have a blog, it could be sharing one of your most popular posts because others have found it helpful and you thought they might too. It's about them, not you.

If you know the main reason people come to you in the first place, this will be really easy because you can share more information about that specific thing.

Just make sure you keep it short and personal. Don't overdo it. You can continue to weave your mission and story into future emails too, so don't feel like you need to give them every little detail now. Don't give them too much too soon.
Email 3: The Main Course 🍽
Now that you've made a real connection with your new subscriber, you can start to talk about your product. But that doesn't mean it's all about you from this point on (JFYI it's never all about you).

You might showcase your top product (ideally with photos) and share social proof. Here are real people with our product. Here's why they love it. Let your current customers sell for you! Chances are, that will be more powerful.

Imagine seeing a review from a customer like this: "It's like your foot died and woke up in heaven with a baby cloud giving it a hug. The comfiest, happiest baby cloud. These shoes are better than ice cream sundaes. Get 'em while (or if) you can." I don't know about you, but I want to try these shoes now. Baby clouds hugging my feet?! Sign me up.

Current press aside, Outdoor Voices KILLS this. Just check out part of an email they sent to tell subscribers one of their most popular products was back in stock.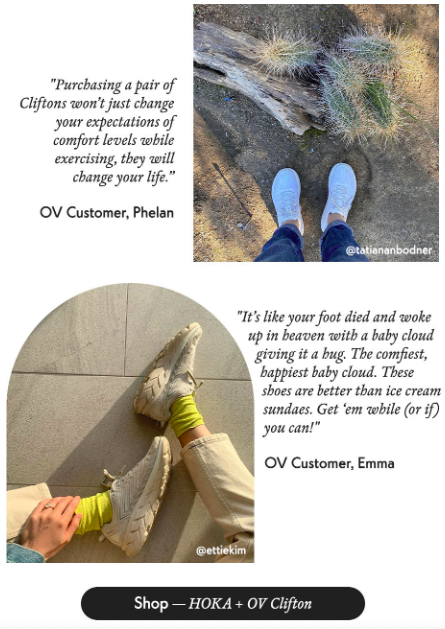 Your current customers are the best source for sharing the benefits of your product (not the features). No one cares about what kind laces your sneakers have or how much they weigh.

They care about why they'll make their lives better. "Purchasing a pair of Cliftons won't just change your expectations of comfort levels while exercising, they will change your life."

If that's not selling the benefits, I don't know what is.

Email 4: The Sides 🥗
Time for more value. This could be more customer-driven content where you showcase different customer stories, photos and reviews, or you could try a new approach with this email.

Instead, share helpful information that you know customers are concerned about or ask a lot about. VETTA, a women's capsule fashion brand, shares a guide with different outfit recipes to help subscribers come up with a system to create the perfect outfit.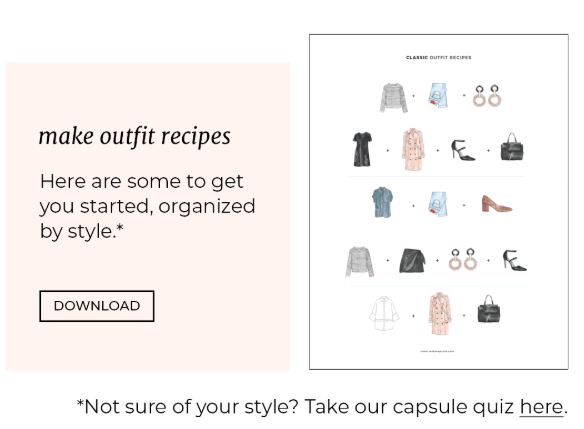 What makes this extra valuable is that it doesn't just apply to their products. It doesn't even feature their products. It just gives you inspiration for putting outfits together with the items you already have in your closet. Now that is real value.

If you mix in different information and formats, you'll keep people engaged. You could also mention your mission again here. Remember it's not a one and done thing - you can keep bringing it up in different ways.

If you give people a reason to think about you first (by being helpful and providing them with valuable information) they're more likely to become a customer. It's your responsibility to get them there.
Email 5: The Dessert 🎂
This is the cherry on top. It doesn't make or break the rest of the series, but it makes it a lot sweeter.

It's your bonus offer as your dinner party/welcome series is coming to a close. Make them stick around just a little longer.

Herbivore, a skincare company, offers subscribers a free mini face mist and sample facial oil with their purchase of a full-sized mask.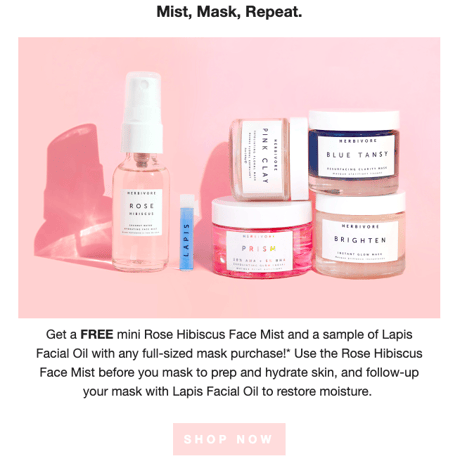 It would be even better if they offered new subscribers a free product without a purchase, but that might be difficult to sustain.

How can you get creative with your bonus offer to pique your subscribers' interest?

Give them a reason to stay (and keep reading your emails). If you can keep this up, you'll be the first place they turn for whatever kind of product you sell. Whether it's skincare products, shoes, or clothing, you'll be top of mind.
Don't Stop There...It's Just The Beginning
The sink is full of dishes and your house is a total mess, but your dinner party was a success. People are talking about getting together again. They want to keep in touch (and they mean it).

So make sure you continue the conversation and deliver on the promise of asking them back. Don't be one of those people who doesn't actually follow through.

When you treat your welcome series like a dinner party, you'll think about it in a totally different context.

Does it make sense to start with dessert first? Maybe sometimes...but usually you have to give them background about your brand and why you should matter to them.

If you do it right, you might just end up with highly engaged customers who will actually respond to your emails. But no complaining - this is a good problem to have. These customers buy 90% more often and spend 60% more per purchase.

So cheers to a perfect dinner party that turns subscribers into loyal customers. 🥂
Subscribe for Updates
Get our best content on ecommerce marketing in your inbox 2 times a week.
Written by Lauren Hall
Lauren is a Brand Marketing Associate at Privy. She's the brains behind all things content. When she's offline, she's obsessing over her Bernedoodle pup, Monster, and plotting ways to being a full-time Vermonter ASAP.
Subscribe for Updates
Get our best content on ecommerce marketing in your inbox 2 times a week.