After Signup vs. Welcome Emails: Why You Need Both For Your Ecommerce Store
Published on Aug 26, 2021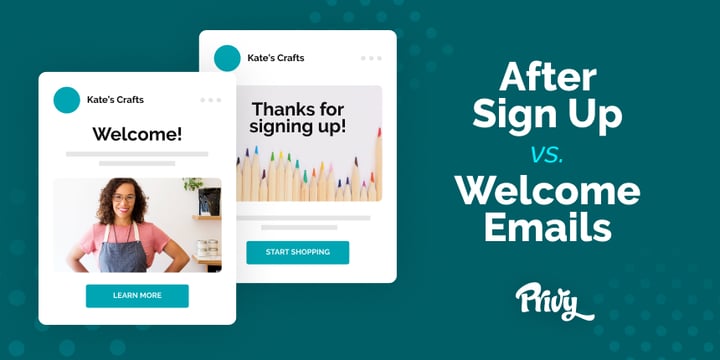 Growing your email list is a huge part of a healthy email marketing strategy.
But what do you do once someone signs up for your list?
How are you making sure you deliver on the promise you made to get them to sign up in the first place?
What are you doing to introduce these new subscribers to your brand?
The after signup and welcome email are both incredibly important here (not to mention the fact that they're the foundation for the rest of your relationship with these new members of your list).
But there are a couple key differences to be aware of.
Here's what you need to know about the difference between an after signup and welcome email so you can incorporate both into your email marketing playbook ASAP.
Get our best content on ecommerce marketing in your inbox 2 times a week
The difference between after signup and welcome emails
The first is, well, in the name of each email. Each signals what the email is supposed to do for your business.
So, the after signup email is meant to be sent right after a subscriber signs up.
But, there's usually some secondary action you want your subscribers to take beyond dropping you their email address. This could be confirming their subscription or using a discount code you offered at sign up, especially if it's time sensitive.
Of course, you'll want to thank subscribers for signing up and there's definitely a place for that in after signup emails.
But, there might be multiple ways someone signs up for your list and the after signup email should reflect that. Think of these emails as the final handoff to turn a visitor into a subscriber.
You can turn on an after signup email for each of your Privy Convert campaigns and make sure this handoff from visitor to subscriber is as smooth as possible.
Welcome emails, on the other hand, greet your subscribers and set expectations for communication from your brand. They can also introduce the person behind the business – YOU!
Where after signup emails cap off the signup experience, welcome emails are just the beginning of your subscribers' relationship with your brand.
Creating a true welcome experience
The second key difference between after signup and welcome emails is who actually receives them. Here's where those nuances I mentioned earlier come into play.
Subscribers have to sign up for your email list to receive your after signup emails, so it makes sense to assume that all subscribers will receive these emails. But that's not necessarily the case...
Many times, subscribers won't receive these emails after they take the action indicated in the email (confirm their subscription, use the introductory discount, etc.).
So if you included other information in that series that turns off once a specific action is taken, you want to make sure all of your subscribers have a way to see all of that great content you put together. Like learning about your business, reading about your founding story, etc.
Welcome emails help solve for this. Unlike your after signup emails, your welcome email should be sent to ALL subscribers, regardless of purchase activity.
In Privy, you can send your welcome email to all contacts who sign up through each of your Privy Convert campaigns.
Maybe they signed up through your welcome popup or your cart saver campaign...
Or maybe they already made a purchase once they saw your after signup email.
With welcome emails, you can make sure all of your subscribers get a consistent welcome experience.
Think about it. If someone already took action and made a purchase from your store, you especially want to thank them! So use your welcome email to properly greet your subscribers.
After signup vs. welcome emails examples from real brands
Check out these emails from Lola.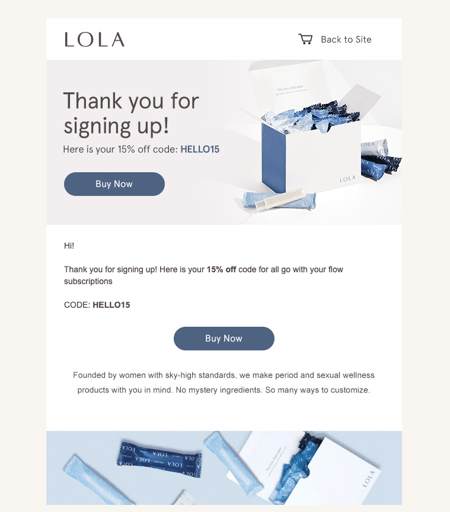 Immediately after signup, they hit subscribers' inboxes with a quick thank you message and discount code. This helps Lola establish trust with their subscribers by following through on the promise they made when they asked for visitors' email addresses in the first place.
A couple days later, Lola follows up with an email that officially welcomes their subscribers to their brand community.
This welcome shares more about the brand's mission and value proposition.
Overall, it's a great introduction to the brand that doesn't split subscribers' attention between using a discount code and actually learning more about Lola.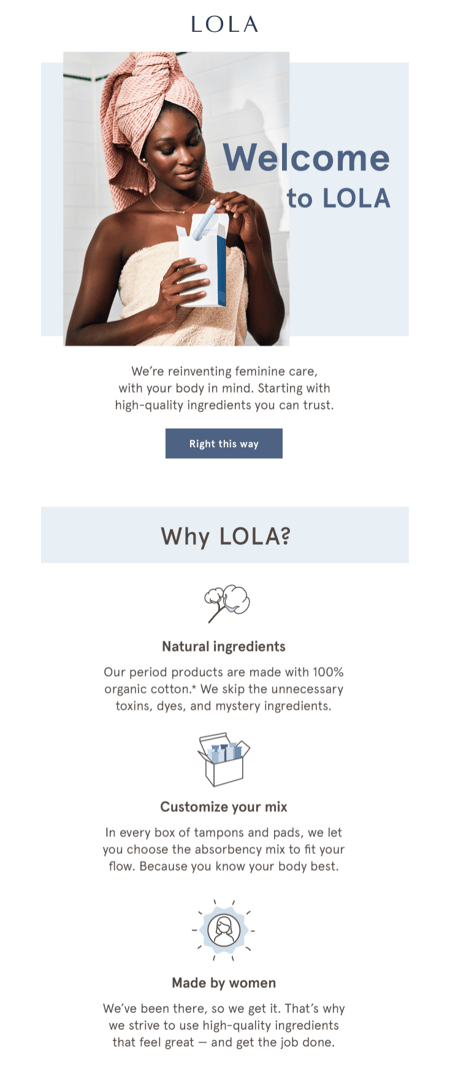 Olipop follows a similar playbook with their after signup and welcome email.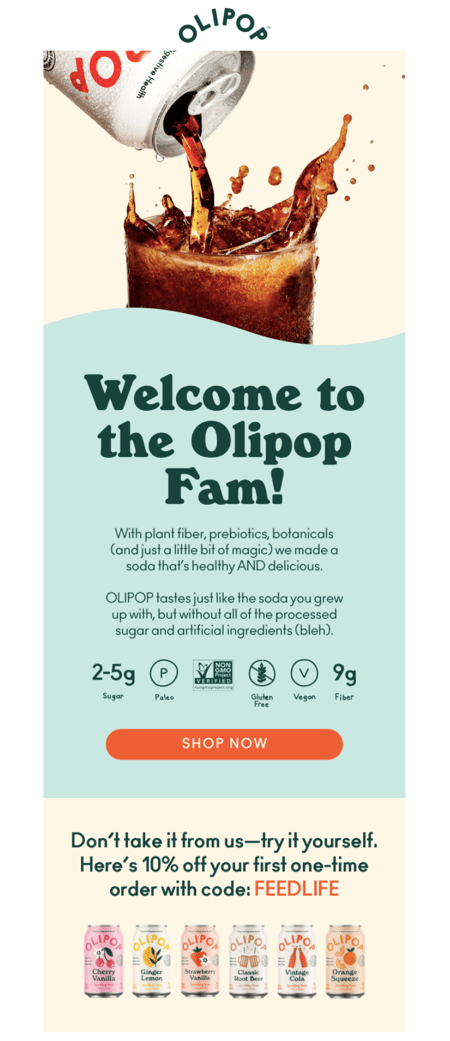 Their after signup email features a few key things subscribers should know about the business and makes it simple for subscribers to use their introductory discount code.
This approach is super effective for converting sales from subscribers who are ready to make a purchase right off the bat.
Soon after, subscribers get to 'meet' Olipop's founders in their welcome email.

Showing the friendly faces behind the brand is a nice touch for relationship building with all subscribers, regardless of whether or not they've made a purchase yet.
After learning more about Olipop's founding story, subscribers who haven't made a purchase yet may feel ready to take that next step.
That's why including the code again here is critical for turning your new subscribers into customers.
And then there's For Love and Lemons...

This after signup email includes a ton of awesome content beyond the brand's 10% off welcome gift.
They share a bit of a behind-the-scenes look at their operations, which is great brand storytelling.
Since subscribers are expecting their 10% off code at the time of sign up, it makes sense that the welcome gift is featured prominently in the email.
But there is a catch...
Subscribers who are eager to get shopping might miss what's below the discount code.
That's why For Love and Lemons' welcome email is so important.

It lets subscribers know what the brand stands for, how it began, and how it's evolved over the years.
This is the type of information that resonates with subscribers and can start turning curiosity into loyalty.
And this welcome email does offer a reminder for subscribers to use their welcome gift of 10% off.
But because For Love and Lemons shared more about their brand story first, the reminder doesn't feel intrusive to the overall message of the email.
Grow your sales and your community
After signup and welcome emails play different roles in your ecommerce marketing strategy.
After signup emails are critical for capturing sales from your most ready-to-buy new subscribers.
And welcome emails are an engaging way to make subscribers feel like they're part of your community and introduce them to your business in a less transactional, more human way.
And, at the end of the day, more of your subscribers receiving your emails means more opportunities to turn those subscribers into customers.
If you're already using Privy Email + Conversion, just log in and you can send both of these emails today.
Or sign up for Privy Email + Conversion to get started.
Subscribe for Updates
Get our best content on ecommerce marketing in your inbox 2 times a week.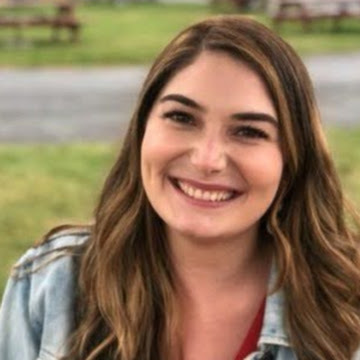 Written by Jess Iocca
Jess joins Privy after completing her MBA at Boston University, where she specialized in marketing and social impact. She loves introducing her family and friends to small businesses and emerging brands, and is thrilled to put that passion to work at Privy. Outside of work, you can find Jess organizing her virtual book club and exploring new restaurants. Jess lives in Boston with her husband and their cat, Phoebe.
Subscribe for Updates
Get our best content on ecommerce marketing in your inbox 2 times a week.