7 Reasons Your Shopify Store Needs A Quiz (And How To Get Started)
Published on Apr 13, 2021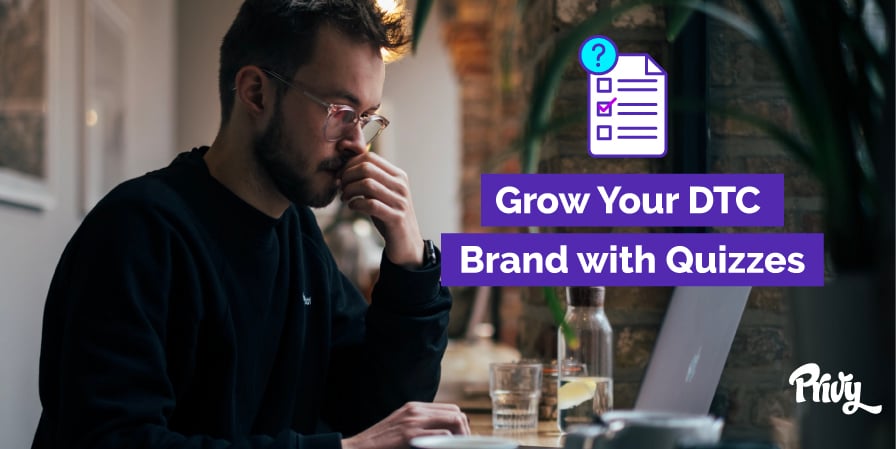 Garbage in, garbage out.
This holds true for your financial forecasts, your inventory planning, and your marketing campaigns.
As marketers, we can not afford to build campaigns on bad customer data. Especially in light of changes to iOS 14 updates, GDPR, and the demise of the third party cookie. Getting trustworthy data is imperative.
And this is where a quiz can be invaluable for ecommerce brands to: gather data directly from customers, guide them to the most relevant product, and capture email leads.
Customers will tune out generic, non-targeted marketing campaigns.
83% of shoppers are willing to share personal information in order to create a personalized shopping experience, with the expectation that in return they will receive relevant messages, offers, and value.
Yet 73% of consumers believe that brands are unable to meet expectations of a personalized experience.
This is the customer experience gap: customers yearn for a personalized experience, yet marketers struggle to deliver it.
And this is where opportunity awaits: higher average order value, higher conversion rate, and higher customer satisfaction.
In this post, we'll cover strategies that fast-growing, direct to consumer brands use to capture customer data and create better customer experiences.
Capture the data and you can create targeted, relevant, and compelling campaigns, and segment your audience based on their stated interests and goals.
If you don't get it right, you end up with marketing that just misses the mark. Don't be that brand.
Get our best content on ecommerce marketing in your inbox 2 times a week
The Rise of Zero Party Data
How can brands understand what is relevant to each individual customer, while maintaining consistency with the brand voice?
It requires asking customers directly to share their preferences, goals, and interests.
This is zero-party data, defined by Forrester as, "Data that a customer intentionally and proactively shares with a brand, which can include preference center data, purchase intentions, personal context, and how the individual wants the brand to recognize her."
Zero-party data is the honeypot where great personalized experiences are created.
It reveals the customer's intent, challenges, and goals.
It indicates what an ideal future looks like, and how a brand can insert itself to solve for that problem.
If you use first-party data like purchase history, site engagement, or even an aggregated pool of anonymized data, it's backwards looking, and implicitly makes assumptions (ie the customer purchased red basketball shoes, therefore they like basketball and footwear).
Understanding the preferences and future intentions of customers is a critical ingredient to creating marketing messages and offers that resonate. These campaigns are built on zero-party data, which is gathered via direct interaction like quizzes, surveys, and questionnaires.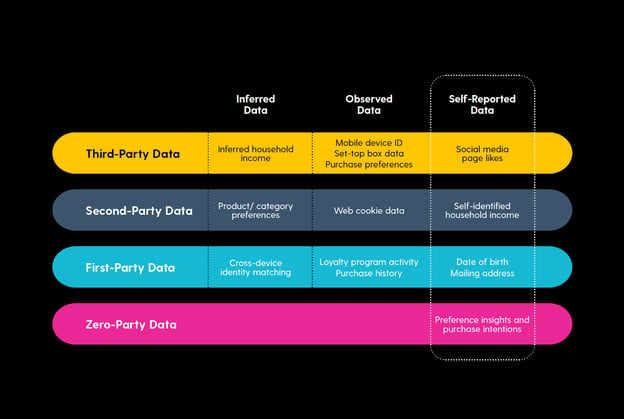 Source: Cheetah Digital
Quizzes: A Marketing Tool At Every Stage of the Funnel
The customer data that you gather is critical to guiding shoppers through your funnel, from first touch to repeat purchase.
A quiz is an effective way to engage shoppers and learn about them at every stage in your funnel: from building awareness, educating shoppers on the problem and solution, and driving repeat purchases to happy customers.
The quiz is a tool to help nail personalization for ecommerce: getting the right product in front of the right customer, at the right time.
Brands that can build a personalized, relevant experience for customers will create a differentiated and defensible marketing strategy.
But more importantly, personalization impacts important metrics like conversion rate (80% of shoppers are more likely to purchase if a brand offers a personalized experience) and customer lifetime value (44% of consumers say they will likely become repeat buyers after a personalized shopping experience).
Let's take a look at how ecommerce brands of all varieties use quizzes to create fun, engaging experiences that create value for customers and brands alike.
Top of Funnel: Build Brand Awareness
A quiz is inherently educational. And it plays to our innate love of learning about ourselves.
Thus, a quiz is a good hook used for paid ads to pique curiosity and get the initial click through to the landing page.
Interactive content like a quiz, calculator or assessment can convert nearly 2x the conversion rate of static content.
This obviously has a significant impact on the cost per acquisition of any paid campaigns.
Moreover, interactive content is more effective in buyer education, differentiating from competition, and shareability.
A quiz naturally plays to a curiosity gap, that there is new information available if they simply click the advertisement.
Each of these ads piques curiosity, creates an incentive to click the ad, and drives traffic to the quiz.
And a quiz can be the landing page for different audiences and benefits: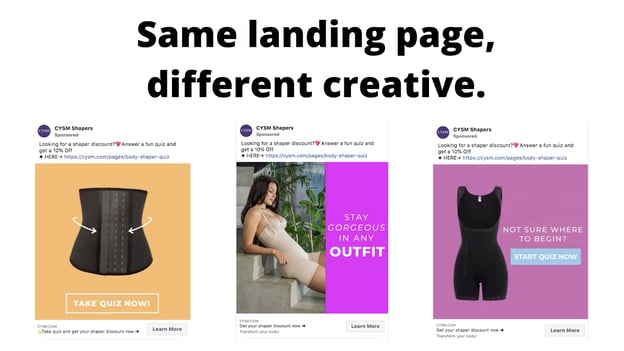 The opportunity to capture attention is brief with paid ads. A quiz provides a compelling value proposition and curiosity hook for browsers.
Test creative and your call to action (CTA): Test the creative, headline, and call to action in the ads. CYSM Shapers directs shoppers to the same quiz, but shows variations that feature the product/model/text, with different benefits – "stay gorgeous" vs "not sure where to begin?"
Offer a compelling incentive: The hook can be the discounted offer (Rockets of Awesome), the opportunity to discover your perfect formula or shade (like Beautycounter), or to discover amazing coffee (like Trade Coffee).
Top of Funnel: Capture Emails
As Privy notes, email should account for up to 30% or more of your revenue. The power of an email relies on the ability to offer a relevant message, at the right time. An email campaign can be made more effective if insights about the specific customer are included: preferences, problems, goals, and relevant products.
But brands have to earn the right to your customer's data."In order to collect data, you have to provide value to your customer," says Heidi Zak, CEO of ThirdLove.
So it's important to assess the value of your offers when asking for an email address in return. Discounts, coupons, and incentives like free shipping continue to convert visitors into email leads.
A quiz is another offer to gather leads, and can have very high opt in rates and engagement, even up to 50% opt in rate.
Because the quiz experience is so important for some brands, the shopper is offered multiple entry points to start the quiz, like Bambu Earth offering the quiz in the header nav, homepage, and popup: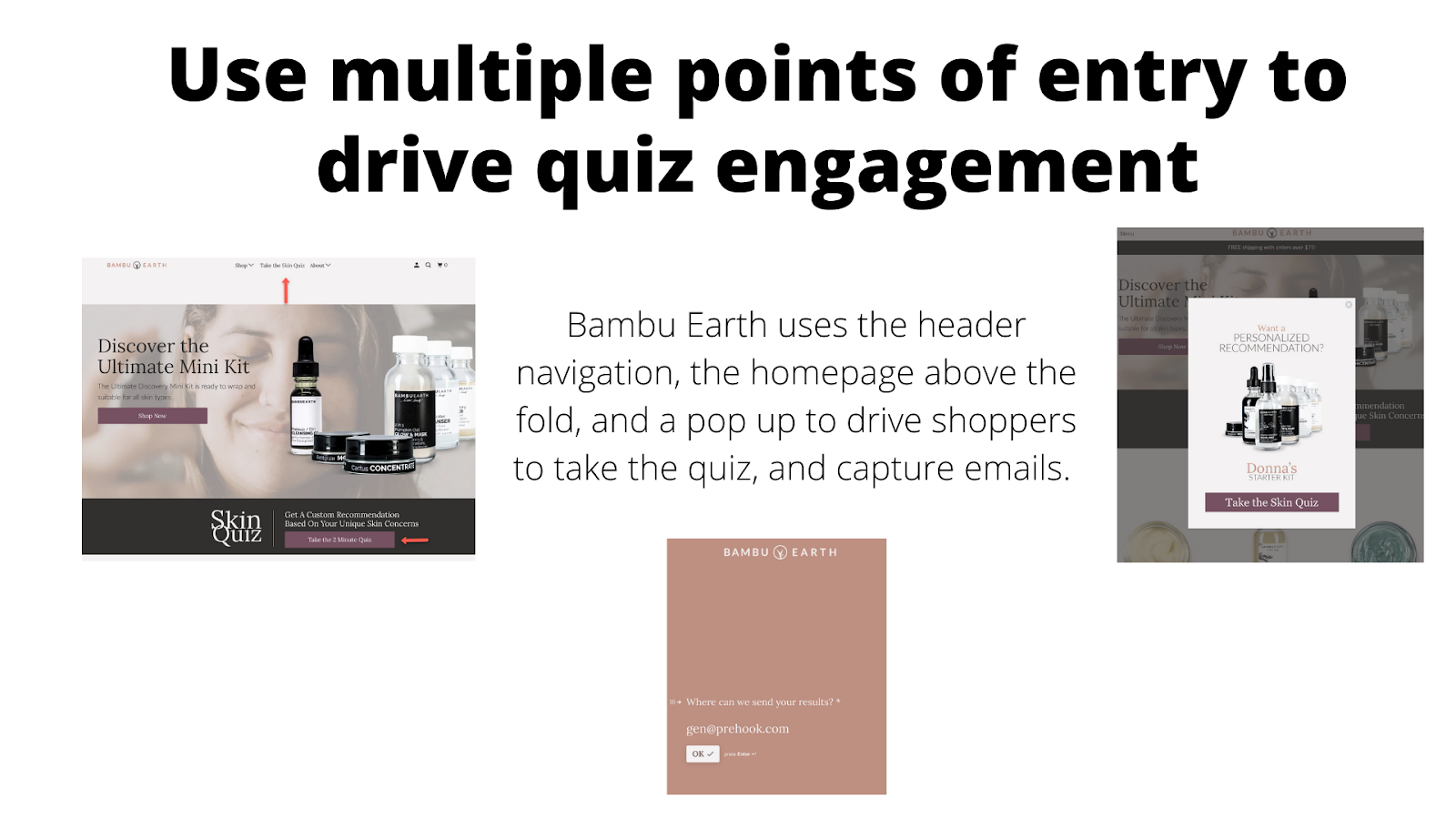 What is the exchange of value for a shopper to take the quiz, commit the time and effort, and provide an email?
Robert Cialdini has famously noted that reciprocity is a key pillar to influence: when humans receive something of value, we are wired to return the favor with something of value.
This applies to quizzes, and the value provided through the experience.
The value delivered via the quiz could be self-discovery, like learning about your skin type:
Source: Bubble
Value can also be delivered in guided recommendation and expertise. Note that Tea Leaves cites Michelin chefs and five-star hotels as other customers. This heightens the value of the quiz experience by attaching it to others with high-status: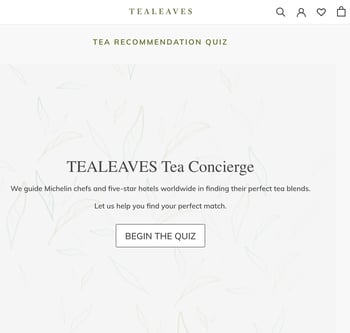 Wine club Firstleaf clearly outlines the value of the quiz results, and "what you get" when you enter your email address. This specificity creates incentive to add an email to reveal quiz results, and claim the 60% discounts and wine recommendations.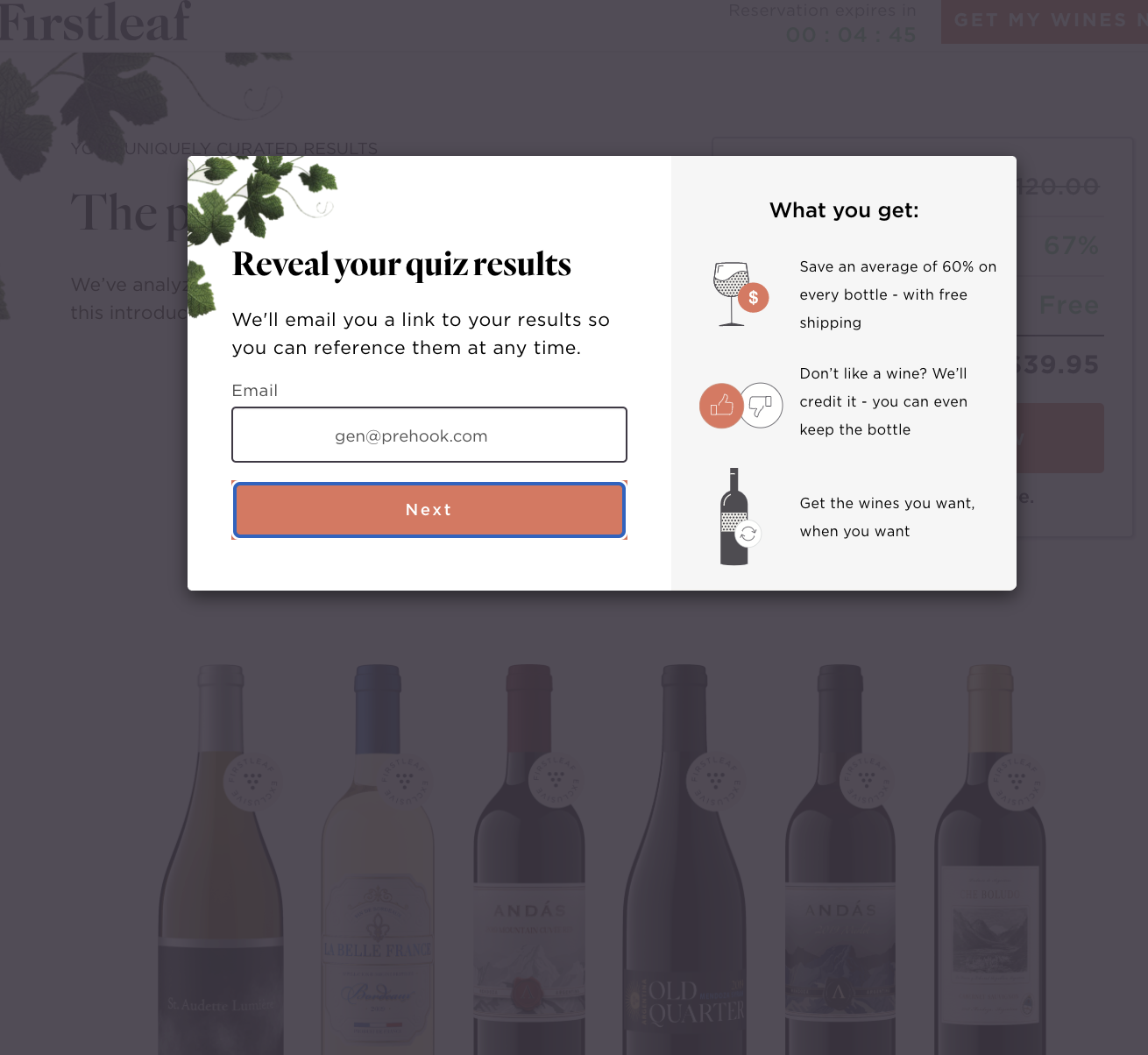 Takeaway: Provide value to customers. In order to drive engagement (and generate leads), there must be value to the customer. The more value, the more questions that you can ask.
The more that you can align the value to your customers' understood problems or challenges, the better.
For example, bone broth brand Kettle & Fire creates a product to help customers become healthier, which is stated at the start of the quiz and the last step that captures the email.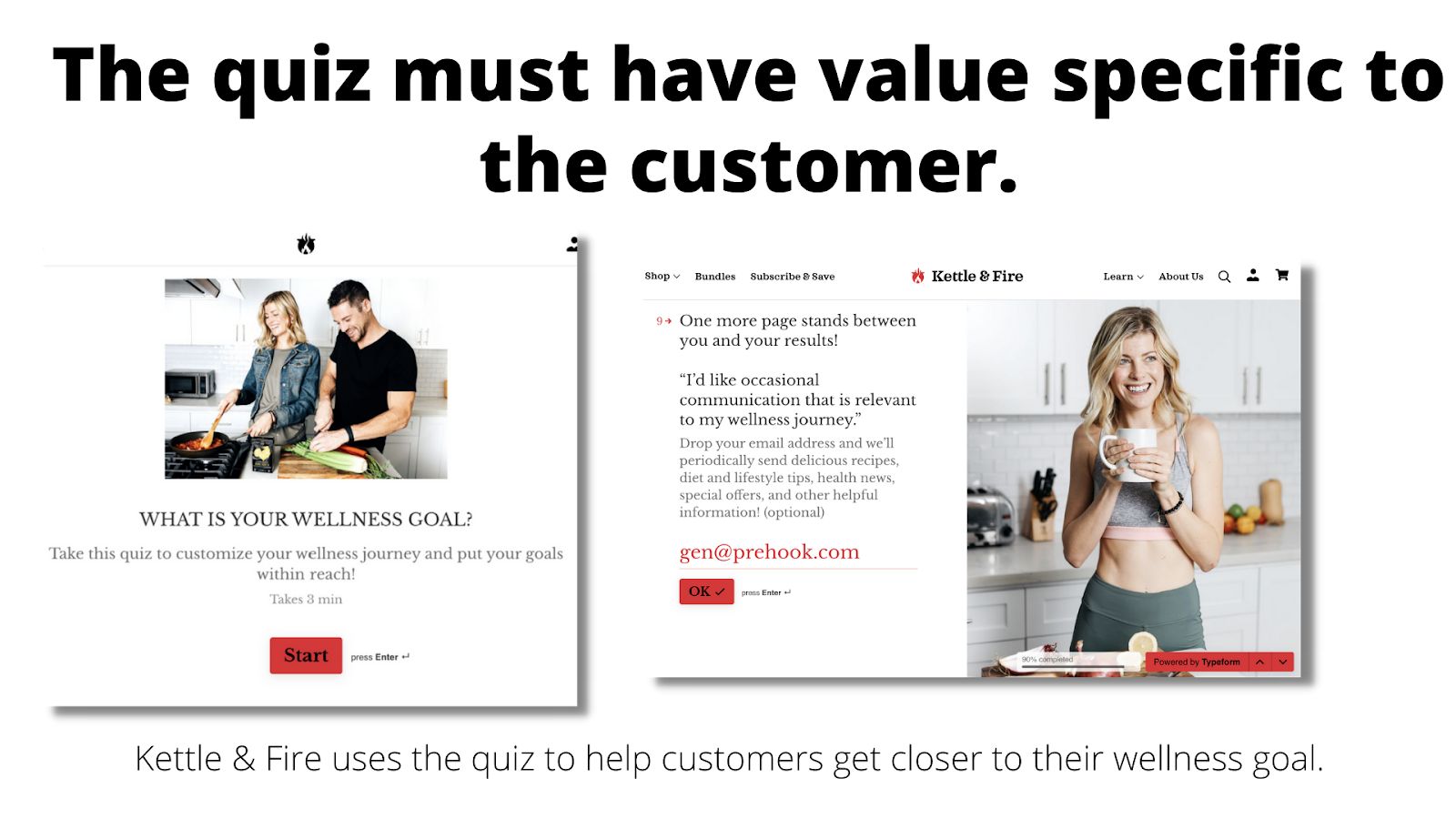 Middle of Funnel: Educate Shoppers
While brands leverage a quiz to learn more about the consumer, it can also be an opportunity for the brand to educate consumers for an overall better customer experience.
This education is relevant to any stage of the customer journey – learning about the problem, the solution, and the customers themselves.
As customers are educated throughout the quiz experience, the brand demonstrates expertise and authority.
Educating and conveying authority helps shoppers identify shortcuts in their decision making. If a brand that has demonstrated expertise suggests something, it makes it easier for consumers to follow that suggestion.
For example, Trade Coffee's quiz personalizes the quiz experience by having their in-house coffee expert Maciej appear throughout the quiz: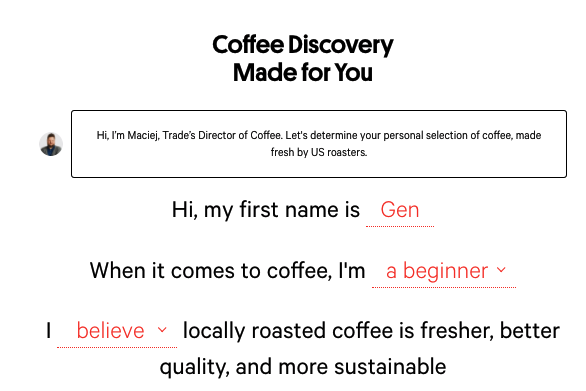 Of course, the snippets of education are not unique to only my quiz answers, but nevertheless seeing Maciej appear throughout the quiz with helpful notes about coffee keeps me engaged and learning.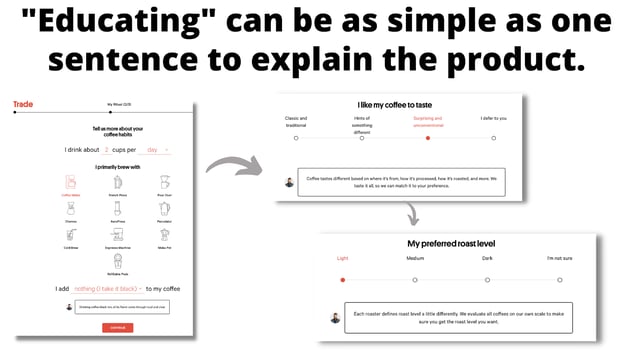 Maciej is an expert authority, and therefore his recommendation will hold that much more influence over my eventual purchase decision: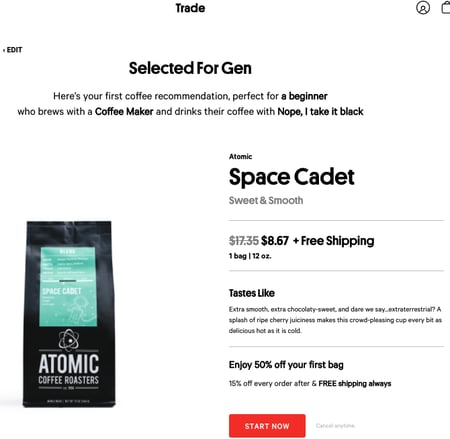 If I arrive at a page like this that has products "Recommended for me" based on my stated preferences and background, I am persuaded by the personalization and authority. In fact, 92% of shoppers have been influenced by personalized recommendations.
Another great example of education is fertility hormone brand Modern Fertility. The brand promises to make personalized fertility information more accessible.
One product that they sell is a fertility hormone test. Modern Fertility has a beautiful quiz that shares statistics and information about fertility, culminating in an interactive personalized timeline of fertility.
This is a powerful yet subtle push to purchase their product, as they note, "Testing your hormones helps you get more personalized info based on your body and goals." Modern Fertility has education throughout the quiz experience, establishes authority and expertise, and creates a compelling offer to learn more about this important issue by purchasing the test.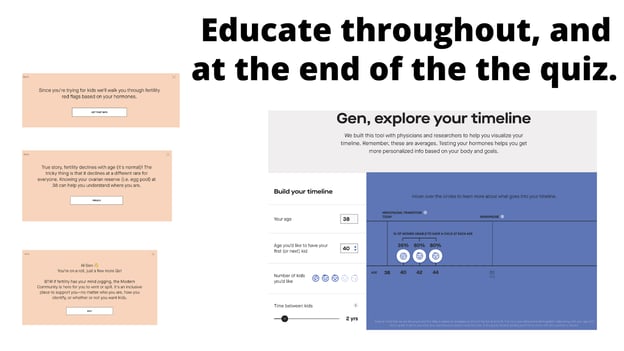 Middle of Funnel: Reduce Confusion
Confusion and lack of clarity is a big roadblock to conversions.
A quiz can be helpful in asking the shopper a few simple questions, and providing clarity. This can help shoppers be confident in moving forward in their purchase decision.
For example, direct to consumer lingerie brand ThirdLove discovered that 80% of women wear the wrong bra size. In 2016, they created the first bra size quiz with their Fit Finder, which has helped 18 million women find the right sized bra.
ThirdLove has continued to develop the quiz into a one-on-one experience that is highly personalized and contributes to their marketing, product development, and overall data strategy. The fit finder quiz has become a helpful tool for competitors to recreate the in-person experience of a fitting: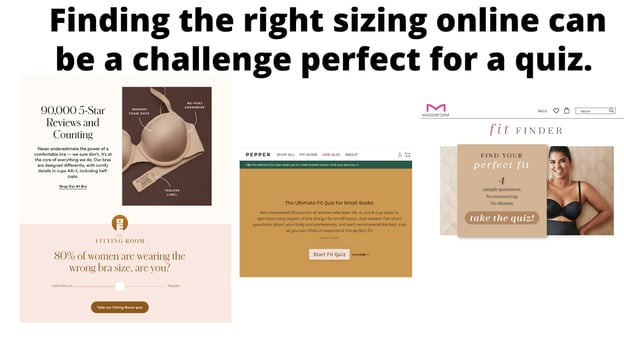 Another pitfall of customer confusion is consumers finding the right cosmetics product for their skincare needs. For example, matching skin tone to the appropriate product is a challenge for online shopping.
A guided experience to ask shoppers a few questions is a popular solution to pairing the exact shade of skin with the right product: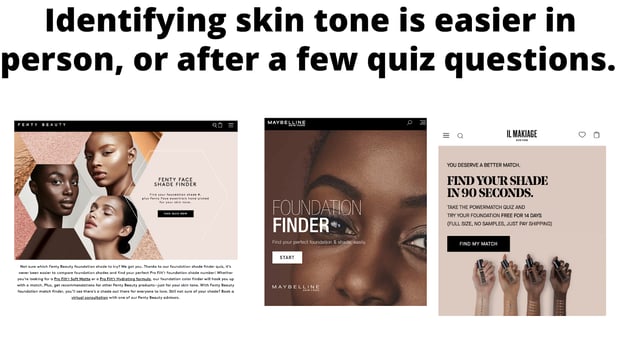 Bottom of Funnel: Offer a Personalized Recommendation
Deloitte found that 25% of consumers are willing to pay more to receive a personalized product or service. And a product recommendation is the culmination of a personalized service, at scale.
It replicates the experience of the expert sommelier or sales associate: learn about what the customer wants, understand the inventory of possible options, and recommend the most appropriate product.
The beauty of the quiz is that it is scalable, and cost-effective.
DTC mattress brand Helix has a great quiz that captures the key information in order to recommend the right product, including ideal mattress size, customer demographics (age, gender, height, weight), sleep position, and ideal mattress feel: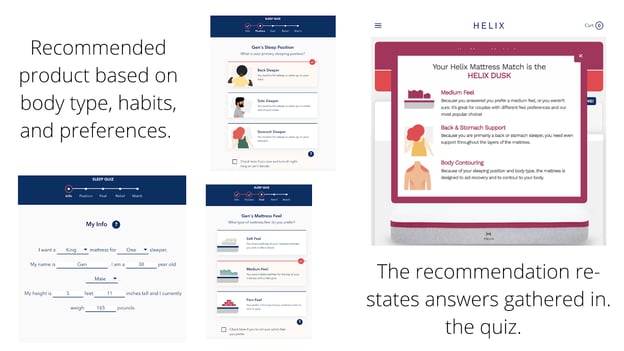 A mattress is an investment that requires thorough evaluation and decision-making. But with the data gathered in the quiz, Helix has the ability to segment their marketing campaigns specific to the customer journey, as opposed to generic email newsletters.
This targeted segmentation has helped the brand increase conversion rates by 13%, and improve email engagement (16% increase in open rate and a 27% decrease in unsubscribes).
As you have more products, and thus more potential recommendations, the need for gathering data increases.
For example, CPG behemoth Procter & Gamble has over 1,000 hair care products under their umbrella. P&G created a quiz called Haircode to reduce the confusion of finding the right hair care product. The quiz they created captures a bunch of data that is invaluable to the P&G marketing, product development, and understanding of their customer base: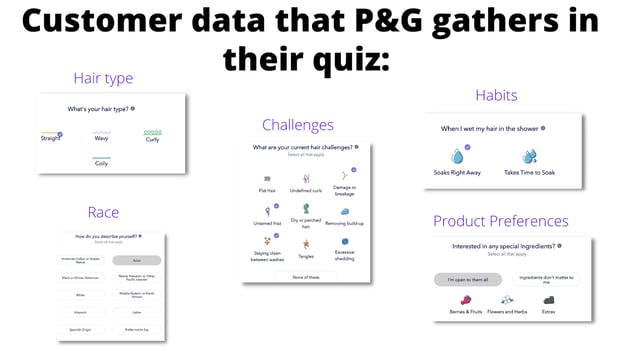 All of these data points are factored in to create 144 different hair codes and 24 different personality types. P&G validated the demand for an AMP quiz tool like this, as 95% of consumers they surveyed want a tool to find the right product based on their hair type.
This is what the recommendation and customer segmentation look like: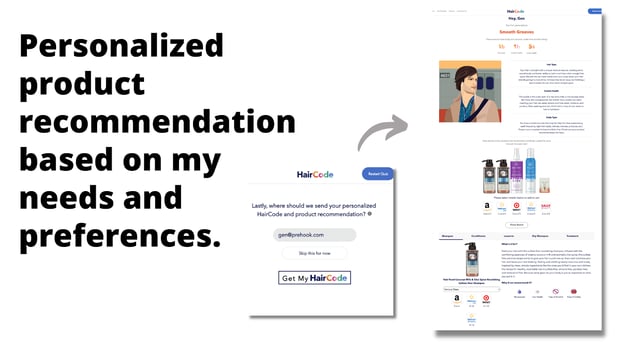 A product recommendation can account for up to 31% of ecommerce revenue, according to Barilliance.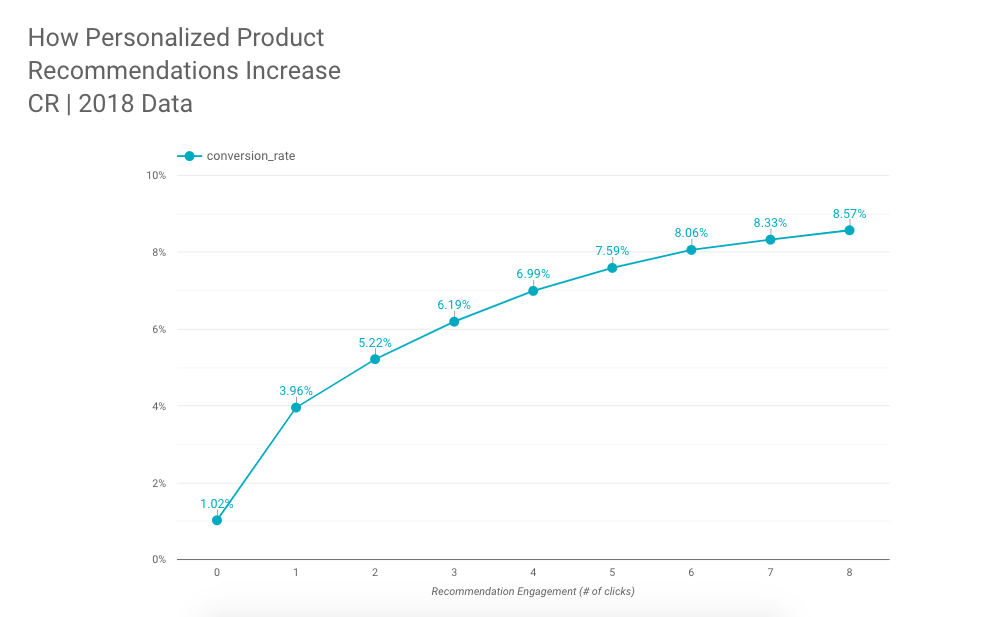 Source: Barilliance
Bottom of Funnel: Offer Personalized Products
As direct to consumer brands strive to differentiate, one way to stand out is to create unique products for each individual customer.
For example, Native deodorant has a quiz about deodorant preferences, and ends the quiz experience with adding the first name to the product page:
Unfortunately, the reality is that customizing products is just not feasible for many (although it certainly is fun to learn about Prose shampoo's 10 ton bespoke machine that can create 79 trillion formulations using 160 ingredients).
One accessible path to "personalizing" a product is to create a unique routine, specific to the customer's unique needs and profile.
For example, men's personal care brand Hawthorne has a quiz that asks about face, hair, body and scent. From these answers, a personalized product recommendation, with the customer's first name, is created: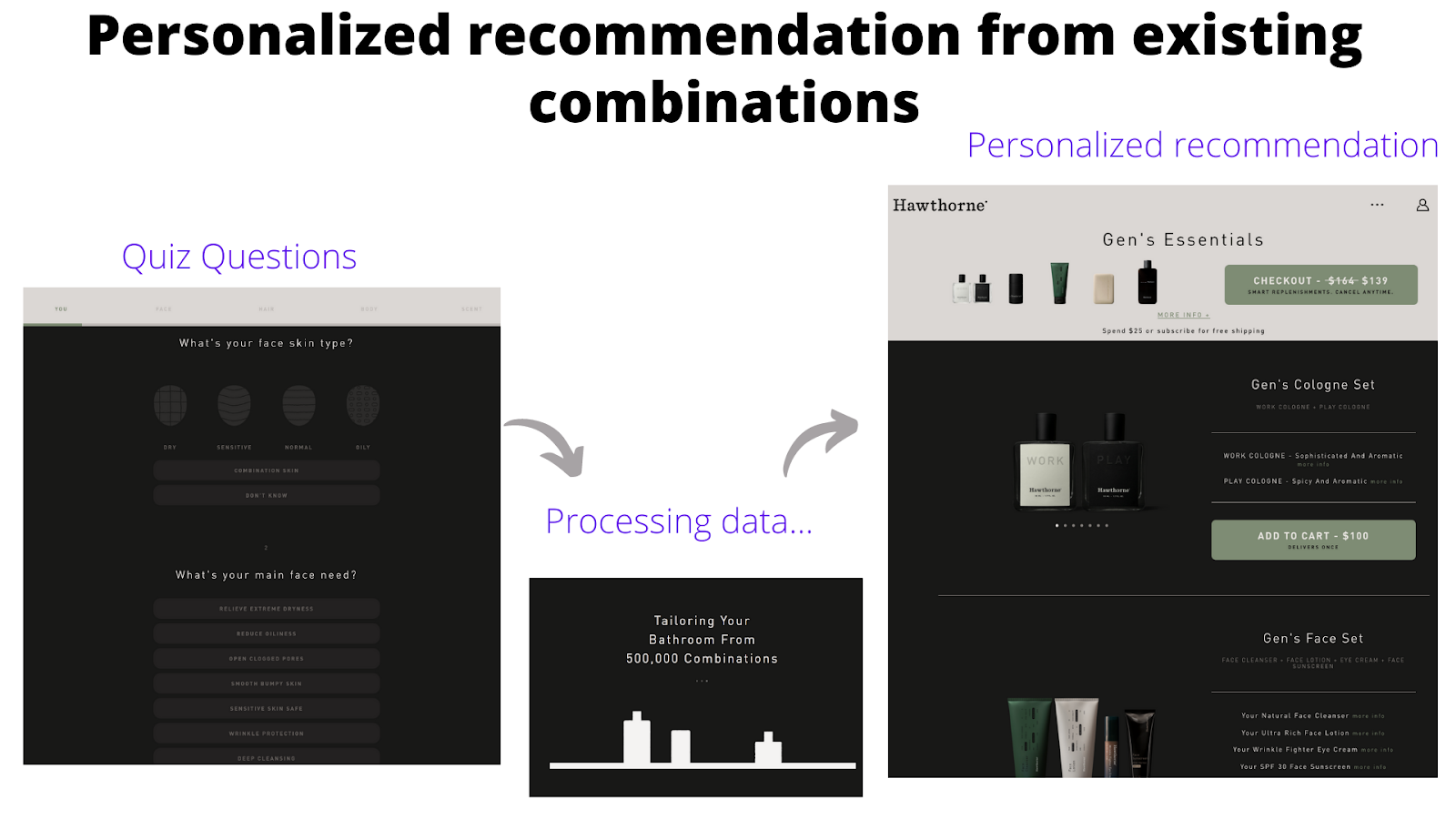 Though the actual product is the same that will be sent to many other customers, the user experience makes me feel like this is a product that's formulated specifically for my needs.
Similarly, skincare brand Skinsei puts shoppers through an extensive diagnostic quiz in order to create a BioPrint – an assessment of skin based on factors like climate, air quality, nutrition, and more. As Skinsei's Founder, Valentina Ciobanu notes, "Each question is designed to elicit a specific piece of information that helps the algorithm identify which products your skin needs."
The diagnostic results in an analysis of 10 different parameters that affect skin: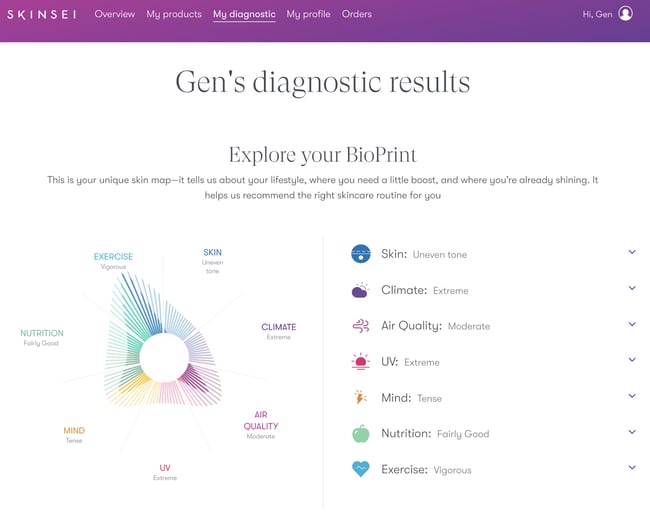 And a combination of their existing product lines is recommended based on my skincare needs diagnosed in the quiz:

Personalization is a trending movement, and has a lot of buzz around it.
But that's for good reason, as consumers search for brands that offer personalization.
And this is reflected in the numbers, as McKinsey has found that personalization can yield 20% higher customer-satisfaction rates and a 10-15% increase in conversion rate.
In order to create impactful personalization, you need to understand who your customers are: their challenges, habits, and goals. This is where a quiz becomes an invaluable tool!
How To Start Building Your Own Quiz
Getting started building your quiz is similar to how you'd attack any new marketing campaign.
Define your goals: Where can a quiz make an impact in your marketing funnel? Are you trying to capture more leads, recommend the right product from a large inventory, learn more about customers, or all of the above? Start by writing this down, and understand how a quiz (and the customer data that comes with it) can solve your problems.
Establish your benchmarks: Regardless of your goals, you need to know your baseline metrics to see if a quiz can meaningfully move the needle. This can include email opt in rates, conversion rates (for new and returning customers), and email conversion rates. From here, you have an objective understanding of "normal" behavior, and can run A/B tests against those who go through a quiz to measure any impact.
Create your hook: How are you going to get shoppers' attention? You are asking for the time, attention, and information of customers – you need to make the quiz compelling. This relates to the headline, the copywriting, and the value offered at the end.
Build the full experience: The quiz experience is in fact more than just the few minutes that your customers are taking the quiz. Customers are most engaged at the end of the quiz, after adding their email address and viewing any recommended products. Capitalize on the moment. This includes follow up emails, abandoned cart emails, customer segmentation, remarketing and SMS campaigns. The information that you gather can make the entire customer experience highly personalized, so take advantage of every channel and touchpoint that you use.
Quizzes are a powerful marketing tool. If you want more inspiration, I've collected a list of 100+ of the best ecommerce quizzes I've found (no email required). And if you want a tactical guide to creating your own quiz, learn how to build your ecommerce quiz strategy in 5 Steps.
Subscribe for Updates
Get our best content on ecommerce marketing in your inbox 2 times a week.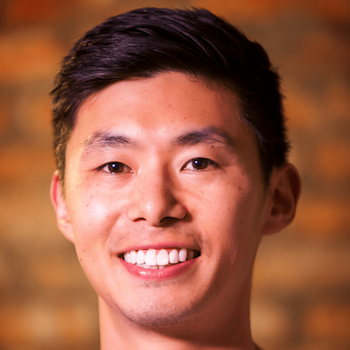 Written by Gen Furukawa
Gen Furukawa is Co-Founder of Prehook, a quiz platform for Shopify merchants. He also hosts a podcast covering all facets of ecommerce marketing podcast, Cart Overflow.
Subscribe for Updates
Get our best content on ecommerce marketing in your inbox 2 times a week.