3 Recipes For Growing Your Business With Text Messages
Published on May 19, 2020
Written by Daniel J. Murphy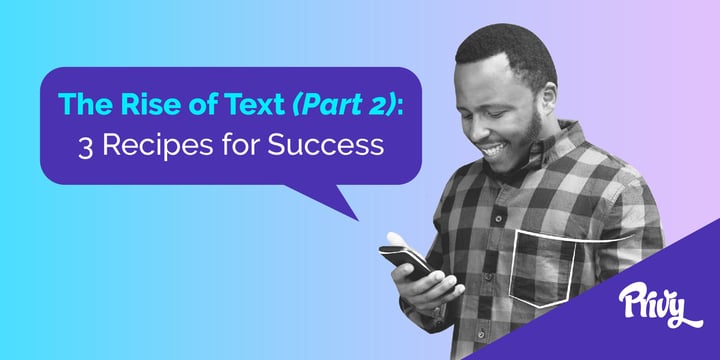 So, you've decided to give this whole text message marketing thing a shot. The next step is to dig into your CRM or list of contacts and start searching for phone numbers, right?
After all, you've probably already collected the phone numbers of hundreds or maybe even thousands of customers. Sooo you can start texting them all right away, right?
Not so fast.
Before you text any of your contacts, you need to get them to opt in. Even if they've already gone through your checkout process, or signed up for a newsletter, or opted in for email updates, until you have their express permission to send them text messages, your hands are tied. (Note: for a deeper dive into the specific laws and regulations that govern texting, check out this post.)
Fortunately, getting folks to opt in to receive your texts isn't as hard as you might think.
Get our best content on ecommerce marketing in your inbox 2 times a week
Recipe #1: Build your text subscriber list instantly using tactics you already know.
Ingredients:
Dedicated landing page offering a discount in exchange for SMS sign up
Website popups, bars, and banners that link to landing page
Email that links to landing page
Step 1: Set up a dedicated landing page.
Let's face it: the promise of receiving text messages from a brand in exchange for entering your phone number isn't all that enticing of an offer. Most people are protective of their phone numbers, even more so than with their email addresses. That's why as an ecommerce business, it's crucial that you offer something of value – like a store discount – in exchange for that initial opt-in.
This is a tactic you might already be using to drive email signups. But because people are usually more reluctant to share their phone numbers, you need to sweeten the deal a little. For example, if your typical email sign up discount is 10%, The Unofficial Shopify Podcast recommends bumping that discount up to 12% (or higher) for a text sign up. To inject a sense of urgency into the sign up process, you can also make the discount available for a limited time only.
Now, when a person comes to your landing page to claim that discount, make sure that you are very explicit with your language in regards to what they're signing up for. At Privy, for example, we often use the phrase, "Join our text subscriber list to get your limited time offer." Or, to quote The Unofficial Shopify Podcast, you could write something like, "Sign up for our best deals and discounts through SMS." Whatever language you use on your landing page, just make sure it's abundantly clear to people that they know what they're signing up for.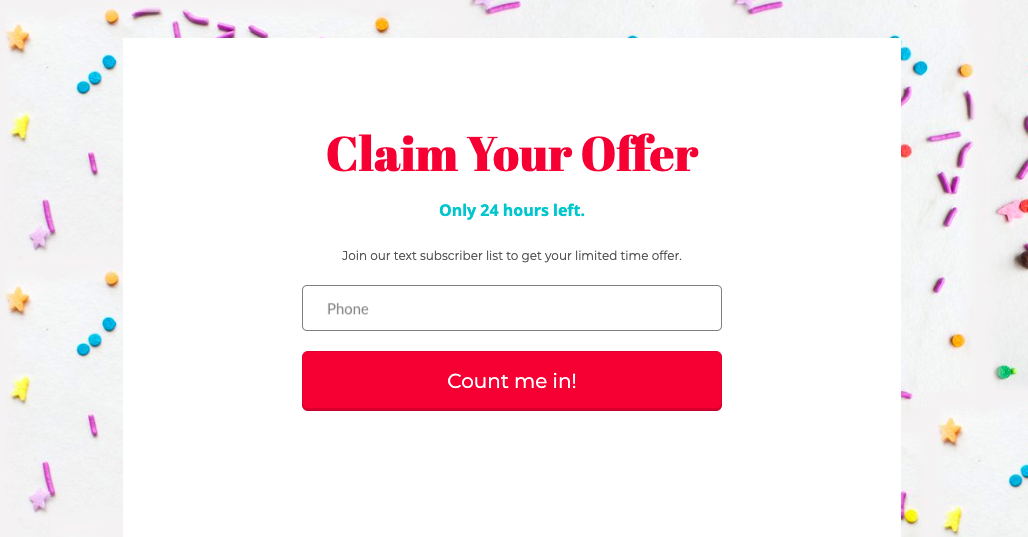 Pssst. One last thing before we move on to Step 2: If you need help getting a landing page set up – especially one that fits snugly into a multi-channel marketing strategy – Privy's got you covered. Our free landing pages (available at Privy.com/landingpages) are mobile-friendly, simple to build, and you can easily track how well they perform across different social networks and ad platforms.
Step 2: Send people to your landing page!
Once you have your landing page set up and your discount in place, the natural next step is to tell people about that discount and to send people to your landing page. This is a play you've likely run dozens if not hundreds (or thousands) of times already.
To entice people who are already visiting your website, promote the text sign up discount using targeted popups, bars, and/or banners. Here's a quick breakdown of the different display types you can use...
Popup = a window that literally "pops up" on top of your website. You can configure popups to appear when people show exit intent, i.e. they're about to navigate away from your website. It's a great way to actively capture a person's attention.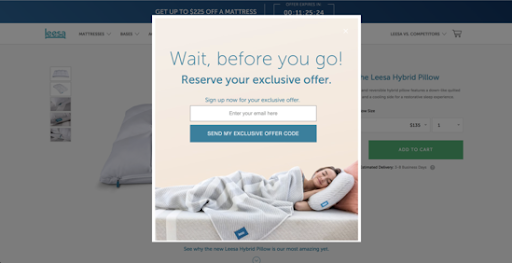 Bar = a band of text that sits at the top or bottom of your website. It's a subtler, more passive approach to letting people know about your sign up discount.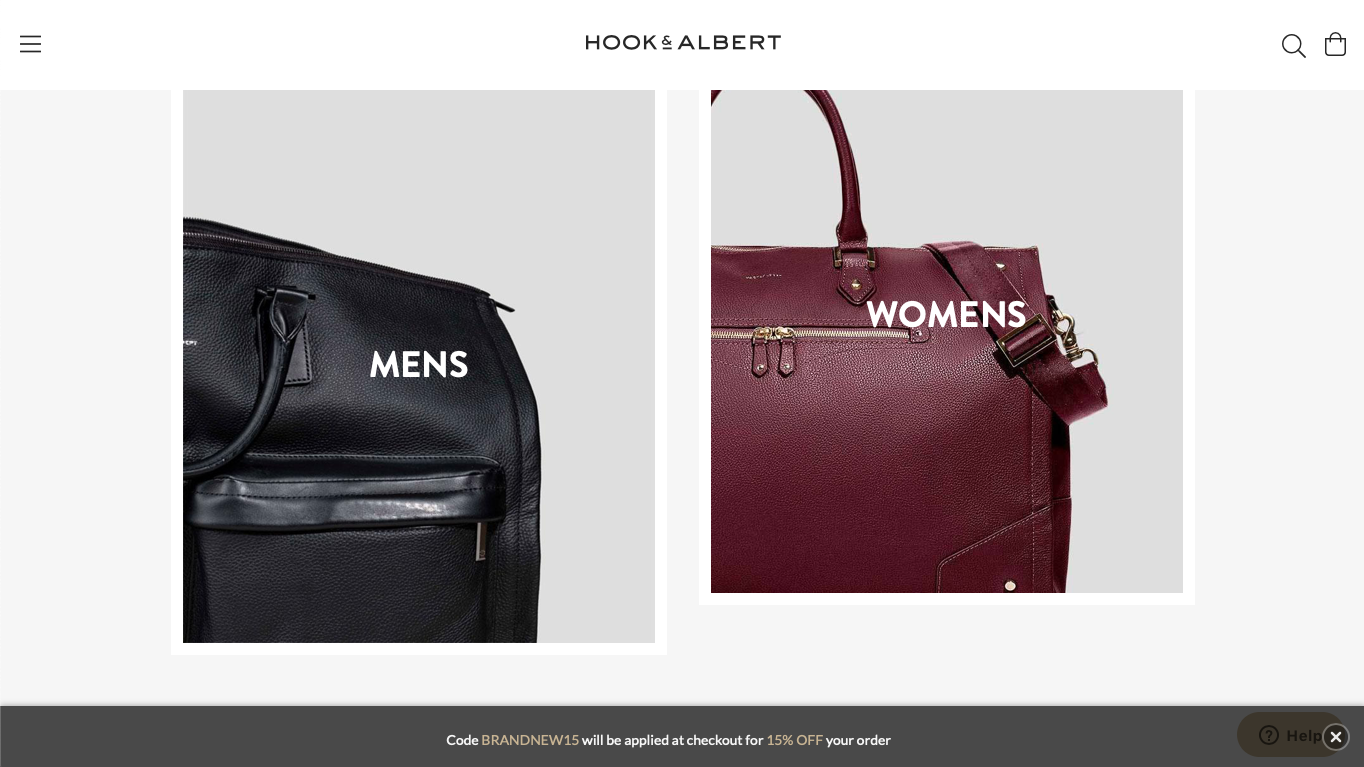 Banner = the middle-ground between a popup and a bar. It's less "in your face" than a popup but larger and flashier than a bar.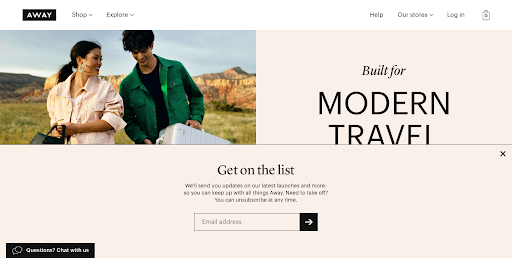 Of course, while popups, bars, and banners are great for encouraging people who are already on your website to opt in to receive your text messages, what about folks who aren't on your website? That's where "old faithful" – email – comes into play.
While not everyone on your email list will be interested in receiving texts, it can't hurt to send off an email letting everyone know about the opportunity. In addition to telling people about the initial sign up discount, you can use this email to share how you plan to use texts if they do sign up (e.g. for sharing exclusive offers, for following up after people take specific actions on your website, etc.). By being upfront and honest about why you're asking folks to opt in, you can – at best – win some of those people over, and – at worst – avoid coming off as spammy.
Email vs. SMS
"But wait… if you use email and SMS simultaneously, won't the two channels cannibalize each other?" In a word, no.
Far from cannibalizing each other, email and SMS complement each other. That's because whenever you can drive more engagement, your likelihood of making a sale goes up. As ecommerce consultant Kurt Elster explains, "It's funny that small businesses have this idea that, 'Oh, these channels will cannibalize each other,' when you would think most merchants would realize from experience, 'Hey, when I increase the total number of touch points across channels, or within a channel, I'm more successful.' And could you imagine Proctor & Gamble being like, 'Well, we can't use billboards, that's gonna cannibalize our TV commercials!' No one would ever say that." (source: The Unofficial Shopify Podcast).
Recipe #2: Turn new subscribers into customers with your after sign up text.
Ingredients:
Automated text triggered by sign up
Unique discount code
Link to store
Alright, let's assume you've completed Recipe #1. So you've got a dedicated landing page for text sign ups, you've come up with an enticing discount, and you've just sent out a bunch of emails and added popups, bars, and banners to your website promoting said discount…
Where does the experience go next?
That's what Recipe #2 is all about: Once someone opts in to receive your brand's text messages, how do you start? What's the first text message you send? This is the icebreaker, that nerving-racking first impression that you don't want to mess up. (And, anecdotally, for many ecommerce marketers, this first text or "welcome" text ends up being one the highest-performing texts they send. Sooo yeah, no pressure.)
The good news: We have a tried and true process for creating an after sign up text that will keep your subscribers coming back to your store.
Step 1: Automate it.
Time is of the essence when sending follow-up messages. And while that might be true for every marketing channel, it's especially relevant with text messaging given that real-time responses are the norm. Ideally, you want to be reaching out to people when they're most interested, i.e. when they're already engaging and have your brand top of mind. That's why it's key that you have your first text message arrive on people's phones automatically, immediately after they opt in. (And FYI: For that, you'll need to use a text marketing tool.)
Pictured above: setting up a text message using Privy Text.
If you've ever set up an automated email before, you already know how this works: when someone new subscribes to your list, you have that event trigger an automated follow-up (a.k.a. welcome email) that goes out right away. It's the same basic principle when setting up text message follow-ups. From a technical perspective, there's really no learning curve to get started. What most beginners struggle with isn't figuring out how to send text messages, but knowing what to say.
Step 2: Welcome subscribers & remind them why they signed up.
Texting is short-form content at its finest. Ultimately, you want to add as much value as possible into as few characters as possible. So when crafting text messages, you need to make every word count.
For your very first text, we recommend you start by thanking people for signing up and/or welcoming them to the channel. At Privy, our default opener is, "Thanks for signing up to receive our text messages!" It's clear, concise, and it reminds people up-front that, yes, they opted in to receive these messages.
After your opener, take the opportunity to reinforce the value of being a text subscriber. While some people who sign up to receive your texts might only be in it for the discount and will consider unsubscribing immediately after they redeem that discount, you still have this one text to win them over. If you can sell them on the fact that they'll keep getting discounts and other benefits if they remain subscribed, you might be able to convert them. At Privy, our go-to line for this is, "You'll be the first to know about special offers and promotions."
Step 3: Share a discount and/or link to your store.
Now it's time to put your money where your mouth is. If you offered a discount, pony up and share the code. And be sure to end your text message with a link to your store. You can also stick the phrase "Shop now:" in front of your link to create a mini call to action (CTA).
However, sharing discounts and store links isn't all that you can do with an after sign up text. For example, you could use it instead to promote a "VIP" customer group: a place where highly engaged (and highly knowledgeable) customers can go to talk about your products. And here's the kicker: it's invite-only. In order for people to join this exclusive conversation, they first need to opt in to receive your texts. Then you can send them an invitation link in the after sign up text with the message: "Here's your invite to our insider FB group."
Reply STOP to Unsubscribe
"Do I have to worry about including an unsubscribe option when writing my texts?" Nope, we got you.
Text marketing tools, like Privy's, typically take care of all the "legalese" for you, so all you have to worry about is your marketing message. Specifically, our text marketing tool automatically adds your business name to the front of every text and adds the language "Reply STOP to Unsubscribe" to the end of every text – both of which are required in order to keep your texts compliant with anti-spam laws."
Recipe #3: Save sales with cart abandonment texts.
Ingredients:
Automated text triggered by inactivity or cart value
Unique discount code
Link to scart
Here are the facts: on average, more than 70% of ecommerce carts are abandoned. For 72% of merchants, recovering these abandoned carts is a top business challenge…and it's easy to see why: as of today, ecommerce businesses with average order values of between $100 and $500 recover just 4% of their abandoned carts, while ecommerce businesses with average order values of below $50 recover a measly 3%.
Obviously, there's room for improvement. And at Privy, we've pinpointed a fundamental flaw in the way ecommerce marketers approach cart abandonment. It turns out, a lot of us aren't actually sending cart abandonment follow-ups, we're sending checkout abandonment follow-ups. (Our emails, website displays, and text messages don't get triggered until someone has reached the checkout page and has gotten far enough along in the process that they've entered their contact information.)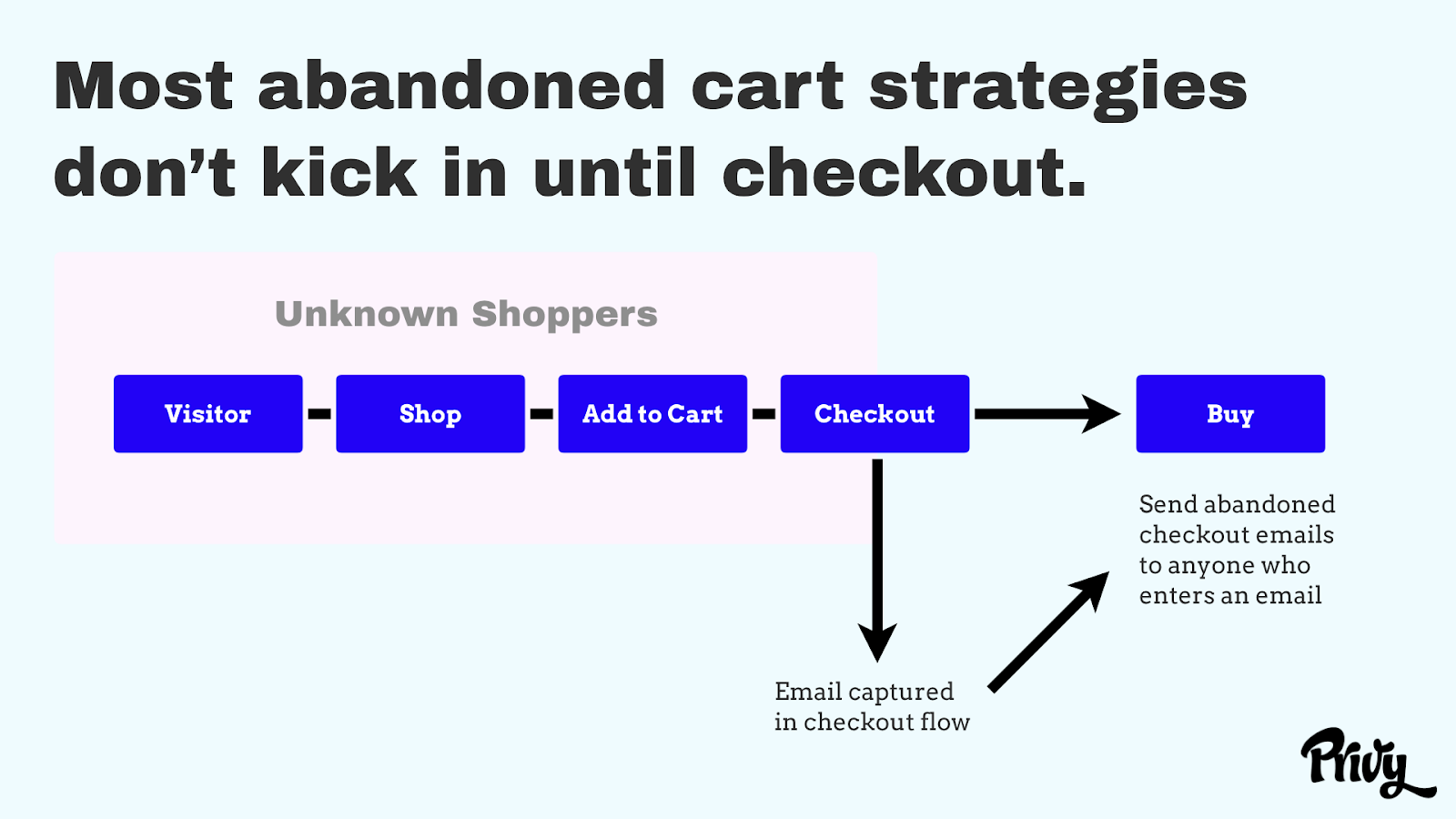 Here's a better approach: target anyone on your list who's added something to their cart, even if they don't get to the checkout page. Here's how you do it...
Step 1: Schedule texts based on cart value / hours since last seen.
Just like with an after sign up text, you can automate your cart abandonment texts using a text marketing tool. Only in this case, instead of a sign up being the trigger event, you'll want your text messages to trigger after A) the value of the item(s) in a person's cart exceeds a certain threshold (e.g. $100), or B) a person adds an item or items to their cart but then goes inactive for a certain amount of time (e.g. an hour) and never completes the checkout process.
With both types of targeting, you don't have to limit yourself to a single text. You can set up a sequence of texts that continues until someone takes an action. For example, your first text could be the one that goes out immediately after a cart is inactive for an hour or after someone's cart value reaches the threshold you've set ahead of time. This is that first nudge. "Hey, come back! You left something in your cart…" Your next reminder text could come two days later, and your third text could come five days after that. But these are just rough guidelines – a jumping-off point. Ultimately, you'll want to experiment with and fine-tune your text sequences to figure out the timing that works best for your specific subscribers.
Step 2: Give people a reason to go back to their carts.
The goal of sending cart abandonment texts is not only to remind people that they've left items in their carts, but also to convince them that it's in their best interest to go back and make a purchase. In most cases, you're not going to be able to make a convincing argument using words alone. That's why we recommend offering a discount or some other perk, like free shipping.
If you send a sequence of cart abandonment texts, you could even ramp up the value of what you're offering as your sequence progresses. For example, in your first text, maybe you remind people about their abandoned items and – based on what's in their carts – give an inventory update to create a sense of urgency.
Example: "Pssst. We noticed that you had X in your cart and just wanted to let you know that there are only 10 left in stock. Grab yours now before it's too late!"
With your next text, which you can schedule to send a few days after the first, you can start being more direct with your language and offer a small perk to sweeten the deal. To increase urgency, consider adding a time constraint to your offer (e.g. have it expire within an hour).
Example: "Hey! Still thinking about X? If you complete your purchase within the next hour, shipping's on us!!"
Of course, you should save your most enticing offer for the final text in your sequence, which can go out a few days after the second text. Typically, this offer is a discount on the item(s) in the cart and comes with a time constraint.
Example: "Hi! Complete your purchase of X and receive 10% off your order. Offer ends today at 10pm."
Step 3: Share a cart link.
The final, but arguably most crucial step when setting up your cart abandonment texts: at the end of every text, include a dynamic link that takes subscribers directly to their carts.
Remember, speed is what sets texting apart from email and other marketing channels. By including a cart link in your texts, you're making the buying process as quick and as easy as possible for your subscribers. It's a better experience for them and leads to more sales for you.
Subscribe for Updates
Get our best content on ecommerce marketing in your inbox 2 times a week.
Written by Daniel J. Murphy
Dan is a B2B marketing leader with over 7 years of experience helping SaaS startups grow. Before joining Privy, Dan was the Director of Product Marketing at Drift. He's also worked in demand generation, brand marketing and marketing ops. Dan loves to geek out over marketing strategies and technology. He co-authored "This Won't Scale" with Privy's CMO, Dave Gerhardt at their previous company.
Subscribe for Updates
Get our best content on ecommerce marketing in your inbox 2 times a week.