On January 10, 2017, Google rolled out changes to its algorithm that penalizes "intrusive interstitials."
But wait! Don't panic.
All this really means is that if you're using certain kinds of mobile pop ups, you won't rank as highly in Google as you would if you didn't use a mobile pop up. Exit intent on mobile is still 100% suggested when done properly. But here's a good quote to sum up this Google update:
You can read Google's full announcement here for the details on the roll out. We're summarizing the key changes and what you can do below.
Get our best content on ecommerce marketing in your inbox 2 times a week
Why did Google do this?
As more and more people experience the Internet through a mobile device, Google prioritizes mobile-friendly websites by giving them a rankings boost. This means mobile search results favor sites with responsive, clean designs, easy user experience for navigation, and that make content easy to read for any searcher on a mobile device.
Ultimately, Google is looking to make it easier for a person searching with Google to find the answers they're looking for. Here's their stance:
What is considered an intrusive mobile pop up?
As we mentioned above, Google's always looking to provide the best user experience. So if you're using a pop up that's causing lots of users to hit the "Back" button immediately or otherwise bounce, that's a note to Google (and other search engines) that they've served the wrong result for that ranking.
So it makes sense that these kinds of pop ups would be flagged for mobile, since they can cause frustrating user experiences:
A mobile pop up that covers the main content, either immediately or after a period of viewing the page

Displaying a standalone mobile pop up that the user has to dismiss before accessing the page

A welcome mat mobile pop up where the above the fold portion of the page pushes the original content underneath the fold.
What Google Considers Intrusive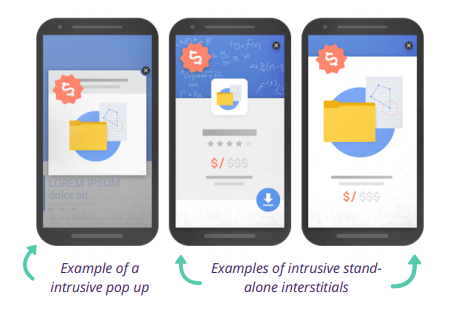 What happens if I don't change my mobile pop ups?
As with any Google update, the impact can vary on your site. The worst thing that can happen is a drop in your rankings. If you're already following other SEO best practices, like producing great content, optimizing your language for your keywords, and making sure your website is fast and easy to use, then this change probably won't be catastrophic for you.
If you do continue to use mobile pop ups like the one above, proceed with caution. Make sure you're tracking your rankings, and if you're not ranking where you'd like to be, then it's probably a good idea to re-evaluate your approach.
Second, make sure you're tracking metrics like bounce rate from mobile users and time on site once an element appears. The better pop up experience you provide, the less likely you'll be penalized.
What mobile pop ups are still considered acceptable by Google?
The good news? There are still a few types of mobile pop ups that Google's given the green light to. According to Google's official announcement, the following are examples of acceptable mobile interstitials:
Banners that only use a reasonable amount of screen space and are easily dismissible. For example, app install banners provided by Safari and Chrome are examples of banners that use a reasonable amount of screen space.

Interstitials that appear to be in response to a legal obligation, such as for cookie usage or age verification.

Login dialogs where content is not publicly indexable. For example, publisher content that is behind a paywall.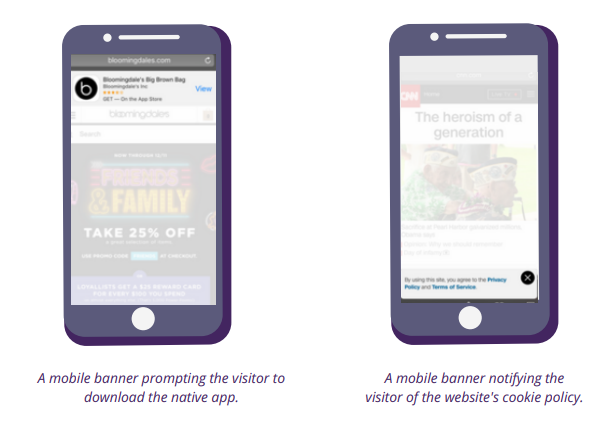 In the above examples, note how the interstitial displays take up less than 30% of the phone screen, and can easily be closed, both of which make it easier for mobile users.
Pop Up Alternatives: What You Need to Know When Using Privy
The best way to combat these changes is to run separate campaigns for your mobile visitors. You can accomplish this easily using the device targeting for your pop ups. This way, you can leave your desktop campaign in its current format and create a separate campaign that is truly optimized for mobile.
If you're targeting for mobile, you have a few options on display type that isn't a pop up. Use the bar display type at either the top or the bottom of the page or a flyout display type, keeping the height of the flyout to a minimum.
Instead of a timer or scroll trigger, set a floating or full width tab. In line with Google's announcement, you'll want to be sure that if a visitor lands on your site on a mobile device, they are actively clicking the tab to open the form.
A third way you can be compliant is to use audience targeting to only show mobile pop ups to visitors who are engaged and exploring your site. You can do this by setting the targeting for pageviews this session to be more than 1. That way, you're not touching the search-and-find experience of first landing on your mobile site.
Examples of the Privy mobile flyouts: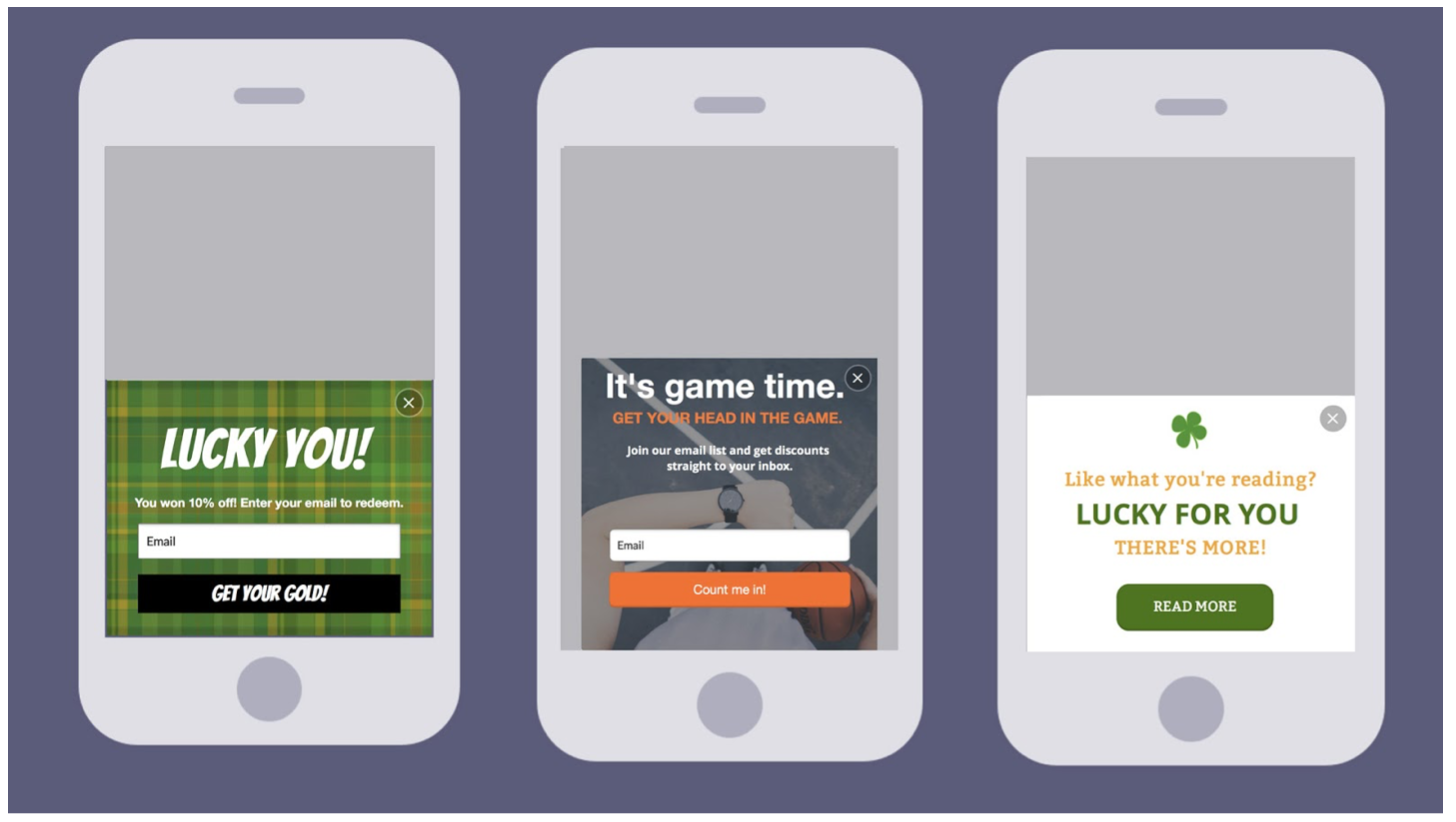 Examples of the Privy mobile bar:
One other option for Privy users is to keep the pop up format, but remove all automatic triggers, and only use the tab as the prompt for the mobile visitor to open the pop up.
What The Google Update Reminds Us
Most importantly, remember that list growth isn't just about slapping a generic pop up on your website. It's about crafting relevant, personal opt-in opportunities that enhance your customers' journey.
As you rethink your approach to mobile opt-ins, keep your customers user experience as unintrusive and as relevant as possible. If you're successful achieving that, you won't have to worry about Google penalizing your ranking based on annoying mobile popups.
Now is a great time to experiment with device targeting. If you're not already on our Plus plan or above, upgrade today to see what you can do—and how device targeting can easily solve any headaches Google might throw at you. Want more SEO? Read our 11 ecommerce SEO tips for more steps to help you rank.