Introducing Ecommerce Marketing Recipes: 33 Expert-Crafted Recipes To Grow Your Shopify Store
Published on Oct 26, 2021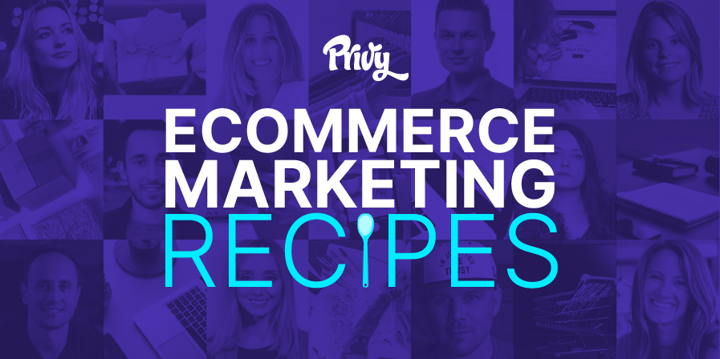 Months in the making, our brand new e-book, Ecommerce Marketing Recipes, is here.
100+ pages jam-packed with tips for growing your Shopify store.
Want to double down on growing your email list leading up to the holiday season?
Or see the exact email that drove $4,600 in sales for one brand?
Maybe you're thinking about getting started with SMS...
I guarantee you're going to learn at least one thing that's going to drive sales for your store this Black Friday Cyber Monday and beyond.
The best part? You can get your copy for FREE.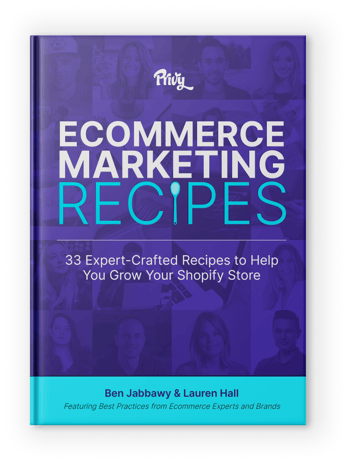 Boost conversion for your store
Whether you want to turn visitors into subscribers, convert more abandoned carts into sales, or just plain drive more sales for your store, there is SO much you can be doing.
In this section, copywriting expert, Kaleigh Moore, covers her 4 secrets for writing copy that gets results (AKA sales).
Junip breaks down their 4-step playbook for generating reviews automatically.
And of course, we cover:
And way more.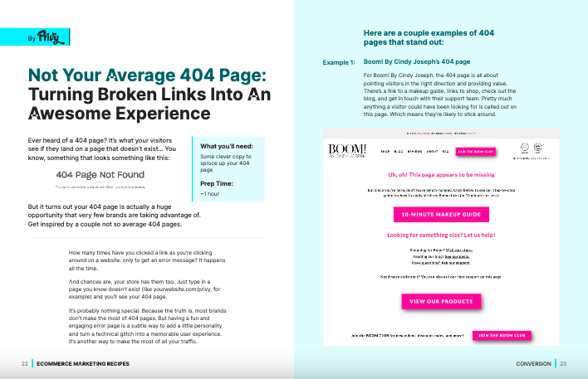 Email marketing secrets to steal
Email marketing is critical for growing your Shopify store. So of course there's an entire section of the book that's dedicated to helping you find success.
Kōv's Chelsea Branch shared the exact email that drove $4,600 in sales.
Adam Kitchen broke down how he minimizes unsubscribes.
Chase Dimond shared email examples that have performed incredibly well for the brands he works with.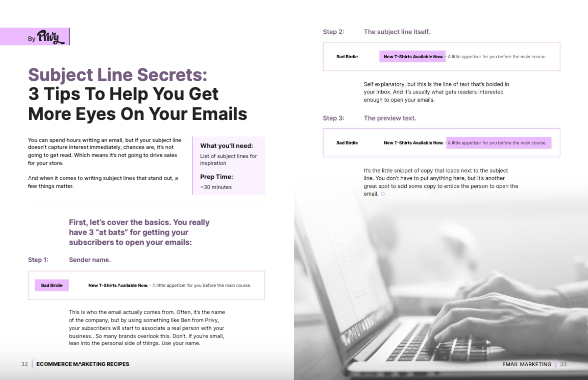 Getting started with SMS
Like email, text is a powerful platform because almost everyone uses it. 99% of mobile phone users text regularly, and 98% of them prefer texting over email (Source).
So we asked for expert tips from the Attentive team and of course, included a few of our own to help you get started with text marketing for your store.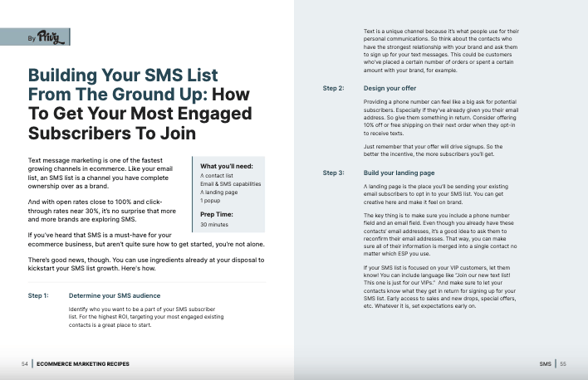 Get our best content on ecommerce marketing in your inbox 2 times a week
Drive repeat purchases and improve your AOV
It's one thing to turn visitors into first-time buyers. But if you're not able to convert those first-time buyers into repeat customers, sustainable growth will be a serious challenge for you.
Purchase follow-ups are the perfect place to start. In fact, Monica Grohne shares the exact playbook she uses at Marea to get a 50% response rate with a personalized purchase follow-up email.
But you can also use Printful's print on demand products to create a personalized experience for your customers.
Or create an unboxing experience that's so good your customers keep coming back for more.
Amazing customer service/support is also a huge factor. Just ask Gorgias.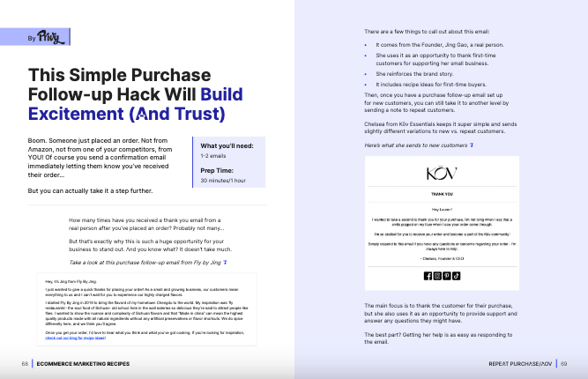 Get more traffic with these 5 tips
It's simple. More traffic to your store = more sales.
But how can you actually get more visitors to your store?
Chelsea Branch uses Pinterest as one channel. And guess what. It drives an additional $600 in sales every single week.
But TikTok can also be a huge traffic driver. Just ask Savannah Sanchez. She's got you covered with foolproof ways to get started and find success.
And we definitely can't forget Instagram...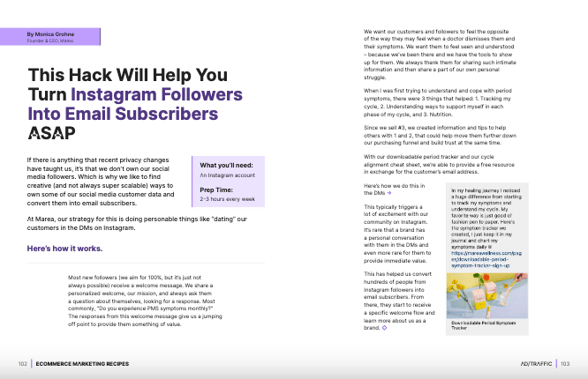 Have your best Black Friday ever
Of course Ecommerce Marketing Recipes wouldn't be complete without tips for helping you crush this holiday season.
Soona's Liz Gorgi shared how you can replicate in-person shopping experience on your site during the holidays.
Jeremy Roberts from Tradlands explains how you can run a successful pre-Black Friday sale event.
Gatsby included micro-influencer campaign ideas to run during BFCM and beyond.
noissue has ideas about how you can decrease packaging waste and be more eco-friendly.
And much, much more.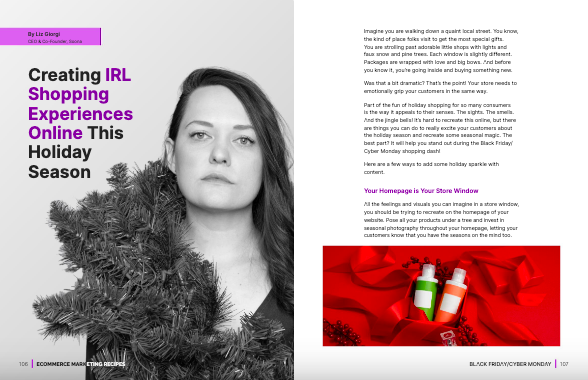 So go get your copy for FREE now.
The fact that you're reading this means you're committed to growing your business today.
So I want to let you in on a little secret...
Privy can help you:
Turn your traffic into subscribers
Send $$-generating emails and texts
Improve your conversion rate with a free shipping bar
Save abandoned carts while you sleep
And so much more. All with one easy-to-use platform. So you can have your biggest holiday season ever. Even better? you can get started for free.👇
And don't just take it from me...

Subscribe for Updates
Get our best content on ecommerce marketing in your inbox 2 times a week.
Written by Lauren Hall
Lauren is a Brand Marketing Associate at Privy. She's the brains behind all things content. When she's offline, she's obsessing over her Bernedoodle pup, Monster, and plotting ways to being a full-time Vermonter ASAP.
Subscribe for Updates
Get our best content on ecommerce marketing in your inbox 2 times a week.