Privy Customer Reviews
See Why

Fast-Growing Online Brands Prefer Privy
Expert support & coaching no matter where you start. User-friendly tools that make you feel like a pro. No email send limits or hidden fees. It's easy to see why ecommerce brands choose Privy.
Shopify stores ❤️ Privy
Privy is the #1-reviewed sales app in the Shopify App Store today.
"Privy is amazing! We've been using it for about a year and are really happy with the sign ups, email functionality, and marketing tools. It has more than paid for itself with sales and new conversions. The support is terrific. Highly recommend!"
"I started using Privy on 10/21 and have already gotten over 100 new email signups. I wish I had found this app a long time ago."
"Well worth the money! We use Privy on our store for email marketing, abandoned cart recovery and the popup feature. We have seen a major conversion in customers since adding Privy. Well worth the cost."
"I cannot say enough great things about Privy associate, Jessica L. She went Above and beyond to walk me through the steps of setting up the pop up, making sure the discount codes were synced with Privy, and even assisting with migrating my contacts from MailChimp to Privy. She is awesome! Privy is my favorite app!"
"I use this app to build my contact list, plus generate sales by focusing on individual products. I can see from the first day this app is a must have for shopify stores. My list and sales are coming in after first day! Could not be happier and the ability to customize offers and targets is fantastic."
Responsive support

whenever you need it
★★★★★ - "Privy is really simple and easy to use! It takes no time at all to integrate and walks you through how to create different types of email marketing campaigns. Privy's support is also second to none - one of their team gets back to you promptly and won't stop communicating with you until the issue is solved! I would highly recommend to anyone running an e-commerce store."

– William J., SMB Founder. October 2021, G2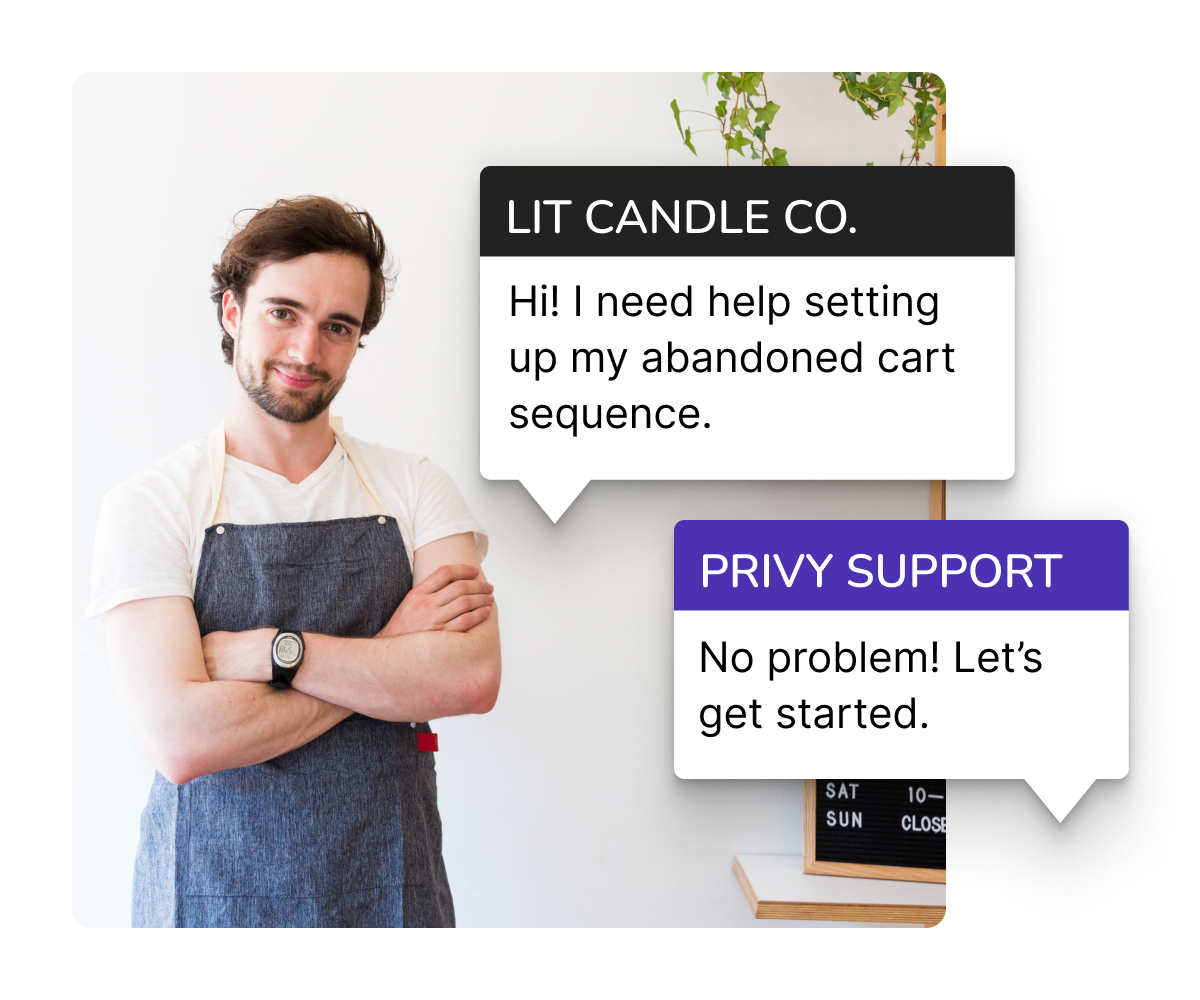 Better business value that

saves you money
★★★★★ - "We have loved our transition to Privy - it has replaced two other softwares we used to use for marketing - saving us hundreds of dollars and making us thousands in return, literally. The onboarding makes it easy to understand and use."

– Beccah H., SMB Director. June 2022, G2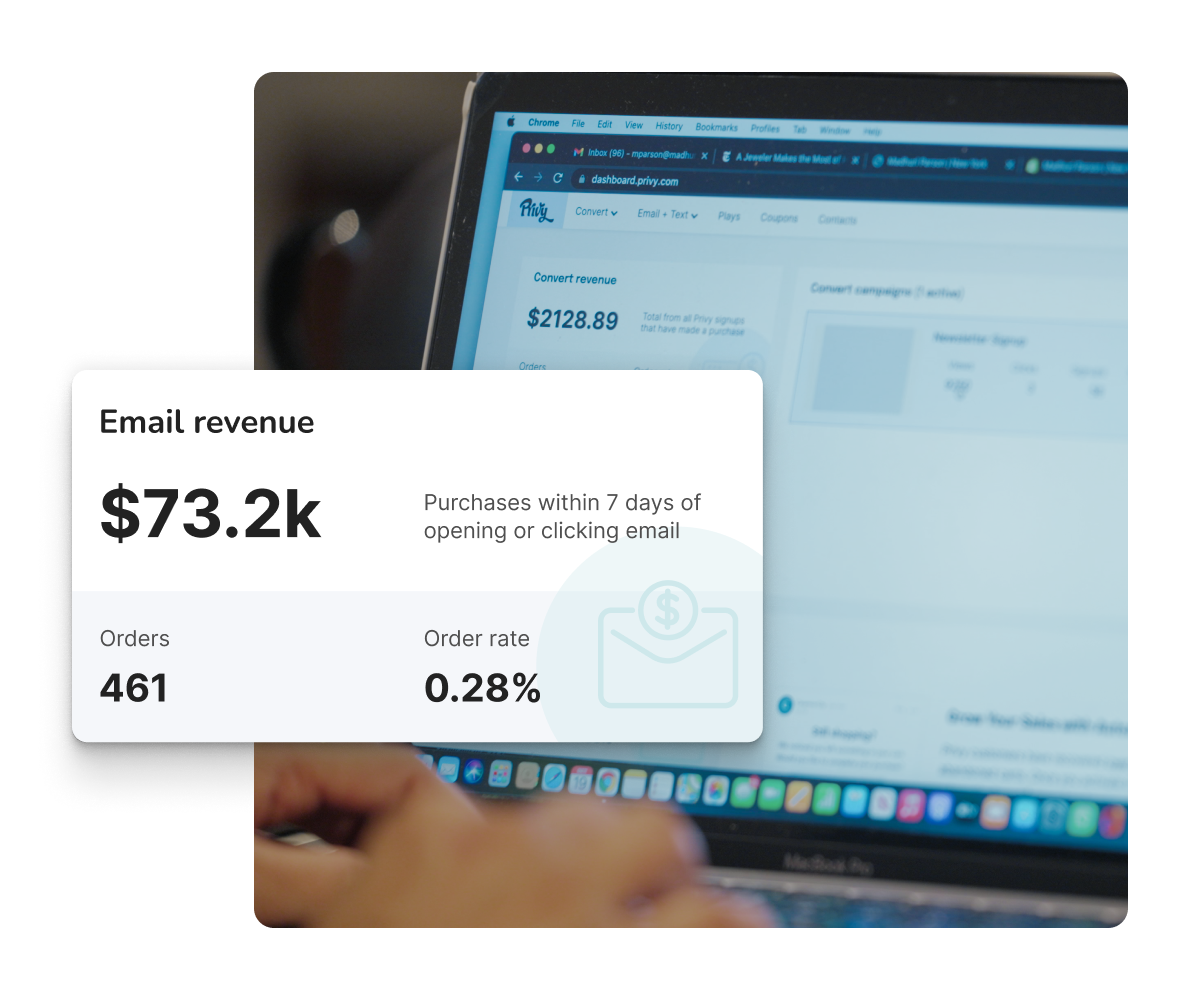 Easy-to-use marketing tools

built for everyone
★★★★★ - "I like how easy it is to use because I am not a genius when it comes to functions and features that are needed to survive and thrive online in 2022 and beyond. Use Privy and their team to help you set everything up - you just can't go wrong."

– Matthew C., SMB Founder. February 2022, G2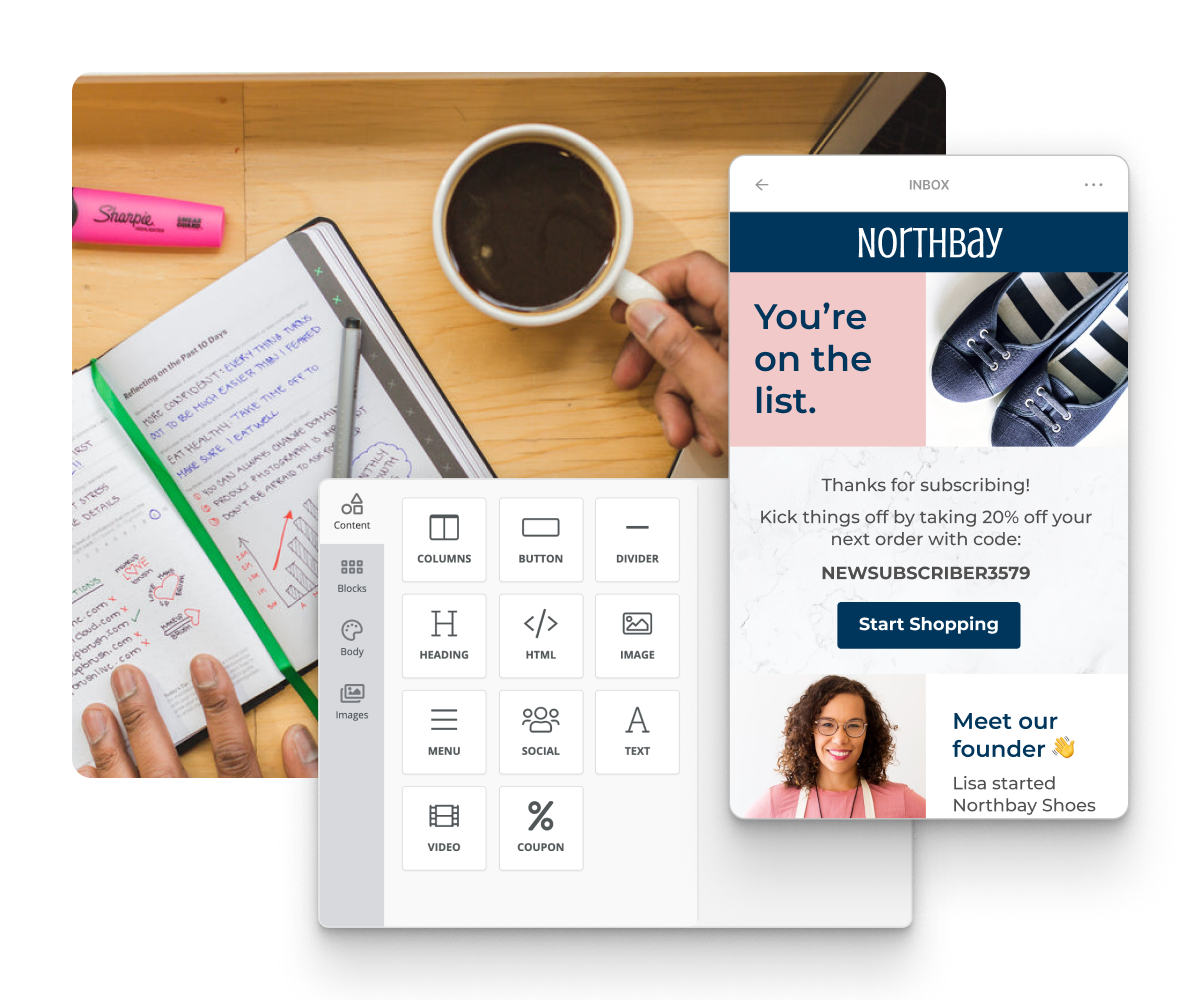 Why YeboBOX moved from Mailchimp to Privy
Seamless integration with Shopify
YeboBOX was able to tag and pull products directly from their Shopify store into Privy emails and newsletters.
Launched email campaigns 2x faster
The ease of use of Privy's drag and drop email editor helped YeboBOX create email campaigns in minutes.
200% email list growth in three months
Doubling the size of their email list with Privy also led to a 300% increase in email sales.
Hear how Privy Onboarding goes above and beyond
Expert 1:1 coaching
"That one-on-one attention that I had not seen with other apps. I have my onboarding team available to answer my questions with resources in a language I understood." – Jacqueline Tupper, Founder of Lord's Shoes & Apparel
Support that saves you time and headaches
"Day-to-day contact with their team has been invaluable because it's a time-saver. I feel like I'm dealing with one of my own team members rather than a vendor." – Phil Hutchens, President of Nurture My Body
Onboarding that's (actually) helpful
"The onboarding program is totally worth it. You didn't need a degree to be able to use it." – Denise Porter, Chief Marketing Strategist at Christopher Anthony's Premium Raw Hair
Privy helps you stay focused on what matters most—driving sales for your store. And we have the receipts to prove it.
24,800+ Shopify Reviews
Privy is the #1 most reviewed platform in the Shopify App Store.
$6+ Billion
That's how much revenue online stores have generated with Privy.
17,000+ Stores
Online businesses in 180+ countries get their marketing done with Privy.
"Privy solved my email list problem that I had with a previous tool. I was using Mailchimp, but wasn't able to customize it as much as I could now with Privy. It's an amazing tool to have."
A-Rush Menez, CEO of Kuyawear
Read Our Reviews
Still have questions?
How much does Privy cost?
Privy has a Free Plan, Starter Plan, and Growth Plan. The cost of each plan depends on your # of mailable and/or textable contacts. You can also just add SMS marketing or list growth separately. To get a more detailed breakdown of what Privy will cost, use our Pricing & Plan Calculator.
How is Privy's customer service & support?
All Privy customers get live chat or email support from a human – 7 days a week with an average wait time of 5 minutes.
Have 250+ email contacts? You'll get a 1:1 coaching session with a Privy expert who will personally help you get up and running.
At Privy, you'll always get support from a real person no matter how many contacts you have. Plus, if you have 10,000+ contacts, you're eligible for ongoing support with a customer success manager.
Does Privy limit the number of emails I can send each month?
If you are on the Starter Plan or the Growth Plan then you won't have a sending limit. Privy email customers can send an unlimited number of emails regardless of how much your plan costs. If you are in a free 15 day trial of Privy, you will have a 100 emails per day sending limit. When you upgrade to a paid plan after your 15 day trial you will not have a sending limit.
Does Privy limit the number of texts I can send per month?
Yes. The number of texts you can send per month is limited to a 6X multiplier of however many textable contacts you have. For example, if you have 500 textable contacts, you'll be able to send up to 3,000 texts per month.
Can I import contacts from other email services to Privy?
Yes. Privy integrates with most other email service providers and allows you to import contacts directly into your Privy account. You can also upload a CSV file of your contacts to Privy.
Can I send text messages to contacts that I collected with something other than Privy?
No. Your textable contacts must provide their phone number to you via a Privy popup or onsite display in order for you to text them with Privy Text.