How Kōv Essentials Grew From 0 to 7 Figures in 1 Year With Privy
Written by Kristina Simonson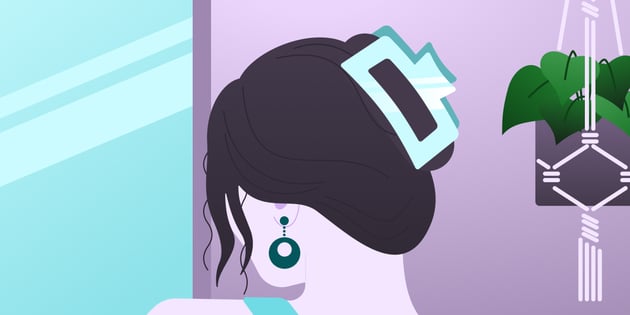 Introducing Kōv Essentials:
After struggling to find fashionable yet functional accessories for her thick and long hair, Chelsea Branch knew that there was a demand in the market for hair essentials that are made for different hair texture, thickness, and length in mind.
That's when she started Kōv Essentials in 2020.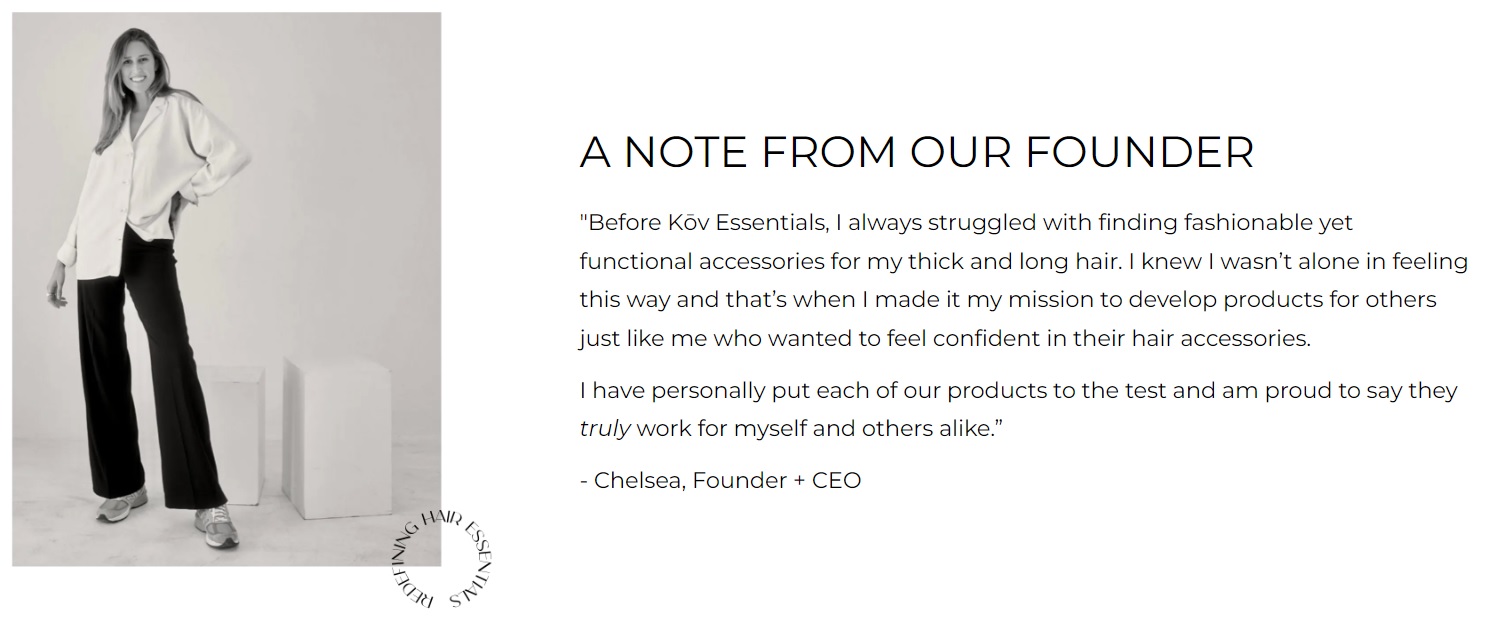 Managing it all (marketing, fulfillment, customer support, you name it…) on her own at the start, Chelsea launched Kōv Essentials into a 7 figure brand in year 1.
And now, Chelsea has grown her team and scaled their revenue with an incredible story and powerful mission.
Today, we're going to break down how Kōv Essentials uses Privy and the marketing strategy that grew their brand from 0 to 7 figures (and beyond).
P.S: I'm wearing a Kōv clip while I write this. 10/10 recommend checking them out 😊
Let's start where it all began….
The viral TikTok that kickstarted growth
Chelsea joined us for an episode of Ecommerce Marketing School to share the story behind Kōv Essentials' launch and their growth in year 1.
She told us it all started with 1 viral video on TikTok: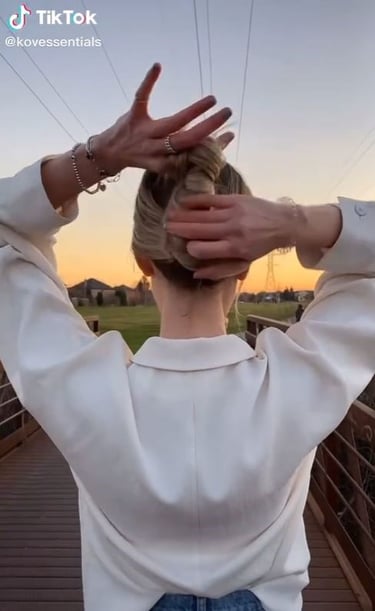 Overnight, this video had captured over 2 million views and had hundreds of comments asking where they could buy a Kōv clip.
But here's the thing…
Chelsea hadn't even launched the store yet.
So, she quickly pivoted and password protected their site—so she had somewhere to capture the demand before they were ready.
This is when Chelsea first recognized the power of email marketing.
Soon after, she headed to the Shopify App Store to download Privy.
Kōv's journey with Privy
After having Privy for a few months, Chelsea set up time to talk with one of our Privy coaches.
That's when she realized that she could do much more than she originally expected with Privy—they covered cross-sell, email automation, cart recovery strategies and more.
Chelsea left that call and quickly took to adopting Privy's email automations.
She said "email automations are my favorite way to drive revenue…I still can't believe that I didn't have to do any work for this revenue, it was just automated."
That's the power of email automations.
Set them up once and they'll drive sales for you 24/7.
To date, Kōv has generated over $143K in sales across their email automations.
So, with email automations driving sales in the background, Chelsea and the team have more time to focus on launching campaigns and experimenting with new tactics.
On average, the team sends 2 email campaigns a week—ranging from product launches, new offers, brand collabs, back in stock alerts and more.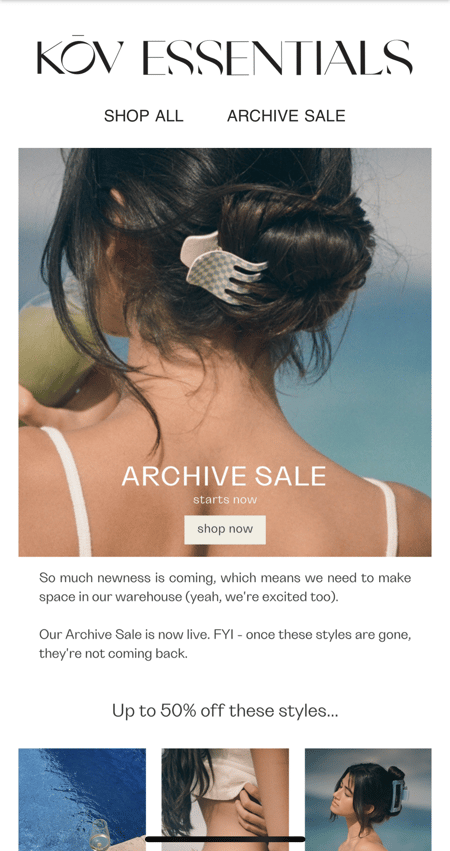 Plus, they lean into holidays as a timely way to engage their subscribers.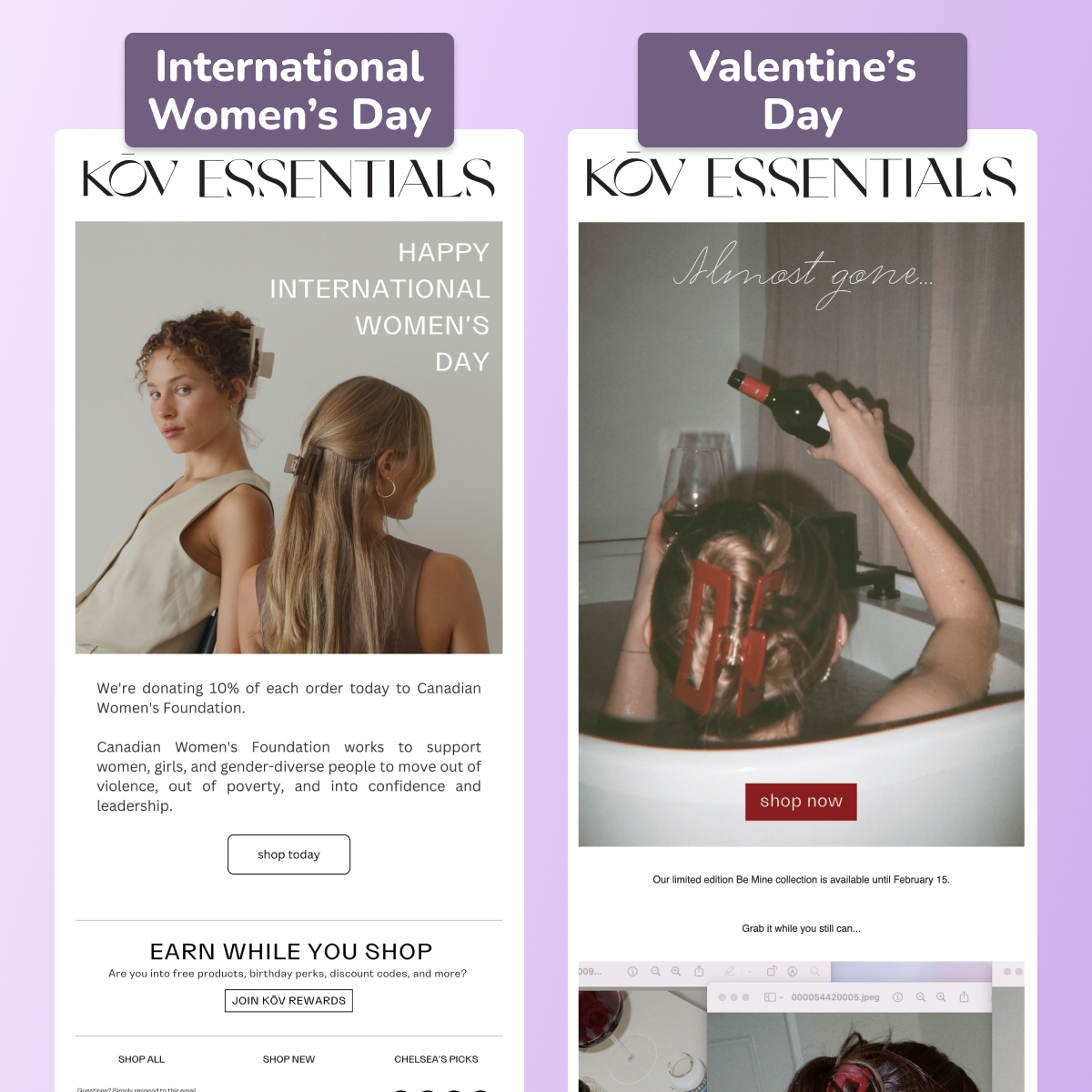 Pssttt…if you want holiday campaign ideas all year long, check out our Ultimate Ecommerce Holiday Calendar (we'll even send you reminders when you sign up).
With automations covered and a consistent schedule of newsletters, the Kōv team prioritizes social media and list growth to acquire new customers.
Chelsea told us they think about social as the avenue to build their community—and email marketing as the channel to convert it.
They leverage Privy popups and landing pages to turn their followers into subscribers.
Like this welcome discount popup: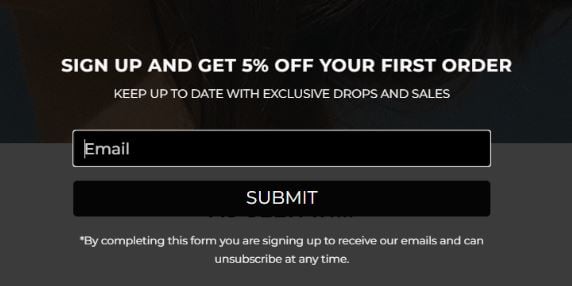 To date, Kōv has captured over $650K+ in attributed sales from Privy displays.
And to complement this growth using email, the team started using Privy Text in 2021.
Kōv follows the VIP SMS strategy to deepen relationships with their top-tier customers.
Like this poll they sent out before Black Friday: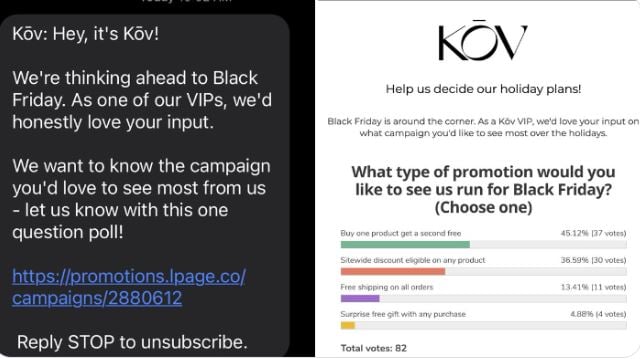 This was a really authentic way to make their subscribers feel special and get them excited about what was coming.
So, from list growth to email and SMS marketing, Chelsea and her team use Privy as their all-in-one marketing platform: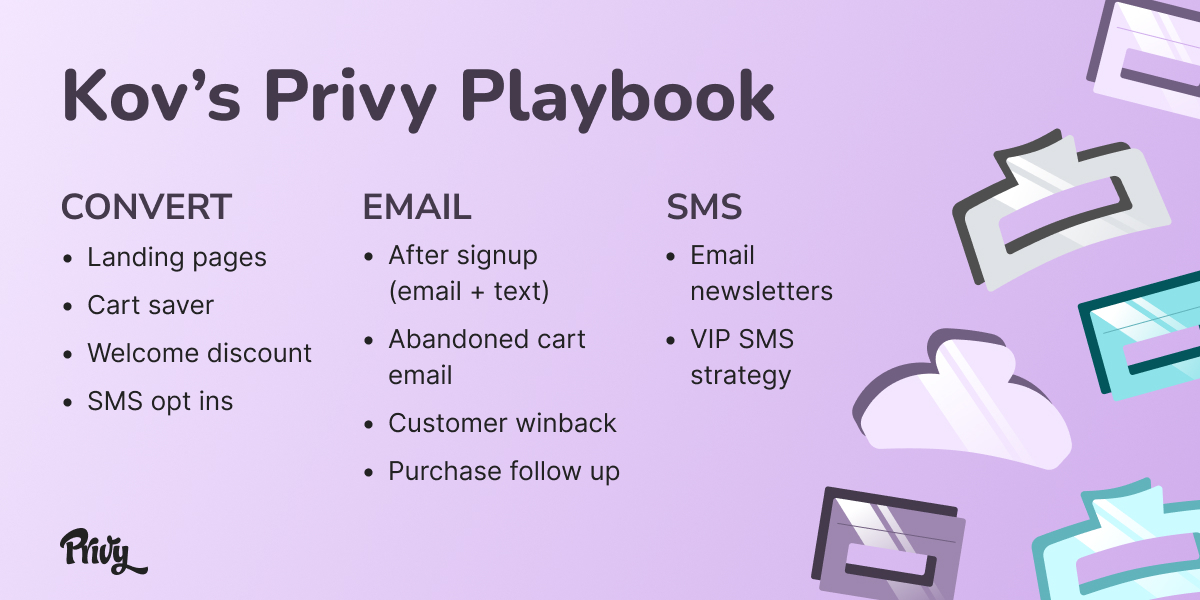 Get our best content on ecommerce marketing in your inbox 2 times a week
How storytelling and community building sets Kōv Essentials apart
Chelsea established herself as the face of the Kōv Essentials brand online.
She quickly built a loyal community that was invested in her journey building Kōv.
And as the brand (and community) scaled, this story has always been the foundation.
Whether you're exploring their website, following along on social or engaging with their messages, you're always reminded about why Kōv exists—and the mission and values they're committed to.
Plus, the team does an amazing job sharing behind the scenes content and adding personal touches that make their community feel a part of what they're building.
Like this purchase follow up email coming directly from Chelsea: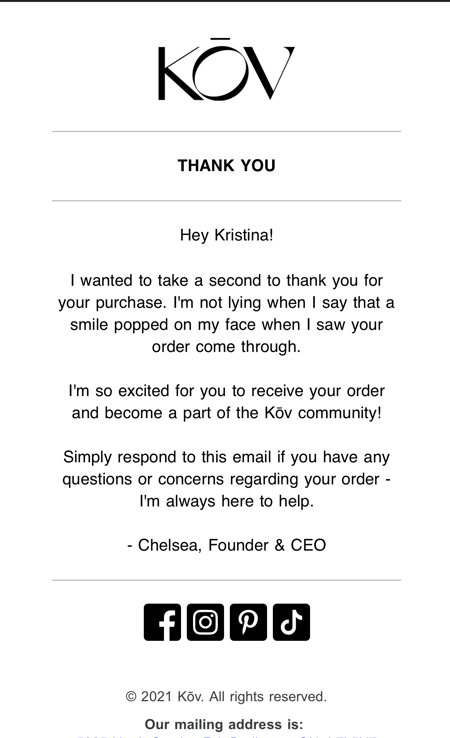 Simple touches like this go a long way when it comes to building loyalty with subscribers.
The top 2 reasons why Chelsea recommends Privy
#1: Ease of use
When looking back at why she chose Privy, Chelsea told us "how easy it is to send a newsletter."

She went on to say, "as a business owner I am always busy and my time is limited. With Privy, I can build an email campaign in less than 5 minutes."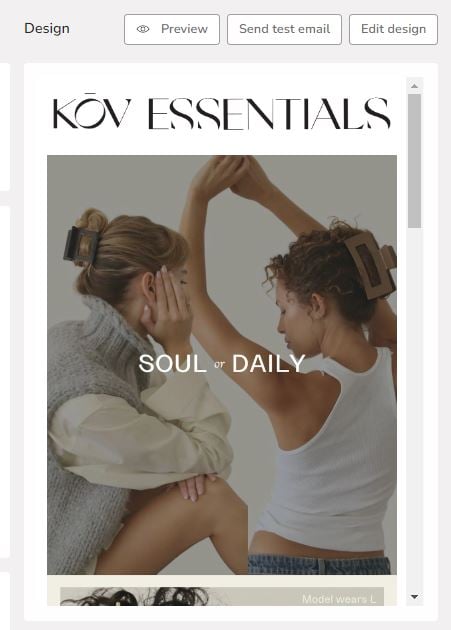 #2: Privy drives real results for their business
Using Privy for 2+ years, Chelsea knows they can rely on Privy to drive results for their business. And the results speak for themselves:

Summary
As a small business, Chelsea and her team wear a lot of hats. They use Privy as their all-in-one email & SMS marketing platform that allows them to move fast. So they can deepen relationships with their community, accelerate sales and get back to everything else they need to do.
If you want to see how you can use Privy like Chelsea, you can sign up for a free trial or book a call with one of our coaches today.
Subscribe for Updates
Get our best content on ecommerce marketing in your inbox 2 times a week.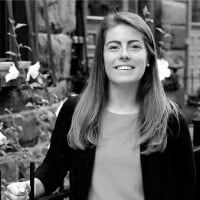 Written by Kristina Simonson
Kristina leads the marketing team here at Privy. She enjoys diving into the latest trends in ecommerce (and writing about them here) and is passionate about supporting independent Shopify brands. Outside of work, you can find Kristina either hanging out with her nieces or training for her next marathon.
Subscribe for Updates
Get our best content on ecommerce marketing in your inbox 2 times a week.