12 Of Our Customers' Best Campaigns Ever (And Tips to Steal For Your Best BFCM Yet)
Published on Sep 29, 2020
Written by Rachel Waldmann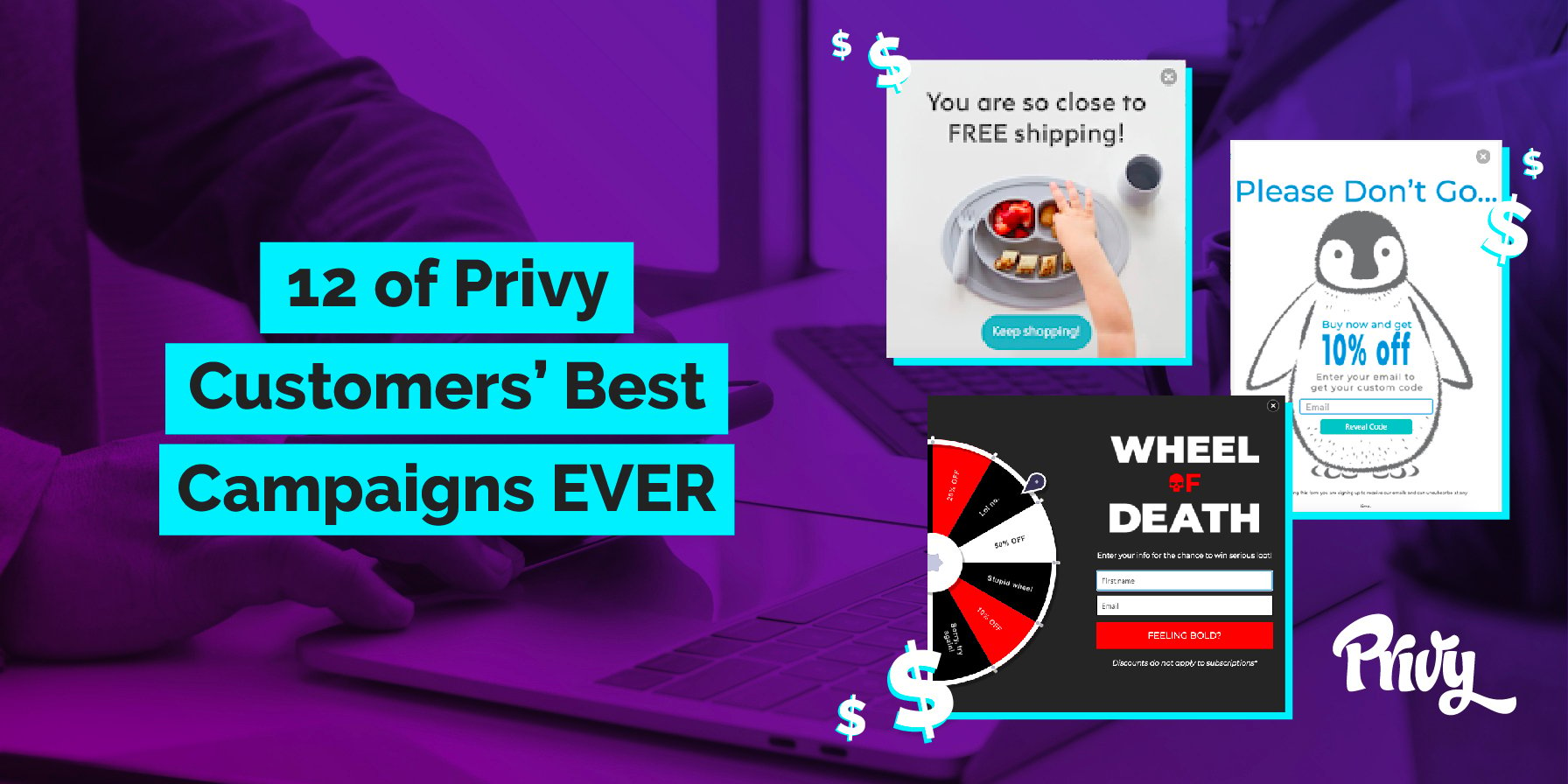 I've heard the phrase "unprecedented times" thrown around a lot lately. Here's something truly unprecedented: Black Friday shopping during a global freakin' pandemic. Even the most devoted BFCM enthusiasts will likely want nothing to do with stepping inside a physical store this year.
What do we ecommerce warriors say to that? Bring. it. on.
Last year on Black Friday and Cyber Monday, Shopify merchants sold $2.9+ billion. And this year, we're going to top it.
Get our best content on ecommerce marketing in your inbox 2 times a week
Inspired by our podcast guests' epic tales of their best ecommerce marketing campaigns ever, we assembled some of our Customer Success team's best campaigns yet — complete with tips to inspire your BFCM marketing efforts to give you record-shattering sales.
Tip #1: Sometimes, simpler is better.
Peejamas secured its place as a Privy success story after generating $100,000 in 7 months, using just three simple campaigns. One of those campaigns is the adorable baby penguin cart saver you see here:
Seems pretty simple, right? That's on purpose. Peejamas Founder, Craig, deliberately creates uncomplicated, yet targeted campaigns based on critical information they have about their business and customers.
This wee penguin has saved more than 2,000 shopping carts since the campaign started in April 2019. What's even more impressive? An astounding 47% of visitors who signed up have gone on to make a purchase.
Similarly, Poo-Pourri has taken a simple welcome campaign and made it their own for their homepage:
Our Founder & CEO, Ben Jabbawy, has seen thousands of bar campaigns in his day. He called this "one of the best" he's seen. For more about why it's so good, listen to this episode of The Ecommerce Marketing Show.👇
They created a clever design that stands out from a traditional bar by using a transparent border to make it look like the bottle is popping out. And it has some great results to back it up:
More than 28,000 orders have been placed thanks to this little bar.
It goes to show that you don't need advanced targeting or complicated offers to see onsite campaigns convert. Sometimes, a straightforward popup with a killer design is all you need.
Tip #2: Show your human side.
The Wanderheart Project was started in an effort to promote outdoor recreation (and reduce screen time) while giving back to those in need. Their co-founder tragically lost a child to complications from a congenital heart defect; this inspired their commitment to donating $1.00 from every sale to supporting families of a child with a CHD.
People love supporting businesses that are driven by a mission. So it's no surprise that The Wanderheart Project's Privy Convert welcome campaign boasts a 7% signup rate. To put that in perspective, the average we see is around 2.5%.
Once they've collected an email, they don't take their foot off the gas, though. This subsequent welcome email is opened by 40% of the people who receive it:
There it is, front and center: why they started in the first place. This resonates with subscribers. Generosity is at an all-time high during the holiday season, which makes it the perfect time to experiment with campaigns that call attention to your brand's mission.
Tip #3: Host a giveaway (because people love free s***).
Shoppers love a bargain, so any time there's a chance to win free stuff, they're here for it. What's great about giveaways is that they don't have to be expensive to work. You can start with a one-time prize during BFCM and see if it would be a sound investment in your marketing strategy moving forward. Even something small is better than nothing. Take, for instance, ezpz, who offers a free tote bag with purchase in this cart saver campaign: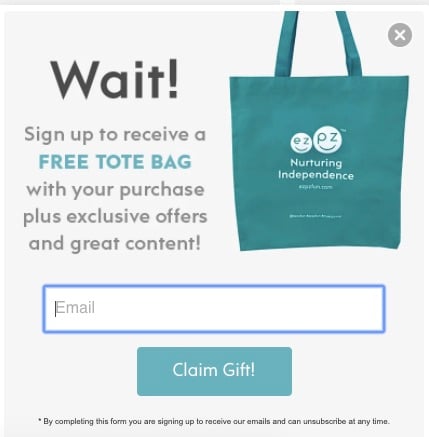 It doesn't matter how many closets full of free tote bags your customers already have; a free gift is an incredible motivator. That's why this fly-out has an 8% conversion rate, saving more than 1,400 carts to date.
Think your customers will bite? Here are a few ways to make your giveaway next-level:
In addition to emails, collect phone numbers. That way, you can target your subscribers with a

text marketing

campaign later. You can incentivize people to give you their phone number by counting it as a separate contest entry, thereby doubling their chances of winning.

Include beautiful product photography in your design to convince shoppers with a great visual.
Optimize your campaign for mobile. Many of the best campaigns see drastically higher traffic on mobile devices, so you could be missing out big by neglecting the mobile experience.
A/B test different offers to get a sense of what appeals the most to your customers, and then stick with the option that performs best.
Tip #4: Spin-to-Win, FTW! 🙌
Similar to a giveaway, spin-to-win popups gamify the shopping experience, and they secure some of the highest conversion rates of any type of popup.
This campaign from Death Wish Coffee is a team favorite, targeted at visitors to their site from specific traffic sources, utilizing UTM targeting:
Here's a stat so unreal that I actually thought it was a typo when I first saw it: this spin-to-win raked in a 59% signup rate. What's even better is that nearly half of the visitors who signed up made a purchase. 😱
These designs are easy to tweak to fit different themes and holidays. Here's how Spice Village used a similar spin-to-win to crush Black Friday: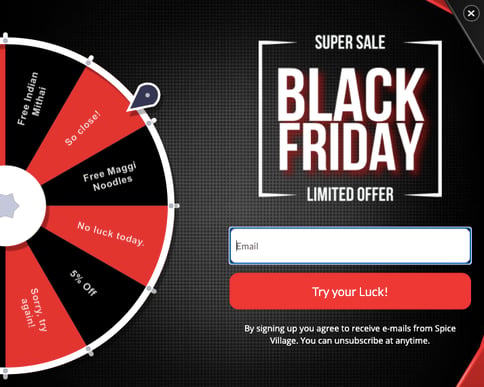 In just one week, they collected over 500 new email contacts, and one out of every five viewers went on to make a purchase.
Part of what makes spin-to-wins so successful is that they can be easily adapted to different brand voices. And with the addition of beautiful product photography, they're nice to look at too. Coco Moon scoured their Instagram for the perfect happy baby photo (note: baby is not for sale), and their spin-to-win sees a 14.25% conversion rate: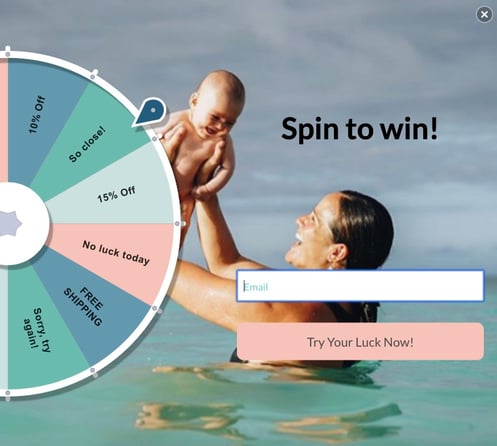 Tip #5: Make the holidays work for you.
For Mary Jane's Headquarters, an online headshop for all of your cannabis needs, 4/20 is their version of Black Friday, Cyber Monday, and every holiday weekend sale combined. So when they offered their subscribers VIP early access to their 4/20 sale, they saw their orders skyrocket.
First, they had a welcome popup that converted visitors to subscribers (at a nearly 10% rate) in exchange for VIP early access to their 20% off holiday sale: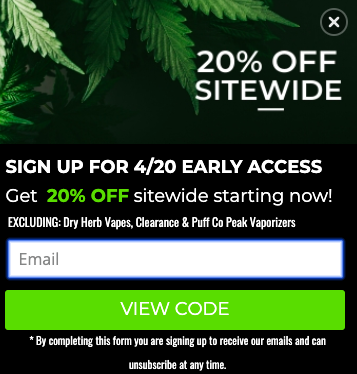 Then came the follow-up email: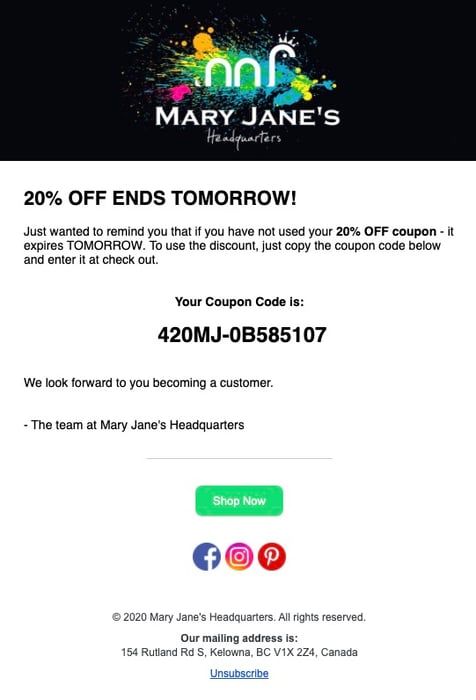 And finally, they retargeted any returning VIPs with this popup reminder to use their coupon: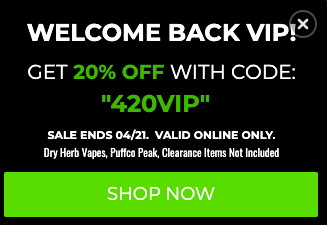 This campaign was so remarkably successful that Mary Jane's Headquarters decided to skip a final marketing email on 4/20, because they honestly didn't need it. They were selling out their inventory.
Although not every business can take advantage of the seasonality and niche culture of a smoke shop on 4/20, the lesson is that you can still make the holiday season work for you. It's all about how you frame it.
Maybe you sell cozy home products great for winter when we're all stuck inside. Maybe you offer fitness equipment that can save us after we eat our emotional weight in Thanksgiving leftovers. Maybe you sell items that are really more suited for summer, and you're giving your subscribers something to get excited about as we enter the grim, dark days of winter. Whatever it is, take advantage of the holiday season and how it relates to your brand.
Tip #6: Shoot for the upsell.
There's no time quite like the holidays to get people in a spending mood. That's why it's one of the best times to deploy an upsell or cross-sell campaign. Learn from the masters at ezpz, who are increasing their average order value with a free shipping motivator: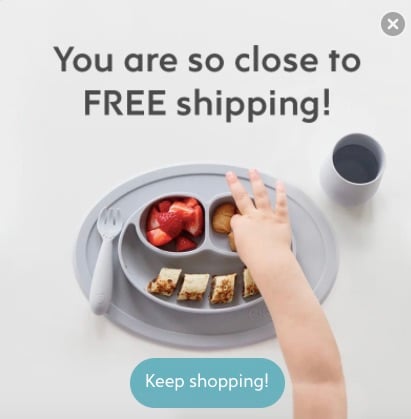 Free shipping is almost expected at this point, thanks to a certain mega ecommerce retailer who shall not be named. If you can't offer it on every order, free shipping thresholds serve as incredible incentive for shoppers to increase the value of their cart.
ezpz offers free shipping for orders over $50. So they show this fly-out to anyone who has between $34.99 and $49.99 worth of merchandise in their cart, in an effort to get them to add just a little bit more. Not only has their average order value increased, but this campaign has seen over 5,000 clicks.
Tip #7: Don't let a sale go down without a fight.
The hard truth is that 99% of visitors to your site don't complete their order. So when their cursor wanders over to that pesky close button, cart saver popups swoop in to save the day. Enso Rings recently launched theirs, which has converted a staggering 22% of its viewers into email subscribers. That's nearly 10x the average.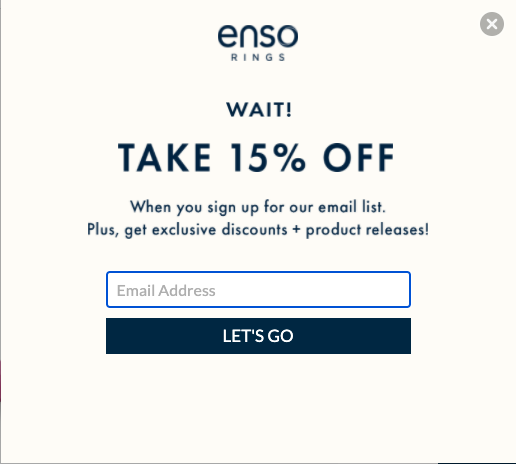 You'll notice there's not much to it. It's a clean design that stops exiting shoppers in their tracks. "Wait! Take 15% off. Let's go." That's all it took for Enso to save nearly 9% of the sales that would have otherwise slipped through their fingers.
If you don't seal the deal with your cart saver popup, fret not. You can still combat the dreaded abandoned cart with a simple email series. Because guess what. You've got their email now.
And it just so happens that abandoned cart emails boast an incredibly high open rate — around 45%. So you still have ample opportunity to close the sale.
Lori Wall Beds boiled it down to one simple email, triggered to send one hour after a shopping cart is abandoned.
Ready for this? So far they've seen a transformative 368% increase from their abandoned cart recovery rate prior to sending these emails.

They cut right to the chase: 0 risk, 100% satisfaction guaranteed. And they back it up with some five-star social proof. If customers were on the fence before, they're definitely completing their purchase now.
More on Lori Wall's success in this episode:
Tip #8: Keep collecting data.
Whether you've closed the sale or not, you should never stop collecting data about your subscribers. Every email, text, and onsite campaign is an opportunity to learn more about your customers and their shopping habits.
Mejuri activated this fly-out targeted at customers who have placed an order on their site as a means to gather additional information around their audience's shopping behaviors. This converts at 14.1% on desktop and 17.4% on mobile, and so far they have collected source data for nearly 60,0000 customers.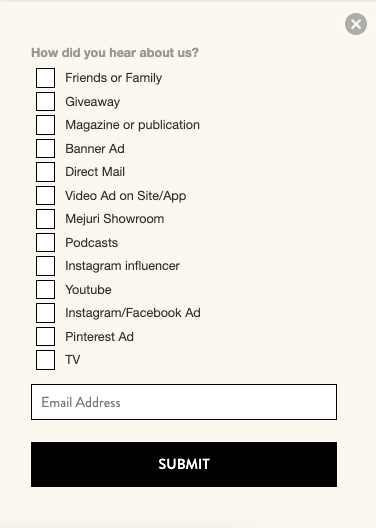 Do you think this campaign will inform where they spend their marketing budget in the future? I think yes.
You can do something similar for your business, or even use your campaigns to better understand why someone didn't complete a purchase. BFCM is a high-traffic time for your site, so capitalize on that opportunity to learn what can help you grow your business in the future.
Key Takeaway: You don't have to be a professional marketer to have a record-breaking BFCM.
Black Friday is basically the Super Bowl of ecommerce, and it's time to start preparing now. Define your goals and think about some basic strategies that will help you get there. Sometimes all it takes is a few well-planned campaigns to see mind-blowing conversion.
Subscribe for Updates
Get our best content on ecommerce marketing in your inbox 2 times a week.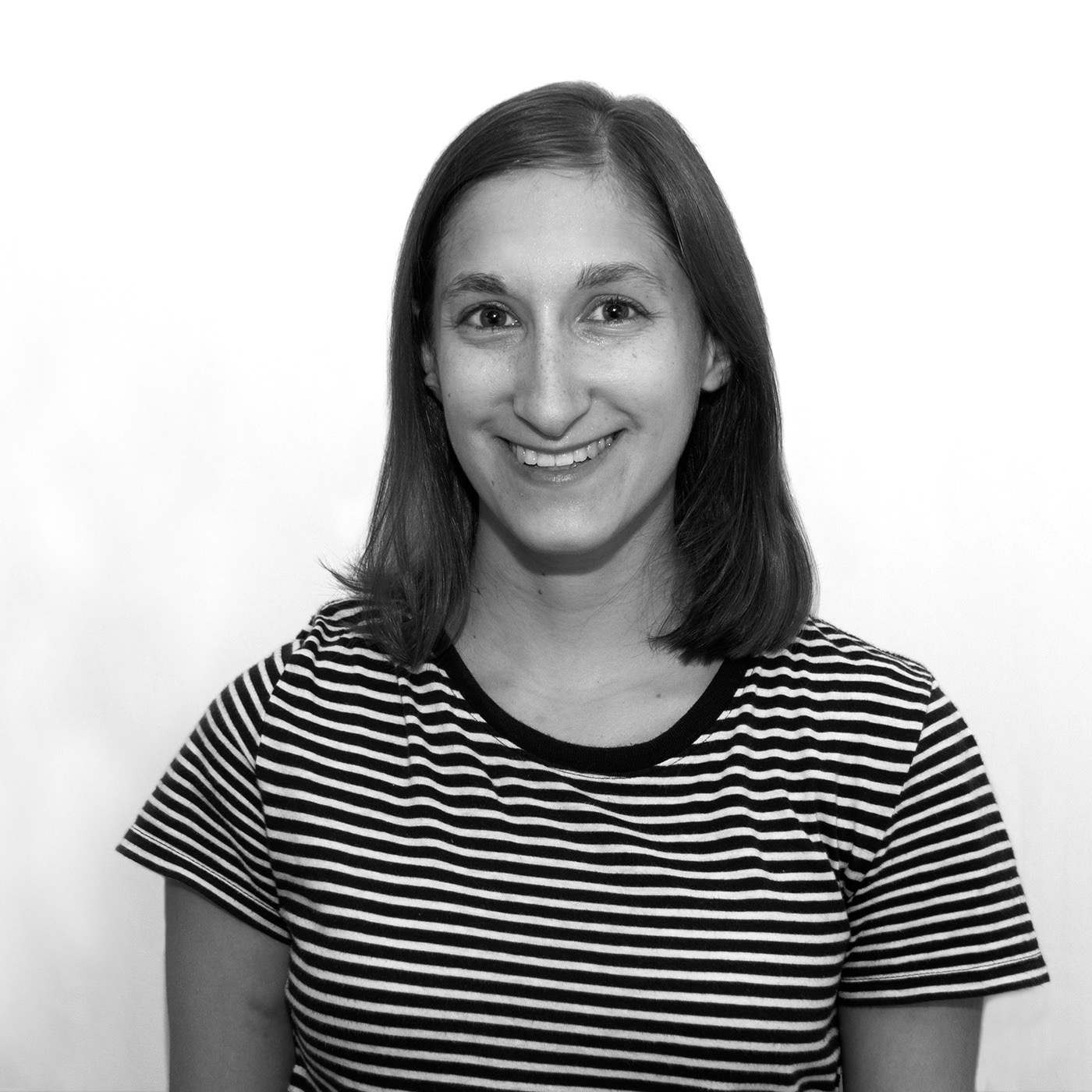 Written by Rachel Waldmann
Subscribe for Updates
Get our best content on ecommerce marketing in your inbox 2 times a week.