8 Must-Try Black Friday Cyber Monday Email Marketing Tactics (With Examples)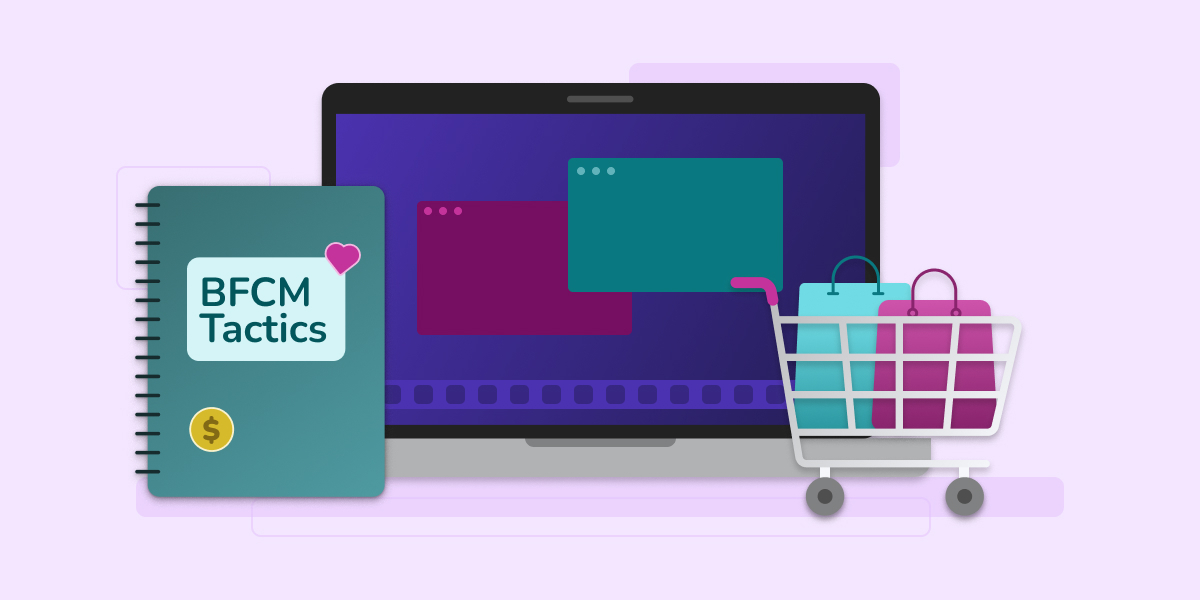 This post was originally published October 13, 2021.
Question: What's one of the most powerful tools to drive sales this Black Friday?
Answer: Email.
Setting up a strong Black Friday email campaign means you're reaching customers, bringing them to your store's site, and (hopefully!) getting them to make a purchase.
And with the right copy, subject line, timing, and offer, you can create the perfect email to make it happen.
But how do you achieve that perfect balance? Use these 8 email tactics to craft a profitable Black Friday email marketing campaign that drives sales and increases your subscriber base.
Get our best content on ecommerce marketing in your inbox 2 times a week
1. Spice up your BFCM offer and sweeten the deal
Online shoppers who use coupon codes spend 24% more than shoppers who don't use them, according to Blippr. But here's the catch: almost every brand will run a sale during BFCM, and you need to do something to make YOUR offer the one your audience wants to redeem.

Black Friday and Cyber Monday are the most competitive days of the year for ecommerce brands, so if you want to stand out in your audience's inbox, think beyond the usual "Use code CYBER15 to take 15% off your purchase." Here are five ways to do that:
Include a free gift with every purchase
Throwing in an exclusive freebie with all orders during BFCM can get your audience more excited than a coupon code. After all, who doesn't love free stuff?
Take this offer from Herbivore Botanicals. They gave all their shoppers a mini version of their Rose Hibiscus Face Mist with the purchase of any full-sized face mask: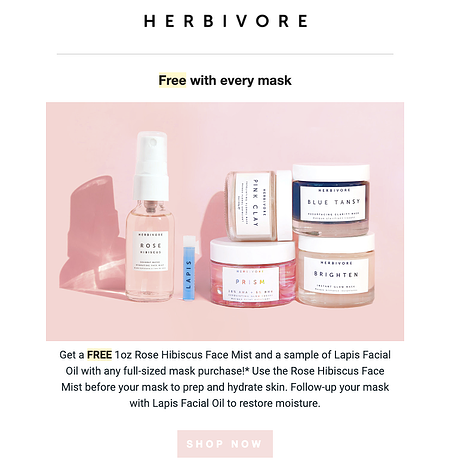 Buy one, get one (BOGO)
The name says it all: when customers buy an item, they get a deal on another. There are two ways to approach BOGO campaigns:
Buy one, get one free

Buy one, get one 50% off (or whatever percentage discount you choose)
Here's an email from Sunwink. They ran a buy one, get one free campaign for their sparkling tonics: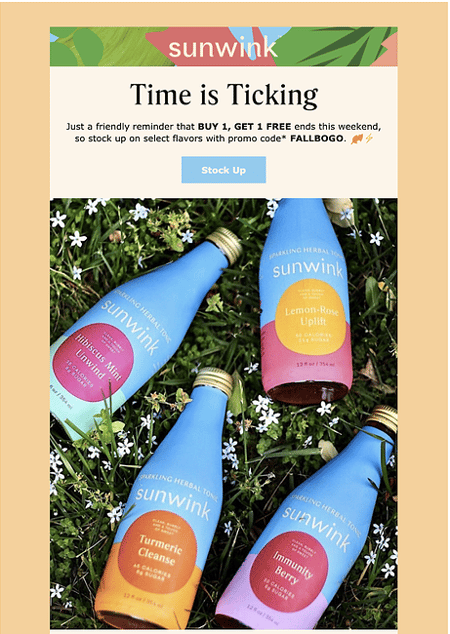 Bundle products at a discounted price
Want to boost your average order value (AOV)? Offer a curated selection of products for a discounted price. Here's an example from Mate, who bundled three t-shirts: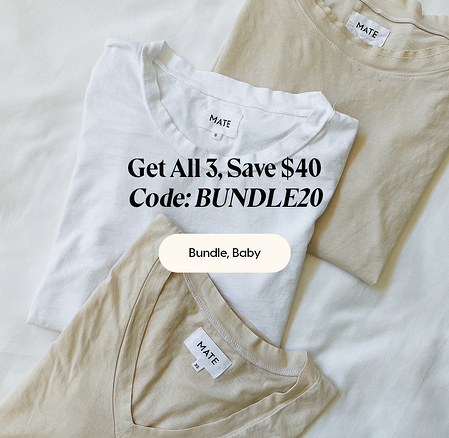 Rather than offering 20% off everything in your store (which may decrease your AOV), bundles can actually increase your AOV. For example, if your AOV is $30, but you bundle a few products for $75, you can offer a discount for that bundle and it will likely still be higher than your typical AOV.
Use tiered pricing to incentivize big orders
Another tactic to increase your AOV is tiered pricing. That means the more money a customer spends on your site, the bigger the discount you give them. Each discount tier has its own unique code.

Here's an example we love from Riffraff, a women's boutique (note their clever, holiday-themed promo codes like OMGSANTAIKNOWHIM50):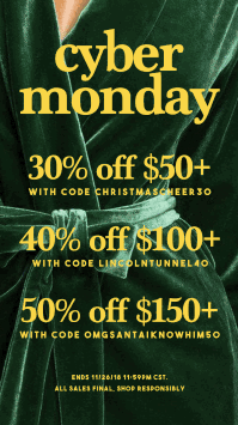 Don't like discounts? Offer an exclusive product instead
If you're like Allbirds and don't believe discounts are right for your brand, you can still get in on the BFCM action. Consider offering an exclusive product for email subscribers to build buzz online. For example, Allbirds dropped a dessert-themed collection for a limited time during the holidays: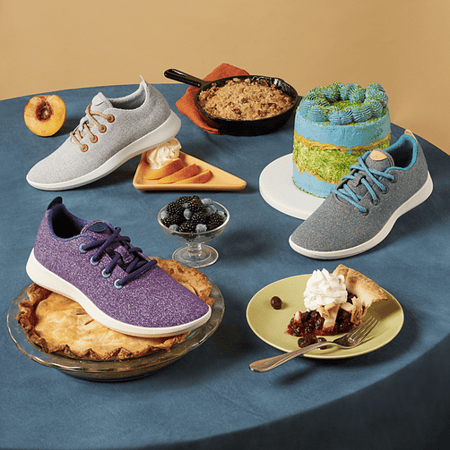 This tactic is especially useful for premium brands that don't want their products to be perceived as "cheap."
2. Make your Black Friday email subject lines ✨ sparkle ✨
Hook your subscribers in with an eye-catching subject line. Without that, your email may go unopened. And on Black Friday weekend, you can't let that happen. Use emojis and BIG, BOLD WORDS that will incite your audience to open the emails and not miss out on exclusive deals.
Use an emoji to increase open rates
Email subject lines that contain emojis have 66% higher open rates compared to text-only subject lines, according to Leanplum (and psssst they analyzed 300 million push notifications and emails).
Here's an example from Death Wish Coffee. They used two emojis in their subject line for National Coffee Day:


Your customers' inboxes will be jam-packed during BFCM, but an emoji might make the difference between your email getting deleted and converting a big purchase. It's also worth noting that emojis can shorten subject lines so they fit on mobile devices. Just make sure your emoji is relevant to your brand or the occasion. For example, if you sell nail polish, use the 💅 emoji. If you're capitalizing on the holiday spirit, use festive emojis.
Make your subject line short and sweet
When people's inboxes are as stuffed as the turkey they just ate for Thanksgiving, it's easy for your Black Friday email marketing to get lost in there. Keep your subject line short and make sure your exclusive deals and offers are the star of the show, such as:
📣 25% off sitewide starts now!

FREE GIFT with every Black Friday purchase! 🎁
Customers easily see the benefits of shopping with you, and it's easier to get noticed with the Black Friday discount/emoji combination. Plus, that big, bold lettering means they'll spot your subject line, even if they're skimming through their crowded Gmail promotions folder.
Pro tip: the portrait view on an iPhone shows 41 characters.
3. Generate a sense of urgency with a countdown clock
Adding a countdown timer to your emails (and on your site!) prompts people to act fast before your offer expires. That's because it activates the scarcity heuristic: if something is rare, it must be valuable.
Some brands extend their sales throughout the holiday season, which can cause people to procrastinate and browse around for other deals. And you don't want that to happen to you on Black Friday and Cyber Monday.

Check out this countdown timer from Glossier: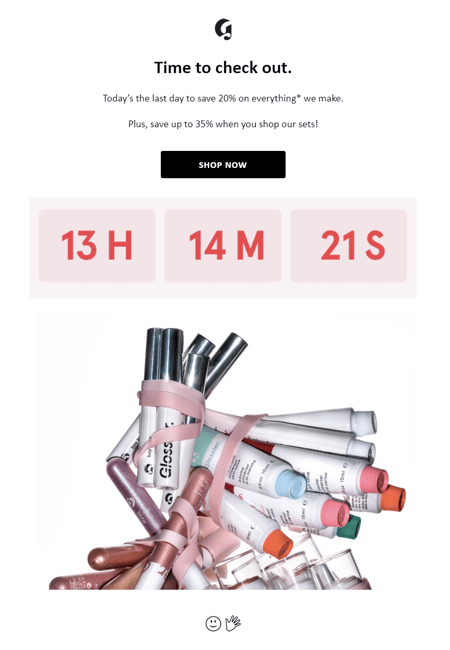 If you add a countdown timer to your email, keep these 5 tips in mind:
Be honest about the timeline. If you say your offer expires in 24 hours, but the deal is still there three days later, that erodes trust with your audience.

Use an animated GIF that shows the final hours ticking down so that the customer sees movement and knows they need to act quickly.

Keep your offer clear and simple. Don't force your audience to read more than they need to.

Put your call to action (CTA) near the timer to reinforce the urgency.

Use FOMO and show them what they'll miss out on if they don't make a last-minute purchase. Display product photos to get the reader's attention.
And if you're leaning into the fact that your offer is only for a limited time in your email copy, then do it in the subject line, too. Use clock emojis to announce a discount, a last-chance flash sale, or that your Black Friday sale ends at midnight.
4. Set up abandoned cart emails
With all the deals and discounts floating around your customers' inboxes, it's easy for them to forget about your product – even if they added it to their shopping cart. Missing out on those sales can be costly, but you can salvage them with abandoned cart emails.

In 2020, automated cart abandonment emails on Cyber Monday had a conversion rate of 49.2%, according to Omnisend. That means nearly half of shoppers who were reminded about an item in their shopping cart ended up following through with the purchase.
Check out what Club Huey does with their cart abandonment emails. They keep them fun and on-brand but also make sure to add a discount code to get the customer to come back and complete their purchase.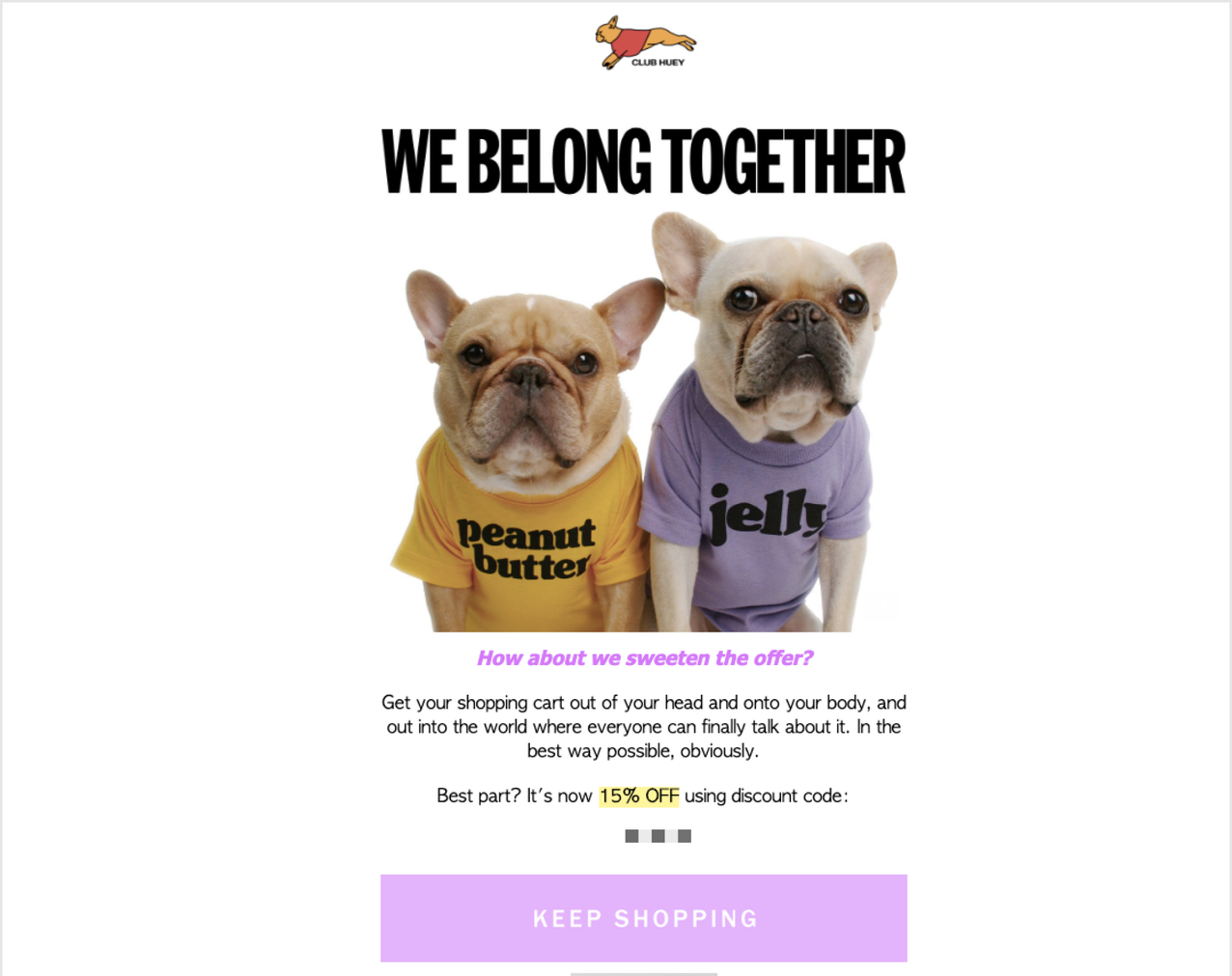 Manually reminding customers would be a nightmare...that's why Privy's abandoned cart emails are automatically sent whenever your customers leave your site before checking out.
For Black Friday Cyber Monday, think about sending 1 email an hour after a customer leaves your site so you're still top of mind.
You can also add 1-2 more cart abandonment emails if it makes sense for your store.
These little reminders can make a big difference in your bottom line.
5. Segment your audience for maximum engagement
When everyone's inboxes are especially crowded, segmenting your audience makes a huge difference. And there's data to back it up. Marketers that use segmented campaigns have found a 760% increase in email revenue, according to Campaign Monitor.
Unlike a static email subscriber list, segmented email lists group subscribers by predefined conditions like "new customers," "highly engaged subscribers," or "big spenders."
The main advantage of audience segmentation is that it lets you send custom messages to each group. Send first-time-customer discounts to new subscribers or an email to your big spenders with several of your products that complement each other. Or send VIP-access emails to your most engaged customers. Ensure the copy is different in each email and speaks to each segment's traits and behaviors.

You don't have to be an ecommerce expert to segment your email subscribers. With Privy Newsletters, you can go into your dashboard and group your email list based on simple attributes like "Last Order Date" and "Total Lifetime Spend."
6. Reward your most loyal customers
Create emails just for your VIP audience so they get exclusive discount codes and feel appreciated while they're doing their Black Friday shopping.
They've been loyal all year. They deserve a reward. Send teaser emails letting them know they have early access to your Black Friday deals or let them know about an exclusive bundle you put together just for them with products they can't get anywhere else.
For example, Forever 21 rewarded their "VIP" customers with an exclusive 25% off sale: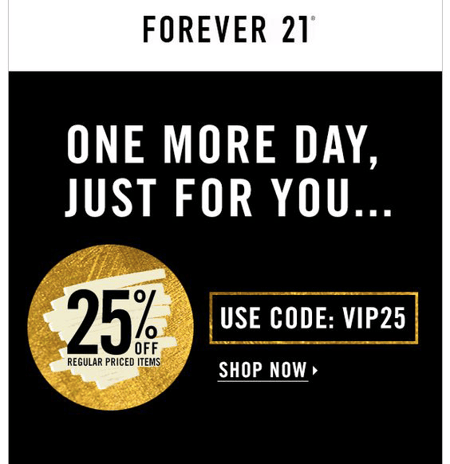 7. Send a post-purchase thank you email
A post-purchase email is a great way to thank your customers for their business. Plus, you also have a chance here to bring them back to the site for a different transaction.

Offer a discount code on their next holiday purchase and then keep them engaged with emails like holiday gift guides or tips about how to use the product they purchased. Say your customer bought an electric mixer. Send them a thank you email with links to your blog on cake recipes or give them some best practices about how to maintain the appliance. A little goes a long way here.
8. Don't forget about Small Business Saturday and Giving Tuesday
Black Friday morphed into a multiple-day event over the years. While you're crafting your Black Friday email strategy, make sure to include emails for both Small Business Saturday and Giving Tuesday.

An attention-grabbing email on Small Business Saturday helps you generate more sales. In fact, in 2020, Americans spent almost $20 billion on this day. In your email, highlight the fact that you're a small business and end with a call to action to support small businesses on their special day.

Giving Tuesday is another opportunity to market to your audience. But on this day, make sure your email campaign focuses on how your company gives back. Almost 50% of customers want brands to help bring people together to work toward a goal. Let your customers know you support a good cause (which can help increase brand loyalty) and encourage them to donate, too.
Own the inbox this BFCM
Brands have sent more than 100 million emails in previous years, according to Campaign Monitor, and you can expect inboxes to be just as packed this year. Although they're only getting crazier.

Between the intense competition and tight timeline, BFCM email marketing can be intimidating for small and growing ecommerce brands.

And while there isn't an exact blueprint for BFCM success, a compelling offer and clever copy, will have you well on your way.
Subscribe for Updates
Get our best content on ecommerce marketing in your inbox 2 times a week.
Written by Lauren Hall
Lauren is a Brand Marketing Associate at Privy. She's the brains behind all things content. When she's offline, she's obsessing over her Bernedoodle pup, Monster, and plotting ways to being a full-time Vermonter ASAP.
Subscribe for Updates
Get our best content on ecommerce marketing in your inbox 2 times a week.