Boost Cyber Monday Sales With These 60 Email Subject Lines
Published on Nov 15, 2022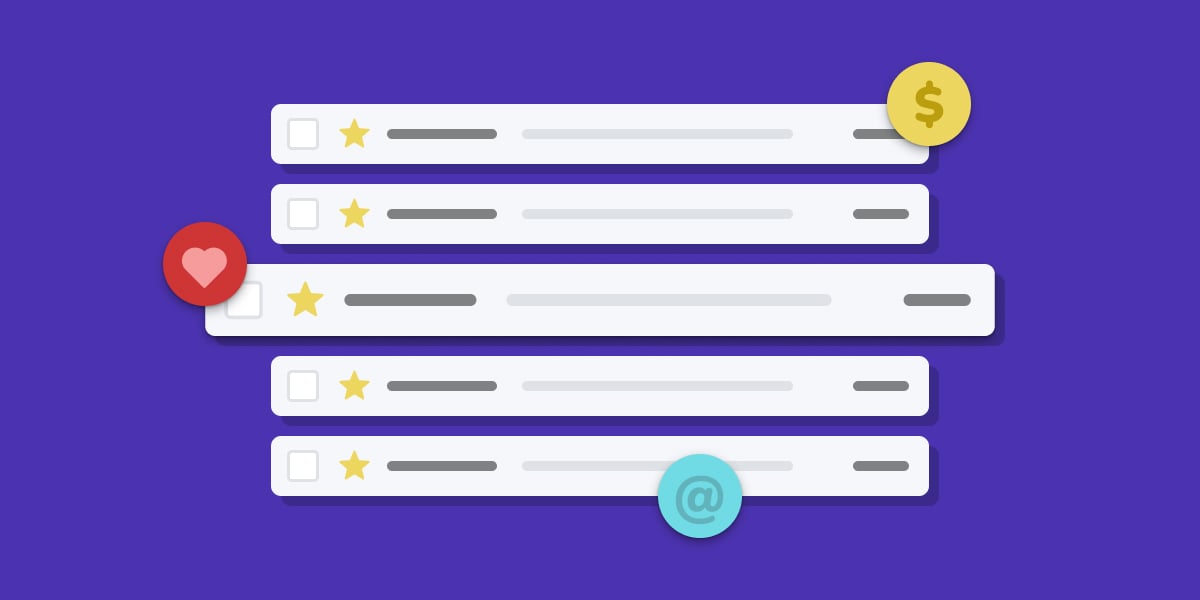 What if your favorite store was offering 25% off TODAY ONLY? Or maybe they're running a flash sale starting right now that you CANNOT miss?
You'd want to go check out the sale ASAP, right? That's the exact feeling your Cyber Monday email subject lines need to incite.
If you don't grab your customers' attention right off the bat with an eye-catching subject line on Cyber Monday, they aren't going to open your emails.
As a matter of fact, 64% of people report opening an email based on the subject line. That's a lot of attention to lose if yours is boring.
And on the biggest day of the year for online sales, we're talking $10.7 billion spent in 2021, you can't risk an email marketing flop.
Cyber Monday email subject lines that grab your subscribers' attention bring more visitors to your site and generate more sales on one of the most important days of the year.
Get our best content on ecommerce marketing in your inbox 2 times a week
Subject lines for email before Cyber Monday
Prepare your audience for Cyber Monday sales by sending preview emails a couple of weeks before the sale. Your customers start researching and planning early for the items they want to get. If you send the word out early, you'll be on their mind when it's time to shop because they'll remember the previous emails and early bird incentives you sent. Use subject lines that advertise your sales or promote an early discount code.
This is also a great time to show your most loyal customers some appreciation. Create hype among your VIPs with early access to Cyber Monday sales and deals that only they can get.
Here are some examples of pre-Cyber Monday email subject lines to inspire you:
Here's an Exclusive Early Bird Cyber Monday Discount

Don't Miss Our AWESOME Cyber Monday Sales

VIP: Your Cyber Monday Sale Preview Starts Now

Take 10% off now + an early look at Cyber Monday deals

🎵It's just another Cyber Monday 🎵Get ready for great steals!

Our VIP ONLY Cyber Monday Sale Will BLOW. YOUR. MIND. 🤯

Did you miss Black Friday? Cyber Monday's coming!

You'll want to wake up early this Monday.

Here's a Secret Cyber Monday Sneak Peek

Cyber Monday starts tomorrow—set your alarm now! ⏰

Want early access to Cyber Monday? Sign up for VIP!

We're gonna have the BEST Cyber Monday deals EVER.
Subject lines to use when Cyber Monday sales go live
These are the most important subject lines. They're the ones competing for attention day of. The subject lines you use have to be particularly enticing to get Cyber Monday shoppers to open your email and check out your deals over the massive competition. In other words, no pressure. Some tips for crafting your subject lines:
Use ALL CAPS to get their attention.

Put emojis in there (but not too many – you don't want to look spammy).

Be funny – use puns or slang.

Highlight your discounts, especially the biggest ones.

Utilize exclamation points.

Create a sense of urgency.
Cyber Monday email example subject lines you can use include:
🚦STARTING NOW: Save 25% on ALL products!

⏰VIP: Here's your Cyber Monday promo code

Activate your Cyber Monday deals here!

Ready, set, go: Our Cyber Monday sale starts NOW!

🔥These Cyber Monday sales are LIT! 🔥

Surprises every hour! Don't miss out.

📣CYBER MONDAY IS HERE!!

💲Want up to 80% off? Look no further!

Time for unbeatable online shopping steals!

ONE DAY ONLY: Cyber Monday sales are live!

Cure your Monday blues with these sales!

Free shipping on all orders this Cyber Monday only

How does 20% off + a free gift sound?

Black Friday sales are over, but Cyber Monday is here to save the day!

Cyber Monday: Sitewide discounts happening now!

Breaking News: Cyber Monday steals are here!

Here's a Cyber Monday offer you won't believe 👀

Cyber Monday deals just for you.

Support our small business and get the deal of a lifetime!

Just one shopping day, then these deals will be gone!

It's your last day to save on holiday gifts!

This is the best email you'll open today!
Subject lines to recover abandoned carts
The average cart abandonment rate during Cyber Monday in 2020 was a whopping 80.69%. For any online retailer, that's a clear indicator you need to send abandoned cart emails.
Get browsers to take the final step with exclusive deals and discounts or by creating a sense of urgency. Use subject lines that will bring people back, like:
Come back! Only have a few hours left!!

😱You forgot something. How's an extra 10% off?

Your discount won't last much longer… ⏰

Free shipping on all items in your cart!

Here's 15% off your cart.

Ready to commit? Here's 10% off!

You left an awesome holiday gift behind! Come back.

Psssst. Santa can't give out all the presents.

Your Cyber Monday won't be complete until your order is!

Complete your purchase and get 15% off!
Subject lines for a Cyber Monday flash sale
Cyber Monday flash sale subject lines should be ✨flashy and extra✨ because you have a very limited time to seize your customers' attention.
A sense of urgency will help you increase your sales in these critical moments. Use emojis and subject lines that draw attention to time, like:
🚨CYBER MONDAY FLASH SALE! 🚨

⏰MIDNIGHT SPECIAL! See our Cyber Monday flash sale! ⏰

That shirt you wanted? It's on sale for the next hour. GO!

🛑Stop everything. 🛑 40% off for VIPs until 10 AM!

This deal will be gone in a flash… don't miss it!

It's our biggest discount ever — but only for an hour!

Careful, these flash sale deals might just shock you! ⚡

ONLINE ONLY: All clearance items 50% off until 2 PM!
Subject lines to entice last-minute shoppers
Toward the end of Cyber Monday, you've got one last shot to try and bring in more traffic with a few sales emails.
This is the time to lean into FOMO marketing to bring customers to your site ASAP.
Like a flash sale, these need to be more showy and urgent. Use timer or alarm clock emojis to illustrate how little time is left, paired with subject lines like:
⏰ 1 MORE HOUR until these deals are gone! ⏰

Don't miss these Cyber Monday deals!

The countdown is on: ONLY 3 HOURS LEFT ⌚

It's your last chance to save! Don't miss out.

Beat FOMO. These offers are almost over.

Last chance to save 15% on your order!

Last-minute sitewide savings you'll love

Don't miss our biggest sale ever!
Create a Cyber Monday campaign that shines
You've got the subject lines you need. Now it's time to crush Cyber Monday with your emails.
And if you have more questions about one of the busiest times of the year, we've got you covered. Check out our Black Friday/Cyber Monday guide, which answers all your inquiries and guides you toward a successful holiday shopping season.
Subscribe for Updates
Get our best content on ecommerce marketing in your inbox 2 times a week.
Written by Lauren Hall
Lauren is a Brand Marketing Associate at Privy. She's the brains behind all things content. When she's offline, she's obsessing over her Bernedoodle pup, Monster, and plotting ways to being a full-time Vermonter ASAP.
Subscribe for Updates
Get our best content on ecommerce marketing in your inbox 2 times a week.