How To Have An Epic Black Friday Cyber Monday in 2020: 5 Ways To Prepare Over The Next Month
Published on Oct 15, 2020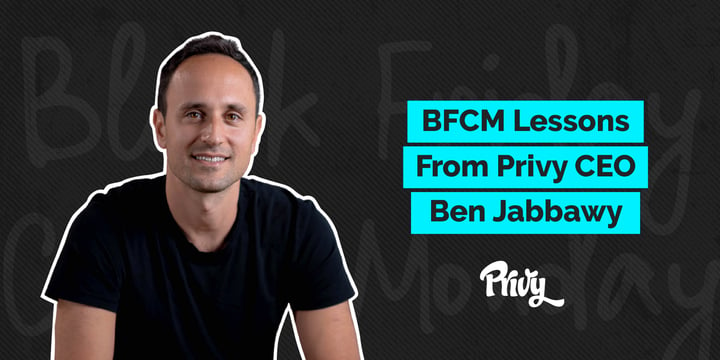 A couple weeks ago, Ben Jabbawy, Privy's Founder & CEO hosted a Masterclass to help small and growing brands get set up to have an insanely successful Black Friday/Cyber Monday this year.
Because especially around this time of year, we know it's helpful to have an outline for all the things you need to have up and running before things get crazy.
So I stole everything Ben shared in his Masterclass and distilled it into 5 things you *need* to have leading up to what will hopefully be your best couple months of the year.
You know, the important things like choosing the right offer for your brand.
What you can do to combat cart abandonment when it's at its absolute peak. And more.
Ready? Cool. Let's get going.
Get our best content on ecommerce marketing in your inbox 2 times a week
1. What's your offer?
When we think of Black Friday, we usually think about sitewide discounts (something like 20% off everything, for example). But your offer doesn't need to be a discount.
Think of it as your "hook." It's what you're using to get people interested in the first place. If I said sign up for my email list and I'll give you $20, that would be a pretty great hook, wouldn't it?
Think about your BFCM offer through that lens. Here are some offer ideas outside of your typical sitewide promo.
Offer #1: BOGO
Buy one get one campaigns are exactly what you think. Buy one get one free, buy one get one 50% off. You get the idea. Here's an example from Sunwink.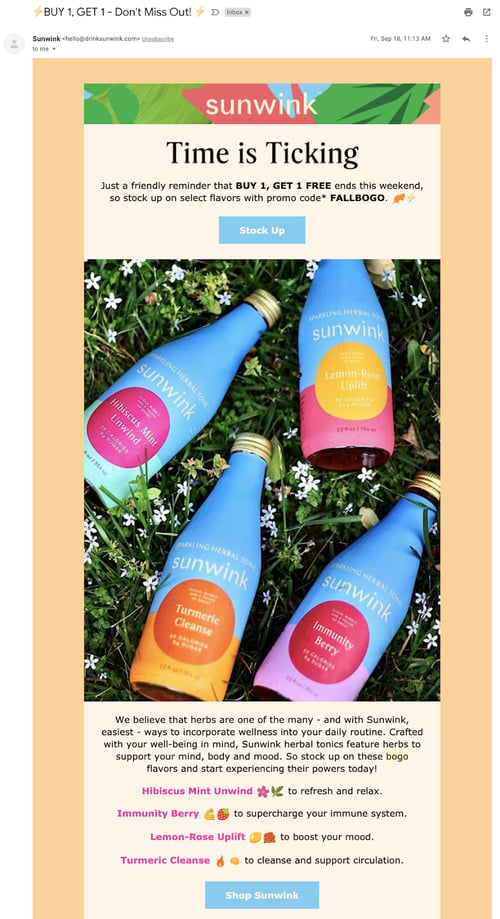 Offer #2 Free gift with purchase
Who doesn't love free stuff? Maybe you have a mini version of a product, like Herbivore, that you can include as a bonus over the holidays.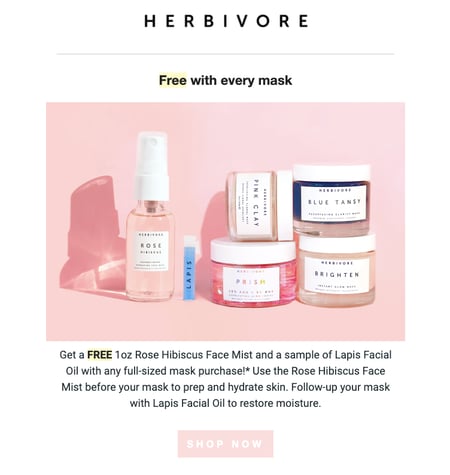 It could even be tiered. So the free gift is different at different thresholds ($50, $100, and $150, for example). Depending on what you sell, a free gift with purchase can be a relatively cheap and easy option for a BFCM offer.
The ultimate flex would be to have an exclusive gift with purchase that's just for the BFCM holiday and will incentivize customers even further. So they're not just getting a free product that they could buy separately. It's something they're just as excited to get as the rest of their order.
Thinking about launching a new product? Can you send some samples as a free gift? Then you could follow up with the people you sent them to and get any feedback before you fully launch. There are a ton of options here if you're willing to think outside the box.
Offer #3 An exclusive product
This one probably requires the most work of all the options, but it can be incredibly effective. Especially if you don't believe in discounts.
Like Allbirds. They even have a page about their thoughts around not offering discounts. So what do they do?
In the past, they've launched holiday-specific colors of their shoes that aren't available the rest of the year. Like this dessert-themed collection they dropped last year.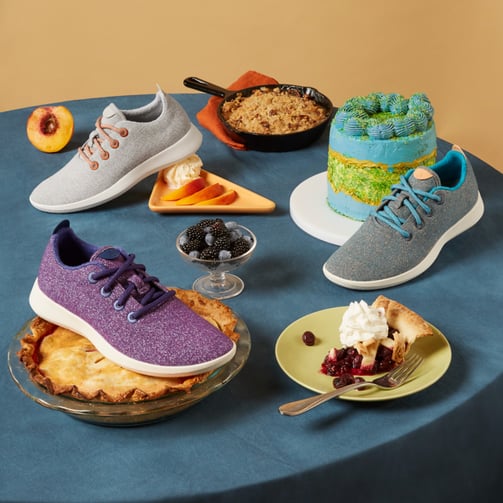 And they do a great job building hype leading up to Black Friday. Whether you're launching a new product or not, you can easily build excitement around your offer.
Offer #4 Bundles
Bundles are an amazing offer. Especially if you don't usually have them. Because you already have everything you need to make this happen.
Maybe you offer a few products that customers have never been able to buy together at a discounted price. Like Mate did with this offer.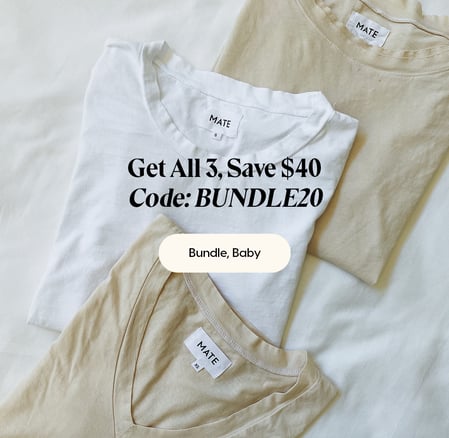 The beauty of bundles is that rather than just offering 30% off everything, where your average order value might take a hit, meaning the average amount customers spend with your brand over the holidays is less than it is throughout the rest of the year, bundles can actually improve your AOV.
Let's say your average order value is $50, but your bundle costs $100 because it's got a couple products in it, you could then do a discounted bundle and it'll likely still be well above your average order value.
Your offer drives everything else
Whether you're planning a sitewide discount, an exclusive product, or free gift with purchase, that offer should be the driver for everything else you do. Your emails, your ads, everything.
Which is why it's so important to lock in your offer before you plan anything else. So you're building a cohesive story and sending the same message across every channel.
If you learn one thing from this blog post, I hope it's that your offer is what matters the most. Which means it deserves your full attention. Because sometimes the creative offers (not the most-discounted) are what performs best.
2. Don't make them think
Once your customers have actually made it to your site, you've got to clearly showcase throughout the entire site experience what's happening around BFCM.
Because the last thing you want is for people to be searching for your offer. Please don't make them go back into their email to figure it out. You might not get them to come back. Especially with every other offer they're going to be getting this time of year.
A welcome popup is a great way to do that. Include a tab so when they close out they can always reference it throughout the experience. Here's a great example of how Leesa shared their offer with a welcome popup.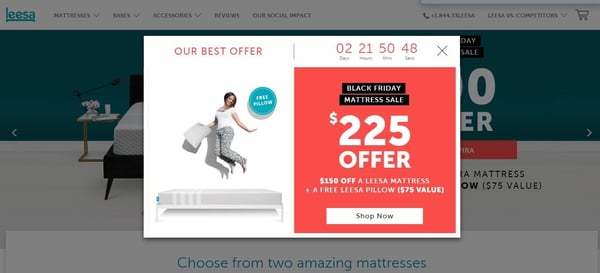 If you want to learn more about the beauty of using tabs to trigger your popups, check out this 5-minute Ecommerce Marketing School episode.👇
3. Expect an increase in abandonment
Just because you have traffic coming to your store does NOT mean you're going to be landing more sales. Because on average, it takes up to 7 interactions with a brand before people are ready to buy.
Last year, Privy customers saw that their traffic doubled in the month of November. But cart abandonment rates skyrocketed.
The industry average for cart abandonment is 70%. On BFCM we saw that number climb to around 85%.
So you can't just throw some Facebook ads together week of and expect them to drive revenue for your brand. Unless you're driving awareness and building trust ahead of time, you're going to miss out.
Because people are going to hit your site, a few will buy, but the majority won't.

Just think about the buyer journey.

What we typically see is that every one of these steps has a pretty significant drop-off.
Which means you have to have a plan to try to get them to stick around and bring them back once they've left.
Save more carts before visitors leave with a cart saver
A cart saver is a special type of popup. It combines exit intent (when a visitors' mouse is getting close to the dreaded 'X' button) and cart value to try to get them to stick around and complete their purchase. Like this example from Death Wish Coffee.
The offer is $4 off and anyone with $45+ in their cart will see it when they're about to bounce.
Want to guess what the signup rate is? 26%. That's insanely high. They've collected 1,200+ emails and recovered 700+ carts from this super simple, targeted popup.
Here's another example from The Vikings.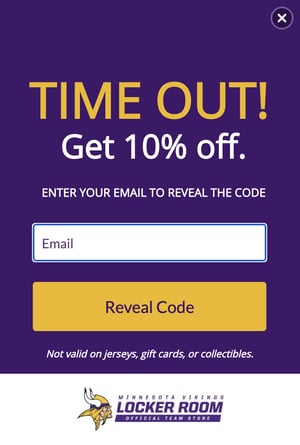 It has driven 3,700 signups and recovered 1,800 orders. Imagine if you could save hundreds (even thousands) of orders without having to lift a finger. It's as close to a no-brainer as it gets. Check out these episodes to learn more about cart savers.
If you want to get a little more advanced with cart savers (especially around BFCM), this is a great episode.
But what if your visitors still leave without making a purchase? You need to have a way to bring them back. That's where your abandoned cart emails come in.
Win them back with a cart abandonment series
A cart abandonment series is invaluable. You can read way more about it here, but I'm going to share the TL;DR version for now.
Email #1: 1 hour later - customer support from the founder
Email #2: 1 day later - "we reserved your cart", with unique coupon code that expires in 24 hours
Email #3: 2 days later - "coupon expiring" reminder
This is a playbook Ben helped set up for one of our customers, Suzy Cohen, a long time ago. It has helped her recover 12% of carts and generated an additional $200,000 in revenue. 🤯
Check out this episode of Ecommerce Marketing School to listen to Ben break down the full series.
4. Lean in to email
Speaking of email...this is why you've been building your list all year. There really isn't a better channel out there than email.
Especially because the cost of Facebook ads will start rising if they haven't already. Usually, that happens in October or early November.
So this is the time to really lean into email. If you're used to sending an email to your list once a month, you really need to think about ramping that up.
Commit to sending an email once a week (on top of the automated sequences you already have set up) and go from there.
Leading up to BFCM, you need to build hype. Email's a channel that you own, and think about it this way, what's the worst thing that happens? Somebody unsubscribes? I promise that's ok!
Whatever you do, do NOT be that brand that only sends email on holidays and nothing else. People will not remember your brand if that's the only email strategy you have (please read that again). Do not send a single email and expect to drive sales that way.
Take it from Vivian Kaye. She's built a $1M+ brand with KinkyCurlyYaki. I promise she knows what she's doing.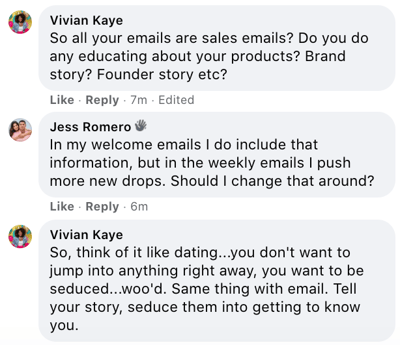 (By the way, this is from an AMA she did in our Facebook Community. You should check it out.)
Let's stick with that dating analogy for a second. If you hadn't spent any time getting to know someone and all of a sudden they texted you randomly asking you to get together, you'd be like hold on, "Do I know you?" You can't possibly expect that to convert. Show value and put in the effort leading up to BFCM.
So if there's ever a time to be sending more emails, it's right now.
5. Have live chat and support in place.
Response time = sales.
The sooner you respond, the more likely that person is to complete the sale. Think about it. The more time that goes by, the more time your customers have had to talk themselves out of a purchase. Especially this time of year.
If you have the bandwidth, live chat can be a great way to answer questions quickly and hand-hold your customers through until they make a purchase.
I don't know about you, but customer support can make or break my relationship with brands. One bad experience and you might lose someone forever. But if you show your human side, people are generally super understanding. Remember: people want to buy from people they like and trust. That's why it's so important to associate your brand with YOU. You should be embracing your story and personality. That's what will keep your customers coming back.
5 keys to help you have an insane holiday season
To wrap things up, these are the 5 things you should be planning over the next month or so.
1. You need to have an offer.
2. Your offer(s) should be front and center on your site.
3. You need cart savers and a cart abandonment series.
4. If there's ever a time to be sending more emails, it's right now.
5. Respond to support emails, calls, anything ASAP.
Whatever you do, do not wait til the last minute to start thinking about your plan for BFCM. You still have time to come up with a killer offer and execute on everything else from there.
Last thing: You should check out this poll we did to see what your peers are thinking about this year.
Subscribe for Updates
Get our best content on ecommerce marketing in your inbox 2 times a week.
Written by Lauren Hall
Lauren is a Brand Marketing Associate at Privy. She's the brains behind all things content. When she's offline, she's obsessing over her Bernedoodle pup, Monster, and plotting ways to being a full-time Vermonter ASAP.
Subscribe for Updates
Get our best content on ecommerce marketing in your inbox 2 times a week.