BFCM Bootcamp: It's This Founder's First BFCM Selling On Shopify. Here's What He Has Planned.
Published on Nov 11, 2020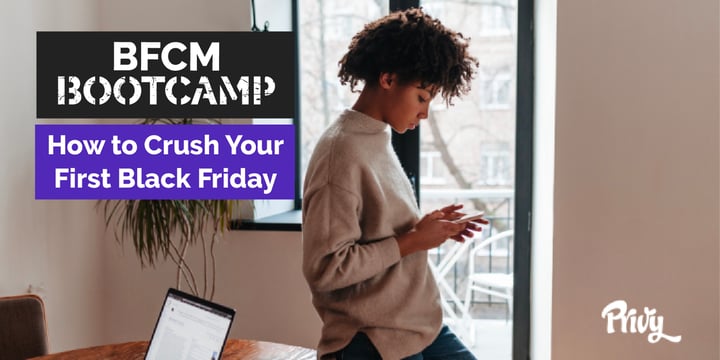 Connor Gross has been selling online for years. But this is his first Black Friday/Cyber Monday as a Shopify merchant.
So Ben asked him to come on today's episode of Ecommerce Marketing School to share what he's planning for his brand, Respoke Collection, a print-on-demand business for car enthusiasts.
Here are the offers, emails, and onsite updates he's making that will help him drive sales this holiday season.
He also shared his secret for getting free press this time of year (it's genius).
The offer
Typically, ecommerce brands see a pretty slow few weeks leading up to Black Friday because subscribers are conditioned to expect deep discounts this time of year.
So Connor's goal was to combat that with a special offer leading up to the holiday weekend, not just during BFCM.
The pre-BFCM offer
In the weeks leading up to BFCM, Connor is offering a free gift with purchase to incentivize people to buy before Black Friday.
A free gift with purchase is great because it's super easy to understand. Your customers know exactly what they're getting.
Just make it extra clear that this offer is only available before the holiday weekend kicks off and you won't be bringing it back. This should be enough to get at least a handful of customers over the hump to make a purchase in the next couple weeks.
The BFCM offer
There are a bunch of different options you can choose from when it comes to your day-of offer.
Respoke is opting for a sitewide discount. And because of their business model, they can afford to offer 40% off.
And while that might not be possible for you, it's incredibly important to make sure you know what you can offer in terms of a percentage off. Not just for BFCM, but all year long.
Get our best content on ecommerce marketing in your inbox 2 times a week
Ad Creative
In the weeks leading up to BFCM, Connor has been focused on growing their email list. Which means they really started to ramp up their ad spend recently.
Which means they've had to focus on the ad creative.
And because their offers are already in place, they can use ads as a way to promote them.
This is really what Ben has been emphasizing all week. Your offer drives everything else. So start there and everything else will follow.
You don't have to go crazy here, either. Canva makes it incredibly easy to make professional looking graphics without being a designer.
But if you ever want to do anything a little bit more advanced but still affordable, Connor recommends Upwork or Fiverr.
Getting featured in gift guides
It feels like the second Halloween ended, every single ecommerce brand launched a holiday gift guide.
And Connor's secret for getting backlinks this time of year is reaching out on LinkedIn or Twitter to editors of some of the major publications in your industry.
That's exactly what he did to get featured in this Car And Driver gift guide. Not bad, huh?
The email strategy
The email strategy for Respoke is really going to revolve around two different groups: those who have purchased, and those who haven't.
Because Respoke's bread and butter is a single product, it's not as straightforward as sending the same offer to people who have already purchased as they're sending to non-purchasers.
But they can target those who have already purchased to encourage them to purchase their product as a gift OR with an exclusive offer to buy a different item with their artwork (for example a phone case with their car on it).
The onsite experience for BFCM
When it comes to the experience on your website, it's really important to make sure you're pausing a lot of your existing campaigns and replacing them with BFCM-specific messaging.
Both so visitors know what your offer is right away and to make sure it's a smooth experience for them. You don't want them to get his with different popups every few seconds.
That's exactly what Connor and the Respoke team have planned.
Use a banner at the top of the site to display offers
Continue to collect emails during BFCM (that's one of the biggest mistakes our CS team sees every year)
Update the hero image
BFCM-specific cart saver
Key takeaways from Respoke's BFCM playbook
Find industry-specific gift guides and reach out to their team to try to get featured.
You can still drive sales leading up to BFCM.
Make sure your offer is clear in every part of your experience (from ads to your homepage).
Subscribe for Updates
Get our best content on ecommerce marketing in your inbox 2 times a week.
Written by Lauren Hall
Lauren is a Brand Marketing Associate at Privy. She's the brains behind all things content. When she's offline, she's obsessing over her Bernedoodle pup, Monster, and plotting ways to being a full-time Vermonter ASAP.
Subscribe for Updates
Get our best content on ecommerce marketing in your inbox 2 times a week.