How To Prep Your Shopify Store's Black Friday Cyber Monday Marketing Strategy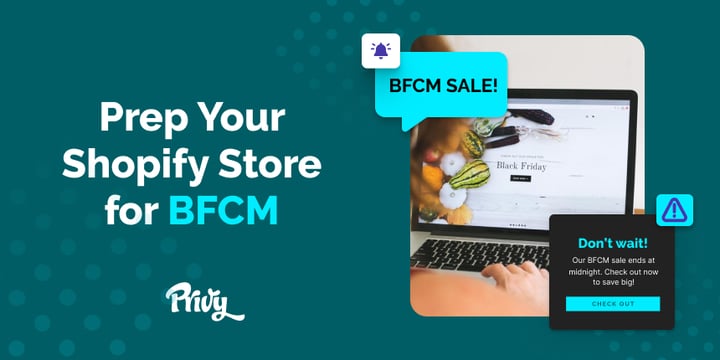 Not only do consumers plan to spread holiday cheer to others this year, but they also intend to spend money on themselves, according to a PwC study.
After a 2020 season of uncertainty caused by the pandemic, many consumers say they'll spend more in 2021 than they did last year, and holiday budget optimism is the highest it's been since 2015.
Along with that increase in spending, over 50% of people say they plan to do all Black Friday shopping online this year, and ecommerce shop owners need to capitalize on that opportunity.

However, the supply chain crisis and national labor shortage will also affect shopping habits – over 3/4 of the world's shipping ports faced delays in 2021, according to Business Insider.
These delays are often unpredictable and can throw a wrench in your plan for the holiday season. Which means it's more important than ever to plan ahead.
Get our best content on ecommerce marketing in your inbox 2 times a week
Extend Your Black Friday and Cyber Monday Season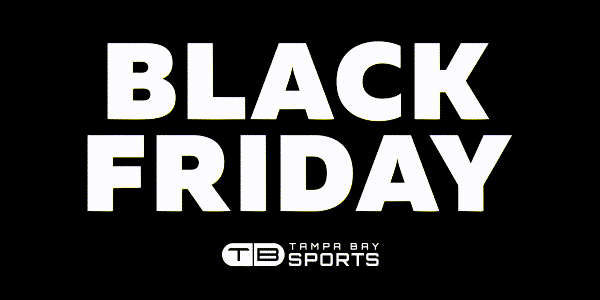 Source

One strategy is to extend your store's Black Friday sales. This gives you more time to promote your Black Friday Cyber Monday deals and grab subscribers' attention ahead of your competition.

Consider starting your sale earlier in November, but make sure the sale you offer is sustainable for your Shopify business. Larger retailers may be able to afford to give a 50% discount for more time, while a small business may not.
You can also offer flash sales throughout your Black Friday and Cyber Monday season if you can't offer a discount for a long period of time. "Deal FOMO" (Fear of Missing Out) makes people want to take advantage of a sale – and can often generate increased conversion rates. If you're looking for offer ideas, here are 5 you can steal.

Consider this: 38% of Americans start their holiday shopping before the end of October. So next year, use September and October to build up your email list and then create audience segments within that mailing list. It can be as simple as VIPs and everyone else or people who have purchased and people who haven't. Just remember: the more relevant your email marketing is, the better. And with killer subject lines that advertise your sales and discounts, you're well on your way to driving serious sales for your store.
Update your website design and copy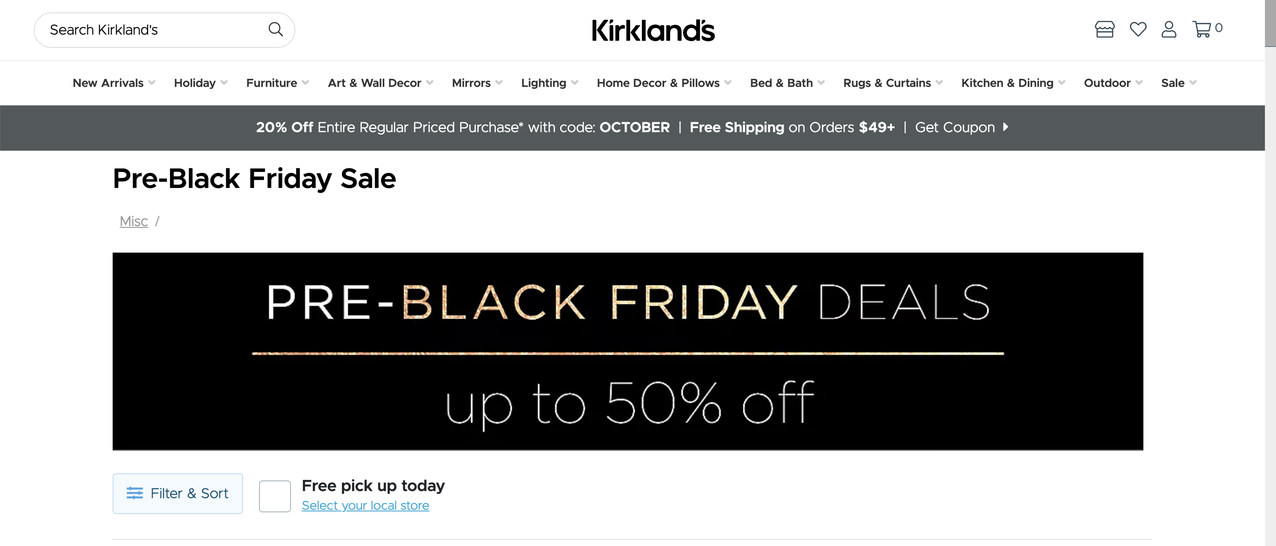 Source

During the holiday season, consider giving your website a facelift with fresh copy and imagery. A staggering 90% of respondents to this Facebook survey indicated that they research their holiday purchases online. Adding Black Friday copy to your site could help optimize search results for your store and bring in sales.

You can also update your homepage hero image with graphics that emphasize your Black Friday promotions and add in some holiday-themed copy to catch more attention. A welcome popup with holiday graphics could also advertise a discount in exchange for a customer's email address.

Additionally, consider offering valuable holiday content like gift guides that take customers on a journey through your site. If someone's searching for children's gifts, spotlight toys or clothes you offer, this type of guide could drive them to click on individual product pages, where you can then target them with timed cross-sell popups that show off other relevant items on your site.

You can also use a free shipping bar at the top of your site. If you're using a dynamic shipping bar, like Privy's, it will automatically update how much more visitors need to spend to earn free shipping on their order. Not only does this take the guesswork out of whether or not an order qualifies for free shipping, it's also one of the easiest ways to improve conversion on your site.
And don't forget to make sure your site is mobile-friendly! A lot of your traffic will be coming from smartphones or tablets.
Finally, make sure you're proactively communicating with customers about any delays. It's so much better to communicate that upfront than to have angry customers because they didn't get their holiday gifts in time.
Build an abandoned cart campaign
When a visitor to your site leaves items in their cart behind, don't give up. Instead, set up an abandoned cart campaign that can help draw them back to your store after they've left.
You should have abandoned cart emails turned on all year, but they're especially important during the holiday season because abandonment rates are higher than ever.
If you don't have any abandoned cart emails set up, start with one. From there, you can turn it into a 3-part series. If you've also started collecting phone numbers, you can combine your email efforts with SMS offers to get them over the hump and make a purchase.
Privy can also help you get a cart saver up and running so you can try to save a cart before someone with items in their cart leaves. At the very least, a cart saver can help you capture email addresses so you can keep the conversation going after they've gone.
Send out SMS offers
Meet your customers where they spend a lot of their time. On their phones with a text message. Texts are a great way to personalize your message to your customers and stand out from the noise of email inboxes and social media.

Make sure anyone you text has opted-in to receiving your messages; then, you can send them mobile-only discounts. Building up your text list can take some time, but Privy's guide to SMS marketing can give you helpful tips on how to do that. And if you're ready to get started with SMS ahead of BFCM, Privy's CEO, Ben, shares exactly how to do it.

You can also send them an early-access text before emails go out to get them to your site, or even better, to a landing page that makes it easy for them to see what's on sale.

There are several perks to using SMS marketing campaigns, besides reaching them more easily than in their inbox, according to Aberdeen Strategy & Research. For example:
The SMS coupon redemption rate is high. On average, SMS on-demand coupons have a 30% to 50% redemption rate.
Pairing SMS and email offers gets marketers an average redemption rate of 15% to 25%, higher than email-only offers. Email-only offers see a rate of less than 5%.
An SMS on-demand coupon, like one that you'd send as a one-off for a Black Friday flash sale, can see redemption rates as high as 85%.
Create and schedule social media posts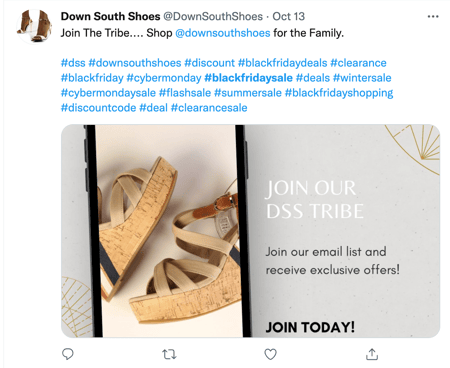 Source

Create social media posts you can share throughout your Black Friday and Cyber Monday season. You can also use tool that lets you schedule out those posts in advance so you can set it and forget it.

For organic posts, try to create them with snappy copy that communicates your messaging and graphics that show off your merchandise. You could show a photo of a personalized first-Christmas outfit or a holiday baby blanket. Make sure to utilize Black Friday and Cyber Monday hashtags as well.
A paid ad campaign could help you bring in new customers this holiday season. 30% of people browsing the internet found new brands via social media ads.
If you decide to do this, create target audiences to focus your ad campaigns. For example, if you're selling personalized baby outfits, you would want to advertise to holiday shoppers who may demonstrate an interest in parenting or follow pregnancy resources.
Just remember that costs for paid are at an all time high. So if you're new to paid advertising, now is probably not the best time to get started.
Advertise your charitable giving
Another Black Friday marketing idea and a way to stand out from the crowd is to spotlight the charitable work your company does.
During the holiday season, people are thinking about giving back, and many, including millennials, are inclined to shop with brands that are environmentally and socially responsible.

Doing this is a way to not only market yourself, but also differentiate your store. As an added bonus, philanthropy can increase brand loyalty, meaning you could end up with repeat customers.
Implement a buy now, pay later option
While many shoppers were able to save during the pandemic, others weren't. And that could affect their ability to spend like they want to this holiday season.
Online shopping offers many payment options like Shop Pay, PayPal, debit card, Venmo, and others. Another payment type that could differentiate your store is a buy now, pay later option such as PayPal, Affirm, Klarna, or Afterpay.

These options give the customer a chance to pay for their order in installments. These are set up using the customer's debit card or credit card, so they'll automatically get charged each time an installment is due. They're attractive to millennials and Gen Z consumers, as well as customers who may not have a credit card or access to credit.

A buy now, pay later option could help increase your average order value because customers could spend more knowing they have time to pay off the purchase. In fact, the average purchase on a buy now, pay later order is around $200, according to CNBC. Without that option, the order would only be around $100. You may also see higher conversion rates of around 20 to 30%.

Make sure to advertise this option in your marketing and on your website, so your customers and new audience members know it's available. Highlight the no interest fee and no hidden fees, too, if you decide to offer that option in your store.
Simplify your Black Friday and Cyber Monday Marketing with Privy
Implementing a Black Friday marketing campaign can be overwhelming. But Privy's Growth Plan has everything you need to have your best holiday season ever.
Privy's user-friendly platform gives you all the tools you need to execute your holiday sales with email marketing, engaging popup, the ability to send SMS messages, and more.
Get ready for this year's holiday shopping season, and add Privy to your marketing tools today.
Subscribe for Updates
Get our best content on ecommerce marketing in your inbox 2 times a week.
Written by Lauren Hall
Lauren is a Brand Marketing Associate at Privy. She's the brains behind all things content. When she's offline, she's obsessing over her Bernedoodle pup, Monster, and plotting ways to being a full-time Vermonter ASAP.
Subscribe for Updates
Get our best content on ecommerce marketing in your inbox 2 times a week.