BFCM Bootcamp: How Inked Gaming Drove A Month's Worth Of Sales Last BFCM Weekend (And What They Have Planned This Year)
Published on Nov 12, 2020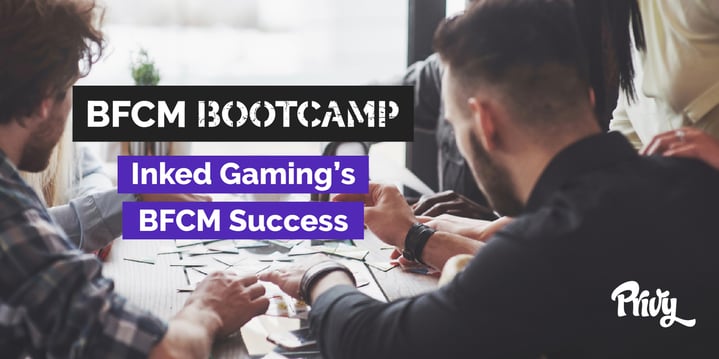 Last Black Friday/Cyber Monday was a total success for the Inked Gaming team.
In just one weekend, they drove about a month's worth of sales. 🤯
Which is insane.
But this year, they're switching up their strategy based on learnings from 2019.
On today's episode of Ecommerce Marketing School, Ben brought on their in-house marketing guru, Sarah Berge, to find out what worked last year, what didn't, and what they have up their sleeves for this BFCM.
BFCM 2019
A couple weeks before BFCM started, the Inked Gaming team focused all their efforts on building a list of VIPs for their holiday offer.
They created a simple landing page with a note from the CEO and included a form to sign up for the list. There were popups on the site to drive signups. Emails that went out encouraging people to sign up for the list, and there were social media posts and blog posts. It was a multi-faceted effort to try and get as many people to sign up as possible.
And once people did sign up, they were added to a welcome series specifically designed to get (and keep) them excited about the BFCM offers to come.
The offer
Last year, Inked ran a 30% discount on certain products (not all) that ran Friday through Monday. Because their margins varied depending on whether or not the product was made in house, some products were excluded from that offer.
But even though they couldn't offer as steep a discount on all their products, they still wanted to offer smaller discounts, so the VIP list would get access to those as well as early access to shop the larger sale so their orders would be first to get shipped out.
That group also got exclusive information about the products that were going to be on sale, when the sale started, all the fun information that teased what was coming.
Which is the perfect way to use a VIP list. Give them information ahead of time, keep them excited about the next emails you're going to be sending, and, most importantly, make them feel special.
Learnings from last BFCM
For all the effort they put into building their VIP list, they didn't end up getting as many signups as they had expected. It only ended up being about 1% of the size of their general subscriber list.
But it did perform very well. That group made up about 17% of their total revenue for the weekend.
In terms of long term impact though, these customers didn't end up sticking around for the long haul. They mostly came, shopped the sale, and didn't come back.
And this knowledge really informed their strategy for 2020.
Get our best content on ecommerce marketing in your inbox 2 times a week
BFCM 2020
When it came to setting goals for BFCM 2020, here's what Sarah and the team are focused on:
Making their VIP list more of a community.
Matching their YoY growth from last BFCM weekend.
Selling out of their exclusive products.
Targeting 30-35% of revenue to come from email.
Here's what they have planned to make this happen.
The Consortium
This year, the team is really focused on finding a way to make that VIP list more of a community, rather than a Black Friday gimmick.
So earlier this year, they launched their loyalty program, The Consortium (they use Smile.io, btw).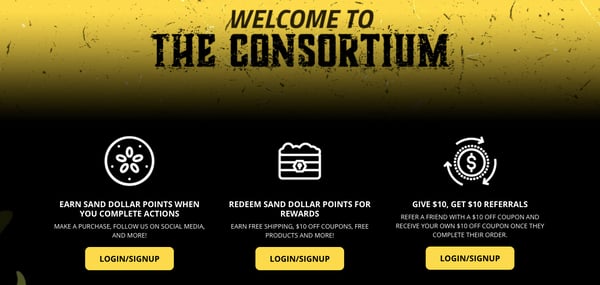 So all year long, members get perks, earn points, and are rewarded for coming back again and again.
And on top of that, they've been tying in the exclusive VIP angle and building up the expectation throughout the year.
Here's what they've got planned.
The offers
The base discount is going to be a 25% sitewide discount on all regularly priced items. So it's going to be fully sitewide this year rather than just certain products.
And this is going to be available to everyone, not just members of the community. But Consortium members will get access almost a full week ahead of everyone else. It starts the Saturday before BFCM for that group, and on Black Friday for everyone else
But they're not stopping there.
Consortium members will also have a chance to receive a FREE exclusive product. It hasn't been announced yet, but they have a very limited number of this product that they'll never have again.
On top of that, this group will also get other perks in their member dashboard.
Normally, they offer free shipping for a certain number of points, percentage discounts, etc. But leading up to and during the BFCM sale, they're going to have discounted versions of these perks as well as discounted products to really give them the opportunity to take advantage of their Consortium membership.
Key takeaways from Inked Gaming's BFCM strategy
While last year was incredibly successful for the Inked Gaming team, they're tweaking their strategy this time around. Here's what you should steal from their 2019 learning and plan for 2020.
Make things easy (for you and your customers) and try to run a sitewide discount if you can.
Tease your list of VIP customers to get them pumped about what you're doing for BFCM.
Find a way to make that VIP list a real community, not just single-purchase customers.
Create exclusive offers only VIPs have access to. Do whatever you can to make them feel special.
Subscribe for Updates
Get our best content on ecommerce marketing in your inbox 2 times a week.
Written by Lauren Hall
Lauren is a Brand Marketing Associate at Privy. She's the brains behind all things content. When she's offline, she's obsessing over her Bernedoodle pup, Monster, and plotting ways to being a full-time Vermonter ASAP.
Subscribe for Updates
Get our best content on ecommerce marketing in your inbox 2 times a week.