BFCM Bootcamp: 5 Steps To Launching An Insanely Successful Black Friday Campaign
Published on Nov 13, 2020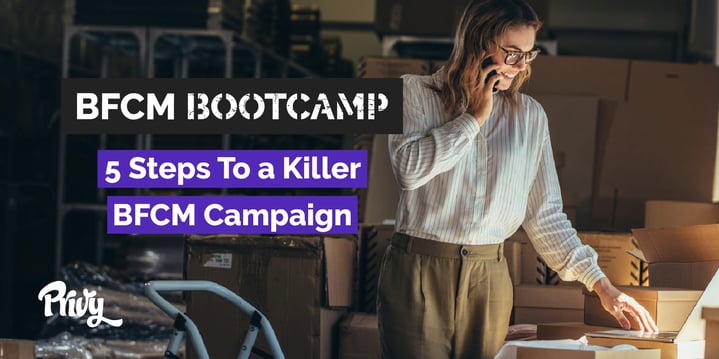 All week on Ecommerce Marketing School, Ben has been sharing tips, stories from founders, and actionable advice to help you run a killer Black Friday/Cyber Monday campaign.
So you're walking out of the week with confidence and know exactly what to do in the couple weeks leading up to the big weekend.
In just 1 hour (OK, fine, 61 minutes), you'll have what you need to run a successful campaign and drive serious sales.
1. Start with your offer
We've talked about this a bunch, but it's worth saying again. Your offer drives everything you do. Your emails, onsite experience, any and everything you're doing this time of year (and whenever you're running offers).
Your offer = your hook. It needs to be something your customers are going to be excited about. Or you've lost them before you've even started.
And remember: a lack of consistency in your offers makes it confusing and hard to know what you're doing. Keep it simple. For your own sake and your customers.'
Here are 3 different types of offers you can run.
2. Don't make your customers think
Now that you have your offer, it's important that you make it incredibly clear when visitors land on your site.
You don't want to make them think. If you're clear about the offer leading up to BFCM in emails, ads, and then when you drive them to the store day of, you're going to be in a great position.
Don't make them click around to find the offer. Make it front and center, accessible throughout the entire experience that day. If they have to dig for it, you've lost them.
Think about the onsite experience. What Privy displays and tweaks do you need to make to help visitors have a great BFCM experience? Here are a few ideas you can steal to improve it.
3. Be prepared for an increase in abandonment
You should expect an increase in cart abandonment during this time of year. Usually, it's around 70%, but last year, we saw it jump to around 85%.
But having cart saving pop-ups and cart abandonment emails in place will help you dramatically improve that.
Here are the display types and emails that will help you decrease cart abandonment this BFCM.
4. Lean in to email
This is literally why you've been building your list all year. It's email's time to shine.
And don't be afraid to increase the frequency of your sends leading up to the holiday and day of. No one's going to remember how many emails you sent, but you'll definitely miss out on revenue if you're not sending email.
Use the next couple of weeks to build hype and get your customer list excited.
Here's a 6-email BFCM playbook to help you drive sales.
5. Have live chat and support in place
And lastly, have live chat and support in place.
The faster you respond during the holidays, the likelier it is that you land the sale. So make it easy for customers to get in touch with you.
And if you get the same questions over and over, make sure they're easy to find on your site! That'll help you stay sane by pointing people in the right direction on your site before they come to you.
Get our best content on ecommerce marketing in your inbox 2 times a week
Key takeaways: How to prepare for BFCM
This entire week of episodes has been dedicated to helping you prepare for the biggest selling season of the year.
Here's a full list of episodes and blog posts you can reference and keep coming back to.
BFCM Bootcamp #1: Lessons from 2019 & The 3 Offer Types You Need To Know
BFCM Bootcamp #2: The 6-Email Playbook And Display Types You Need To Prep Now
BFCM Bootcamp #3: It's Connor's First BFCM Selling On Shopify. Here's What He Has Planned.
BFCM Bootcamp #4: How Inked Gaming Drove A Month's Worth Of Sales Last BFCM Weekend (And What They Have Planned This Year)
BFCM Bootcamp #5: The 5 Steps To Launching An Insanely Successful Black Friday Campaign #70
Podcast (tune in above! It's at the very top of this post)
Blog post (it's the one you're reading right now 😉)
And if you haven't checked it out already, The Privy Starter Plan has everything you need to drive sales for BFCM and beyond.
So you can create popups that drive visitors to your BFCM offers, save more abandoned carts, and send all your emails. All with one app. Get the Starter Plan today.
Subscribe for Updates
Get our best content on ecommerce marketing in your inbox 2 times a week.
Written by Lauren Hall
Lauren is a Brand Marketing Associate at Privy. She's the brains behind all things content. When she's offline, she's obsessing over her Bernedoodle pup, Monster, and plotting ways to being a full-time Vermonter ASAP.
Subscribe for Updates
Get our best content on ecommerce marketing in your inbox 2 times a week.