Privy Email & SMS Segmentation
Deepen your customer relationships with
user-friendly segmentation
Pinpoint customers based on their shopping behavior and interests with simple yet powerful segmentation tools. Send ultra-relevant messages that keep them coming back.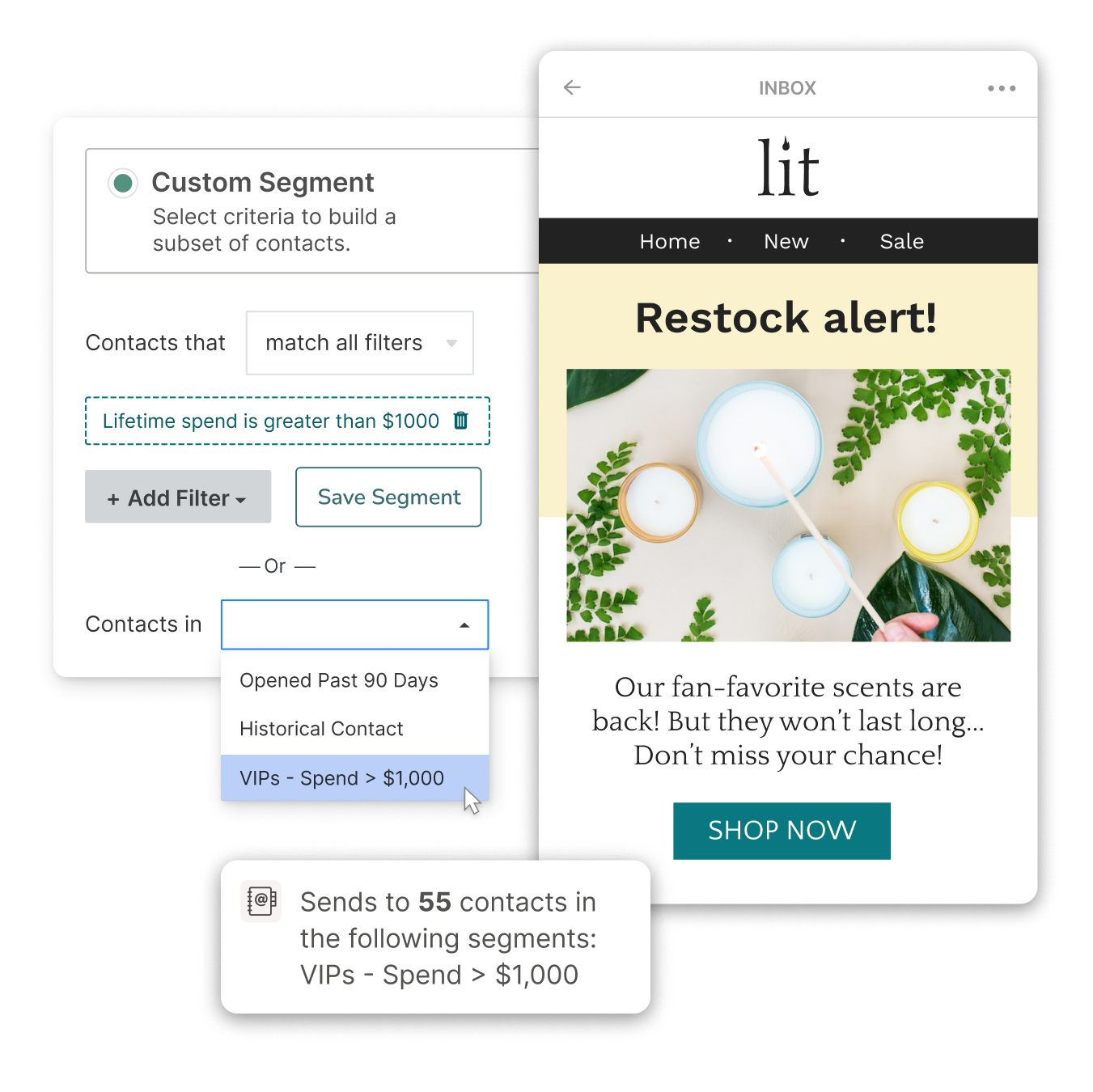 Your marketing made smarter with segmentation
Drive more revenue
Segmented emails and texts outperform other marketing messages. Send ultra-relevant campaigns based on shopping activity, browsing behavior, geolocation and more.
Personalize your marketing
Target different audiences to increase lifetime spend, reach your VIPs, and boost engagement with messages your contacts will actually want to open.
No code needed
Whether it's your first time building a segment or you're a marketing pro, our segment builder is both simple to use and highly effective. Choose from a variety of filters to narrow down your contact list.
Target customers

how

you want,

when

you want
Make personalization your brand's superpower. Want to target your most valuable customers with exclusive offers? Or want to re-engage one-time buyers and bring them back to your site? Divide your list into hyper-focused audiences with segmentation that lets you deep dive into your customers' shopping behavior.
With powerful customer data and flexible conditions, you can target segments like:
VIP customers with high order counts or lifetime spend

Product-specific audiences

Unengaged customers

Shoppers who opted out of Mother's Day emails

Shoppers based outside of the United States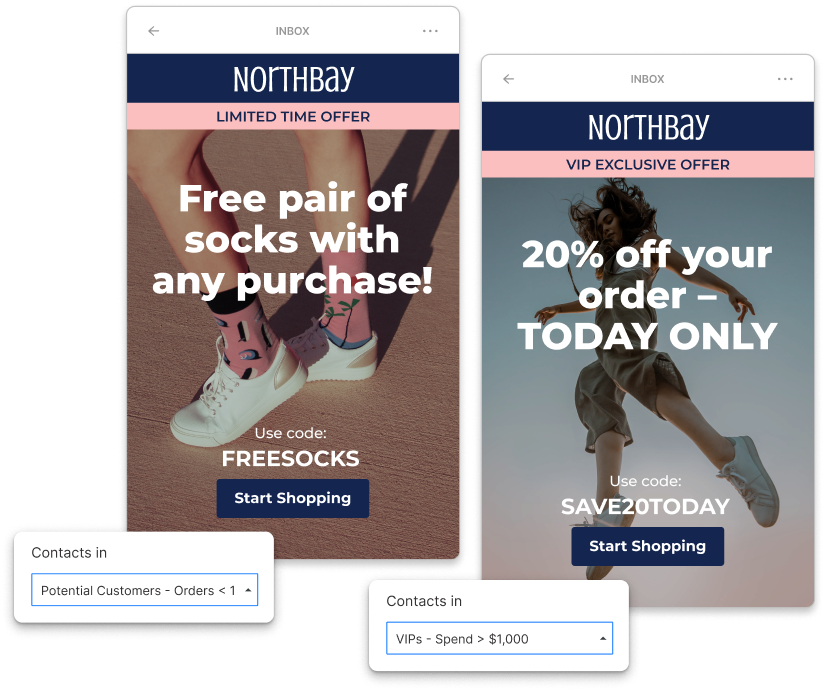 No effort needed with Privy's

Smart Segments
Use our Smart Segments as your ultimate segmentation shortcut. These dynamic pre-built segments automatically populate based on your contacts' purchase history and email engagement. Win more sales, deepen customer loyalty and boost engagement all with the click of a button.
Commonly used ecommerce segments right at your fingertips including:
Engaged Contacts
Current Customers
Potential Customers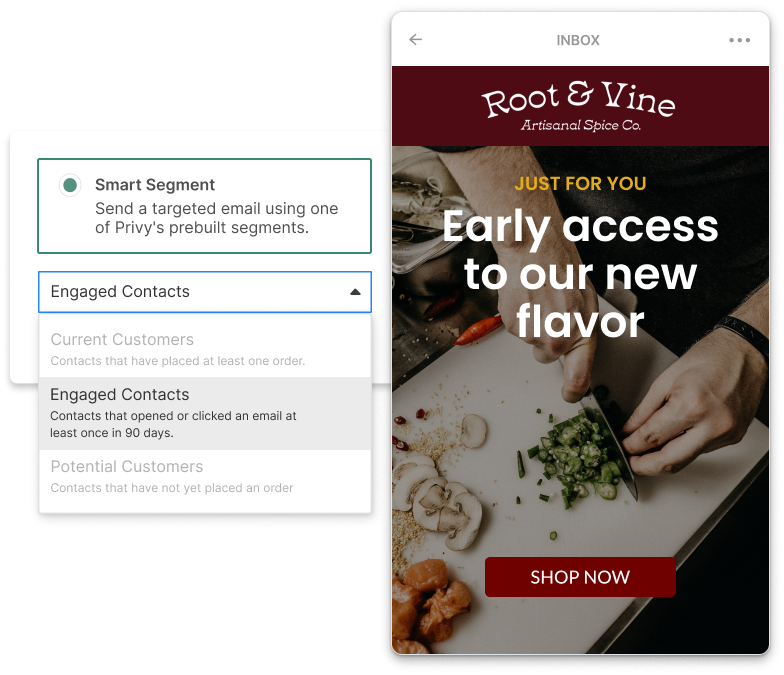 Seamlessly share information between

Privy + Shopify
Our deep integration with Shopify unlocks robust targeting potential. Automatically sync data that reflects your customers' interactions with your Shopify store to Privy. Put that data to work with flexible conditions in our segment builder.
Leverage Shopify data directly in Privy like:
Product purchase history
Shopify Collection purchase history
Shopify Tags applied to your contacts
Your customers' order counts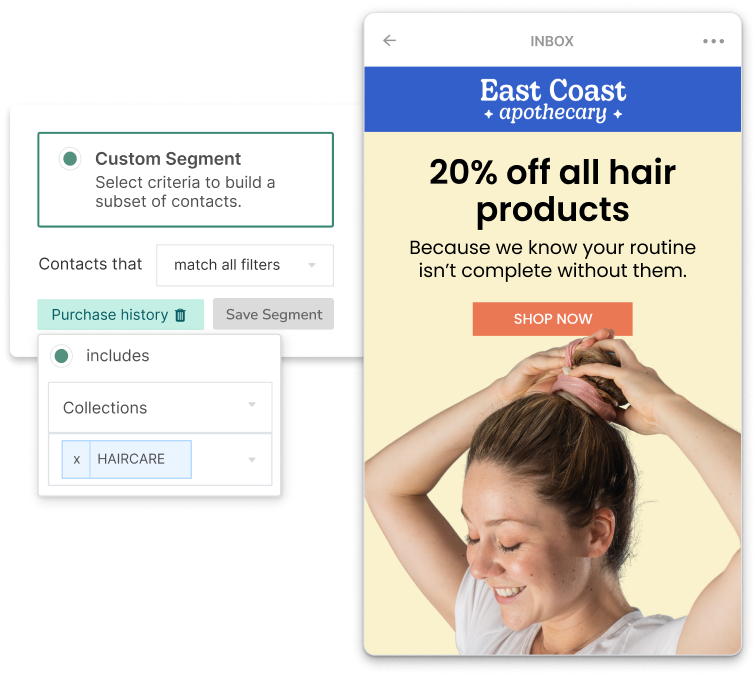 Build super-specific segments
Shopping activity
Segment based on your customers' history with your store. Target shoppers based on their cart value, product purchase history, order count, lifetime spend and more.
Custom attributes
Easily organize contacts with tags for an extra layer of personalization. Filter your contacts according to any custom fields included in your signup displays.
Email engagement
Reach the contacts who are most likely to take action on your marketing messages. Offer special incentives to reactivate contacts who haven't engaged with your brand recently.
See how it all works in 40 seconds
Make segmentation

a pillar of your marketing
Easily reuse your custom segments again and again across your email and SMS campaigns, and know exactly how many contacts you're sending to each time. Your segments will automatically update over time. Once you have them, you can quickly access your segments when it comes time to send highly effective emails and texts.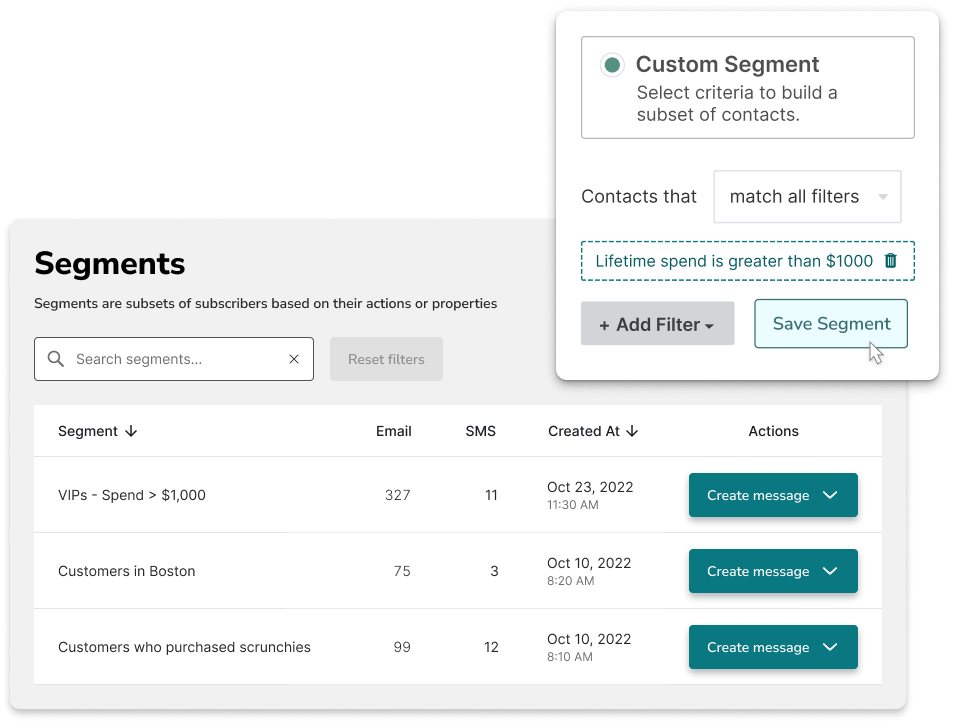 Need tips on segmentation?
We've got you covered.