8 Ways To Use Shopify Collections For Your Campaigns And Automations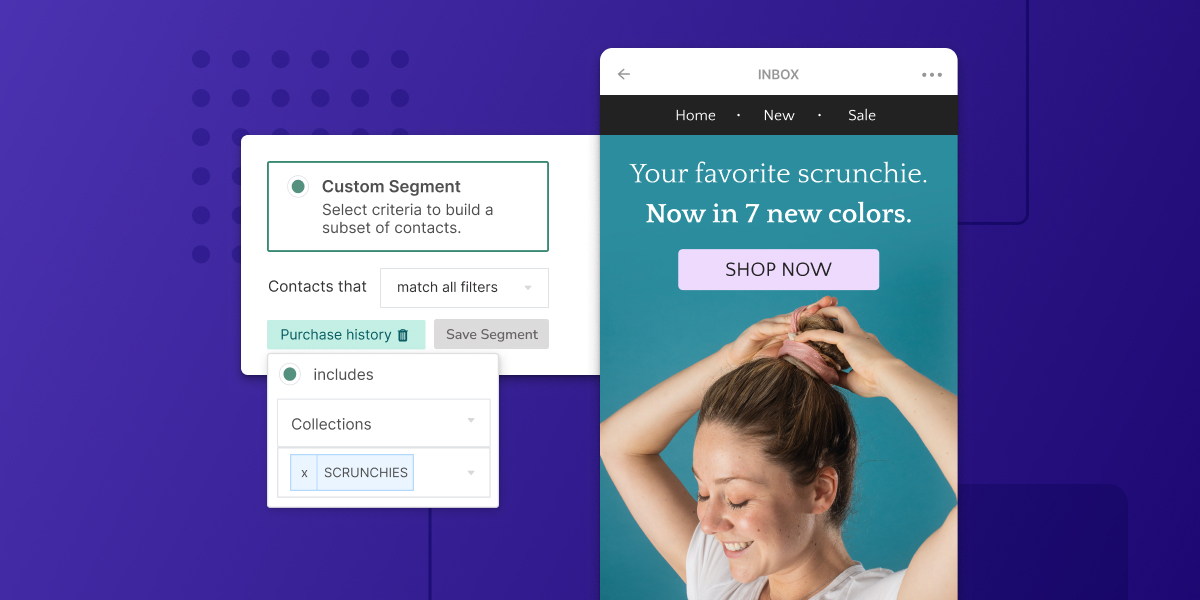 You've been able to segment on individual Product IDs in Privy for a while.
But now you can build segments around entire Shopify Collections. Which is a huge time saver if you're working with a large, rotating inventory.
With this update, you can simply create segments at the collection level without worrying about adding in every single item that belongs in the collection
And if you plan to release more products as your business grows, you have flexible segmentation options to work with as you scale.
Simple, customizable segments means more personalized marketing, better shopping experiences and, ultimately, more sales for your store.
Shopify Collections can be applied to segments and trigger settings across multiple messaging types in Privy.
So follow along as we share 8 ideas to leverage your Shopify Collections across your email and SMS campaigns, abandoned cart and purchase follow up automations.
Get our best content on ecommerce marketing in your inbox 2 times a week
1. Build hype for new products
If your customers bought from a particular collection in the past, chances are they're interested in seeing the newest additions to your collection.
And new product releases are the perfect opportunity to build up some hype with your customers.
Better yet, you can pair 2 different sales channels together, like your email and SMS marketing, to really generate some buzz about your latest drop.
Dietary-restriction friendly chocolate brand Honey Mama's did just that when they brought back their limited edition Pumpkin Spice Cocoa Truffle Bar.
First, they sent SMS subscribers a heads up that Pumpkin Spice was returning, along with an opportunity to receive an exclusive code for the drop.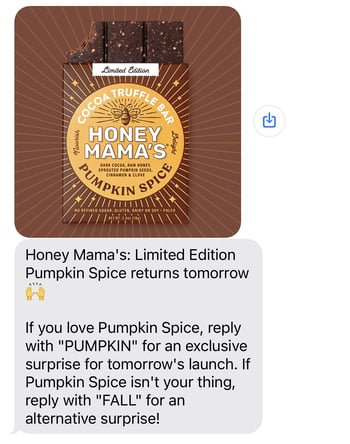 The next day, SMS subscribers were notified when Pumpkin Spice officially went live on their site.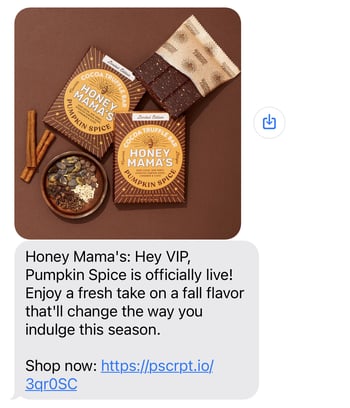 And to truly give SMS subscribers the VIP treatment, email subscribers weren't notified about the new release until a few days later.
Which means that when it came to announcing the release to Honey Mama's wider audience, they were able to drive up demand with their limited inventory of Pumpkin Spice.
So let's say you sell fashion accessories and want to use your SMS list to drive up demand for your newly released scrunchies.
You can create a segment of SMS subscribers who've shopped from your scrunchie collection in the past and text them to shop before anyone else.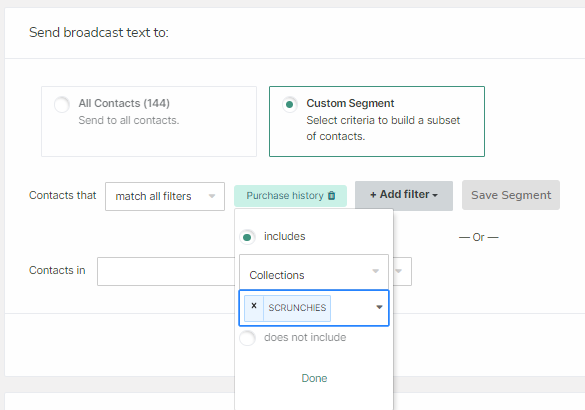 This way, your customers who are most likely to be excited about new scrunchies can shop as soon as possible.
And when you notify the rest of your customers about the new products, you can drive urgency around your limited inventory.
If you're not already using SMS marketing for your brand, you can try this tactic with your email subscribers instead.
Start with a segment of any subscribers who've shopped your scrunchie collection: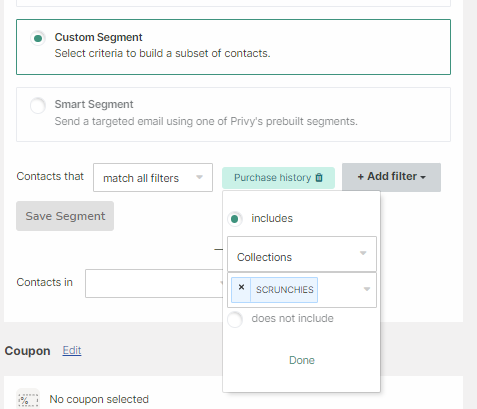 And send them a couple targeted emails teasing and giving early access to the drop.
After your loyal scrunchie fans have had a few days to shop, announce the new products with the rest of your email subscribers. You can even make sure to exclude contacts who received your first couple of emails to help keep inbox clutter to a minimum.
2. Give sneak peeks of special collections
Maybe you have a collection that tends to sell out quickly.
Take one of my favorite athleisure brands, Girlfriend Collective, for example.
The brand has a Luxe Collection of matching sets that have a slightly different look and feel than their everyday products.
But they only restock this collection about once a year, so if you want a set you have to act fast
I've been on Girlfriend's email list long enough to experience 3 Luxe Collection drops but I've never snagged a Luxe set for myself.
And this year a couple of the marketing emails I received about the Luxe Collection really stood out to me.
The first gave me a heads up that the Luxe Collection was dropping soon: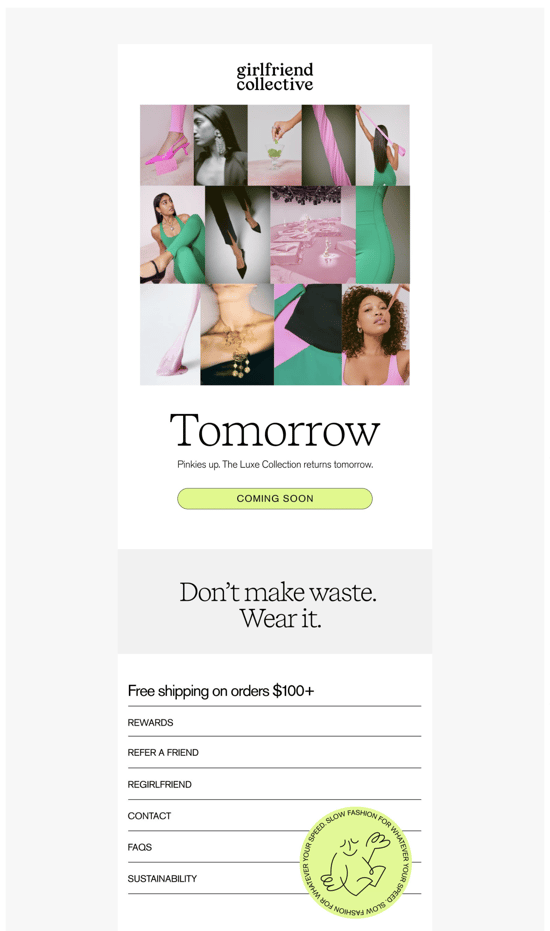 And then the next day I got an email with early access to shop the collection which definitely grabbed my attention:

You could do something similar for your own brand with the help of Shopify Collections in your email segmentation.
If you know products in a certain collection will be in high demand, you might try to give long-time customers the chance to shop before anyone else.
Especially if they've never shopped from this particular collection in the past.
Shoppers who've missed out on these products in the past will be happy because they have a chance to grab some much-loved products.
And you have an opportunity to increase these shoppers' lifetime spend with your business. It's a win-win.
Here's how you can create segment for your campaigns in Privy using this approach: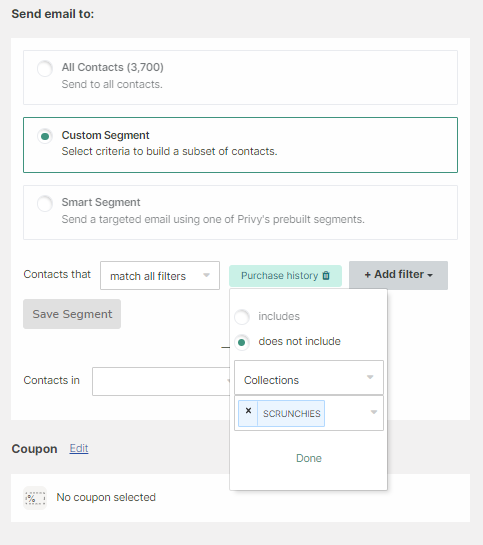 Select 'Collections' under the Purchase History filter, choose 'does not include' and find your desired collection in the dropdown. This will create a segment of any contacts who haven't shopped from the collection.
3. Promote your latest sale
Shopify Collections can also come in handy for smarter promotion of your latest sale.
I'll be honest. There are certain brands I admire but don't shop from regularly.
And one of those is jewelry brand Ana Luisa.
I love their products and have been following the brand for a few years, but I don't wear a ton of jewelry in my day-to-day life.
So for me to feel motivated to buy jewelry, I either have something specific in mind or a really great sale catches my eye.
And I'll be the first to admit that I've only ever shopped from Ana Luisa when they're having a sale.
Chances are there's a segment of your customers that operates in a similar way.
But you can still drive a lot of value from customers who don't typically shop full price with your brand.
That's where using Shopify Collections in your segmentation can help.
If you have a Sale collection that you periodically refresh with newly discounted items, make sure your sale shoppers know.
Leverage their purchase history with your sale collection to send them targeted alerts and reminders about your latest sale, like this one from Ana Luisa.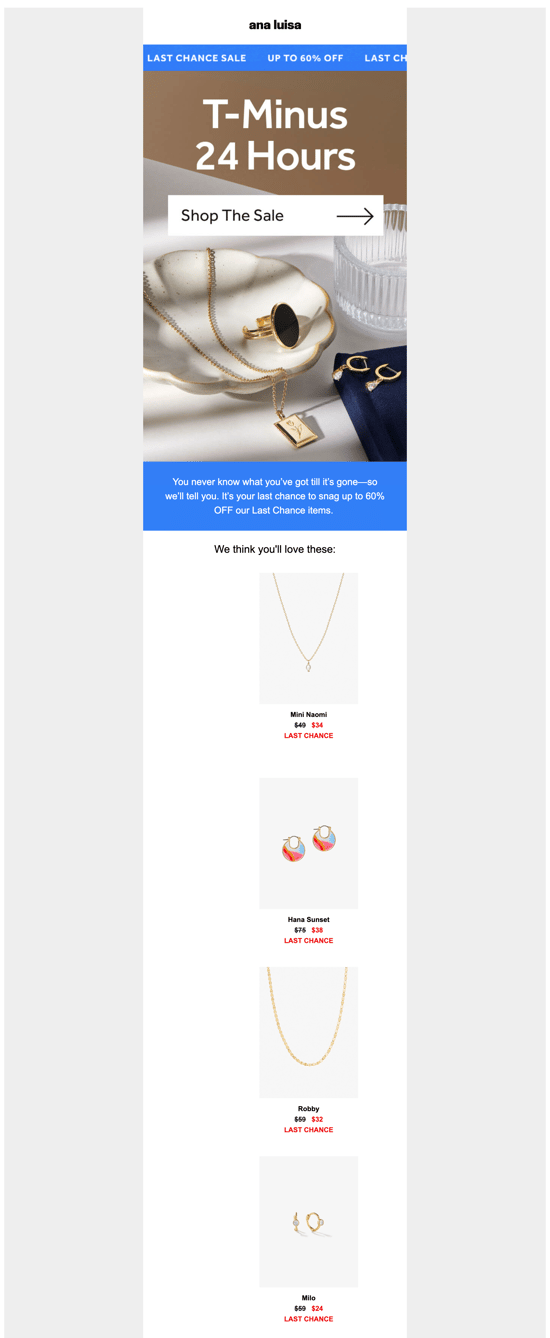 Targeting your sales shoppers specifically is a great way to keep them engaged, especially if they otherwise wouldn't be able to shop with you.
So the next time you're preparing for a big sale, like your Black Friday sale, consider including an email to contacts who've shopped your sale collection as part of your campaign strategy.
4. Recommend complementary products
Once you inspire that first purchase from customers, the next step is to transform them from one-time buyers to repeat customers.
The good news is that there are a ton of creative ways to engage customers and bring them back to your site to shop.
Like sharing complementary products based on their purchase history.
Which is exactly what cookware brand Our Place did here:

I bought a pan from their Always Pan collection (which I love, by the way).
And because Our Place knew I bought an Always Pan, a couple months later they were able to send me an email recommending their Perfect Pot.
The email does an amazing job of calling out all of the features that make the pot special and even includes a 'testimonial' from the Always Pan.
This particular email was part of their Valentine's Day campaign so Our Place really leaned into themes of love, like calling the Perfect Pot the soulmate to the Always Pan.
This was clever given the timing of the campaign, but you could definitely try a similar campaign at different times of the year.
So if you have collections that pair well together, whether they're pots and pans, handbags and wallets, or whatever else your brand might sell, cross-promote products from one collection to shoppers from another.
All you need to do is create a segment of shoppers from your handbag collection and showcase products from your wallet collection to introduce shoppers to their handbag's perfect match.
And like Our Place did, consider the timing of this type of campaign. Part of why this campaign from Our Place worked so well is because I had time to use and enjoy my Always Pan, which made me more inclined to buy another product from the brand.
If I received this email a week after I got my Always Pan, I probably wouldn't have been as receptive to the Perfect Pot. So give your shoppers some time to fall in love with your products from one collection and then introduce that complementary collection.
5. Target audiences with different needs
Your brand might cater to multiple audiences, like women's, men's and kids footwear.
It wouldn't make a ton of sense to heavily promote the latest kids sneakers to someone who has never bought from the kids collection.
So you can use your Shopify Collections as a guiding force for how you engage with different segments across your audience.
Sustainable footwear brand Allbirds does a nice job with this.
I bought women's sneakers and now regularly get emails about new colors, styles, you name it.
But I've only ever received a handful of emails about their kids collection.
Seriously, here are all the emails I've gotten about Allbirds kids collection:

Versus other marketing emails from the just the past few weeks: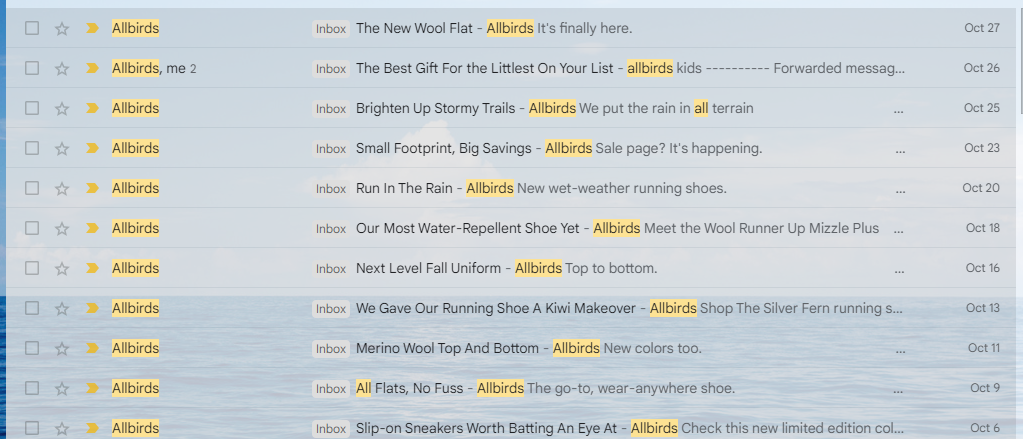 And the emails I did receive about the kids collection were either sent around the holidays as a gift idea or notified me about a major new release in the collection.
Which is smart. Occasional reminders about everything you have to offer, especially around peak shopping times like the holidays, can't hurt.
But in general, if significant portions of your audience have different needs - and your collections are designed to fit those needs - you can shape your marketing strategy around those collections.
So in this case that means having separate campaigns geared towards shoppers from Allbirds men's collection, women's collection, and kids collection.
Or take Privy merchant Cedar Fort Publishing for example.
Their products serve a wide range of shopper interests, like children's, romance and mystery books.
With the help of Shopify Collections, they're able to quickly create segments at the collection level to market their latest releases across these different categories.
If your store operates in a similar way, use your Shopify Collections to help you focus the content of your campaigns. This way, your campaigns will be relevant to the shoppers who are most likely to take action.
6. Elevate your cart recovery strategy
Shopify Collections are valuable for more than just your one-time campaigns.
In Privy, you can apply Shopify Collections to the trigger settings for your Abandoned Cart automations.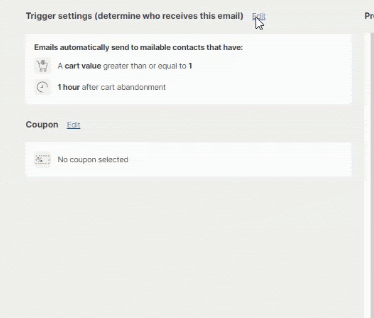 So rather than sending the same cart reminder regardless of what's in someone's cart, you can tailor the content of your abandoned cart emails and texts to motivate shoppers to buy the specific items they left behind.
That's exactly what Olipop did in this email: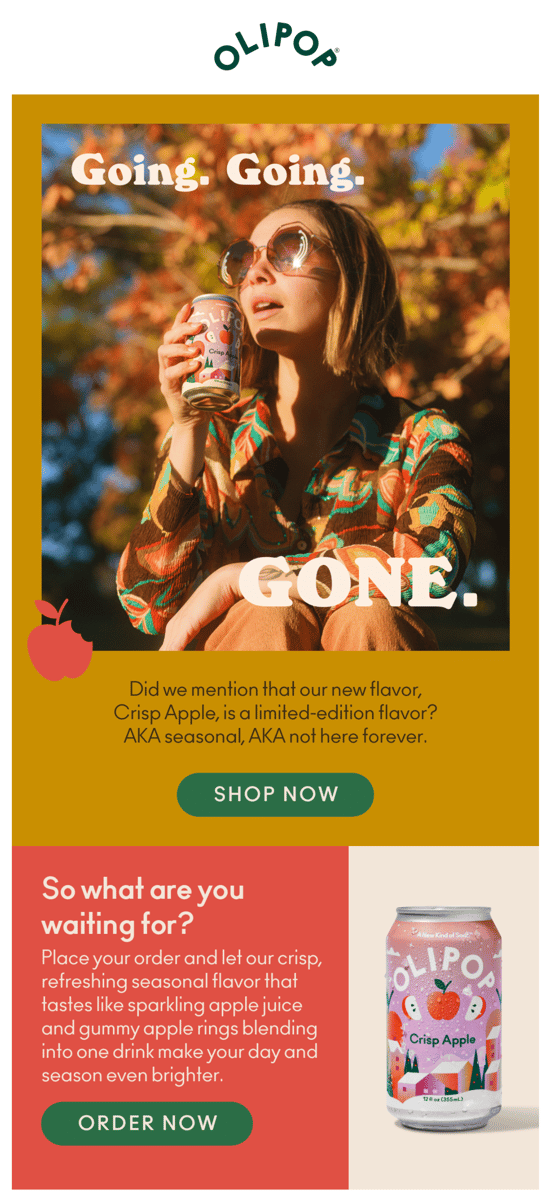 Instead of just reminding me that my cart is still waiting for me, the brand also reminded me that my chosen soda flavor is a limited-edition and won't be available forever. This puts urgency around completing my purchase ASAP.
And for products available year-round, you might consider highlighting other motivating content like social proof and customer reviews.
Take a look at this abandoned cart email from Sundaily, a brand that sells daily gummies for skincare: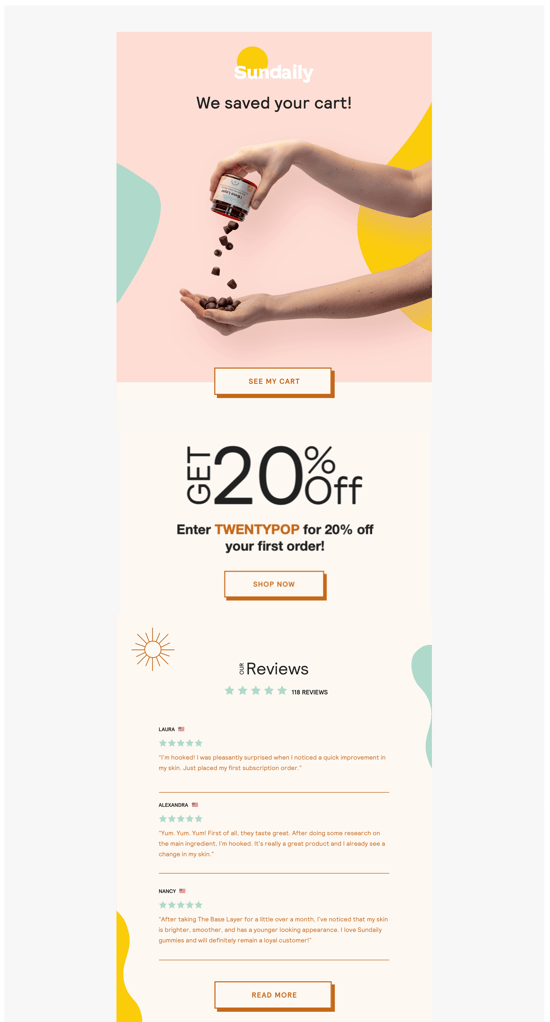 I love that this email highlights the products' five-star reviews and even includes a few reviews directly in the body of the email.
With the ability to trigger different abandoned cart messages based on which collection the left behind items belong to, you can easily take your cart recovery strategy to the next level. Send smarter emails and texts that reflect customers' unique shopping experiences with your store.
7. Share resources post-purchase
Transactional emails are table stakes in the post-purchase experience.
This includes emails like the purchase confirmation, order summary, and shipping updates that help build anticipation with your customers.
But you don't have to stop there. Moving beyond purely transactional communications can establish trust between your brand and your customers.
And when you leverage purchase history data in your purchase follow up automations, like which Shopify Collection a customer bought from, you open up a new avenue for communicating with your customers.
So you can do things like use purchase follow up emails as a space for product education.
Check out this post-purchase email perfume brand dossier sends to customers:

When someone buys from their perfume collection, they're sent an email with key care tips to get the most out of their bottle. And the 'read more' CTA brings shoppers back to the site to explore more of the brand's content.
If your products come with specific care instructions, send an email that includes tips for caring for the products, how to use them, or how to assemble them – whatever makes the most sense for your products and brand.
Plus, sharing this type of information could decrease the likelihood of customers returning their new items because this email has everything they need to get the full product benefits.
To do this with your purchase follow up automations in Privy, simply edit your trigger settings and modify your content to fit your desired Shopify Collection.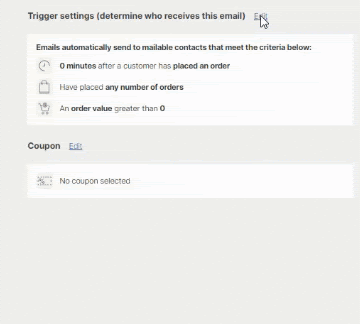 8. Ask for product reviews
As I mentioned earlier, leaning into customers' purchase histories with your brand allows you to communicate with them in a much more personal way.
And there's no better advocate for your brand than satisfied customers.
So let customers know that you'd love to hear more about their experience with your brand and products. But be sure to make your ask relevant to their specific experience, like candle brand Mala did with this review request email: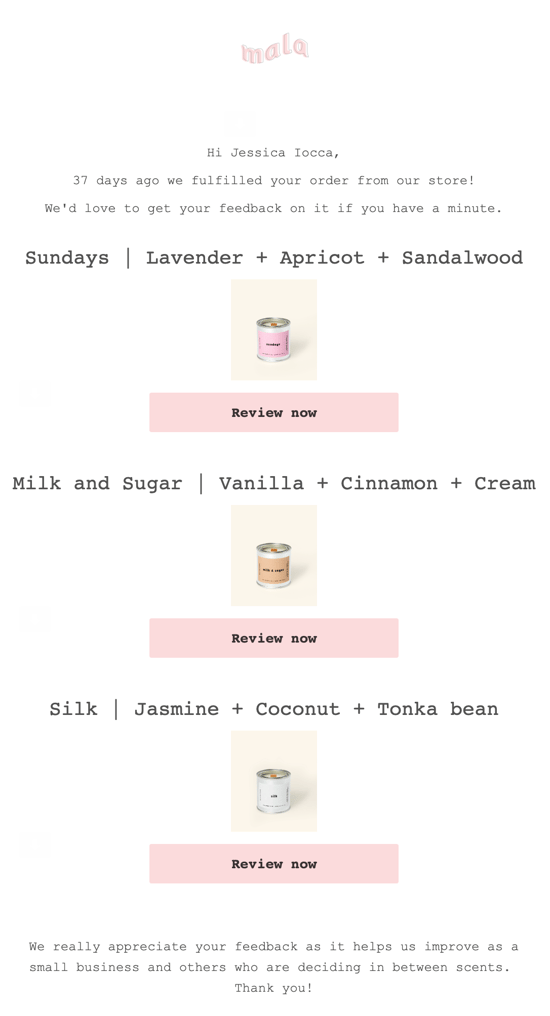 This email thanks me for my purchase, reminds me that customer feedback helps Mala improve as a small business, and then points me directly to their site to leave a review.
As a shopper, I love when brands feature customer reviews in their emails and across their website and social media content. It offers a ton of legitimacy to the brand and there's nothing that tops a happy customer singing your praises.
And in the case that a customer isn't 100% satisfied, an email like this is also a great place to share resources for customer support.
You can create your own version of this email by adding the Shopify Collection to your purchase follow up trigger settings and tailoring your ask and content to the specific collection customers bought from.
One other thing to keep in mind here is that you want to make sure you're asking for reviews after customers have actually received their order. So be sure to bake ample time into your trigger settings when creating this type of email. You'll notice that Mala sent me this request 37 days after fulfilling my order, giving me plenty of time to try out my candles.
Add Shopify Collections to your segmentation strategy
These are just a few ideas of how you might use your Shopify Collection data to create better shopping experiences across your campaigns and automations.
And if you're feeling inspired, you can access Shopify Collections in your Privy account today. Just in time for the holiday season.
Subscribe for Updates
Get our best content on ecommerce marketing in your inbox 2 times a week.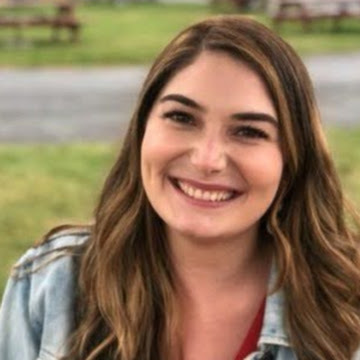 Written by Jess Iocca
Jess joins Privy after completing her MBA at Boston University, where she specialized in marketing and social impact. She loves introducing her family and friends to small businesses and emerging brands, and is thrilled to put that passion to work at Privy. Outside of work, you can find Jess organizing her virtual book club and exploring new restaurants. Jess lives in Boston with her husband and their cat, Phoebe.
Subscribe for Updates
Get our best content on ecommerce marketing in your inbox 2 times a week.