Everyone loves a game of chance and visitors to your site are no exception! We go over three creative use cases for Spin to Win.
That's probably why Spin to Win campaigns convert visitors into subscribers at a really high rate. If you don't already know, these campaigns allow a visitor to your site to enter their email for a spin of the prize wheel. You're able to choose various discounts and offers to appear on the wheel (as well as how often they come up).
Here are three great ways we've seen businesses use Spin to Win in a targeted way to grow their email list and drive sales.
1. Spin to Win Example; Holiday Promotion
If you think that running a Spin to Win campaign all the time might be a bit much for your shoppers, having a short term promotion can drive a lot of interest and engagement among visitors to your site. For example, you could run a campaign only on Black Friday weekend, giving people a more fun buying experience and helping you stand out from the competition!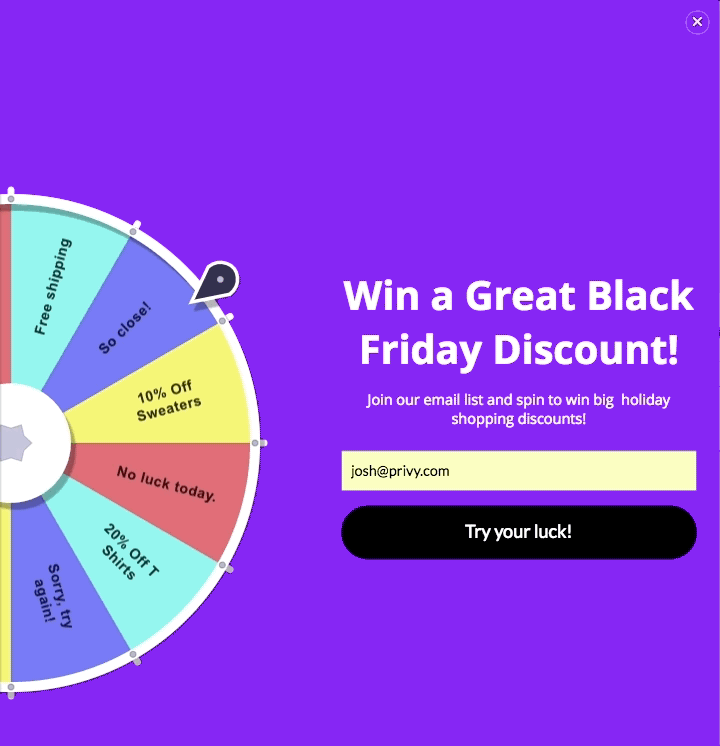 2. Spin to Win Example; Post Purchase Thank You
What better way to say thank you to a new customer than offering them a chance to win great discounts on their next purchase? To do this, simply use URL-based page targeting to show your campaign after their initial purchase is confirmed.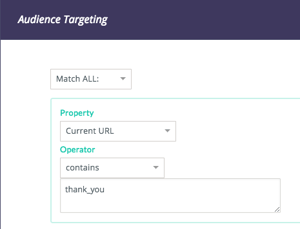 3. Spin to Win Example; Subscribers Only Campaign
While Spin to Win is a great way to grow your email list, it's also a great way to reward existing subscribers! Just include a link to your website with a tracking code in your next email announcement or newsletter and then use that tracking code in URL-based page targeting to only show your Spin to Win to people who have come from your email. It may sound complicated, but it's actually really simple. Check out the step by step example below.
1. Insert Your Email Link
with Tracking:


2. Customize Your Button in Your Email:

3. Target Your Spin to Win Game by URL:
There are tons of ways to use Spin to Win. Take a look at some other Spin to Win Examples that merchants are adding to their site.
Want our Holiday Checklist?
Watch our recent Black Friday checklist webinar.