What to expect for your call
Fill out this form
Take a few seconds to let us know you'd like to learn more and one of our Privy coaches will be in touch ASAP with next steps.
Meet with your Privy coach
Get a live walkthrough of the platform from an expert, cover best practices, learn why you should make the switch and ask any questions you have.
Get personalized migration support
Work with a member of our team to ensure a smooth transition to Privy. And if you have 10,000+ mailable contacts, you'll be eligible for ongoing 1:1 support with a customer success manager.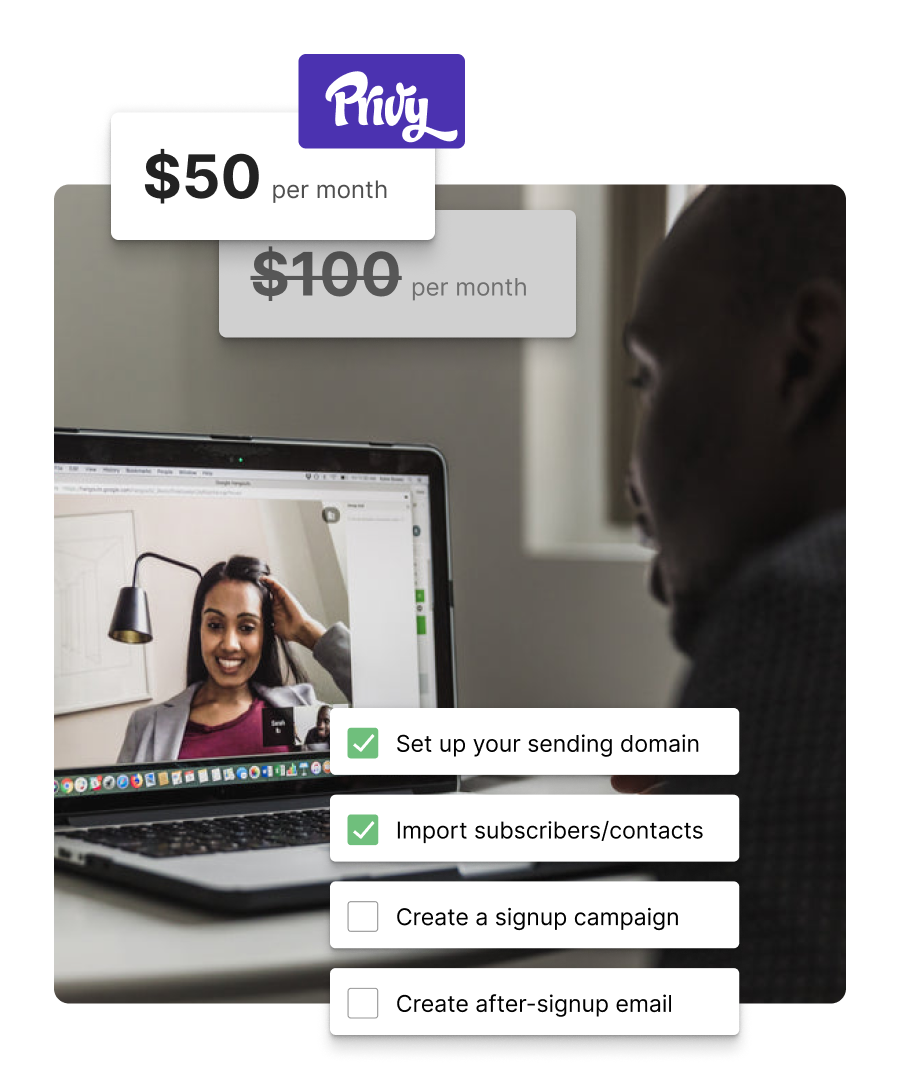 Save money and get more out of your ESP with Privy
Send limits hurt the ROI of your email marketing. Not only are you charged for the number of contacts in your database, but you could be charged extra if you exceed your contact limit.
At Privy, we think you should be in control of how you market to your customers. They are YOUR customers. We don't have send limits, hidden fees, or restrictive annual contracts.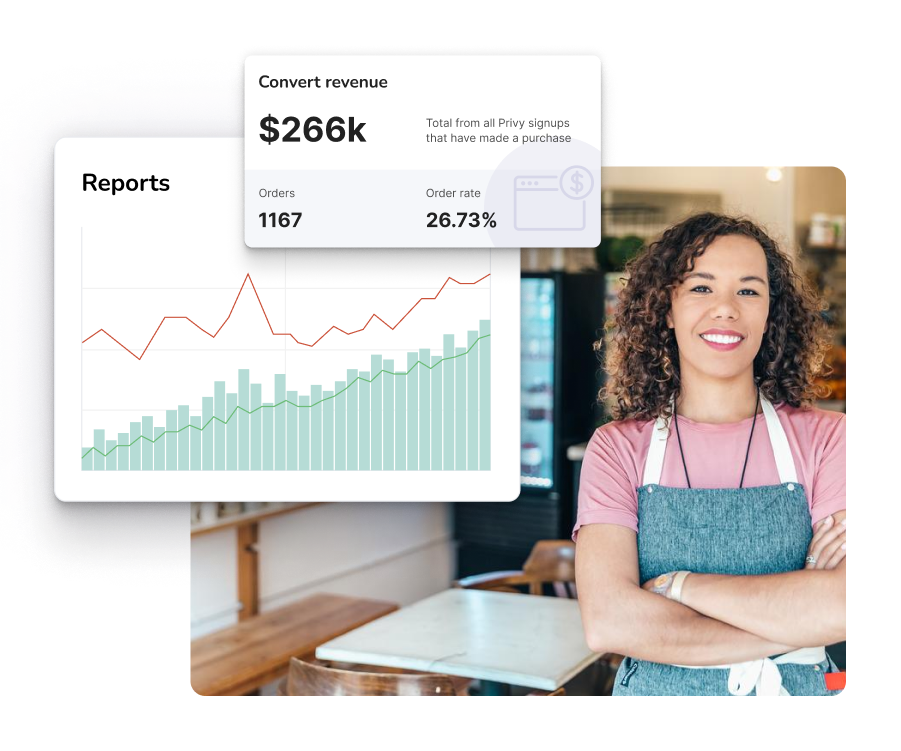 You don't need a marketing degree to get ROI from Privy
Let's be real—running a business can get busy (and stressful). So your marketing tools shouldn't make it harder. Or make you feel overwhelmed. Or take hours to do simple adjustments.
In fact, you should feel so comfortable using your marketing tool that you feel like a pro. And with Privy's drag and drop editor and user-friendly platform, you can save hours every week, giving you back the time you need to focus on growing your business.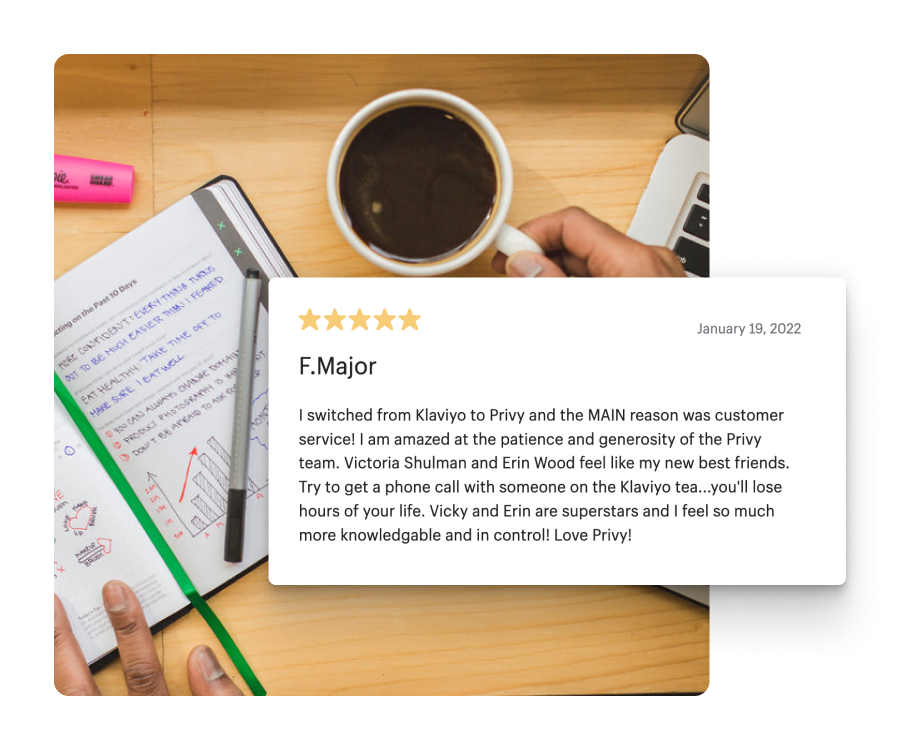 Get coaching & support no matter where you start
All customers get live chat or email support from a human seven days a week—with an average wait time of 5 minutes. You'll never be left to figure it out on your own with Help Docs (but yup, we've got those, too). Plus, our team will even help you make the switch so you aren't stuck between platforms, we make it easy on you to switch.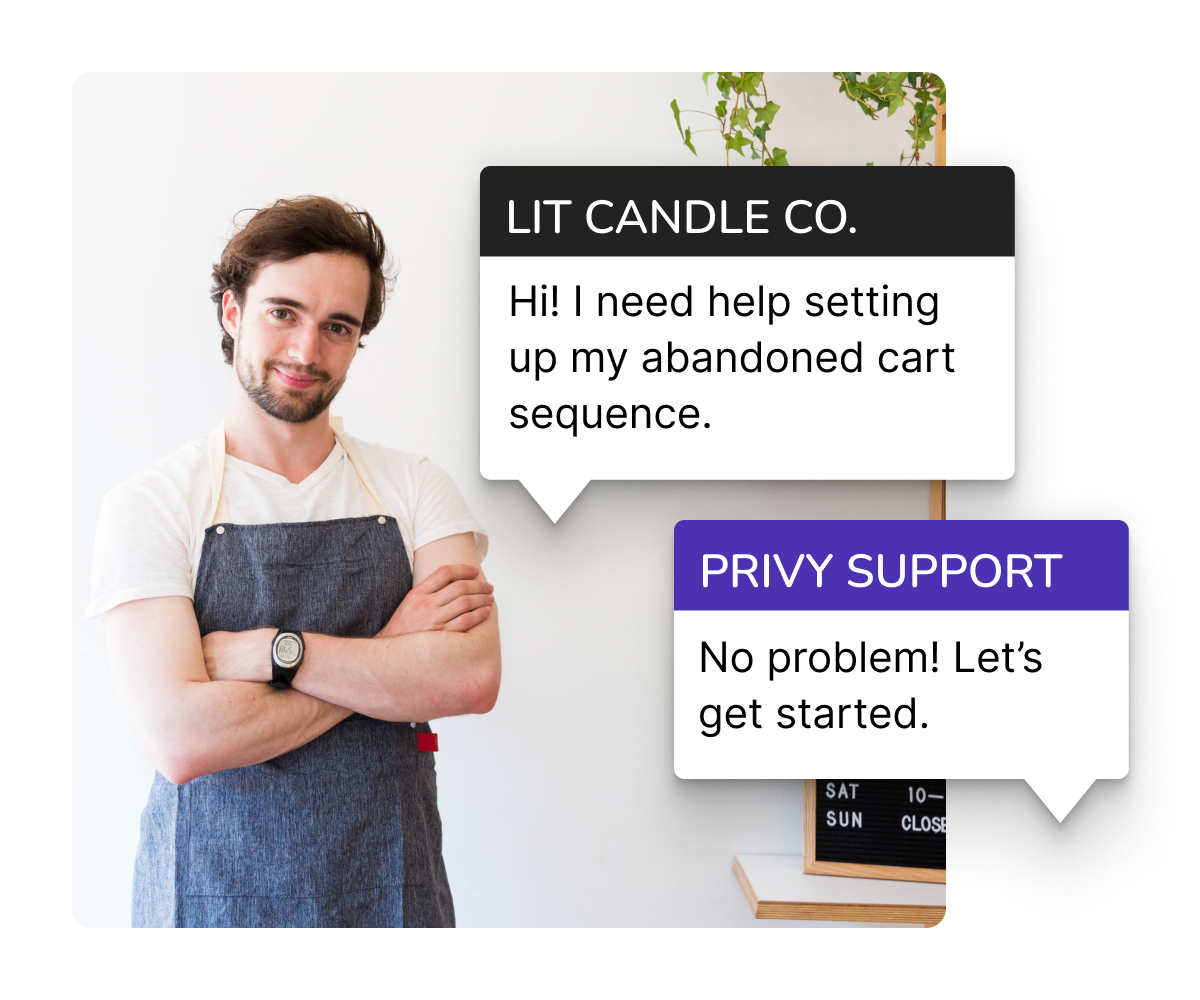 Comparing

Privy vs Klaviyo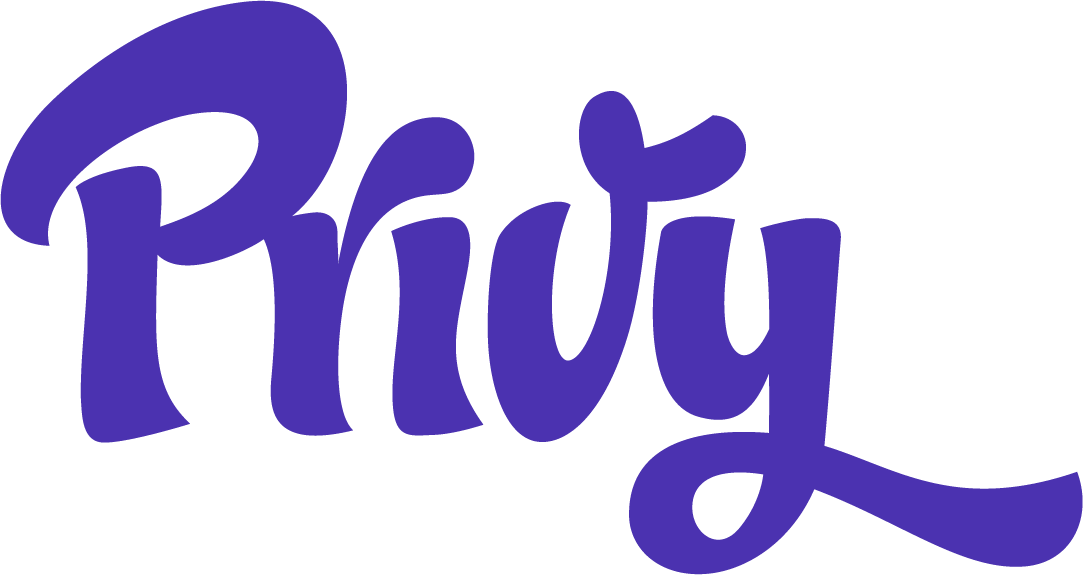 Unlimited Email Sends - Send an unlimited number of emails regardless of how much your plan costs. You have complete control over how and when you market to your customers over email.

Privy Convert Integration - Use #1 rated conversion tools to create popups, forms, and other onsite displays to grow your email and SMS subscriber lists.

Proactively Increase Average Order Value - Privy offers onsite displays like cross-sells and free shipping bars to drive urgency while shoppers are actually on your site. Nudge shoppers to add more items to their cart and watch their order value grow.

Revenue Reporting Across All Channels - Privy's all-in-one platform gives you a holistic view of your business health, with revenue attributed across onsite displays, emails, and SMS.

True Cart Abandonment Emails - Save up to 10% of abandoned carts (not just abandoned checkouts) with automated abandoned cart emails. Build a series that's perfectly timed to recover the most abandoned carts possible.

Flexible Shopify Coupon Creation - Create master and unique coupon codes that sync with your Shopify store. Simply drag and drop coupon codes directly into your emails, without worrying about having the "right" number of codes available for recipients.

Personalized Migration Support - Privy will work with you to ensure a smooth transition so you can start driving sales ASAP.

Expert Support - Our ecommerce coaches can show you what's working and apply it to your business. It's like having your own marketing team any time you need one.

User-Friendly Editor & Template Library - Send promotions and updates to stay in front of customers with Privy's simple drag and drop email editor and robust template library.

Monthly Send Limits - The number of emails you can send each month is limited by the number of contacts you have. If you exceed your allotted number of email sends, Klaviyo will charge you extra fees.

Forms that Limit List Growth - Klaviyo's signup forms have subpar targeting conditions that aren't optimized for list growth. That could mean thousands of signups lost each month.

Reactive Cross-Sell Tools - Klaviyo's cross-sell tools are limited to emails that are sent after a shopper was on your site. And if you offer free shipping, you'll have to use something other than Klaviyo to let shoppers know in the moment.

Basic Signup Form Reporting - Klaviyo doesn't track revenue attributed to signup forms, which means you have a gap in understanding how forms are impacting your bottom line.

Checkout Abandonment Only - Klaviyo's cart abandonment flow only triggers when checkout begins. So if a shopper adds an item to their cart and doesn't start checkout, Klaviyo can't follow up with them. That translates to money left on the table for your brand.

Tedious Coupon Creation - You have to manually type coupon tags into your Klaviyo campaigns. And if you don't create enough coupon codes for all of your recipients, some recipients won't receive your campaign at all. Less campaigns delivered = less sales for your store.

Massive To-Do List - Klaviyo's onboarding support is limited to an overwhelming checklist with tons of online guides you're left to sort through on your own.

Limited Support - Unless you're using Klaviyo with over 150,000 contacts, your support will be limited to email and chat with long wait times and boilerplate responses.

Complicated Interface - We've heard over and over again from merchants that Klaviyo isn't user-friendly and even simple adjustments can be huge time killers when you're running a business.
Everything you can do with Privy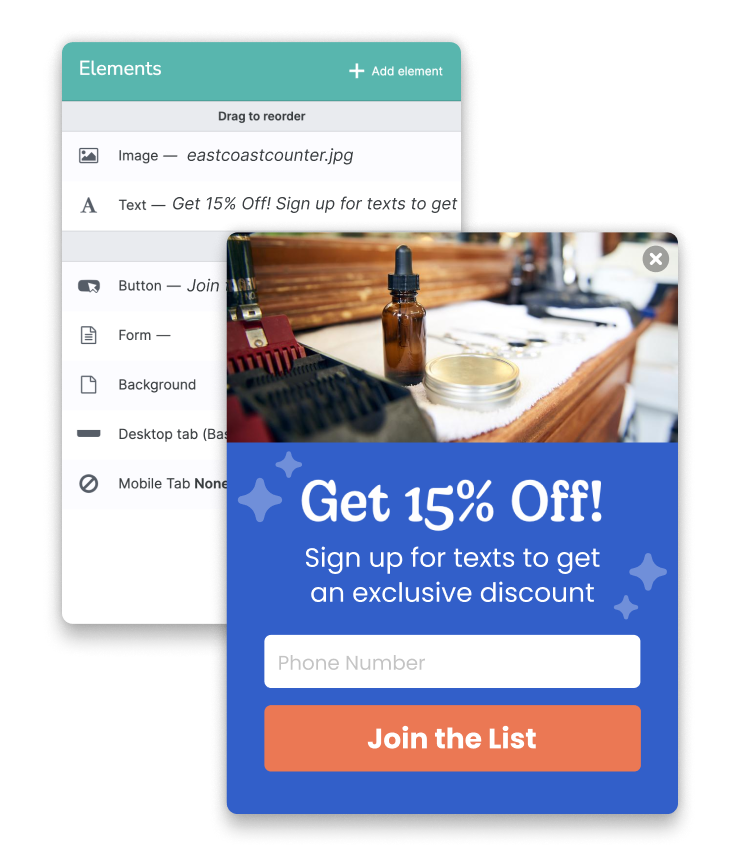 Grow your list with proven popups
Welcome Discount Popup
Capture your site visitors email addresses and phone numbers. Sweeten the deal with a discount code that converts your new contact to a new customer.
Exit Intent Displays
Catch visitors before they leave your store with this perfectly-timed play. Snag their email on the way out so you can invite them back.
Spin to Win
Add a little gamification to your sign up experience and watch your list explode. Give new signups a chance to win a discount with this high-converting display.
Landing Pages
Design on-brand landing pages that convert. Use Privy landing pages to grow your audience, promote specific products, organize events and more.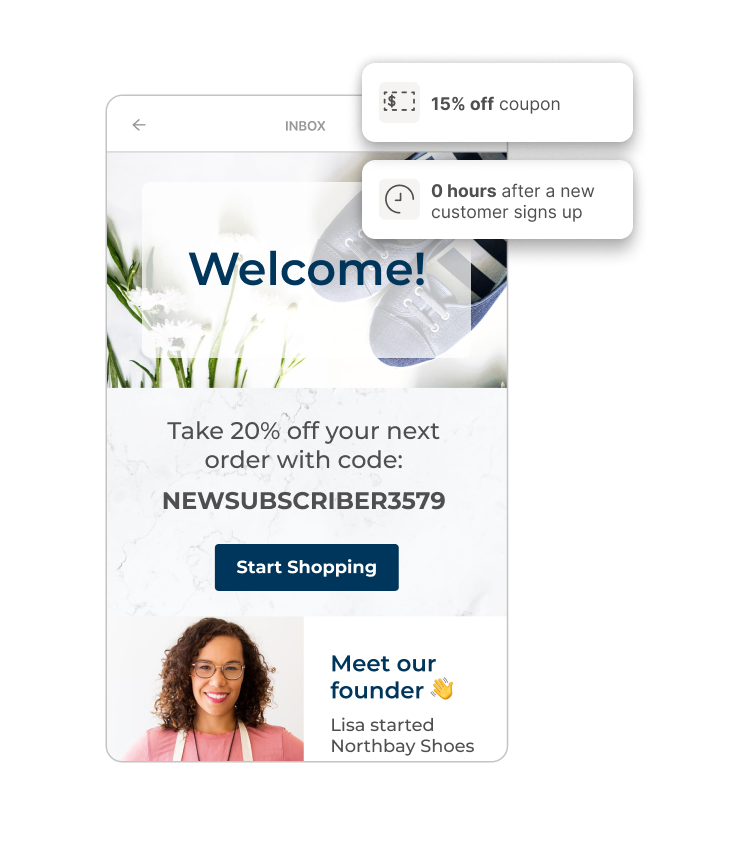 Convert new contacts into customers
After Signup Email
Confirm your new contacts' subscription and deliver on any promises made at signup with these triggered emails.
After Signup Text
Set the tone for your SMS subscribers. Automate your first touchpoint, thank subscribers for signing up and deliver a welcome discount via text.
Welcome Series
Make a strong first impression and show new subscribers what you're all about. Build a series of welcome emails that turn your contacts' curiosity into cash.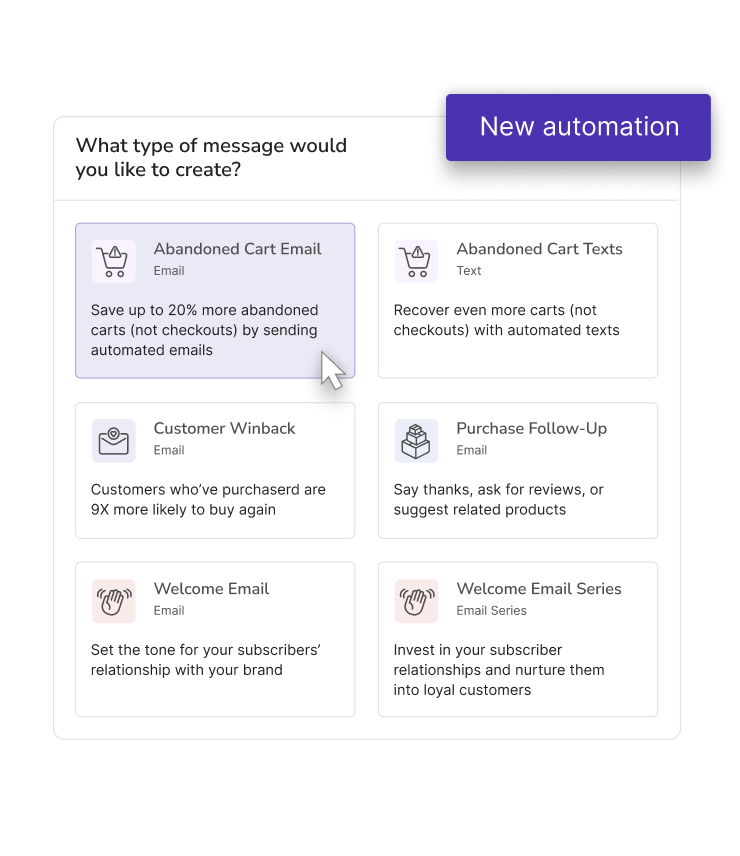 Drive repeat sales with marketing automations
Customer Winbacks
Make sure your best customers never go too long between purchases. Set time-delayed reminders for customers to re-up on their favorite products or cross-sell related items.
Purchase Follow Ups
A positive shopping experience is the ultimate retention strategy. Say thanks, ask for a review and build loyalty with emails that keep you connected to customers.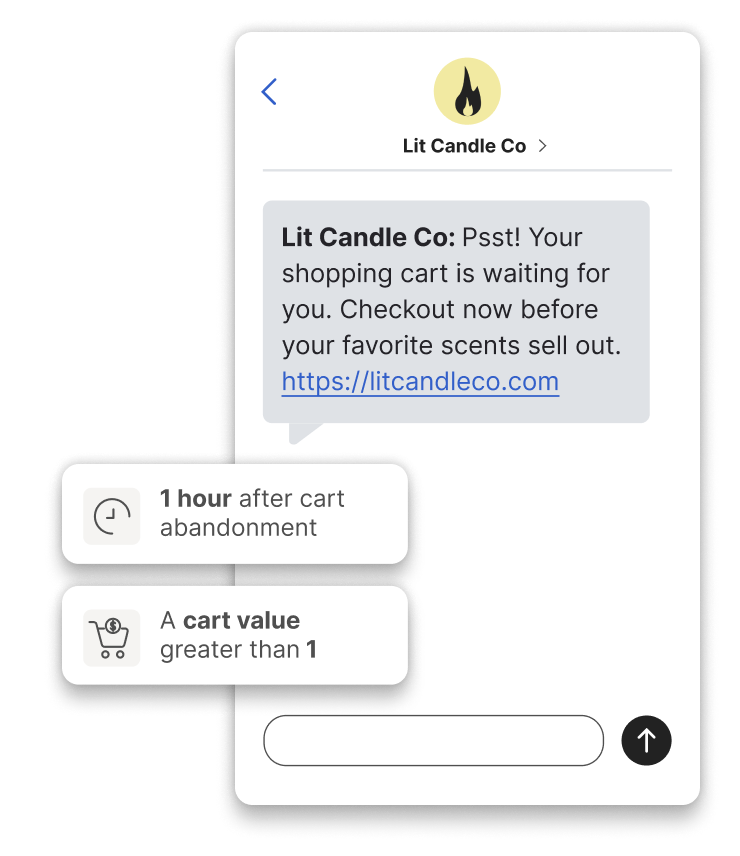 Recover abandoned carts
Cart Saver Popups
Stop cart abandonment before it happens. Trigger a gentle reminder (or coupon) before customers abandon their cart.
Abandoned Cart Emails
Save up to 10% of abandoned carts (not just abandoned checkouts). Automate our proven email series for maximum cart recovery.
Abandoned Cart Texts
Boost your cart recovery strategy with text messages. Recover even more carts by following up in your customers' preferred channels.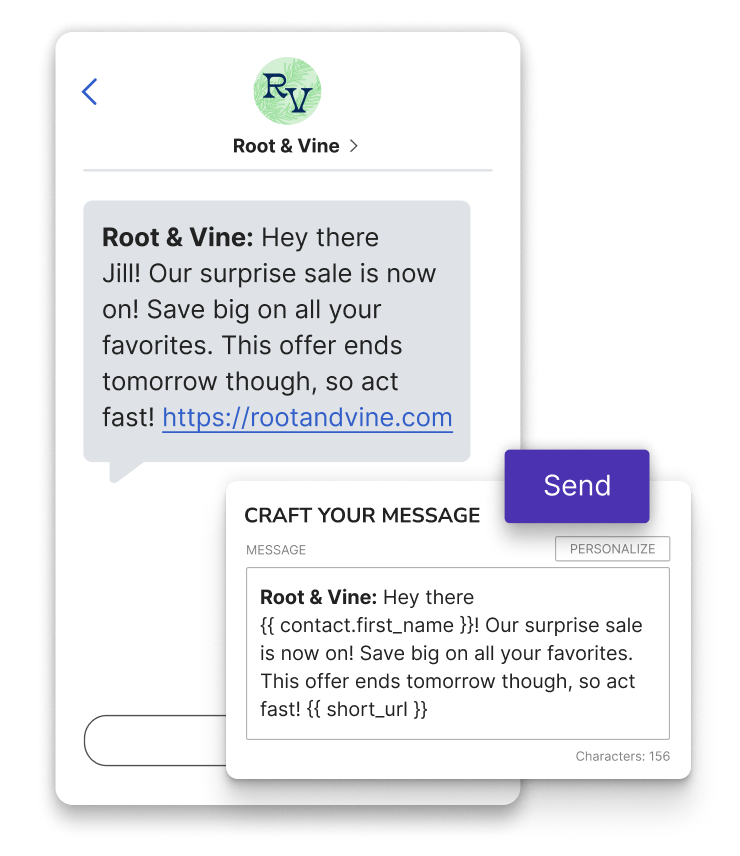 Deliver personalized experiences
Email campaigns
Email is the top revenue driver you can't afford to skip. Stand out in the inbox with our drag & drop editor that gives you the flexibility to customize your content and offers with ease.
SMS campaigns
SMS is where you'll find your best fit customers. Enhance your marketing with high-converting messages sent directly to the customers who want to hear from you most.
Shopify Coupon Integration
Control who gets your coupons and how they are shared. Send recipients their own unique coupon code that automatically syncs with your store.
Segmentation
Send hyper-targeted emails and texts. Create custom segments based on customer attributes, shopping behavior and more. Or use Privy's pre-built Smart Segments.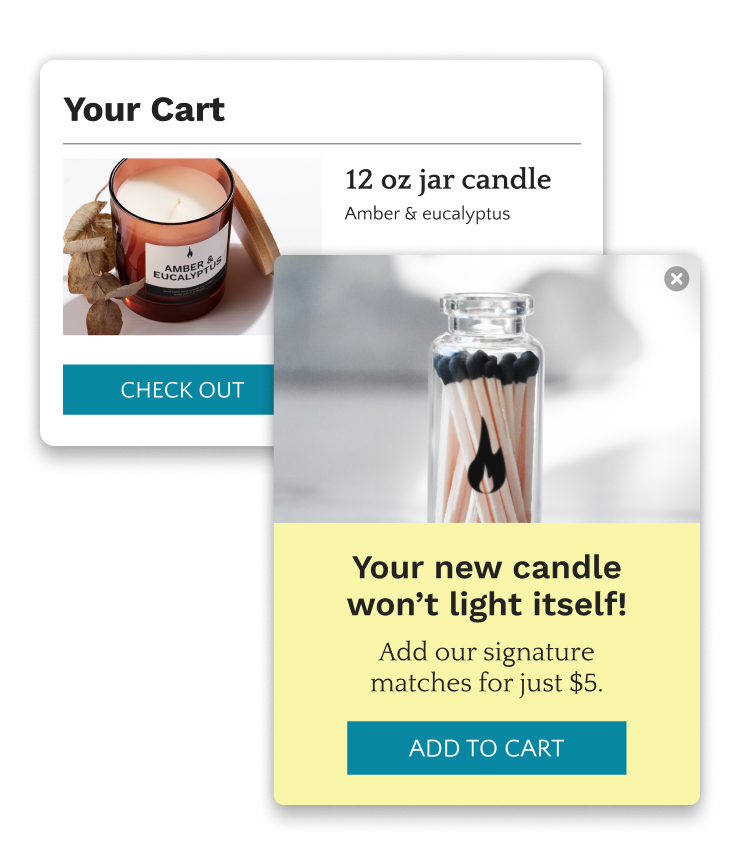 Increase your average order value
Cross-Sell Displays
The right recommendation at the right time can be all you need to get customers to buy more. Give shoppers a gentle nudge in the moment and watch your average order value grow.
Free Shipping Bars
Show customers how close they are to earning free shipping. This dynamic bar will update as they shop and encourage them to add more to their carts. No discount needed.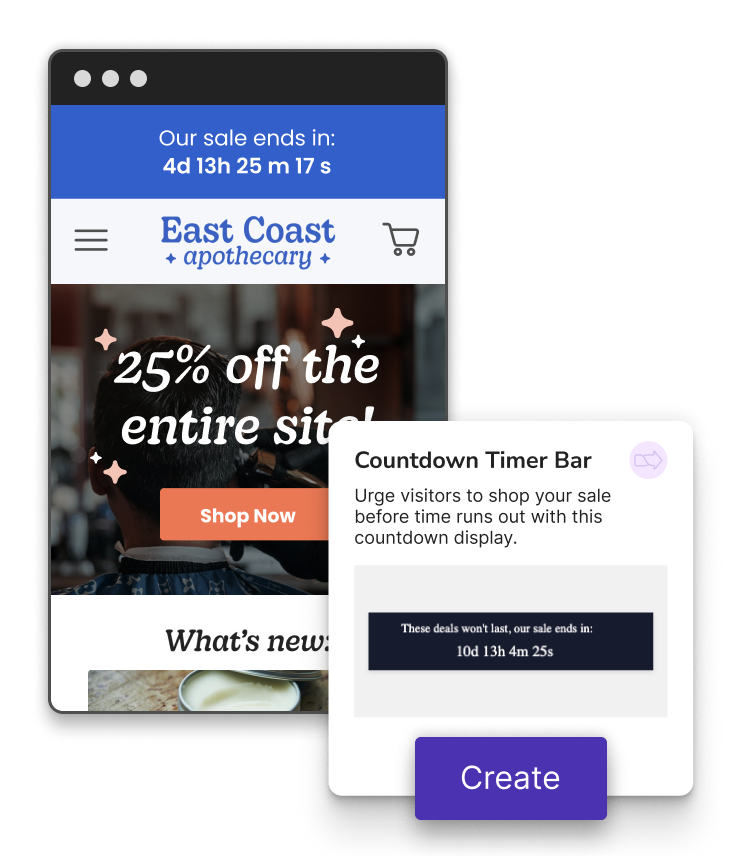 Drive urgency in the moment
Countdown Timer Bar
Urge visitors to shop your sale before time runs out. Set your timer schedule and let Privy take care of the rest.
Countdown Timer with Signup
Boost your list before your next sale. Encourage visitors to sign up now so they can receive updates with your best deals and promotions.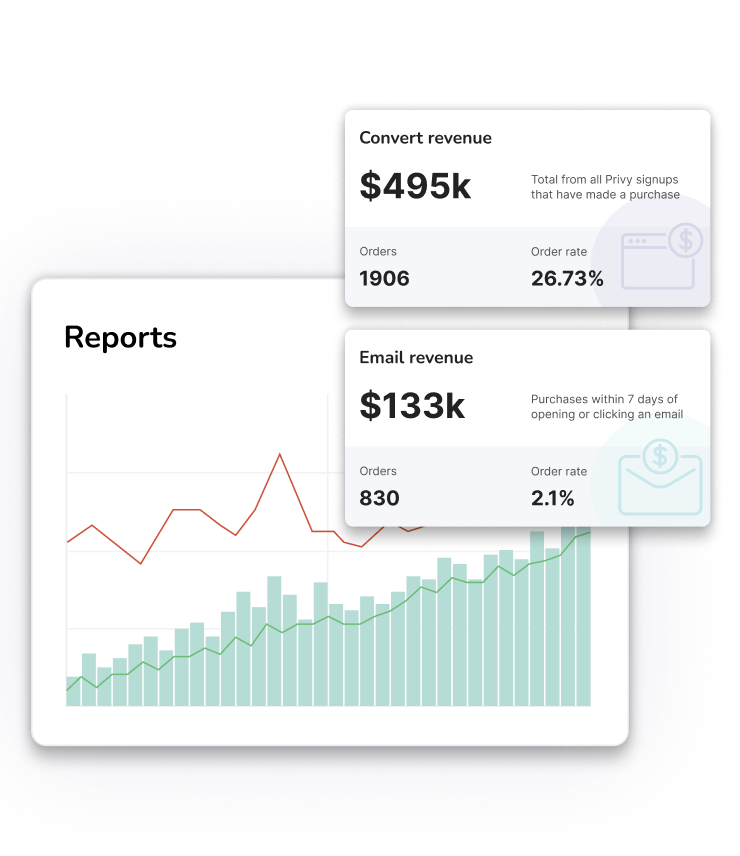 Review your performance
Revenue Dashboards
Get a snapshot of your sales across campaigns and automations. Or dig deeper to see just how much revenue and how many orders a particular message brought in.
Display Reporting
Monitor your display views, signups and conversion rate. You'll even get a thumbs up to let you know how you're doing compared to the industry average.
A/B Test Displays
Optimize your onsite marketing by testing variables like your headline, offer and call-to action. We'll identify the winning display for you, no number-crunching required.
Still have questions?
How do I take advantage of this offer?
All you need to do is fill out the form on this page and you'll be able to schedule your call with one of our Privy coaches. Your Privy coach will walk you through the rest of the details and steps from there!
How will you help me migrate?
Our team will build a personalized onboarding plan based on your goals and priorities. We'll help you migrate your list, set up your brand settings (logos & colors), draft emails and so much more.
What types of emails can I send with Privy?
When you make the switch to Privy, you'll get access to Privy Newsletters and all of our automated email types, which include: abandoned cart, customer winback, after sign up, purchase follow up and welcome email series.
How much will I save with Privy?
Stores who make the switch to Privy save an average of 30% on their monthly bill.
How long will I wait to get support help?
Our average wait time for answering support inquiries is around 5 minutes. Privy boasts best-in-class support & onboarding for its customers. If you have a question, we're here to help!