How Pastreez Uses Free Macarons to Create Loyal Customers
Published on Oct 18, 2019
Written by Josh Mendelsohn
Started in 2017 by husband and wife, Yami & Anthony, Pastreez is an online macarons store based in the US and started by French Chefs from Le Cordon Bleu Paris with over a decade of experience. They offer beautiful, genuine French macarons available for nationwide shipping.
The idea came from a simple place.
According to Anthony, "We realized that there weren't any authentic macarons available in the US, especially online. Too many artificially flavored pastries were advertised as macarons when they weren't. We wanted to bring an exquisite and genuine taste of Paris to your door. That's how Pastreez was born."
Today, Pastreez Macarons are famous for their vibrant colors and exquisite taste.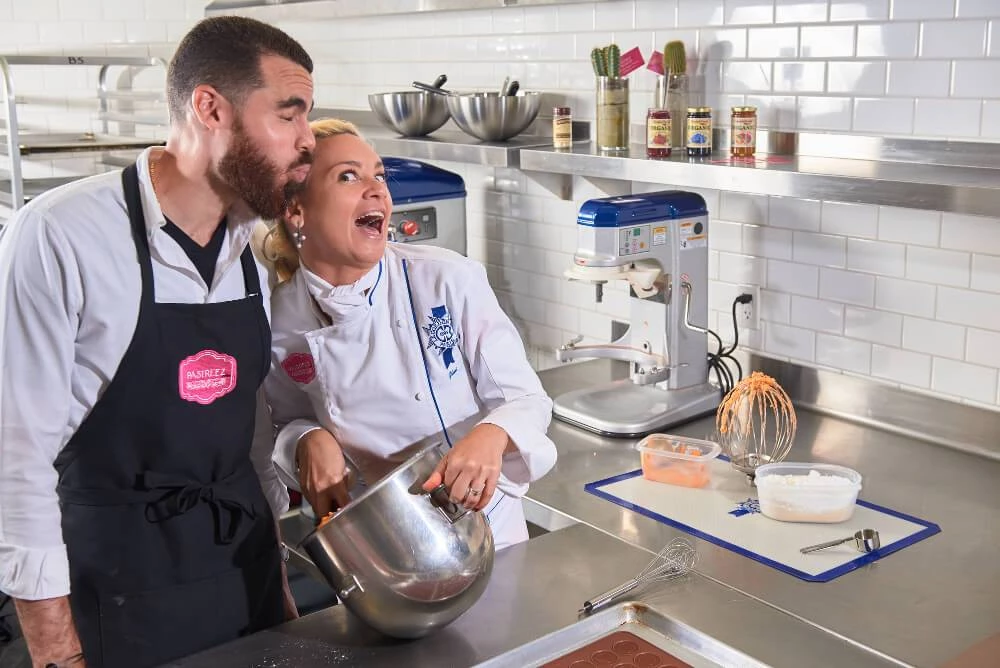 All their treats are shipped fresh from their kitchen to your door and are gluten-free, dairy-free, and use no preservatives and no artificial flavors. Not to mention, they are gorgeous! (check out their Instagram for pictures!).
Free macarons = big results
Pastreez is a bootstrapped company, meaning they aim to grow organically (without any outside funding). The couple believes a great product and awesome customer service make all of the difference and enable their growth without having to spend a lot in advertising like Facebook or Google. In fact, the majority of their website traffic is coming from organic Google search and top ranked referral websites like Cosmopolitan. Instagram is also an important marketing channel for Pastreez, where they give tips to amateur bakers and small bakeries on how to make macarons at home easily.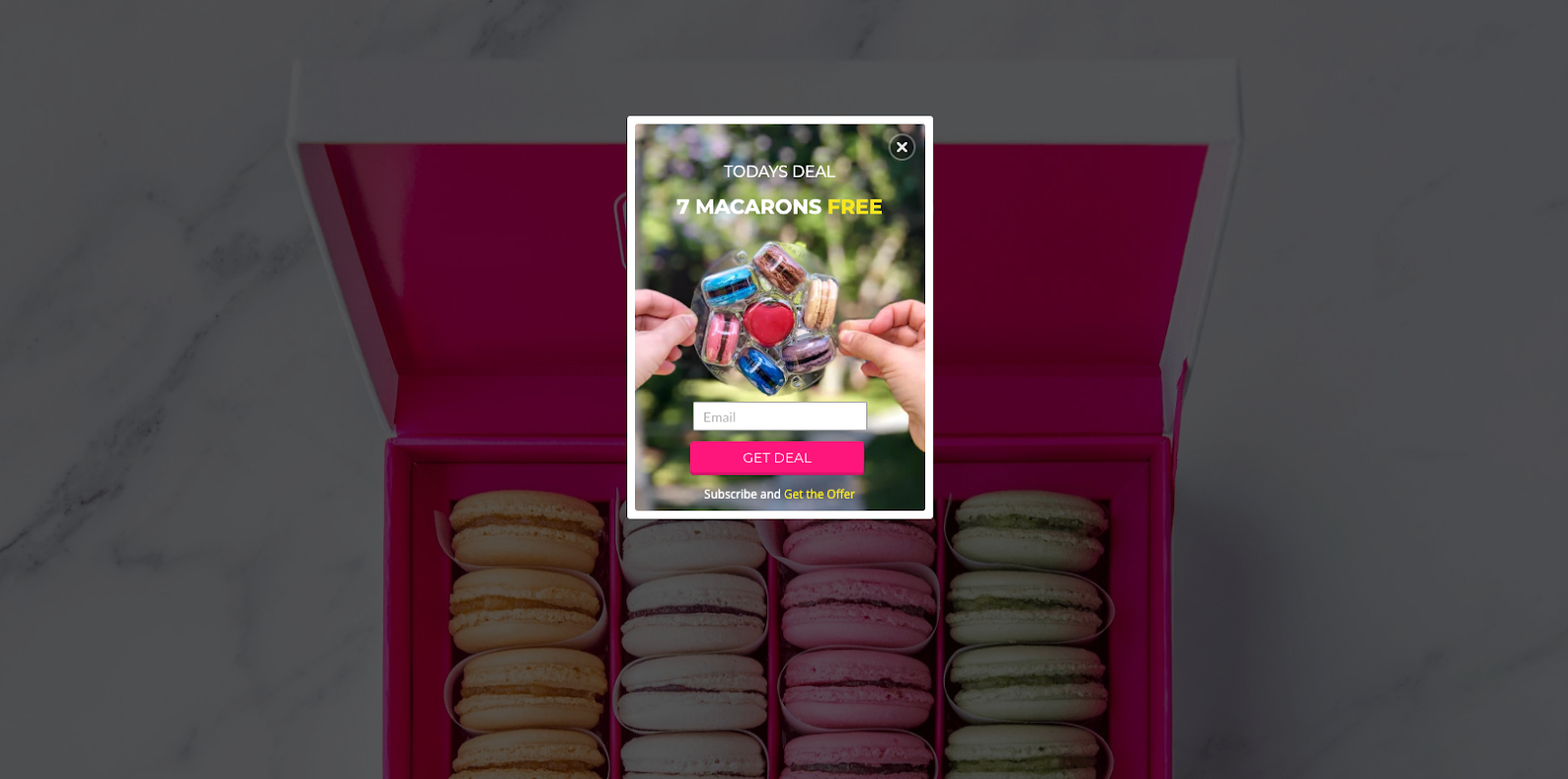 Once people come to their online store, on-site displays from Privy (e.g., pop ups) and automated email marketing is in place to turn visitors into subscribers and customers. In fact, using Privy, they've generated over 10,000 subscribers that resulted in over $86,000 in revenue.
For Pastreez, the key to success is a great offer and keeping it simple.
Says Anthony, "If your message is clear and really has value in the eyes of your customers, they'll be ready to subscribe. For example, we like to give 7 macarons free to any new subscriber, which allows our customers to have an extra set of treats for them or to give to family. So the offer is simple, but the process needs to be as well so people can easily understand it and redeem it."
Once an email address is captured, Pastreez follows up with visitors using basic segmentation such as new visitors versus loyal customers. For example, a new visitor might be more interested in what others say about Pastreez, how long shipping takes, as well as other specific questions they might want answered. Whereas a loyal customer is more interested in new flavor alerts, new gift wrap options available, how they can redeem points and earn awesome deals, etc.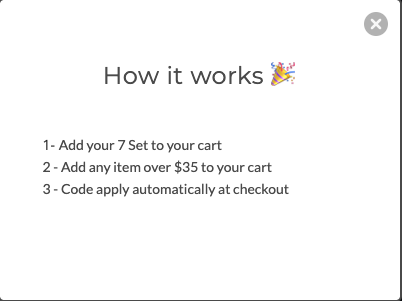 "Our campaign marketing with Conversio works related with Privy offer of free macrons. If customers redeem the offer within their first visit, nothing is triggered. But sometimes people need more time. Our Conversio emails work as a simple reminder of the offer."
"Beyond that initial offer, our email marketing focuses on our subscribers' needs. For example, our 60,000+ Instagram followers are more interested in tips and tricks to make macarons at home. We have specific content for them, and the email subscription focuses on that too, with blogs and articles useful for that purpose. Similarly, with our website subscribers, who are more focused on the macarons, will receive product updates, new flavors alerts and special deals."
Keeping the offers and selections fresh
Pastreez has a standard menu of over 15 flavors, and the website allow customers to build their own sets to match a party theme. Because they also release a new flavor monthly, they are able to offer new macarons flavors depending of the season, from passion fruit in summer to peanut butter in winter, communicating all of them via email and persistent Privy bars on their website.

"The top bar is very useful for letting our loyal customers know our new menu for the month, because when they come back to Pastreez.com, they can see right away what's new."
Looking toward the future
In 2020, it looks like more Pastries for Pastreez!
The couple is looking to expand its menu to include French chocolate chip cookies and they just started a loyalty program: The Macs Club that lets fans earn Macs (points) and redeem awesome deals like free recipes and macarons. In 2020 they'll even go deeper to reward their loyal customers.
In summary
Pastreez is using simple email and on-site display recipes to drive their success. Check them at pastreez.com and if you want to give it a try, start with the Strawberry flavor - it's Anthony's favorite!
Subscribe for Updates
Get our best content on ecommerce marketing in your inbox 2 times a week.
Written by Josh Mendelsohn
Josh brings his marketing chops and lifelong passion for jam bands, craft beer, and SMBs to the team at Privy. Having spent time working at SMB and ecommerce leaders like Constant Contact and Salsify, he has a deep understanding of how to help small and medium sized ecommerce businesses be all that they can be. In addition to leading Privy's marketing team, Josh spends too much of his time managing his pug Marvin's instagram account.
Subscribe for Updates
Get our best content on ecommerce marketing in your inbox 2 times a week.