Happy halloween from the Privy team! We've got a bunch of spooktacular product updates for you this month. If you missed everything from September, click here to read the blog post.
Region Targeting and Zip Code Targeting
You now have three great, self service ways to build geography based targeting rules for your display campaigns. In addition to country targeting, this month we released the ability to target based on Zip Code and State/ Region/ Counties. (Available in the Growth plan)
State/Region/Counties: Choose the state, county or region a visitor is in and whether to show or not show a display to that person (US, Canada, Australia & UK only).
Zip code: Choose the specific zip codes of visitors and whether you want to show or not show displays to them based on that information.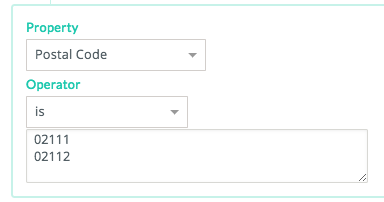 Learn more about how to use location targeting here.
A/B Test Reporting Update
You can now choose to look at results based on the view to signup rate in addition to the total participant to sign up rate. That way you can analyze the data in the way that makes more sense for your business. (Available in the Growth plan)

New Black Friday Display Display Templates
In honor of the upcoming retail shopping season, we've created 3 new display template designs to help get your Black Friday and Cyber Monday sales up and running quicker and easier than ever. Just choose "Build Your Own" from our new campaign builder and choose one of our pop up or flyout templates.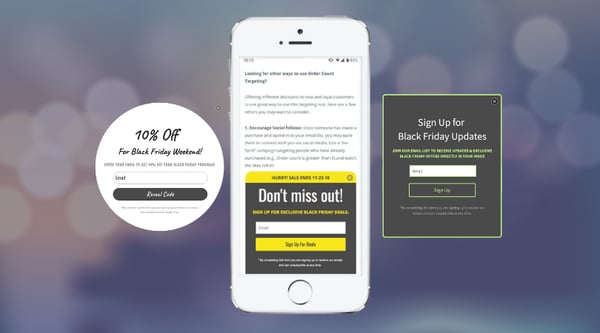 Target Displays Based On Whether a Visitor is "Known" or Not
In lots of cases, you want to show one message to visitors who are known to you because they have filled out a form previously or logged into Shopify, and a different one to people who are on your site anonymously. Now you can do that through a new audience targeting rule called user identity. (Available on Commerce and Growth plans.)
Enhance Your Banner and Bar Displays with Custom HTML

Privy banner and bar displays have always been a great way to promote new products and offers and make site wide announcements, but now they are even more customizable. If you're on our Commerce or higher plans you can now insert custom HTML elements to create custom timers, embed video, and whatever else you can code up.
Just insert the HTML element, paste your code, and you're on your way. (Available on Commerce and Growth plans.)

Recovery Stats for Abandoned Cart Emails
If you're using Privy's abandoned cart emails to bring shoppers back to your site, you want to know how many of those people are actually making a purchase. Now we've got those numbers for you across all of your abandoned cart emails on the Abandoned Cart email index page, and for each individual email you have enabled. (Available on Automate Plan.)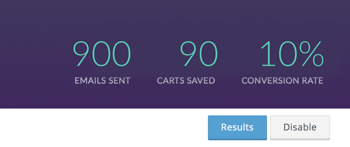 Newsletter Targeting by Detected Country
In addition to the custom segment fields you could already use to create lists for your newsletters and announcements, you can now use the detected country of your subscribers as a way to include or exclude people from your send. This is great for things like special offers that may only apply in one country (e.g., free shipping), holiday centric emails, and more. (Available on Automate Plan)