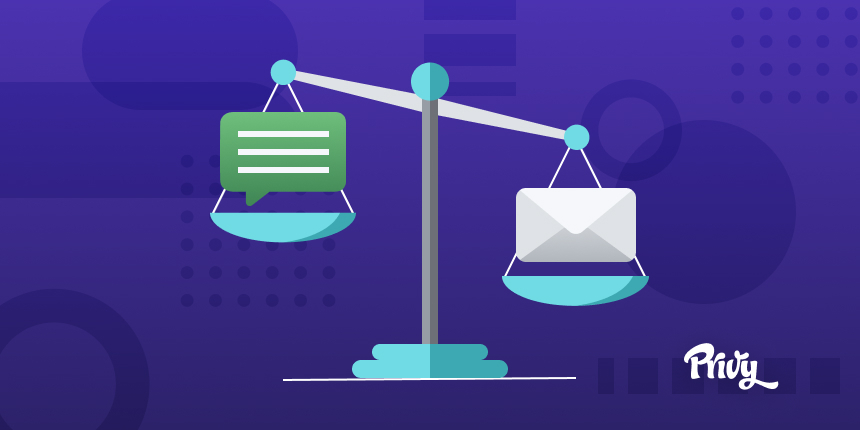 When it comes to investing in marketing channels for your ecommerce brand, you might think that email vs. SMS is an either/or situation. Luckily, you don't have to choose.
You just need to know how to weave them together to create a seamless experience for your customers.

Email and SMS (AKA text) aren't rival sales channels. They're complementary. Think of it like having a bicycle and a car: one is perfect for cruising around the park or trails, while the other is ideal for longer trips with multiple passengers. They're very different forms of transportation, but that doesn't mean you have to ditch one for the other.

In this article, we break down which types of messages work best for each channel and how you can use them together to provide value to your subscribers and maximize your revenue.
Get our best content on ecommerce marketing in your inbox 2 times a week
Should you collect email addresses and phone numbers with the same form?
The main advantage of integrating email and phone fields into the same form is that it gives your audience the freedom to choose how they want to communicate with you. But could asking for phone numbers (even if it's optional) hurt your opt-in rate?

"There's a narrative that says the best way to grow an SMS list is to split up phone capture from email capture," said Privy founder and CEO Ben Jabbawy on our Ecommerce Marketing School podcast. "But no one's talking about adding a phone form to an existing email form."

So we looked at 3 brands that added phone fields to their existing email capture forms and looked at their performance. Here's what we found:
The first brand required visitors to provide an email address and a phone number in their popup in exchange for a discount. Their opt-in rate was 5% (compared to the average of 1.95% for all popups).
The next brand was using a spin-to-win popup to grow their list and also required an email address and a phone number to redeem the discounts. Their opt-in rate was 10%.
The third brand added SMS as a required field in their cart saver popup. That resulted in a 7% opt-in rate.
Remember, these impressive opt-in rates were for popups that required a phone number. So asking for email and phone numbers doesn't always mean conversion is going to take a hit.

But depending on your goals, there are certain instances where splitting up your email and SMS forms can be beneficial. For example, Kōv Essentials wanted to make their SMS list exclusive to their most loyal customers, rather than opening it up to everyone.
This strategy enabled Kōv to reward repeat customers with behind-the-scenes content while also experimenting with SMS before deploying a campaign to a massive audience.

So they created a popup on their site targeting repeat buyers and offering them 10% off their next purchase in exchange for joining the SMS list. That earned them a 7% opt-in rate.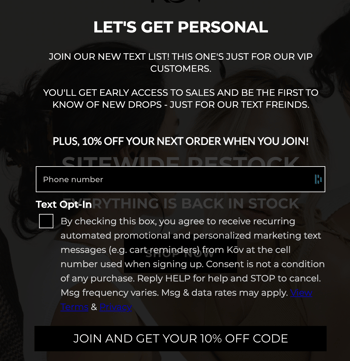 For brand new visitors, they have a welcome popup with just an email capture form.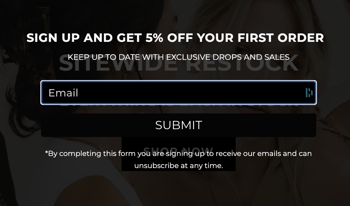 Bottom line: using separate forms for email and SMS can work if it's part of a larger strategy, but don't complicate things if you don't need to.
When to use SMS instead of email
Since most SMS messages have a limit of 160 characters, text marketing is best suited for short or urgent messages. The instantaneous nature of texting makes SMS marketing ideal if you want your recipients to take immediate action. After all, nearly 60% of consumers reply to a text within two minutes.

You can choose between texting or emailing your customers the same way you would in your personal life. Texting is ideal for quick updates and timely matters, like: I'm at the store, need anything? Or, See you in five minutes!

Here are some instances where SMS is the ideal channel:
1. Flash sales and limited time offers
Send customers to your site with a time-sensitive message like, "We're taking 25% off everything tonight, but hurry, this exclusive offer for text subscribers ends at midnight EST."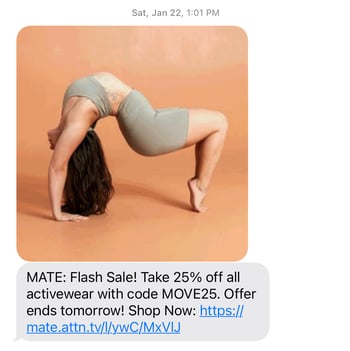 2. New product launches
Kōv Essentials used SMS to give subscribers early access to their newest collection of hair clips before they went live to the general public. That single text drove $1,000 in sales within an hour.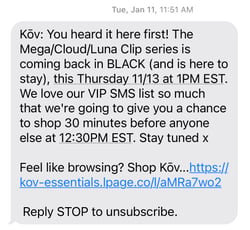 3. Personal alerts
Your customers might prefer their order confirmation messages, shipping updates, subscription reminders, etc., to be texted to them rather than taking up space in their email inbox. Like this example from Jinx: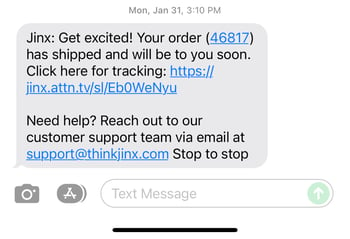 4. Last chances reminders
One of the most important reminders you can send to your customers is an abandoned cart message. If customers leave your site without completing a purchase, a quick text can seal the deal. (More on abandoned cart tactics later.)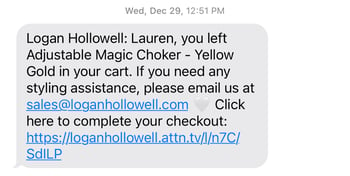 5. Asking for feedback or reviews
SMS isn't always about sales – it's an easy way to collect customer feedback, too. For example, Kōv texted their most loyal customers to see what type of Black Friday/Cyber Monday offer they wanted. More than half of the recipients responded within an hour.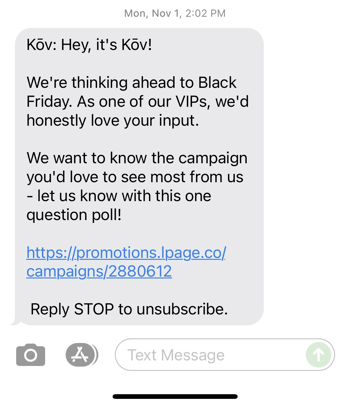 When to use email instead of SMS
Email is the ideal medium for longer messages that include images, videos, attachments, or multiple links. Also, consider whether your customer needs to save the message for a later date. If so, email is the way to go since it's easier to archive and categorize than it is with text messages.

Here are a few marketing messages that are best suited for email:
1. Newsletters
Whether you're sharing a company update, a customer success story, or a recap of your monthly blog posts in your newsletter, email gives you way more space to work with. Plus, you can configure the design of your newsletters to make the reading experience more enjoyable, unlike text messages which all look the same stylistically.
2. Promotions that include multiple products
If you want to create a more immersive shopping experience, email gives you the flexibility to showcase multiple products with high-resolution images, hyperlinks, and a custom design, like the example below: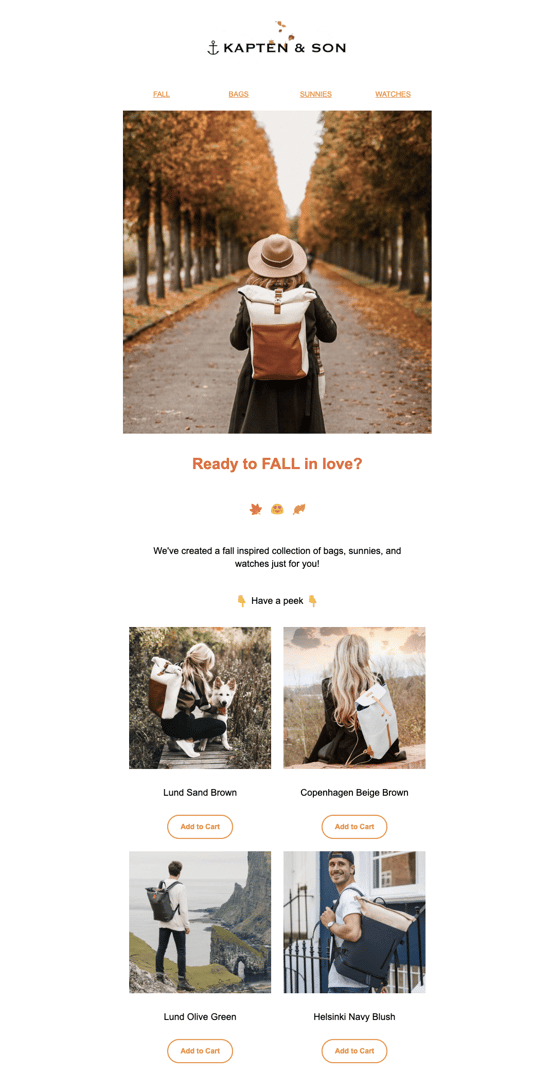 3. Welcome series
A welcome series is a sequence of automated messages you send new subscribers to educate them about your brand and build the foundation for a relationship that lasts.

It's crucial to make a good impression within the first few days, and email allows you to combine images, long-form content, and CTAs to turn subscribers into customers. Here's a great intro to a welcome series from Olipop:



Cart abandonment: Use email and SMS
Nearly 70% of all online shopping carts are abandoned, costing ecommerce merchants billions of dollars each year. There are numerous ways to recover abandoned carts, but one of the most powerful strategies is to combine SMS and email.

Mary Miller is a strategist at Tinuiti, where she specializes in the overlap on SMS and email. She recently joined Privy's Ecommerce Marketing School podcast to share tips on integrating both channels to recover abandoned carts.

"Triggering an SMS reminder within the first hour can be highly effective," says Miller. "But what if they don't convert off that first message? Follow up with an email or two to stay top of mind and alleviate any hurdles to purchase."

Miller recommends offering a discount code or free shipping in cart abandonment emails to incentivize shoppers to checkout.

Further, Miller advises ecommerce brands to focus not just on the content of their messages, but the full customer experience.

"If someone clicks through a text and your checkout flow isn't optimized for mobile, that can be a really jarring experience and lead to higher abandon rates," says Miller.
Use both channels responsibly
When someone signs up for your email list, you have explicit permission to enter their inbox. That's a huge privilege, but it comes with responsibilities.

According to HubSpot, 51% of consumers who unsubscribe from email lists do so because the emails come too often; another 17% unsubscribe because the emails are "spammy or over-promotional."

Keeping a steady line of communication is one thing, but bombarding customers with impersonal sales pitches will negate the effort you put into growing your list.

The same applies to SMS.

"When someone gives their phone number, they're really trusting you not to abuse that," says Miller. "An ill-timed text message or one that doesn't provide any value is much more likely to result in an opt-out than a less intrusive email that might just be skipped or deleted."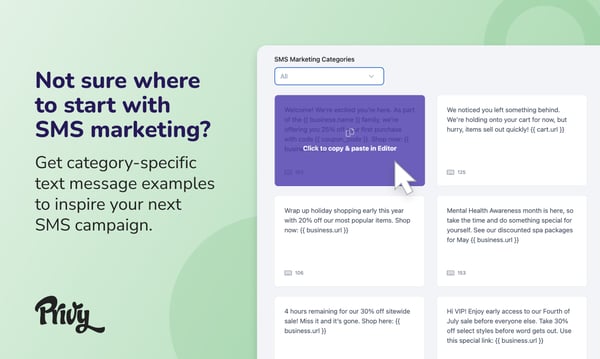 We covered a lot in this article, but if you want a deeper dive into email marketing, SMS, and a whole lot more, check out Privy's Ecommerce Marketing Masterclass for free.
Subscribe for Updates
Get our best content on ecommerce marketing in your inbox 2 times a week.
Written by Lauren Hall
Lauren is a Brand Marketing Associate at Privy. She's the brains behind all things content. When she's offline, she's obsessing over her Bernedoodle pup, Monster, and plotting ways to being a full-time Vermonter ASAP.
Subscribe for Updates
Get our best content on ecommerce marketing in your inbox 2 times a week.